Pad See Ew (Thai Stir Fry Noodles) are a wildly popular street food found in Thailand. With a handful of ingredients you have a simple but delicious umami packed noodle stir fry that comes together in less than 30 minutes.
Pad See Ew is definitely top 3 of stir fry noodles for me. I actually love it more than Pad Thai and that's because we all know I love fat chewy noodles!
Pad See Ew essentially translates to soy sauce stir fry. Pad = stir fry, see ew = soy sauce. It's an extremely popular street food in Thailand because it quickly cooks and requires very few ingredients.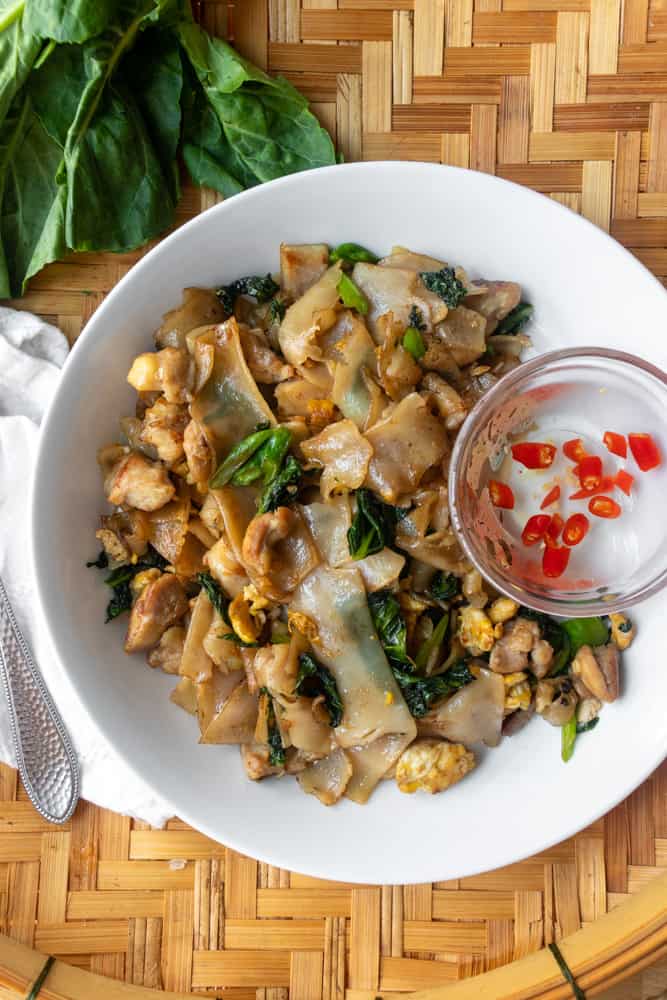 I personally think the star ingredient in Pad See Ew is the wide rice noodles. There are a few variations of wide rice noodles, but I like getting the fresh ones in the refrigerated section at the Asian grocery store. There are dry versions out there but I don't really like them because the noodles aren't cut wide enough and they sometimes get a little too mushy because you have to presoak them before cooking them.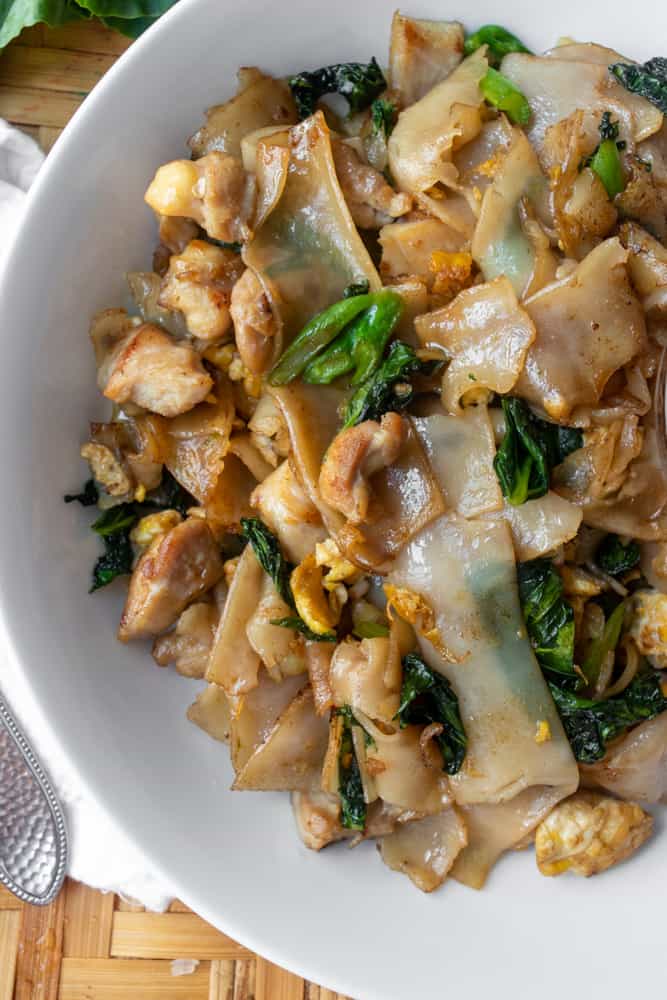 If you are working with fresh wide noodles, here are a few tips:
Most will not come sliced so you have to do it yourself. They'll come as folded sheets with around 3-4 layers. I like cutting mine about 1-1 1/2 inch wide.
Do NOT try to peel your wide rice noodles while they are still cold. The noodles will break/crumble and fall apart.
Slice the noodles to your desire width and then microwave for about 1-2 minutes or until pliable. Then peel the noodles apart.
If you don't have a microwave, you can leave the rice noodles out on the counter for a few hours or until it becomes pliable.
Only slice the amount you need but if you have leftover sliced noodles, portion them out to 8 oz servings and store in a container. These will last for a week or so.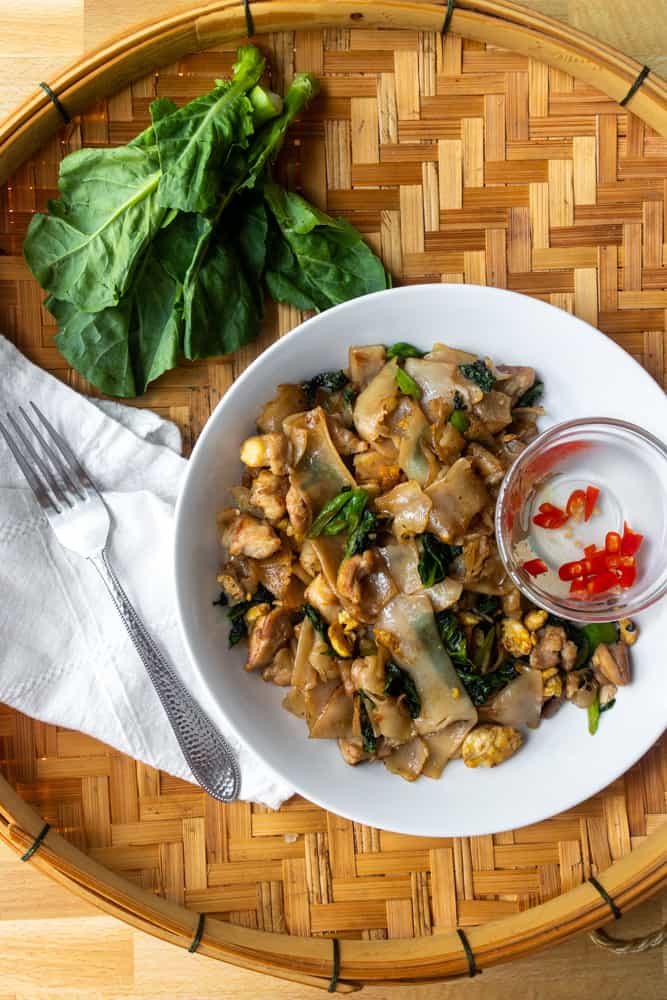 The other key ingredients in Pad See Ew is obviously the soy sauce! We use two different types of soy sauce in this dish: a light soy sauce and a dark soy sauce.
I personally think the type of soy sauce you use matters. I love this mushroom soy sauce because it adds a lot of umami to the pad see ew. If you can't find this particular brand, look for soy sauce labeled "light soy sauce" or a Thai brand soy sauce. Regular Chinese and Japanese soy sauce can be a bit overpowering.
Dark soy sauce or black soy sauce is thicker and a bit sweeter than regular soy sauce. It's typically used to add color and help enhance the light say sauce. I like the Dragonfly brand. Make sure to get the orange capped one if you buy this brand.
If you cannot find dark soy sauce, you can always just add more soy sauce to the pad see ew.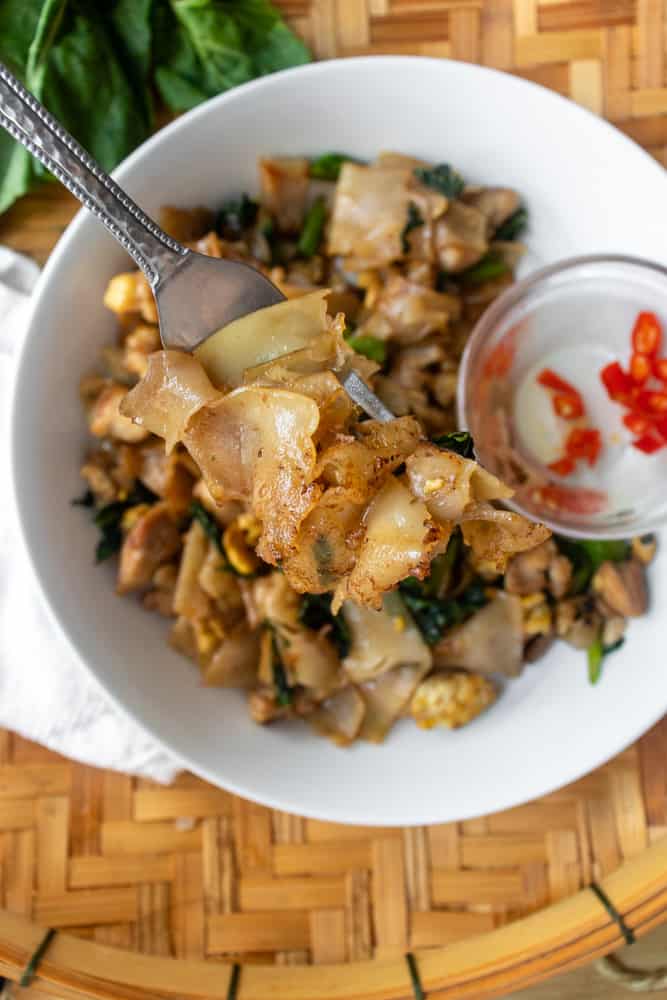 Other tips and tricks to ensure you get the best Pad See Ew:
You can use any kind of protein you want. If you want to keep it vegetarian, use extra firm tofu so it holds its shape.
PREP your ingredients beforehand. You're going to be moving fast because everything cooks so quickly. So have everything prepared before you start cooking.
I love using a wok whenever I stir fry but if you don't have one use a well seasoned cast iron skillet. This is because you want those iconic charry bits on the noodles, egg, and veggies. A wok will also give you that smoky flavor that's hard to replicate. Not the end of the world if you don't have either. Stainless steel is another great option.
Chinese broccoli also known as gai lan is traditionally used. If you can't find it, baby broccoli works or even baby bok choy.
Pad See Ew is traditionally served with extra ground white pepper and a chili vinegar. The acid from the chili vinegar helps cut some of the saltiness and heaviness of the dish. No need to add the chili peppers to the pad see ew, it's just used as a flavor enhancer. Just sprinkle a bit of the vinegar on top if you decide to use it.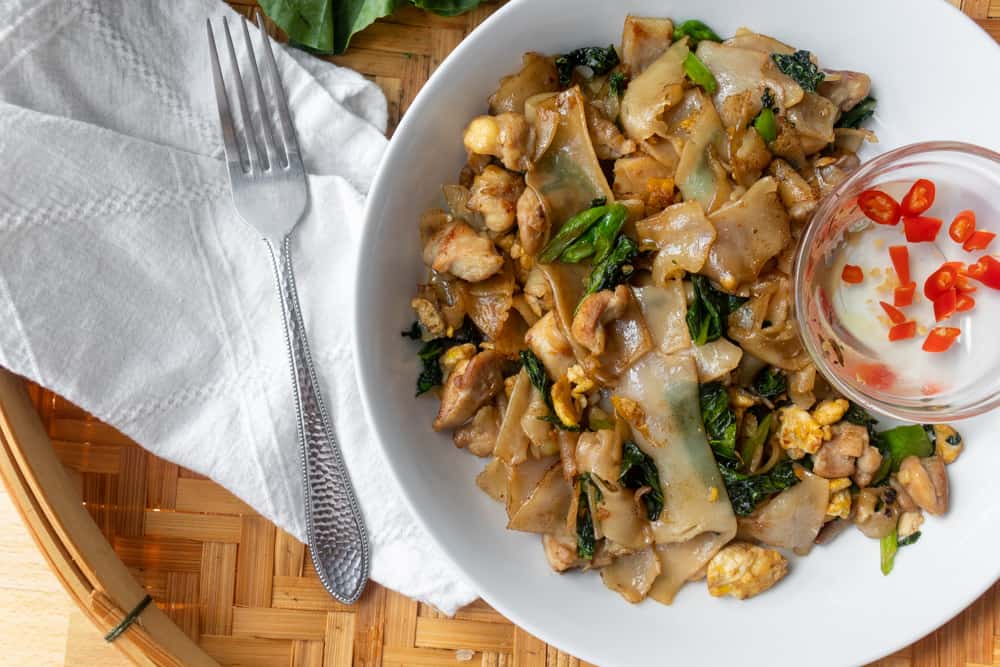 I hope you enjoy this Pad See Ew as much as I do! If you make this recipe be sure to tag me on Instagram so I can see.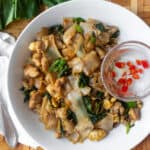 Pad See Ew (Thai Stir Fry Noodles)
Ingredients
½

lb

boneless skinless chicken thighs or breast

or any kind of protein

1

tbsp

soy sauce

4

garlic cloves

roughly chopped

1

large

egg

2

cups

chopped Chinese broccoli (gai lan)

or baby broccoli

8

oz

wide rice noodles*

2

tbsp

soy sauce

½

tbsp

dark soy sauce**

½

tsp

sugar

1

tsp

ground white pepper

more for taste
Chili Vinegar
¼

cup

white vinegar

1-2

chili peppers

sliced
Instructions
Cut chicken into bite size pieces and marinade with 1 tablespoon of soy for 10 minutes.

Preheat a wok or cast iron skillet over medium high heat. Once hot add about 1 tablespoon of avocado oil.

Add the chicken to the wok, spread it out, and cook for 2-3 minutes per side. You want the chicken to get nice and golden brown.

Remove cooked chicken and set aside.

Remove any bits and pieces from the chicken out of the wok.

Lower the heat to medium, add more oil (2-3 tablespoons), and then add the chopped garlic.

Stir fry for about 30 seconds and then add the egg.

Let the egg sit for a few seconds and then scramble.

When the egg is almost cooked add in the Chinese broccoli.

Toss for about a minute and then add your wide rice noodles, soy sauce, dark soy sauce, and sugar.

Mix until well combined. Spread the noodles out in the wok and let it sit for a 1-2 minutes or until you get some charred bits.

Flip the noodles and let sit for another minute.

Add in the chicken and ground white pepper. Toss until chicken is heated through.

Mix and then serve with chili vinegar and additional ground white pepper.
Chili Vinegar
Mix white vinegar and sliced chili pepper together. Set aside until ready to use.
Recipe Notes
*Wide rice noodles come in different forms. I prefer the fresh ones from the refrigerated section at the Asian grocery store. They usually don't come sliced but rather in a folded sheets. If you get this particular one, slice the noodles so they are 1 inch thick. Microwave the slices for 1-2 to minutes and then peel apart the noodles. If you don't have a microwave, let the noodles sit out at room temperature for a few hours until they are pliable. If you try to peel the cold noodles, they will break apart.
If you buy dry wide rice noodles, follow the directions on the package.
**Dark soy sauce is also called black soy sauce.
---
SIMILAR RECIPES:
Authentic Pad Thai
Thai Drunken Noodles (Paleo Version)
Thai Holy Basil Stir Fry
---