This Whole30 Thai Drunken Noodles recipe, also known as pad kee mao, will give you that Thai noodle fix you need. Whether you're doing a Whole30 or not, this is a great substitute and can be whipped up in no time!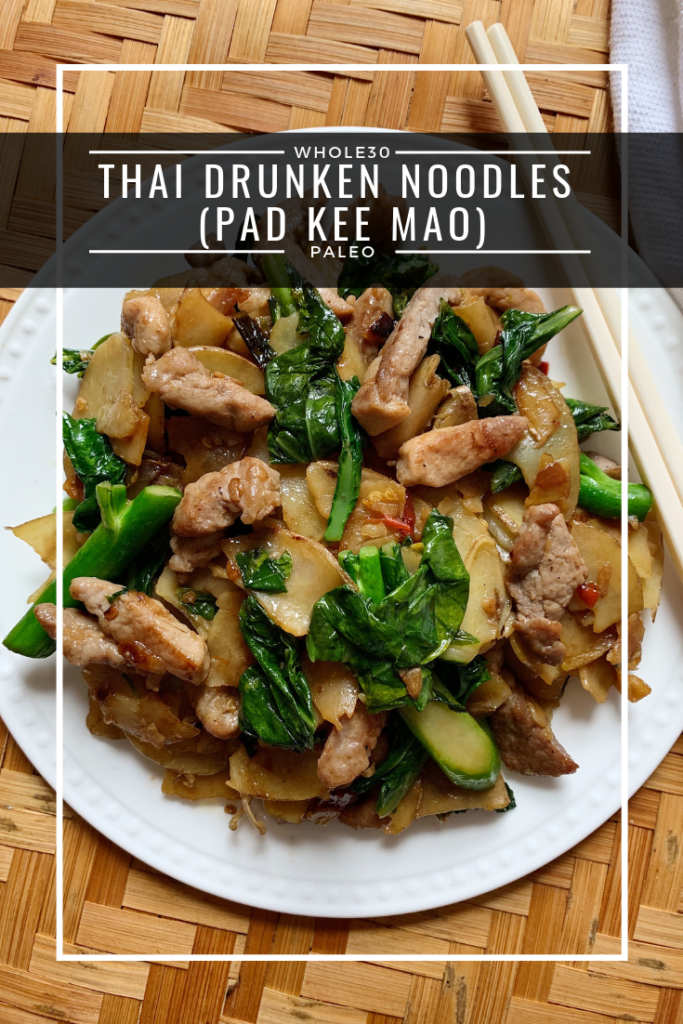 Pad kee mao translates to "stir fry drunken person". Which is funny because we are obviously not stir frying a drunk person. LOL There are lots of stories as to why it's called pad kee mao or (Whole30) Thai drunken noodles.
I've heard that someone was drunk and came up with this recipe, and I've also heard that it's best served late at night after a night out of drinking and partying. It's apparently the perfect drunk food because the spiciness will help sober you up.
Whatever the case me be, it's delicious, and I thank my ancestors for coming up with a great dish that comes together in time whatsoever.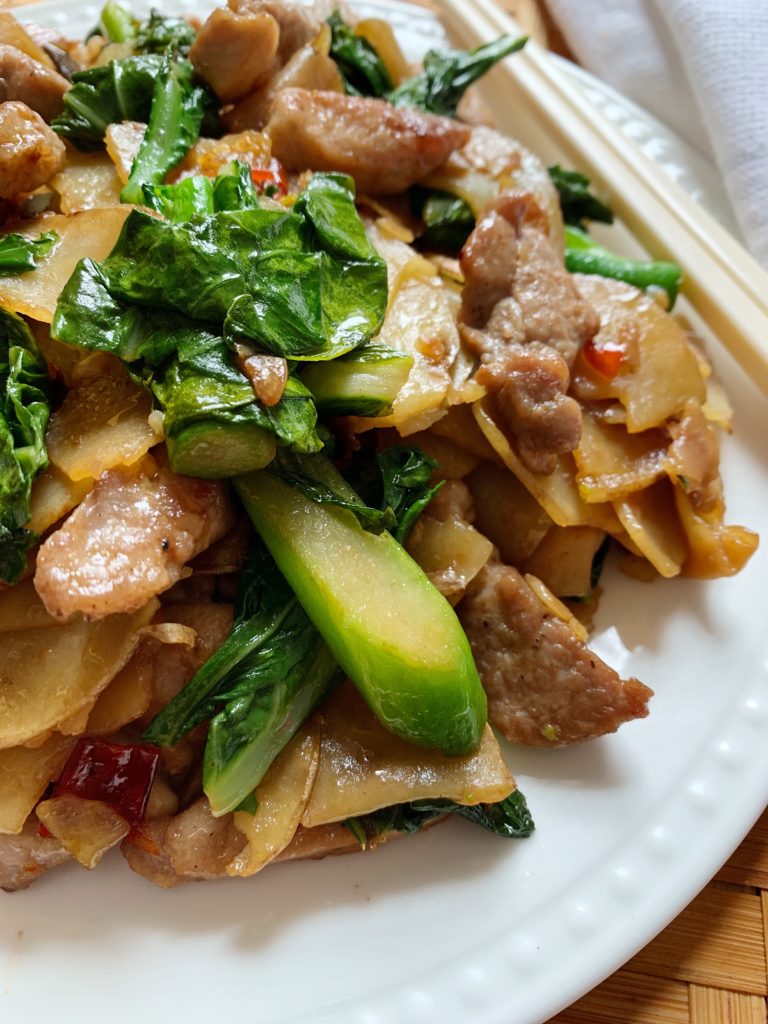 This Whole30 Thai drunken noodles is pretty close to the real deal. However, I do wish there was a paleo option for oyster sauce because that is what is typically used to bring ultimate umami and color to the dish. So if anyone knows a brand and/or recipe for oyster sauce that's at least gluten free, hit a girl up! Let me know because I do miss cooking with it.
Anyway, when I was recipe testing this Whole30 Thai drunk noodles recipe, I tried all type of veggies for the noodles, and potatoes reigned supreme. I wanted this to be a nice hearty dish and things like spaghetti squash and zoodles weren't cutting it for me. Plus, they get too soggy, and I wanted this dish to be meal prep friendly.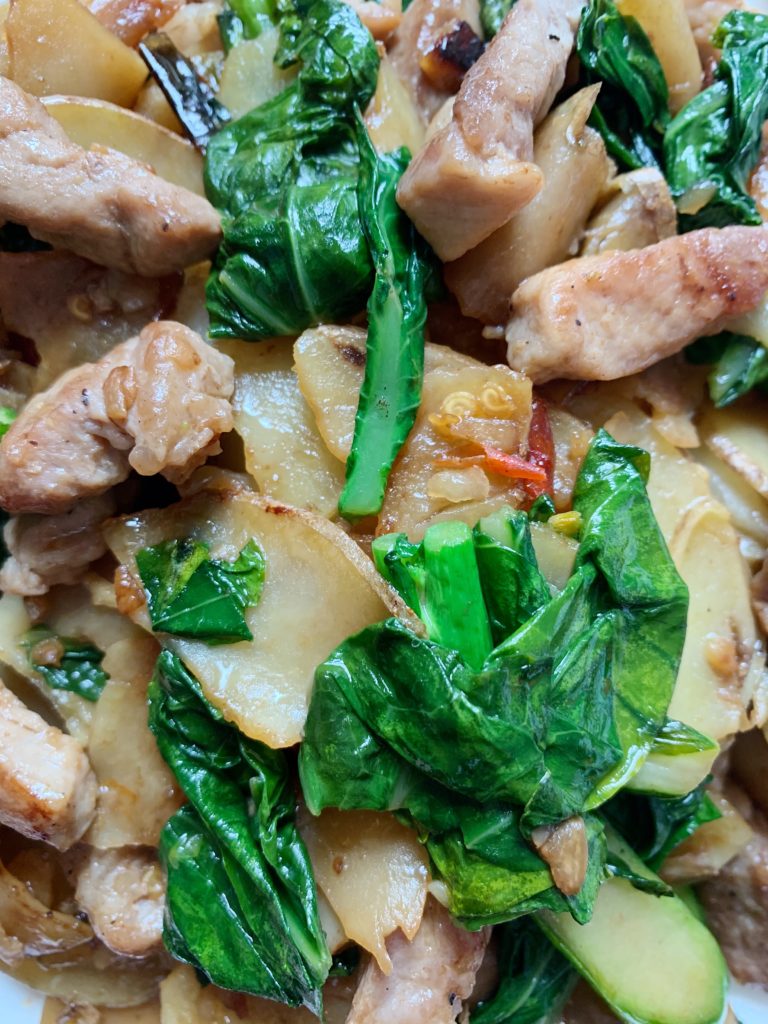 A few things about this dish:
I used Yukon potatoes as the "noodles". I like waxier potatoes because they hold up better. So basically, use any potato but Russet potatoes.
If you don't have a spiralizer, you can use a veggie peeler to make long strips. However, I do recommend investing in a spiralizer that has the ribbon blade. You'll use it more than you think!
You can use any type of greens you want if you can't find Chinese broccoli. Things like baby bok choy work or even just regular ole broccoli. If you want to use Chinese broccoli, check your Asian grocer to see if they carry it.
You can use any type of protein you want. I typically use chicken or pork, but you can use beef if you want. You can keep it completely vegetarian and make it heartier by adding things like baby corn (if you're not doing the Whole30), tofu, and etc.
This dish is meant to be spicy. If you can't handle the heat, cut back the chili peppers to about 1-2 pieces, but you need the kick. That's the whole point of pad kee mao.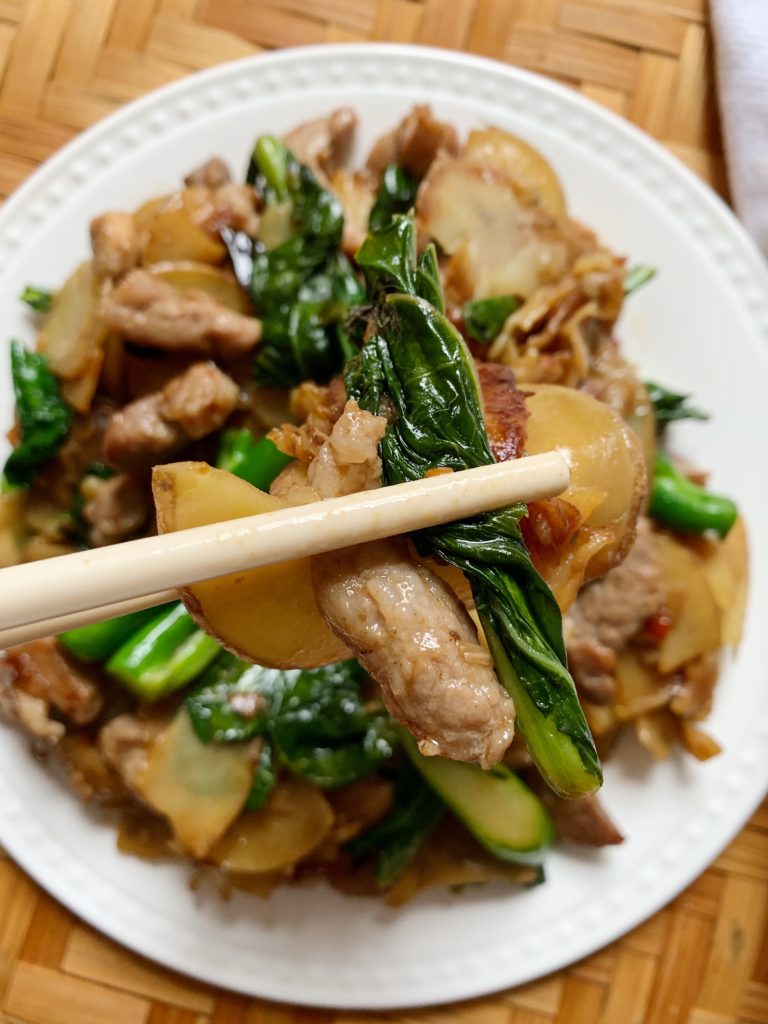 Of course, to my meal preppers, yes you can meal prep this! It's actually super meal prep friendly as long as you use potatoes as your noodles. It's actually better the next day because the flavors really come together. And if you're wondering, yes I've eaten this cold.
I hope you all enjoy this Whole30 Thai drunken noodles as much as I do!
Whole30 Thai Drunken Noodles (Pad Kee Mao)
Ingredients
5

Thai chili peppers

5

garlic cloves

peeled and roughly chopped

1

tbsp

avocado oil

2

skinless boneless chicken breasts

1 1/2

tbsp

coconut aminos

1

tbsp

fish sauce

1

tsp

100% apple cider

or apple juice

1

tsp

kosher salt

more to taste

2

large

Yukon potatoes

1 1/2

cup

chopped Chinese broccoli

1/2

cup

holy basil leaves

r Italian basil
Instructions
Before prepping ingredients, bring a pot of water to a boil.

In a mortar and pestle*, add in the garlic cloves and chili peppers. Pound until a rough paste forms. Set aside.

Thinly slice the chicken breasts and set aside. Chop the Chinese broccoli, set aside, and then spiralize the potatoes using the ribbon blade.

Add the potatoes to the boiling water and blanch for about 3-4 minutes. Remove it from the water and drain on paper towels. Set aside.

Preheat a wok or large skillet with a tablespoon of avocado oil over medium-high heat.

Once heated, add in the chili peppers and garlic. Stir fry for a couple minutes or until fragrant.

Add in the chicken and stir fry until almost cooked. Then add in the coconut aminos, fish sauce, apple cider, and kosher salt.

Toss in the spiralized potatoes and stir fry for an additional 5-7 minutes or until potatoes have cooked through.

Mix in the chopped Chinese broccoli and holy basil. Turn off the heat and continue to mix in the Chinese broccoli until it has wilted but is still vibrant green.

Taste to see if you need more kosher salt and then serve immediately!
Recipe Notes
*If you don't have a mortar and pestle, you can use a food processor or roughly chop using a knife.
SIMILAR RECIPES:
Pad Thai
Thai Holy Basil Stir Fry
Pork Belly and Shrimp Stir Fry
Spicy Almond Butter Stir Fry