Fish Ceviche (Ceviche de Pescado) is a popular way to prepare fish that is "cooked" using lime juice and then mixed with fresh herbs, vegetables, and fruit. It's the perfect summer dish for those days you want something light and fresh but don't want to cook. It also pairs perfectly with Artisan Tropic cassava strips.
This post is in partnership with Artisan Tropic. Though I am compensated for my work, all opinions are my own.
Fish ceviche is one of my favorite dishes I had when I spent some time in Mexico. When I was in Tulum, I ate it everyday on the beach and was so grateful that the restaurant I ordered from shared with me their recipe.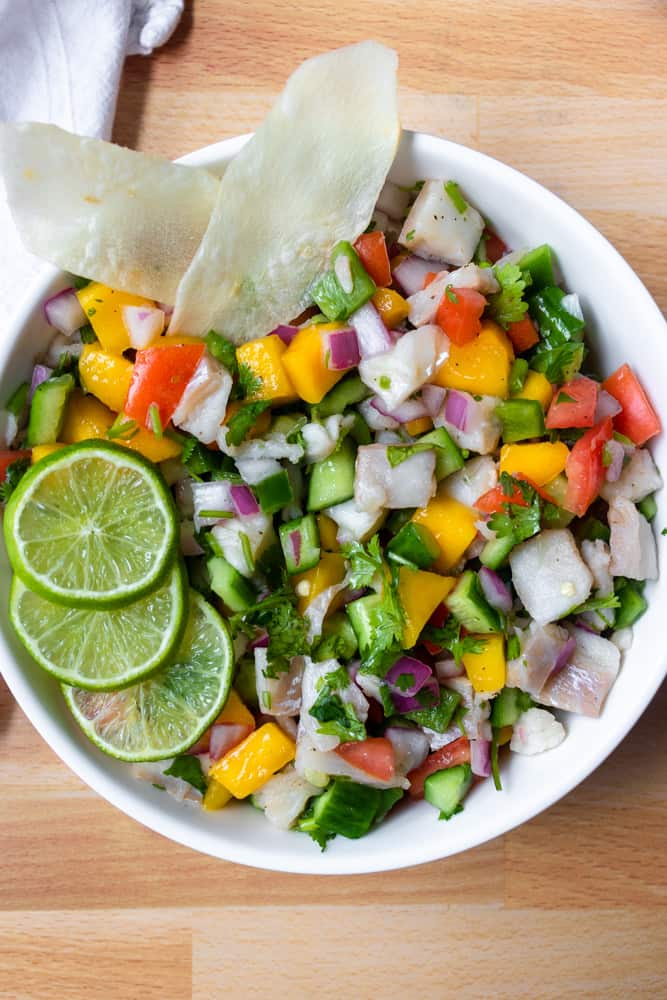 If you've never had ceviche and you like seafood, I highly recommend giving it a try! It's seafood (usually fish or shrimp) "cooked" in lime juice and then it's mixed with pretty much anything you like (i.e. cilantro, jalapenos, tomatoes, and etc). It's usually served with tostadas but I prefer serving mine with Artisan Tropic cassava strips.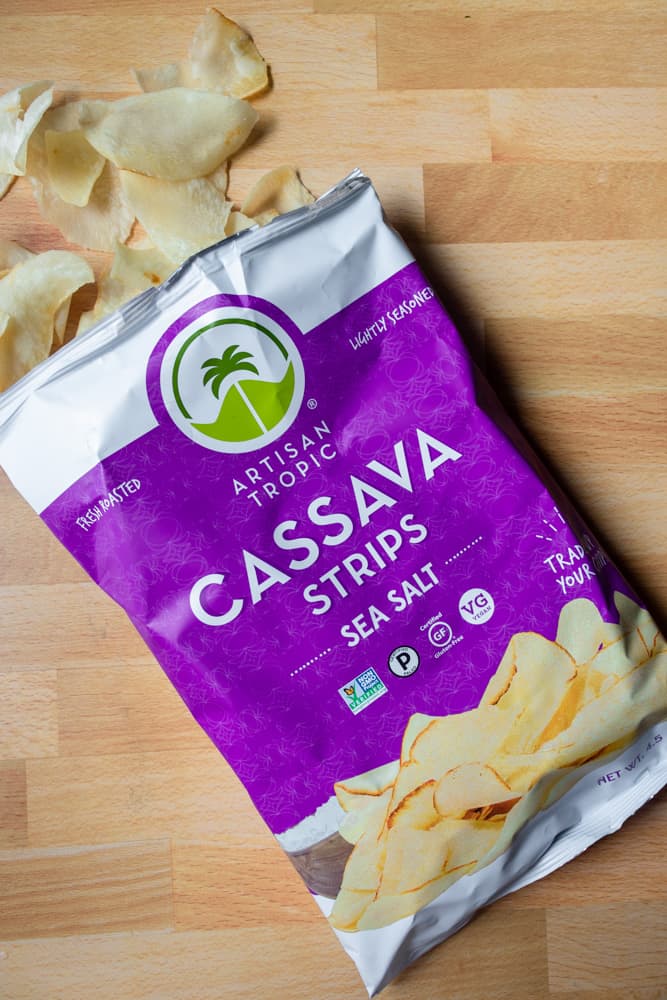 Artisan Tropic cassava strips make the perfect vessel for fish ceviche. The crispy airy strips are the perfect texture that match the fresh and light fish ceviche. A match made in heaven if you ask me!
Now, back to this fish ceviche and why I say "cooked". The fish technically isn't really cooked. It is cured in the lime juice which causes the fish to turn opaque and firm –thus giving it that cooked feeling. I'm sure there's a more in depth food science explanation for it.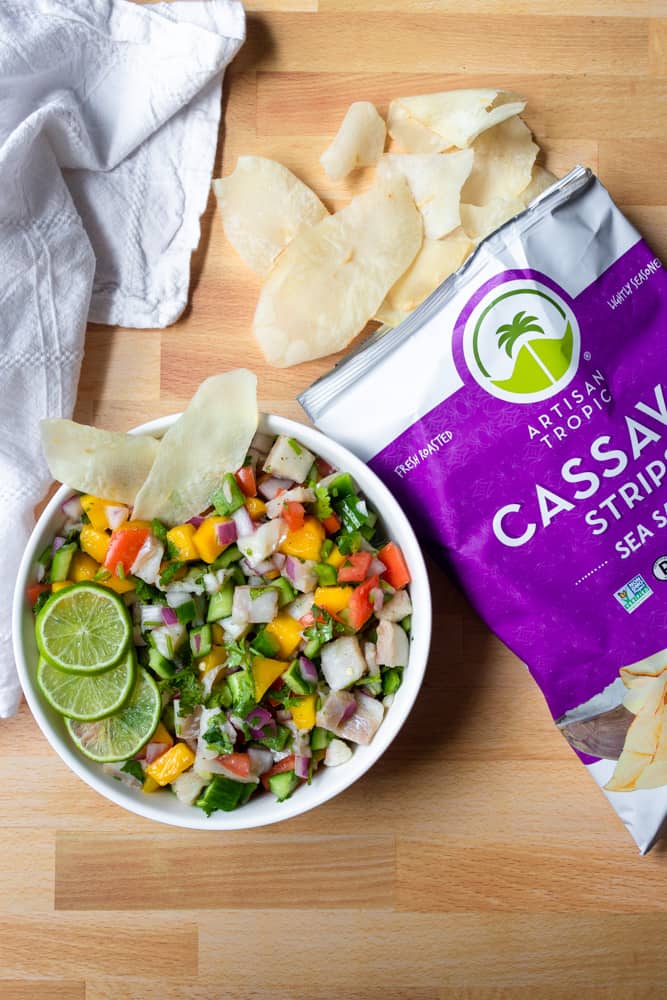 For this fish ceviche, it is best to use a white firm fish that is as fresh as possible. I typically go to my local fish monger and choose what kind of white fish I'm using based on availability.
If you cannot get fresh white fish, frozen works as well, but make sure you are getting good quality fish. Here are a few to choose from:
sea bass
cod
tilapia
snapper
halibut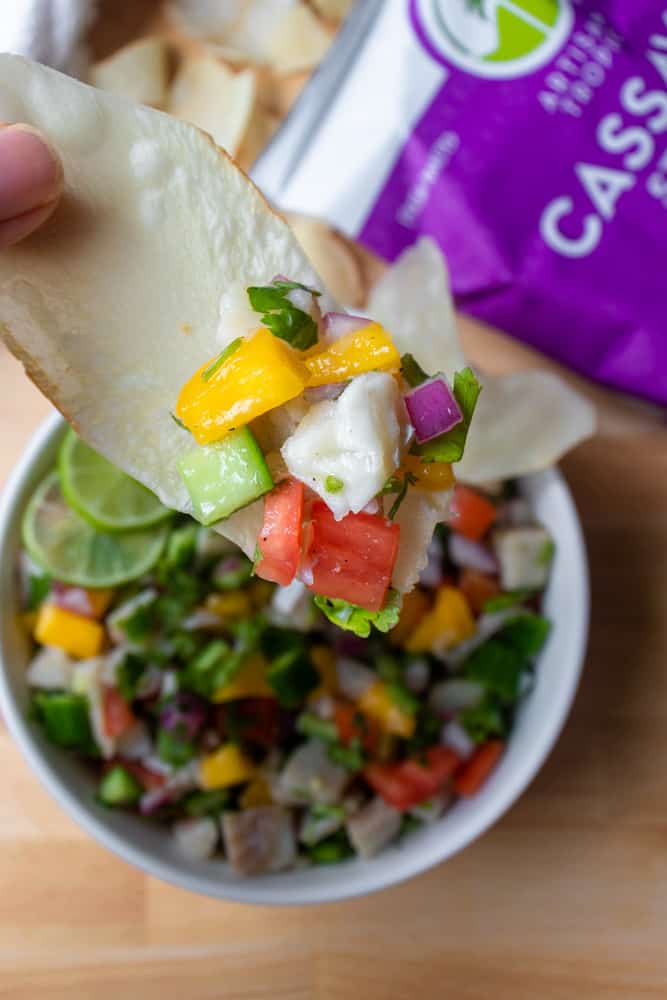 Here are also some tips and tricks to ensure you get the best fish ceviche:
You have to use fresh limes. It's tedious to squeeze all those limes, but the end results are worth it. The bottled stuff won't actually cure the fish.
I like "cooking" the red onions in the lime juice with the fish because it helps cut some of the bite red onions tend to have.
If the idea of raw fish freaks you out, you can quickly blanch the fish in boiling water before curing it.
I recommend mixing all of the ingredients together after the fish is done curing right before serving. This will ensure freshness.
Play around with different veggies, herbs, and fruit you mix in!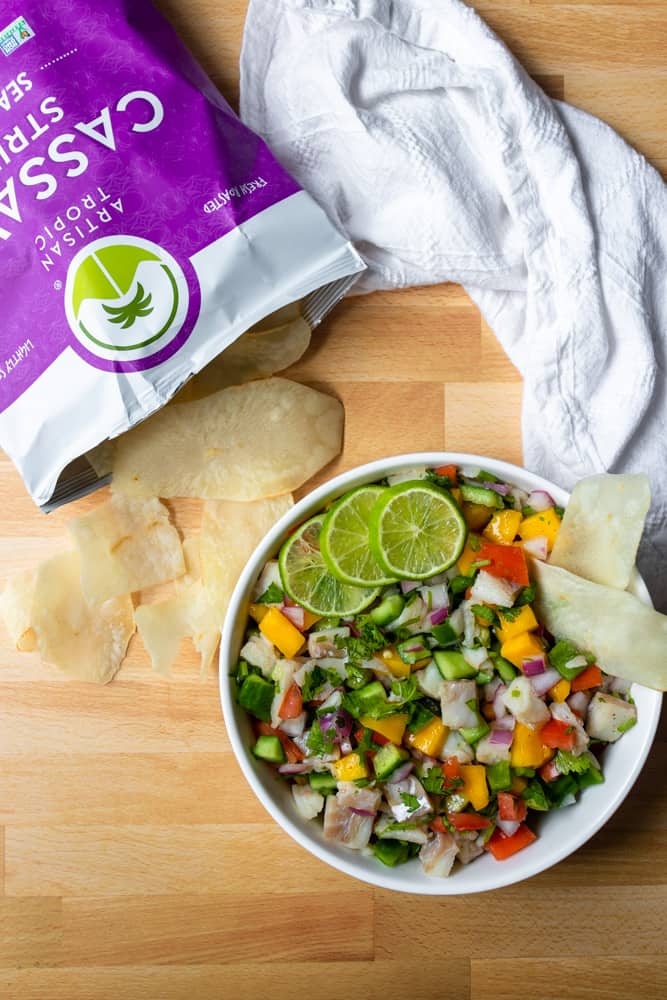 Don't forget to grab a few bags of Artisan Tropic cassava strips and be sure to add this fish ceviche to your summer menu. It's the perfect no cook dish that takes minimal effort! Be sure to tag me on Instagram if you make it.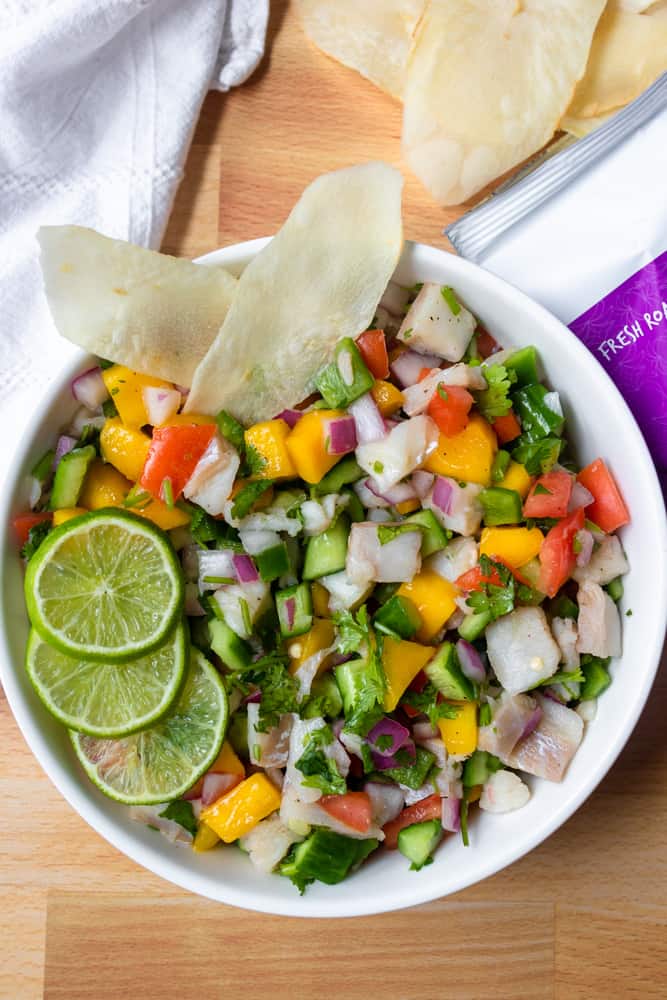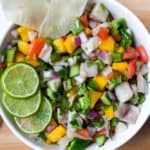 Fish Ceviche (Ceviche de Pescado)
Ingredients
1

lb

cod

(check notes for other options)

½

red onion

finely diced

1

cup

fresh lime juice

(7-8 large limes)

1

ripe mango

diced

1

cucumber

seeded and diced

2

roma tomatoes

seeded and diced

1

jalapeno pepper

diced (remove seeds if you want it less spicy)

½

cup

chopped cilantro

kosher salt

ground black pepper
Instructions
Cube cod into small bite sized pieces (a quarter inch cube).

Add cubed cod and the diced red onion to a bowl. Pour in the fresh lime juice making sure everything is submerged.

Cover and refrigerate for 2 hours.

When the fish is opaque and has firmed up, reserve ¼ cup of the lime juice and discard the rest.

Next mix in the remaining ingredients (reserved lime juice as well) and season with kosher salt and black pepper to taste.

Serve with Artisan Tropics Cassava Strips!
Recipe Notes
Other fish you can use:
sea bass
tilapia
snapper
halibut
---
SIMILAR RECIPES:
Quick & Easy Shrimp Ceviche "Tostadas"
Poke Tuna Stacks
Queso Fundido con Chorizo
---