This Thai holy basil stir fry also known as pad kra pao is one of my favorite dishes. It's quick, it's easy, and it's super simple to make. Now, before all the aunties and grandmas come at me, let's be clear that this is a Whole30 and Paleo version. So I won't be using things like oyster sauce, sugar, and/or dark soy sauce. I have somehow managed to get resourceful when I was recreating this recipe, and I am really proud of it!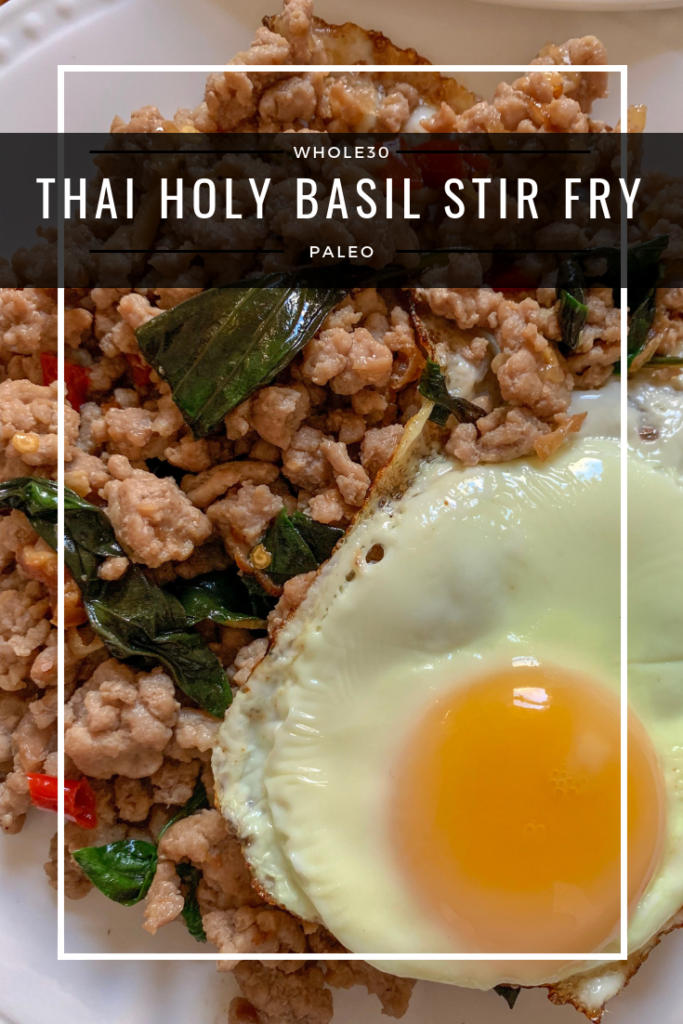 The main flavor profile in this dish is the Thai holy basil –if you couldn't guess from the name. You can find it at your Asian grocery store, but if not, you can also use regular Thai basil. If you can't find either, then you can use the regular basil you find at any grocery store.
If you can find Thai holy basil though, I recommend stocking up. It has a slight peppery taste to it and really packs a lot flavor. I didn't really appreciate it growing up, but now it is one of favorite herbs to use. You can literally throw it into any kind of stir fry, and it will help make the stir fry that much better!
Now, in a lot of Thai and Lao cuisine, it's all about the flavor combo. It's probably why a lot of my recipes have that element to it. It's part of my DNA, I guess. HA! Since sugar is out for the Whole30, I had to find an alternative for it. The reason why sugar is used in a lot of Thai and Lao dishes is because it helps balance a dish out and also helps enhance flavor.
I tried just leaving the sugar out completely, but the dish was missing something when I used it. I tried using dates but those didn't work out because the flavor didn't seem to work with it. Then I remembered that I like to use apples in my Korean inspired dishes, and that's how apple juice became one of the ingredients for this Thai holy basil stir fry!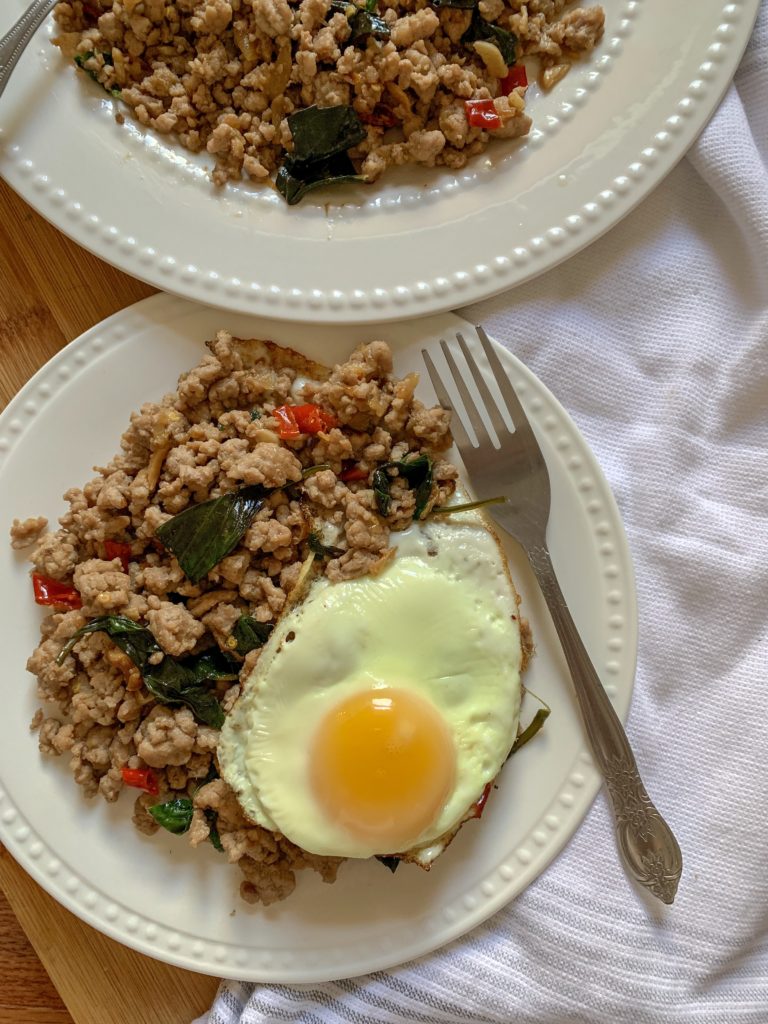 I hope you enjoy this dish as much as I do. It's a great go-to recipe that can put together in no time! Pair it with some cauliflower rice, and it's better than any Thai take-out. Promise!
P.S. a crispy fried is mandatory when it comes to this Thai holy basil stir fry. Unless you're allergic to eggs, this is non-negotiable. Thais love their crispy fried eggs!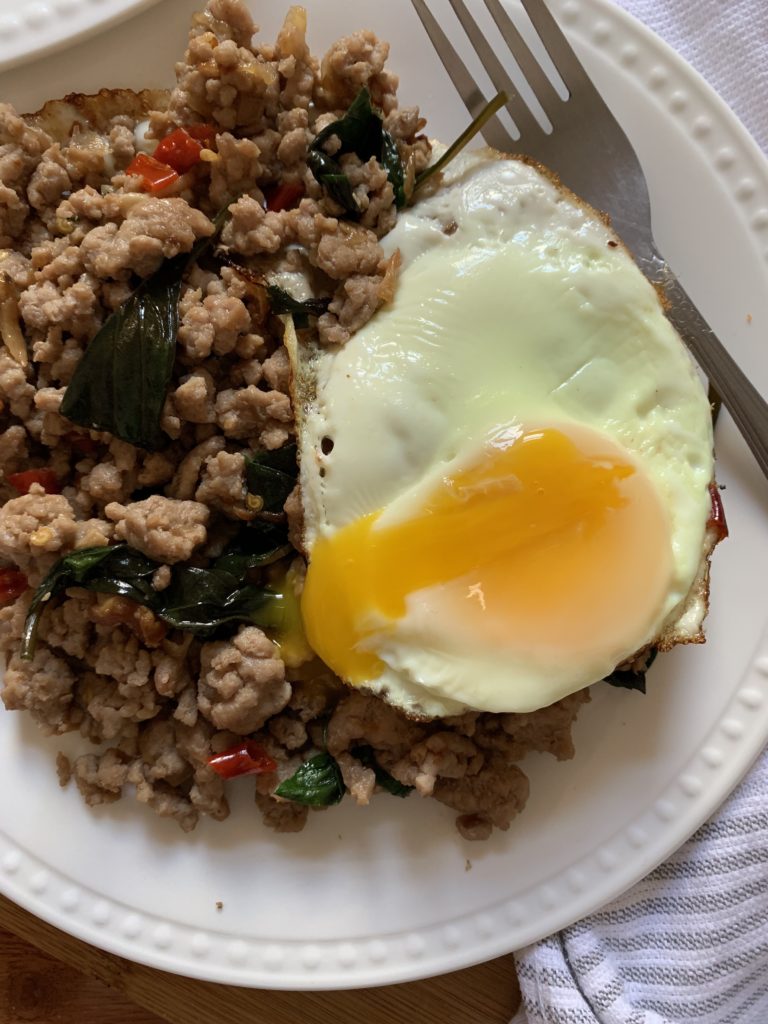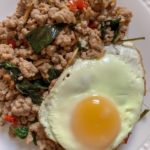 Thai Holy Basil Stir Fry (Whole30, Paleo)
A Whole30 and Paleo friendly take on the classic Thai holy basil pork stir fry (pad kra pao moo).
Ingredients
1

pound

ground pork

or ground chicken

1 1/2

cup

Thai holy basil

removed from stem and tightly packed

2

small

shallots

thinly sliced

5-7

garlic cloves

peeled and thinly sliced

4-5

Thai chili pepper

thinly sliced

1

tbsp

fish sauce

1

tbsp

coconut aminos

1/2

tbsp

apple juice

1

tsp

kosher salt

1

tbsp

avocado oil
Crispy Fried Eggs
1-4

tbsp

avocado oil

or any cooking fat

1-4

eggs

one egg per person
Instructions
Preheat wok over medium-high heat with avocado oil, add in the shallots and garlic. Fry for about 3 minutes or until fragrant. Add in the sliced Thai chili peppers and stir fry for another minute.

Turn the heat up to high and add the ground pork to the wok making sure to break it up into small pieces. Let the pork sit in the wok undisturbed for a minute so it starts crisping up.

Pour in the fish sauce, coconut aminos, apple juice, and kosher salt. Mix until everything is well combined.

Once pork is cooked through, turn off the heat and then add the Thai holy basil. Mix until the Thai holy basil starts to wilt. (The residual heat will wilt the basil.)

Once the Thai basil has wilted, serve with cauliflower rice, and a crispy fried egg!
Crispy Fried Eggs
Preheat a small skillet over medium-high heat with 1 tbsp avocado oil.

Once oil is heated, add the cracked egg into the skillet. It will start bubbling up and the edges will start to brown.

Using a spoon to carefully spoon the avocado oil on top of the egg to help with cooking it. Cook until the whites are opaque and yolk is to your liking. Repeat steps for each egg.
Recipe Notes