This Salt & Pepper Shrimp is a take on the wildly popular Chinese food takeout dish. With a few simple ingredients, you'll have this dish together in less than 30 minutes!
One of my favorite dishes I order whenever I get Chinese food is their Salt & Pepper Shrimp (and calamari). It is such a simple but delicious dish that's perfect as an appetizer or as a full meal with all the fixings.
I like to eat mine with white rice, veggies, and dipped in a hot chili paste.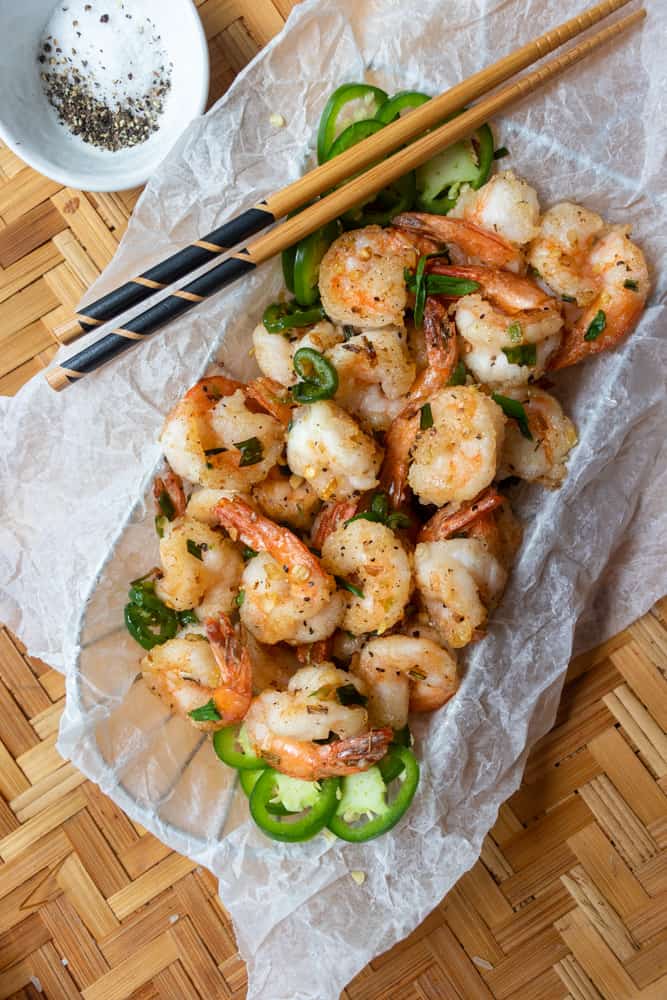 The salt & pepper shrimp served at my favorite local Chinese restaurant heavily batters their shrimp. I mean, don't get me wrong, your girl loves anything breaded and deep fried, but I wanted to make a version that was a bit lighter and less messy.
I kept this recipe super super simple so you can make it any night of the week. It's the perfect fake-out takeout!
A few things about this salt & pepper shrimp recipe:
I like using large shrimps with the tail on. I also like to butterfly the shrimp where the vein has been removed because it looks nice and there's more surface area for flavor!
You can also keep the shell on –which some Chinese restaurants do. No need to peel after it's cooked. You can actually each the whole thing! This method also adds a lot of flavor.
There are three different starches I recommend to coat the shrimp: cornstarch, potato starch, and/or tapioca flour. Each starch provides a different kind of crispiness but crispy nonetheless. I prefer to use cornstarch but potato starch is a close second. Tapioca is a great paleo alternative.
This dish is literally seasoned with salt and pepper, but the kind of salt and pepper you use matters. I love using kosher salt and fresh ground black pepper. Fresh ground black pepper will me all of the difference. Trust me.
If shrimp isn't your thing, this recipes works with calamari too!
Don't skimp on the aromatics. Yes I use jalapeno peppers but it's not spicy at all. Use as little or as much as you would like.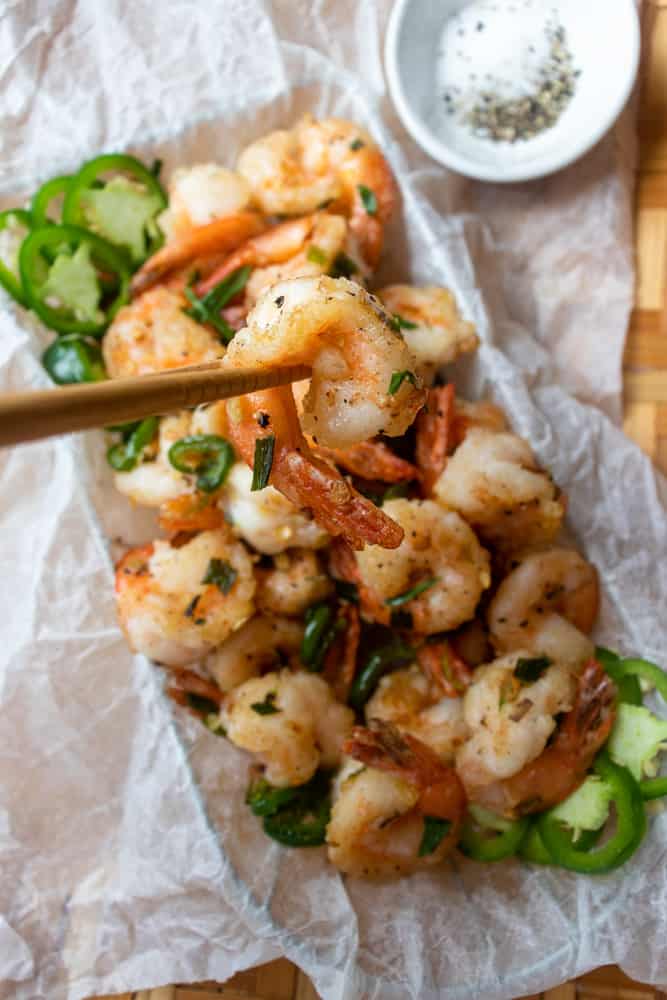 Next time you're in the mood for some takeout, consider making these Salt & Pepper Shrimp! If you do, be sure to tag me on Instagram so I can see your recreation.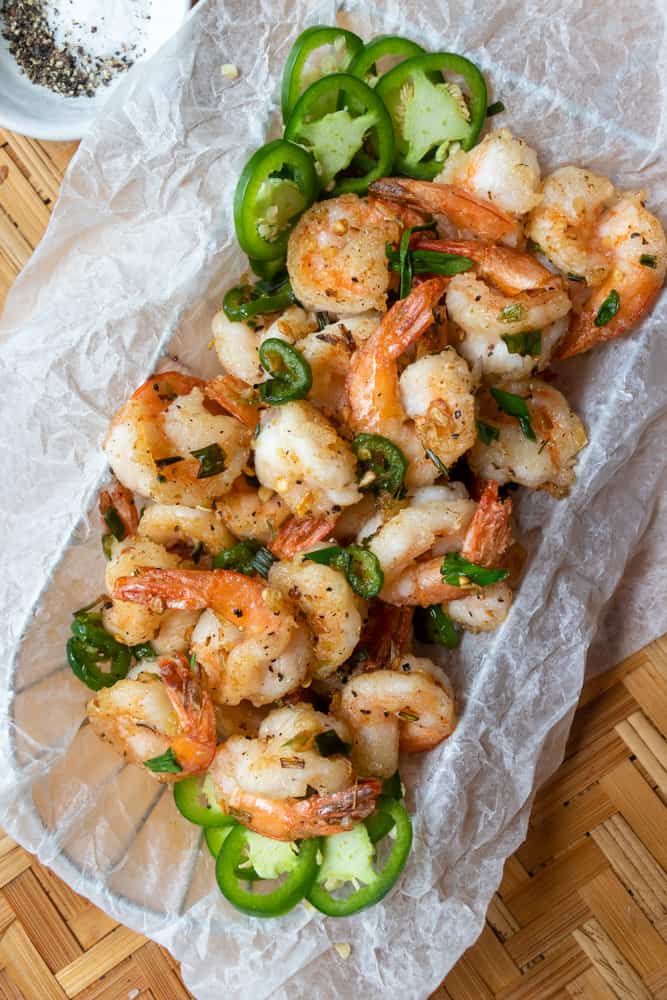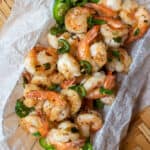 Salt & Pepper Shrimp (Gluten Free, Paleo)
Ingredients
1

lb

shrimp

deveined with tail on or keep shell on

½

cup

cornstarch

or potato starch or tapioca flour

6

garlic cloves

roughly chopped

2

jalapenos

sliced

2

green onions

sliced

1

tsp

kosher salt

more to taste

½

tsp

fresh ground black pepper

½

tsp

ground white pepper
Instructions
Pat shrimp dry and then toss in cornstarch. Shake off excess and set aside.

Preheat a large skillet over medium heat with enough avocado oil covering the bottom and ¼ inch high.

Once the oil is heated add the shrimp and cook on each side for 1-2 minutes or until shrimp is cooked through. Don't overcrowd the skillet. Cook in batches if you need to.

Place shrimp on a paper towel line plate and set aside.

Remove the oil from the skillet leaving only 1-1 ½ tbsp of avocado oil.

Add the chopped garlic, sliced jalapenos, and green onions to the skillet and stir fry for 2-3 minutes or until jalapenos soften.

Mix in the kosher salt, fresh ground black pepper, and white pepper.

Add in the shrimp and toss until shrimp is heated through and well combined with everything.
---
SIMILAR RECIPES:
Spicy Salt & Pepper Chicken Wings
Spicy Coconut Shrimp
Hibachi Steak & Shrimp
---