Braised Pork Belly and Shrimp Stir Fry – Whole30 and Paleo friendly. A great meal for any night of the week. It's packed with lots of flavor. Like, so much umami!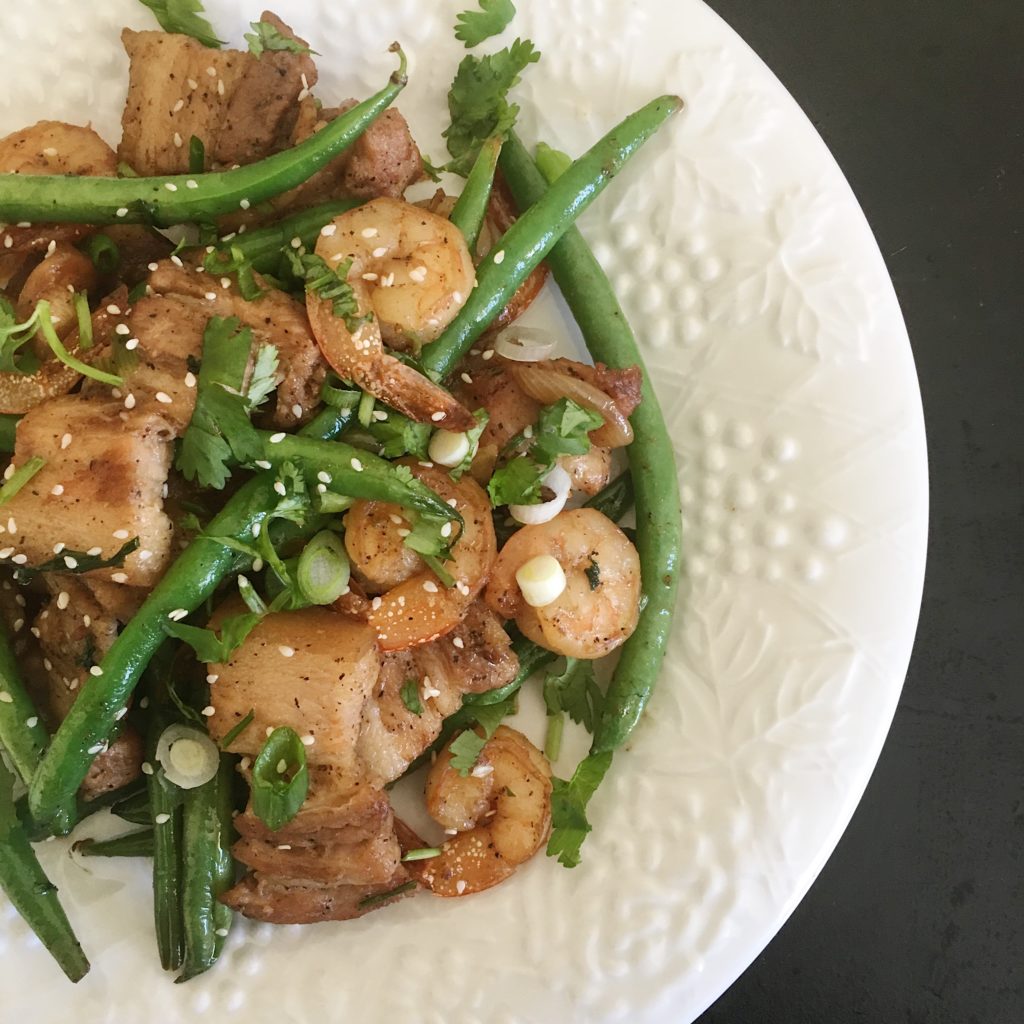 I once had a conversation about pork belly that went something like this:
Me: OMG, I love pork belly! I never met a piece of pork belly I didn't like!
Boy: I don't how you can eat pork belly. The idea kinda grosses me out. I'm down for any other part of the pig though.
Me: do you like bacon?
Boy: uhh who doesn't like bacon? Of course I like it!
Me: well, you do know bacon is pork belly, right? It's literally thinly sliced pork belly.
Boy: [complete and utter silence]
Me: [sips imaginary tea like Kermit the frog]
Dolly and Pork Belly – 1, Boy – 0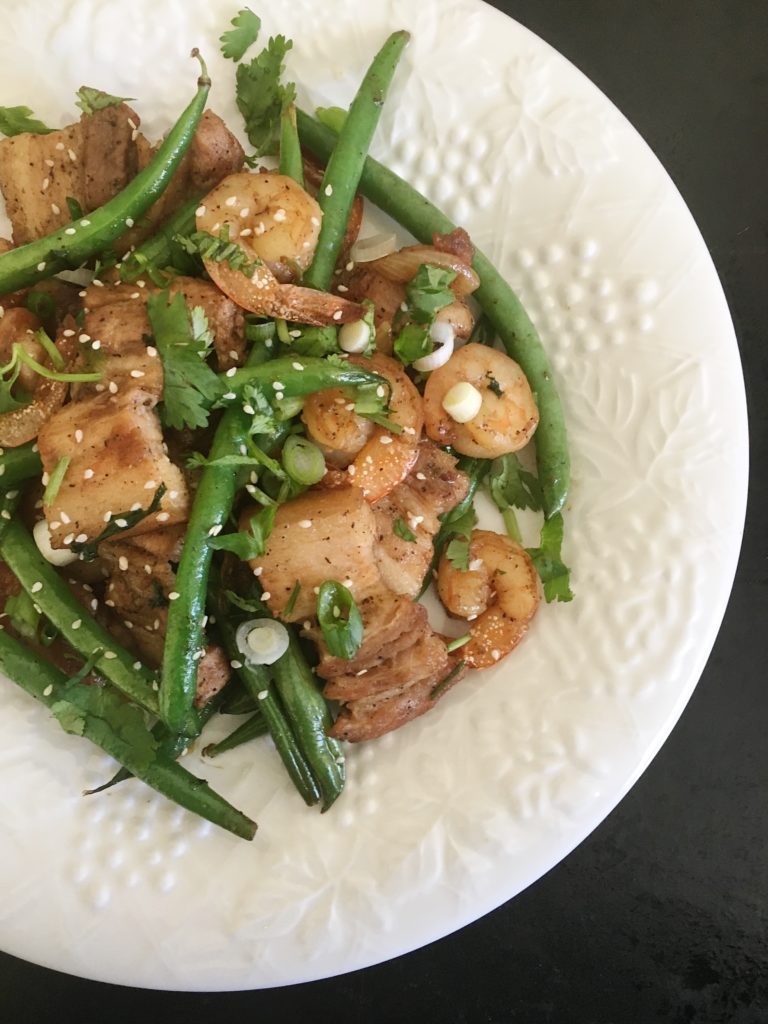 My love for pork belly runs deep. I WILL clap back if you have anything negative to say about it, mmkay? It's my favorite cut of pork, but I don't cook with it as often as I would like. I love it because it's full of flavor and it's a very forgiving piece of meat since it's super fatty. Basically, it's foolproof even if you're new to cooking with it.
Anyway, this recipe was inspired by Nom Nom Paleo's Wonton Meatballs –which btw is one of my top three favorites of her recipes. I wanted to make the meatballs, but I didn't have any ground pork. What I did have was a slab of beautiful pork belly that I picked up from my local butcher.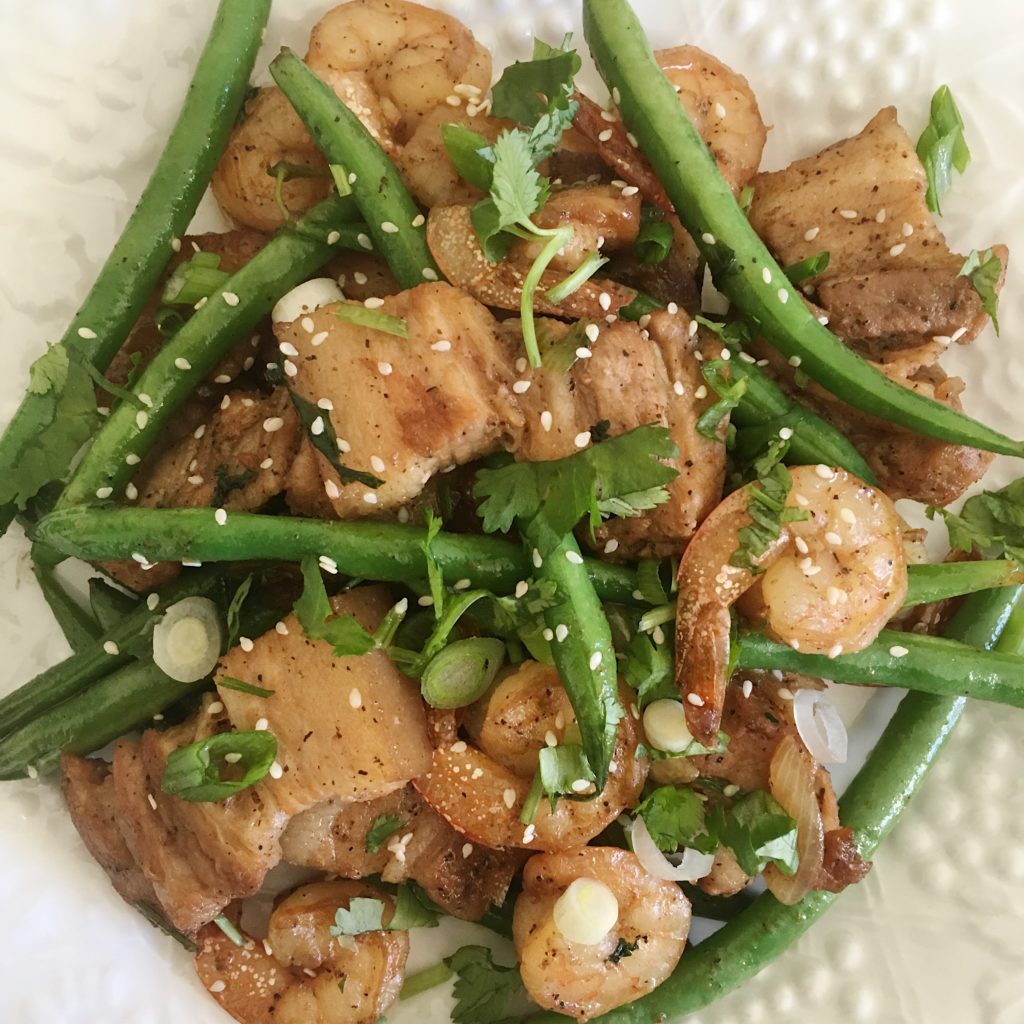 The creative juices started flowing and I thought to myself "what if I made a stir fry using the flavors of the wonton meatballs?" I essentially had all of the ingredients and just needed to figure out the measurements (hardest part FYI). So I started playing around, and somehow this delicious dish was created!
I was ecstatic, and made the Braised Pork Belly and Shrimp Stir Fry again the following day just to ensure I wasn't crazy and that it actually tasted like the wonton meatballs. Turns out, I'm not crazy and this dish did taste like the meatballs! If you've made Nom Nom Paleo's wonton meatballs and/or love pork belly as much as I do, make this recipe ASAP! Your mouth and stomach will be so happy with you!
Braised Pork Belly and Shrimp Stir Fry
Ingredients
1 ¼

lbs

skin-on pork belly

1

lb

shrimp

peeled and deveined

½

lb

green beans

trimmed

½

large onion

thinly sliced

1

inch

fresh ginger

peeled and grated

2

scallions

finely chopped

¼

cup

cilantro

finely chopped

½

cup

coconut aminos

1

tbsp

fish sauce

1

tsp

sesame oil

1

tsp

arrowroot flour

½

tsp

kosher salt

1

tsp

fresh cracked black pepper

Chopped cilantro

Sliced scallions

Sesame seeds
Instructions
Place pork belly in freezer for about 10-15 minutes, this will help with slicing it. Remove pork belly and slice into quarter inch thick pieces.

Preheat a large skillet or wok over medium-high heat with about a tablespoon of

avocado oil

. Add pork belly and brown on each side for about 2-3 minutes.

Lower heat to medium, add onions, saute until onions are translucent and then stir in coconut aminos mixture. Bring to a boil, then lower heat to low and let the pork belly simmer in liquid for 10 minutes.

Once sauce has reduced, turn heat back up to medium-high heat, move pork over to one side of the skillet, add shrimp, season with

kosher salt

, pepper and

arrowroot flour

. Cook until shrimp is halfway done.

Add green beans to skillet, combine all ingredients and cook until shrimp is cooked through and green beans are sauteed but are still bright green and crunchy.

Serve over cauliflower rice and garnish with cilantro, scallions and sesame seeds.
Pin this recipe for later!