Hot fried chicken is my currently my favorite way of eating chicken (and we all know what happens when I love something: Groundhog Day-ing meals for weeks on end!). It's spicy, saucy, crunchy, and super juicy. It can be served in a form of a sandwich or you can have it on top of a bed greens for an epic salad. I don't care how it's served as long as the hot fried chicken is served piping hot and there's extra hot sauce on the side.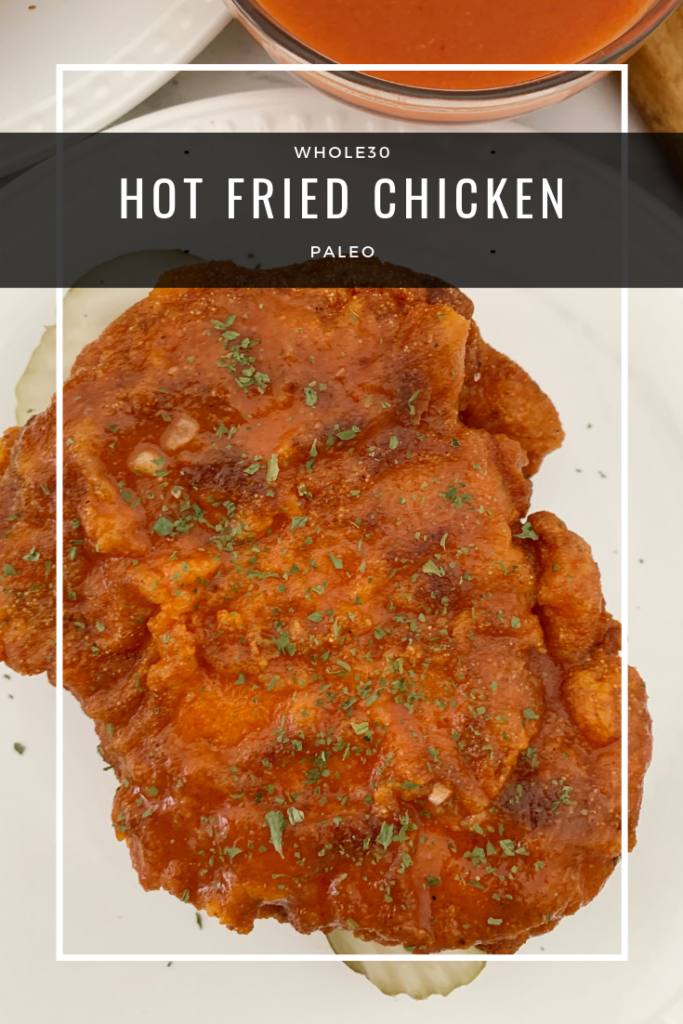 This hot fried chicken came about after my visit to Atlanta to visit fellow Whole30 certified coach and podcast co-host Jacob. I was craving hot fried chicken one night so he took me this amazing restaurant that served one of the best hot fried chicken sandwiches I ever did have. If there's one thing I know about the south, it's that they know how to fry their chicken!
The chicken was served on a nice fluffy bun with pickles, and a side of crispy delicious french fries. I was in absolute heaven, and knew that I needed to recreate a version that fits into my everyday diet. (My body is still trying to bounce back from all the gluten I ate on that trip.) This hot fried chicken version is definitely Whole30 and Paleo friendly, but if you're doing reintroduction or can tolerate gluten free grains, I love making a sandwich out of it using gluten free bread.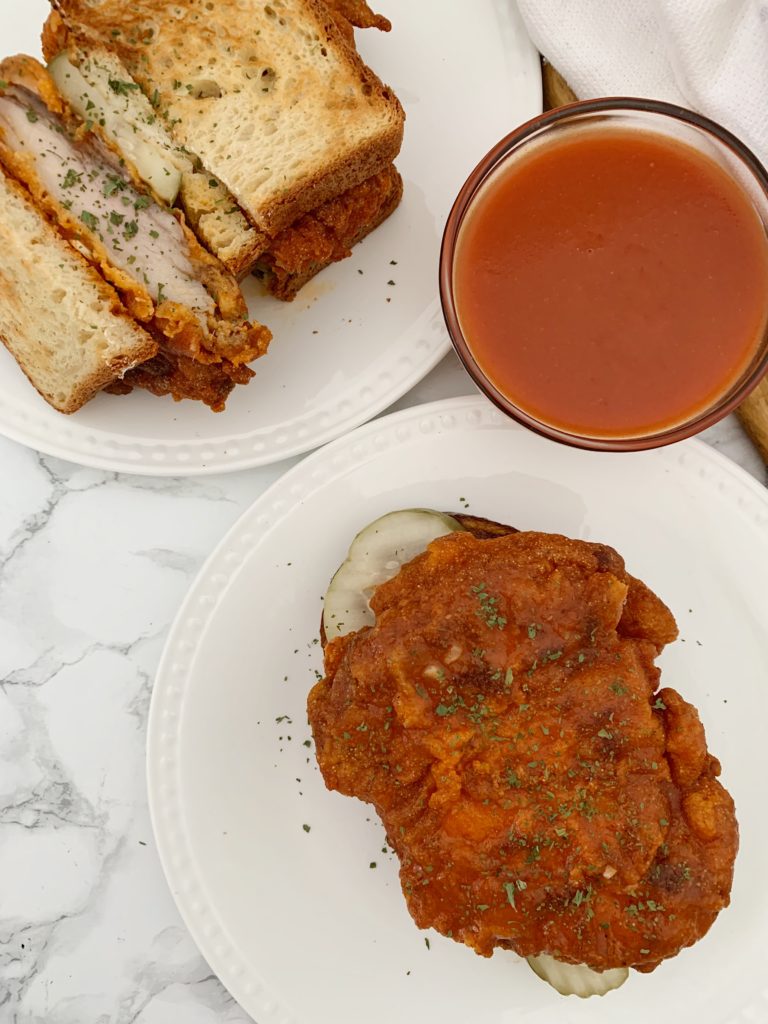 Let's clear a few things up before I get into the recipe:
I know it's called hot fried chicken, and people automatically assume it's deep fried. We should all know this by now, but if you don't, I do not deep fry anything because a) it's unnecessary, b) deep frying still scares me, last thing I need is a grease fire in my kitchen, and c) there are plenty of ways to get things crispy without deep frying.
My favorite flour of choice to use when breading things is cassava flour. It's the closest thing to real flour when it comes to cooking Whole30/paleo friendly. If you can't find cassava flour, you can use almond flour, but make sure it's the super fine one.
I will always and forever be a chicken thighs girl, but yes, you can use chicken breasts in place. Just make sure to pound the chicken breasts to make sure they are even in thickness and cooking time will vary.
You must serve this with pickles. It's a non-negotiable. Hot fried chicken isn't the same without fresh crispy pickles. My favorite brand is Grillos Pickles. (not sponsored)
If you can tolerate, I also recommend serving this in between soft potato buns. It's SO good. If not, I like cutting out potato rounds, roasting them, and then placing a few slices of pickles on it and then topping it off with the hot fried chicken.
I will not apologize for how spicy this recipe is. I'm half Lao and half Thai. You all should know spicy is in my DNA.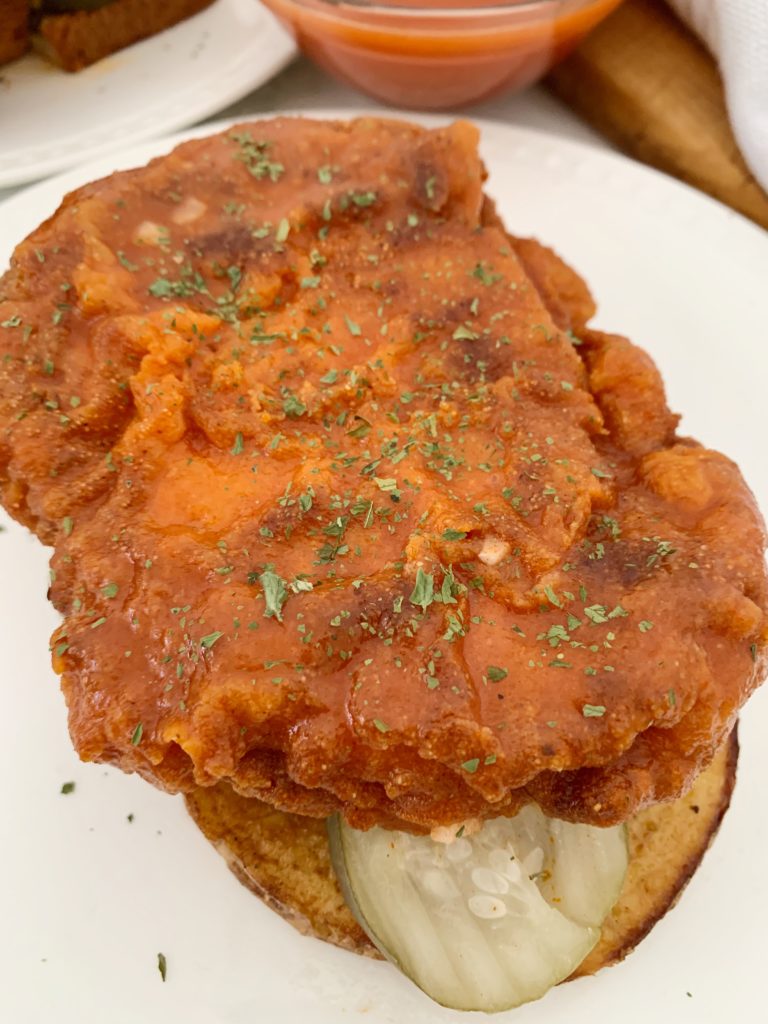 For my meal preppers: yes you can make this ahead of time, but do know you won't get the same crispy crunchy effect. Still delicious. Still worth making ahead of time. Still will be spicy AF. Also, it's really good room temperature or cold. You all know I don't like reheating leftovers sometimes. This falls into that category. I turn it into finger food, and dip it into ranch dressing. YUM!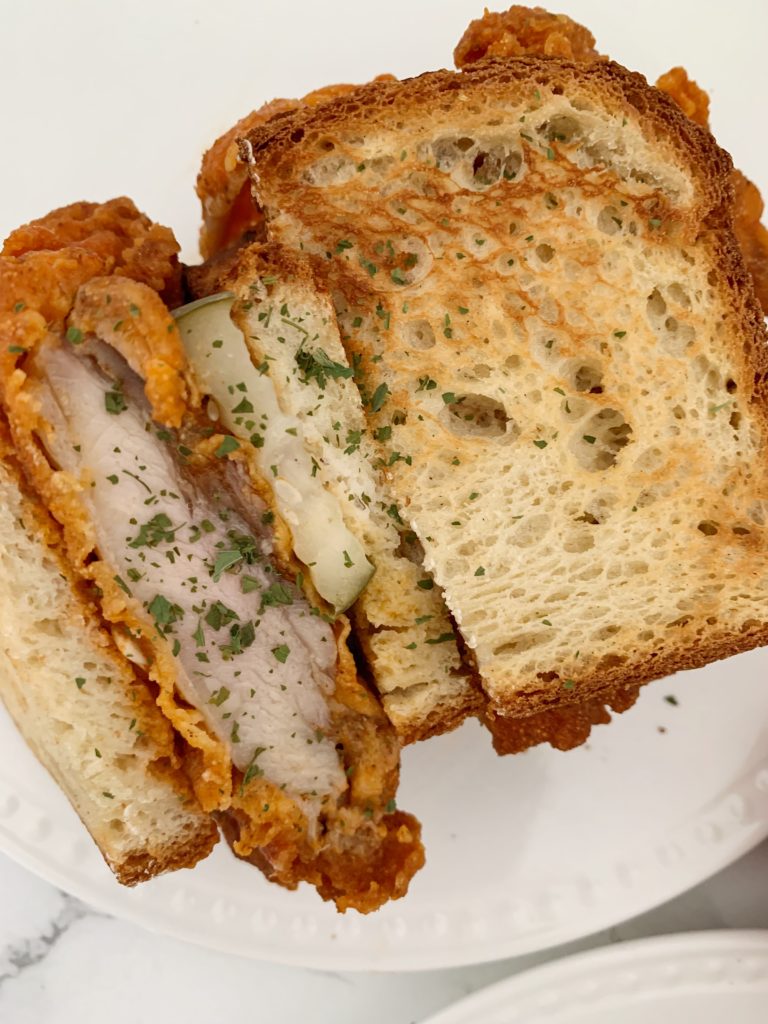 Hot Fried Chicken (Whole30, Paleo)
Ingredients
Hot Sauce
1/2

cup

hot sauce

1/4

cup

100% apple cider

2

garlic cloves

peeled and roughly chopped
Instructions
Fried Chicken
Pat the chicken dry and then season with kosher salt, black pepper, cayenne pepper, garlic powder, and paprika. Make sure you get the seasonings under the skin too.

Using a sieve (if you have one), place the arrowroot flour in it, and then lightly dust the chicken thighs on both sides. Shake off any excess.

In one shallow bowl, add in the eggs and 1/4 cup hot sauce. Mix until well combined. In another shallow bowl, place the cassava flour in it.

Dredge the chicken thighs into the egg mixture and then into the cassava flour. Shake of excess flour and let the chicken thighs rest for about 10-15 minutes.

Meanwhile, preheat a skillet over medium-high heat with enough avocado oil to cover the bottom of the skillet.

Once heated, place the chicken thighs skin side down and fry for 5-7 minutes or until golden. Flip the chicken thighs and continue cooking for another 5 minutes or until chicken is cooked through.

Remove from skillet, place on a wire rack (or paper towel lined plate), season with salt and let cool.
Hot Sauce
In a small sauce pan, add in the hot sauce, apple cider, and chopped garlic.

Bring to a simmer over medium heat for about 8-10 minutes or until sauce is heated through and has slightly thickened.

Remove hot sauce from heat. Brush or spoon over fried chicken making sure all sides are coated.

Serve immediately with pickles!
Recipe Notes
Air Fryer Method: Lightly spray the chicken with a cooking fat, place in air fryer, and air fry for 20 minutes at 360F.
SIMILAR RECIPES:
Honey Sriracha Drumsticks
Spicy Chicken Sandwich
Buffalo Chicken Tenders
Mango Habanero Chicken Thighs