Spicy Almond Butter Stir Fry will probably be a go-to meal whether you're doing the Whole30 or not. I probably make stir fry at least 2-3 times per week. The ingredients can be prepped ahead of time and all you have to do is throw it all together for a quick and easy meal.
I also love stir fry because you can mix and match your vegetables and protein. If chicken isn't your thing, replace it with shrimp or beef or even tofu for my vegetarian friends. The options are endless as long as you have a good sauce base.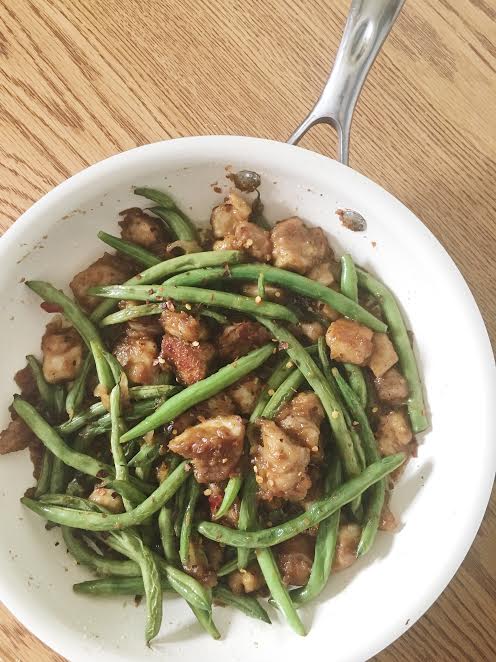 I personally think the most important part of a stir fry is the sauce. If you have a good sauce base, you have good stir fry. No questions asked. The sauce for my spicy almond butter stir fry is creamy and packed with lots of flavors. It's sweet and tangy but also has a nice spicy kick to it from the Thai chili peppers. I usually serve this over cauliflower rice or (when I'm feeling wild and crazy) white rice. This can also be made ahead of time for your weekly meal prep.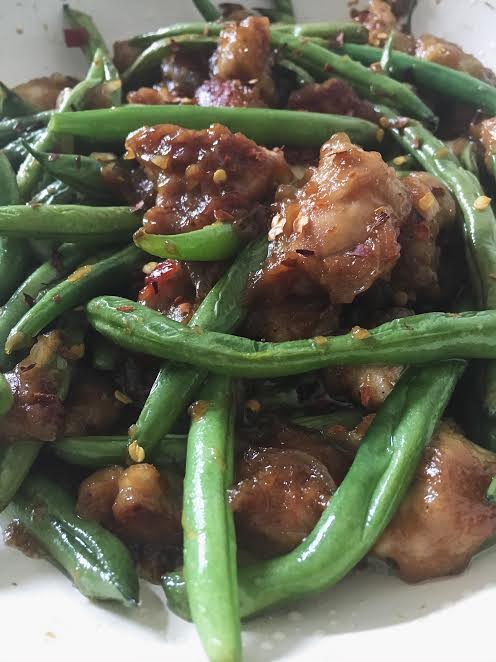 Pro-tip: make a batch of the spicy almond butter stir fry sauce, keep it refrigerated in an airtight container, and use it for any kind of stir fry you make. It is super versatile and goes great with just about anything!
Spicy Almond Butter Stir Fry
Instructions
Cut chicken into bite size pieces.

Season chicken with salt & pepper and coat with arrowroot flour.

In a bowl mix Thai chili peppers, coconut aminos, lime juice, date paste, almond butter, sesame oil and fish sauce together with a pinch of salt and black pepper.

Pre-heat skillet over medium-high heat with avocado oil.

Add chicken and brown on all sides. (No need to be cooked completely through.)

Remove chicken and set aside.

Lower heat to medium add onions, garlic, and salt. Saute until onions become translucent.

Once onions are translucent, turn heat back up to medium-high add green beans.

Saute green beans for about 5 minutes.

Add chicken and sauce to the skillet.

Cook until sauce thickens, green beans are tender and chicken is cooked through.
Pin this recipe for later!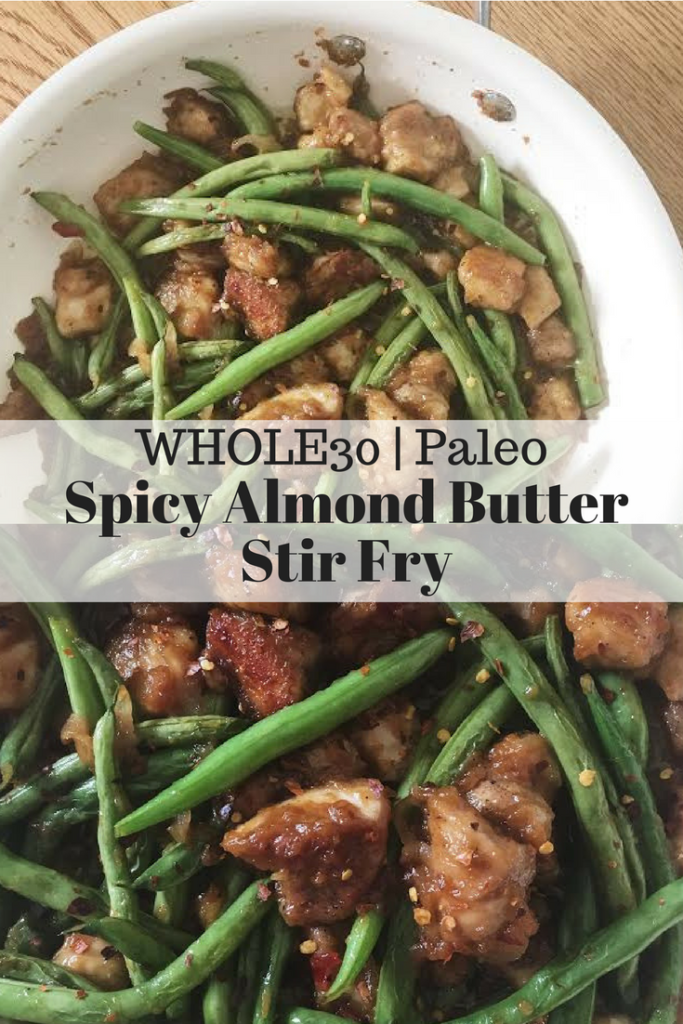 **Please note this post may contain affiliate links. It does not affect the cost of the product but I do make a small commission to help keep this blog running if you decide to make a purchase. Dolly's Whole Life is a participant in the Amazon Services LLC Associates Program, an affiliate advertising program designed to provide a means for sites to earn advertising fees by advertising and linking to Amazon.com.