Pad Thai is probably the first dish people think of when they are asked about Thai food. I get it. It is the national dish of Thailand and it is pretty freakin' delicious! It's also a very popular street food, and you can find vendors making pad Thai throughout the streets of Thailand because the dish comes together so quickly. Seriously, their setup is pretty badass and you can have a plate of food within 10-15 minutes.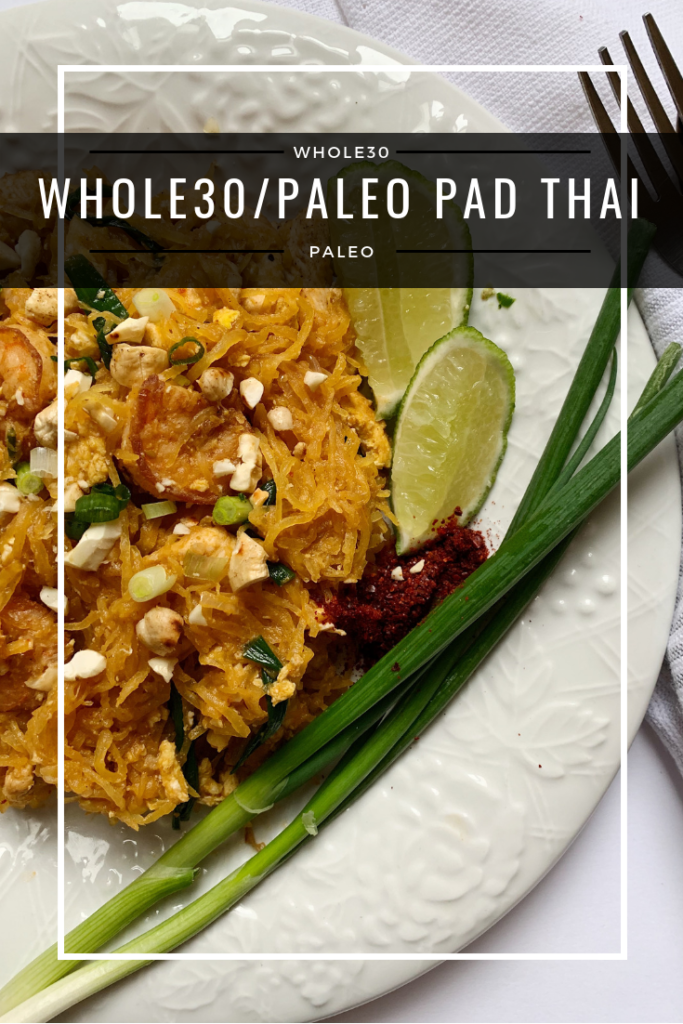 A few key things:
This is obviously a Whole30 and Paleo version, but let's make one thing clear, there is absolutely NO nut butter in pad Thai. It drives me insane when I see renditions of pad Thai being made and people use nut butters. Please don't.
The sauce for pad Thai is super simple and the key ingredient is tamarind juice/concentrate. Tamarind brings a sweet and sour element to the dish and it's super important. You can find it at your local Asian grocery store or you can purchase it online. Make sure the ingredients are only tamarind and water. FYI: not all tamarind concentrate is the same. Some are diluted with water, some are not. If yours is just pure tamarind, cut the tamarind amount in half and dilute with an equal amount of water. The ratio should be 1:1. So in this case for this particular recipe, use 2 tbsp of tamarind and 2 tbsp of water.
Palm sugar is traditionally used in pad Thai, but since that's out for the Whole30, I like to use 100% apple juice or you can use date paste.
Traditionally garlic chives are used in the recipe, but it can be somewhat hard to find. Replacing it with green onions is perfectly okay!
Dried shrimp –it might be a new ingredient for some of you, but it is used in a lot of Thai and Lao cooking. It brings lots of umami to a dish. Again, you can find it at your local Asian grocery store or you can place an order online here. If you can't find it, leave it out and add a touch more fish sauce to your pad Thai sauce.
You won't find bean sprouts in any of my recipes because I absolutely hate bean sprouts. You can add it to your pad Thai if you want. Bean sprouts have grown wildly popular so you can find it at the Asian grocery store or even places like Whole Foods.
It is absolutely necessary that you squeeze a wedge of lime before eating. Don't fight me on this. It brings the dish together and adds freshness.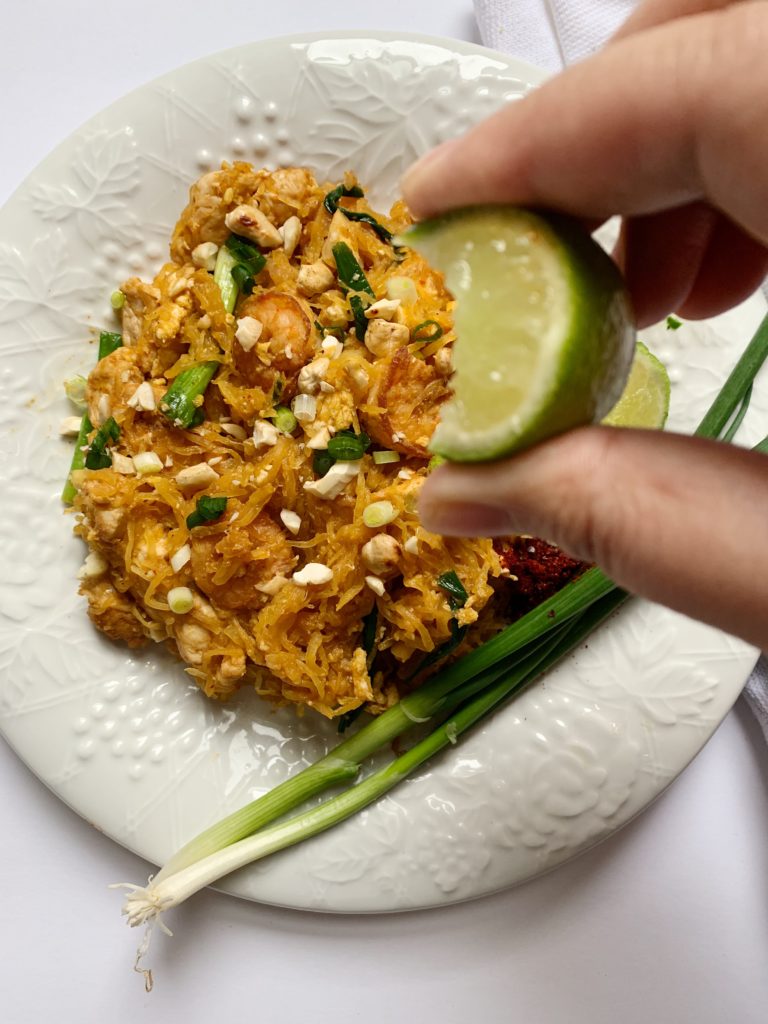 In this recipe, I used spaghetti squash as my "noodles" but you can use any type of spiralized veggie noodles you have on hand. I don't recommend zucchini because it will get soggy and mushy. You can use potatoes, sweet potatoes, butternut squash and etc. Those hold better.
I hope you enjoy this Whole30 take on the classic pad Thai as much as I do! It's a game changer for sure.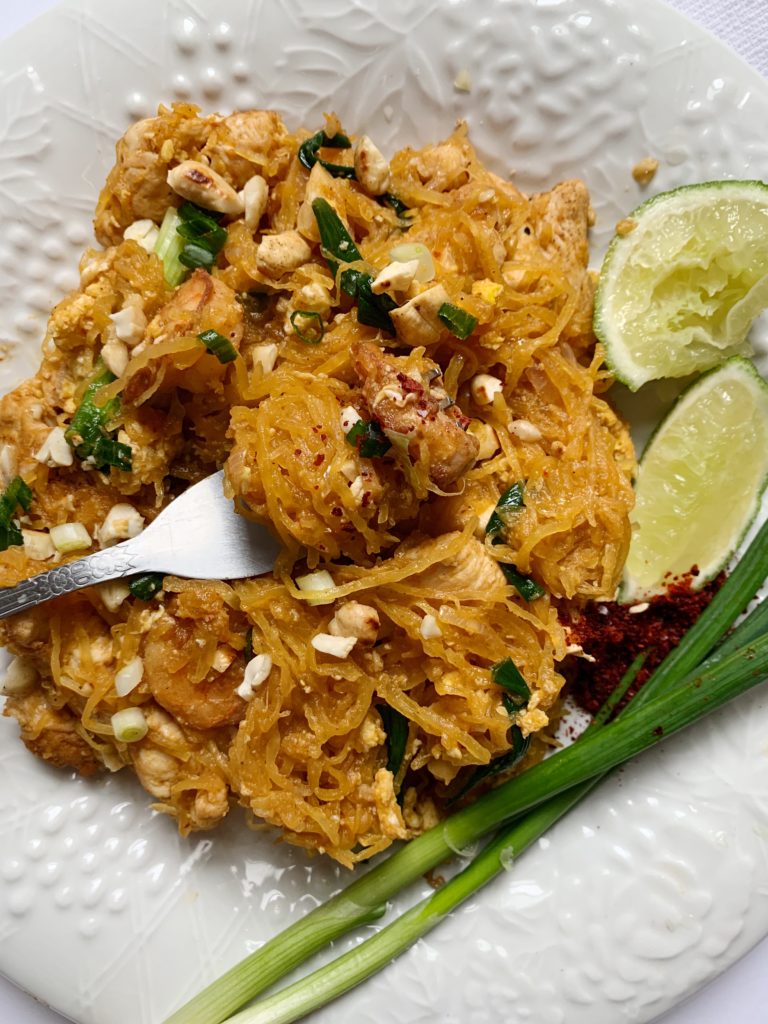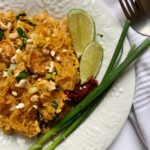 Pad Thai (Whole30, Paleo)
A Whole30 and Paleo take on the classic Pad Thai.
Ingredients
Pad Thai
1

chicken breast

thinly sliced

8-10

shrimps

peeled and deveined

2

cups

cooked spaghetti squash

3

tbsp

thinly sliced shallots

2

garlic cloves

minced

1

tbsp

dried shrimp

soaked in hot water for 5 minutes then chopped up

1/2

tsp

red chili flakes

2

eggs

1

cup

garlic chives

or green onions (cut into 2 inch pieces)

1/2

cup

bean sprouts

1/4

cup

roasted cashews

roughly chopped

1

lime

cut into wedges

2

tbsp

avocado oil
Instructions
Pad Thai Sauce
Mix all of the ingredients together in a small bowl and set aside. If using date paste, make sure date paste is thoroughly mixed in.
Pad Thai
Preheat a wok or skillet over high heat with 2 tbsp of avocado oil.

Once the wok is hot, add in the sliced chicken and peeled shrimp. Let it sit until halfway cooked and then flip. You want both to brown a little. When chicken and shrimp is cooked through, remove from wok and set aside. (The shrimp might cook faster than the chicken so remove those before if necessary)

Lower heat to medium then add in the shallots, garlic, chopped dried shrimp, and red chili flakes. Saute until garlic starts to slightly turn brown.

Add in the cooked spaghetti squash and pad Thai sauce making sure everything gets coated with the sauce.

Stir fry this for a few minutes or until the spaghetti squash absorbs most of the sauce.

Scoot everything to one side of the wok or skillet, crack two eggs into it and then scramble the eggs.

Let the eggs sit for about 15 seconds so it sets a bit and then put some of the spaghetti squash on top of the eggs until the eggs have set completely.

Once the eggs are set, flip it over, and break it into pieces while adding it to the rest of the spaghetti squash.

Add the chicken and shrimp back into the wok alongside the chopped garlic chives (or green onions), bean sprouts and half of the chopped cashews. Turn the heat off and continue mixing everything together. The residual heat will wilt the garlic chives.

Serve the pad Thai with lime wedges, some green onions, and red chili flakes. Be sure to squeeze the lime over the dish before eating!
This post contains affiliates links. If you use any of my affiliate links, I will get a small commission, but it will not cost you anything extra. Thank you for your support!