Whole "Cheeseburger" Skillet – Whole30 and Paleo friendly. A great egg-free breakfast option and perfect for meal prepping! It's also quick and easy.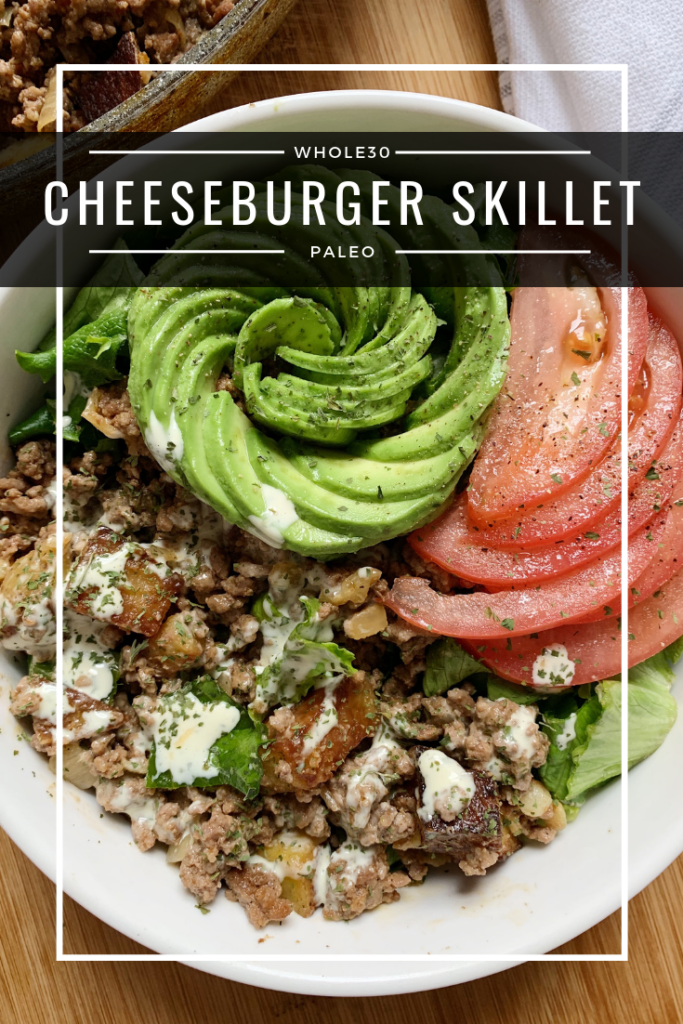 This Whole30 "Cheeseburger" Skillet is by far one of my favorite recipes I created. It was also one of those happy accidents that happened in the kitchen when I made it. I might be a little bias, but I've had it for breakfast for a few weeks and haven't gotten sick of it!
I mean, that's the tune I always sing whenever I become obsessed with a recipe, but this one is different because it's different every time I eat it. I like to top it with different ingredients every time I have it.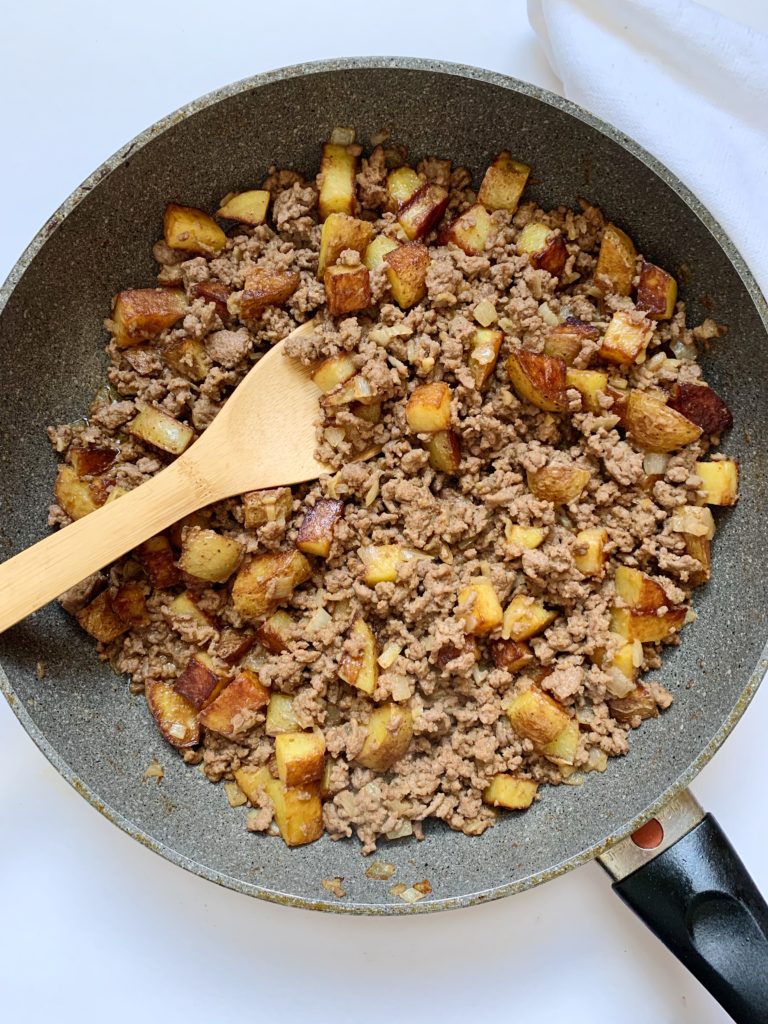 So it basically makes it a different dish. Recently, it's been half an avocado, tomato slices, romaine lettuce and then I drown it in my animal style sauce. Last week, I kept it simple and served it over a bed of lettuce with half an avocado and some ranch dressing. The possibilities are endless, and I'm excited to hear what you top your "cheeseburger" with when you make it.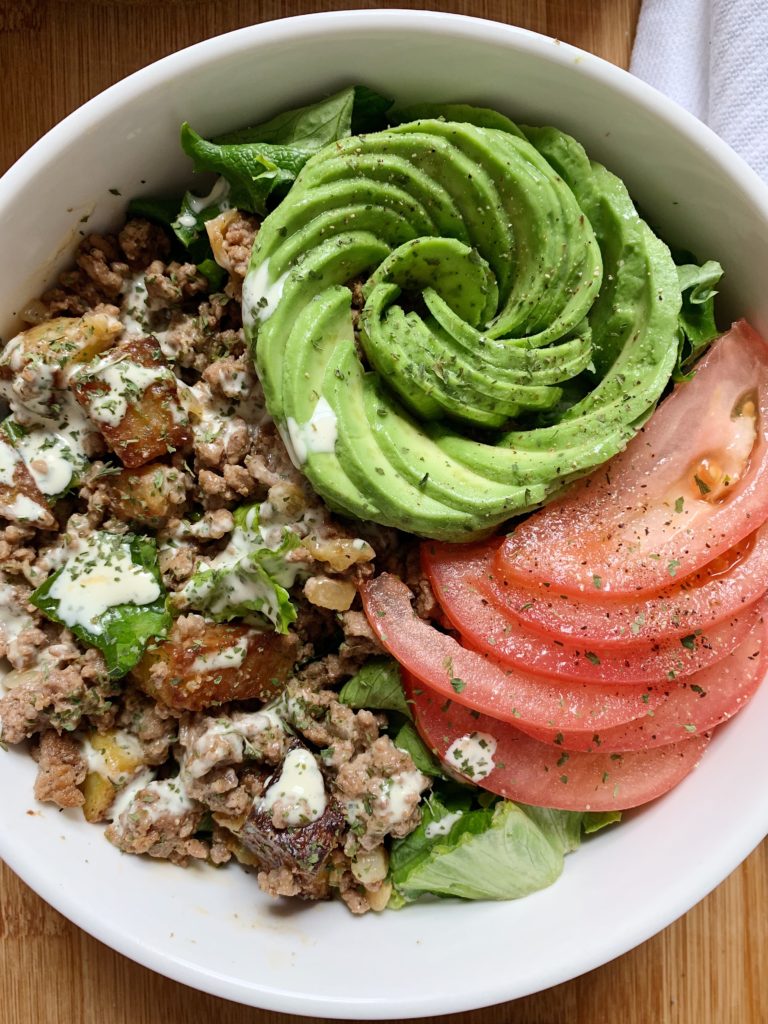 For all my meal prep people, you can make this ahead of time but when you store it, don't add your toppings til you're ready to eat it. That way it'll still be fresh when you have it.
If you add the veggies and sauces ahead of time you run the risk of soggy veggies and making the meat mixture turn into mush. Trust me, I learned the hard way. It was a sad morning but I digress.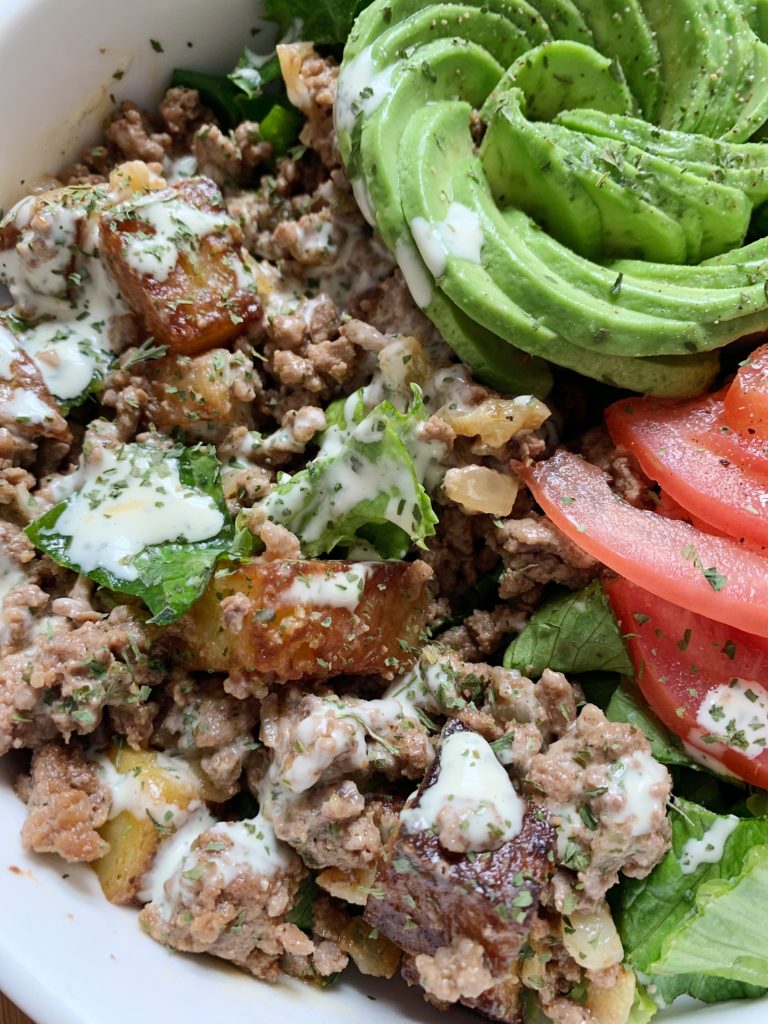 Again, make this and show me your recreation over on Instagram or Twitter! I love seeing your spin on this recipe! You can truly make it your own and make it fit any diet you are following.
Whole30 "Cheeseburger" Skillet
Ingredients
Toppings (optional):
Avocado

Crumbled bacon

Lettuce

Tomatoes

Pickles

Diced onions

Sauteed mushrooms
Instructions
Add potatoes to

skillet, season with 1 tsp of kosher salt

and black pepper. Saute potatoes until they start turning golden brown on each side and are cooked 90% of the way through. This will take about 10-15 minutes.

Once potatoes start to turn golden brown, remove from skillet and set aside. Lower heat to medium.

Add onions and garlic to skillet. Saute until onions become translucent and garlic is fragrant.

Combine ground beef with seasoning, cook until most of the ground beef is no longer pink, then add potatoes back to the skillet and cook until ground beef and potatoes are cooked through.

Serve with suggested toppings.
Recipe Notes
*nutritional yeast will give it that "cheese" flavor. If you don't want to commit to buying a whole bottle, find a grocery store that sells bulk spices and grab yourself a couple tablespoons to see if you like it.