If you've never had In n Out's animal style fries, you're in a for a treat because this paleo animal style fries is pretty legit! In n Out can only be found in a limited number of states, and whenever friends and family visit me in LA, the first thing they want to do is grab In n Out. I'm never opposed to a visit as long as it's not the one near LAX (my goodness that one is crazy!).
My go-to order is always a double protein style burger (mustard fried, grilled onions, peppers and tomatoes) with animal style fries. Their animal style fries are topped with grilled onions, melted cheese and their signature "animal sauce."
The sauce is basically ketchup and mayo mixed with a bunch of seasonings and etc, but it isn't the cleanest. So obviously, I had to make a cleaner version and came up with a paleo animal style fries recipe.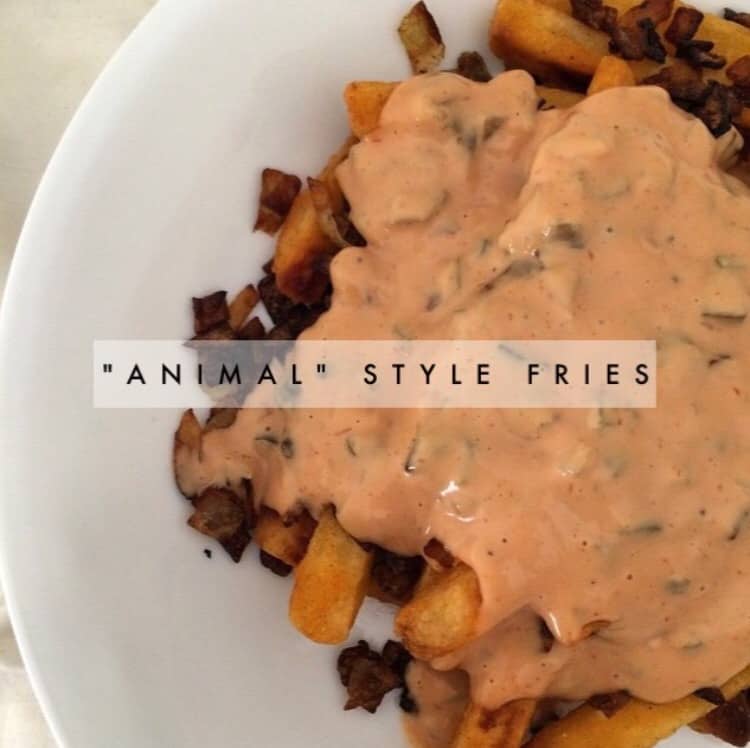 When I first made these animal style fries, I made sure to have some LA natives try it, and guess what?! I got the stamp of approval! It really does taste like the real deal, but it doesn't have any sugar or any other funky ingredients that are just unnecessary.
Even if you don't make the fries, make the sauce and put it on your burgers or other veggies. It'll make a difference if you're getting bored with your go-to sauces and condiments!
Paleo (Copycat) Animal Style Fries
Ingredients
Animal Style Fries
3

russet potatoes

1

large sweet onion

diced

1-2

cups

paleo animal style sauce

1

tbsp

avocado oil

1

tbsp

ghee

2

tsp

kosher salt

1

tsp

fresh ground black pepper
Instructions
Animal Style Fries
Cut off ends of potatoes and slice into french fry shape, about ¼ inch in width.

Place french fries in a large bowl and cover with cold water for at least 30 minutes.

In the meantime, preheat a skillet over medium heat with

ghee

. Add onions saute until caramelized and golden brown. Once done set aside.

Preheat oven to 400F. Remove potatoes from soaked water, wash and pat dry. Remove as much liquid as possible.

Place on a

parchment paper

lined baking sheet in a single layer and bake for 30 minutes flipping halfway through. For extra crispy fries, turn the oven up to 425F and bake fries for an additional 5 minutes or until edges start to brown.

Layer fries either on a large platter or individual serving plates and top with onions and animal sauce. Use as much or as little as you'd like.
Animal Sauce
Combine all ingredients and refrigerate until ready to use.
Nutrition Facts
Paleo (Copycat) Animal Style Fries
Amount Per Serving (4 g)
Calories 0
* Percent Daily Values are based on a 2000 calorie diet.
Pin this recipe for later!


**Please note this post may contain affiliate links. It does not affect the cost of the product but I do make a small commission to help keep this blog running if you decide to make a purchase. Dolly's Whole Life is a participant in the Amazon Services LLC Associates Program, an affiliate advertising program designed to provide a means for sites to earn advertising fees by advertising and linking to Amazon.com.