Quick & Easy Ginger Garlic Stir Fry – Whole30 and Paleo friendly! Perfect for any day of the week, and the perfect way to clean out your fridge!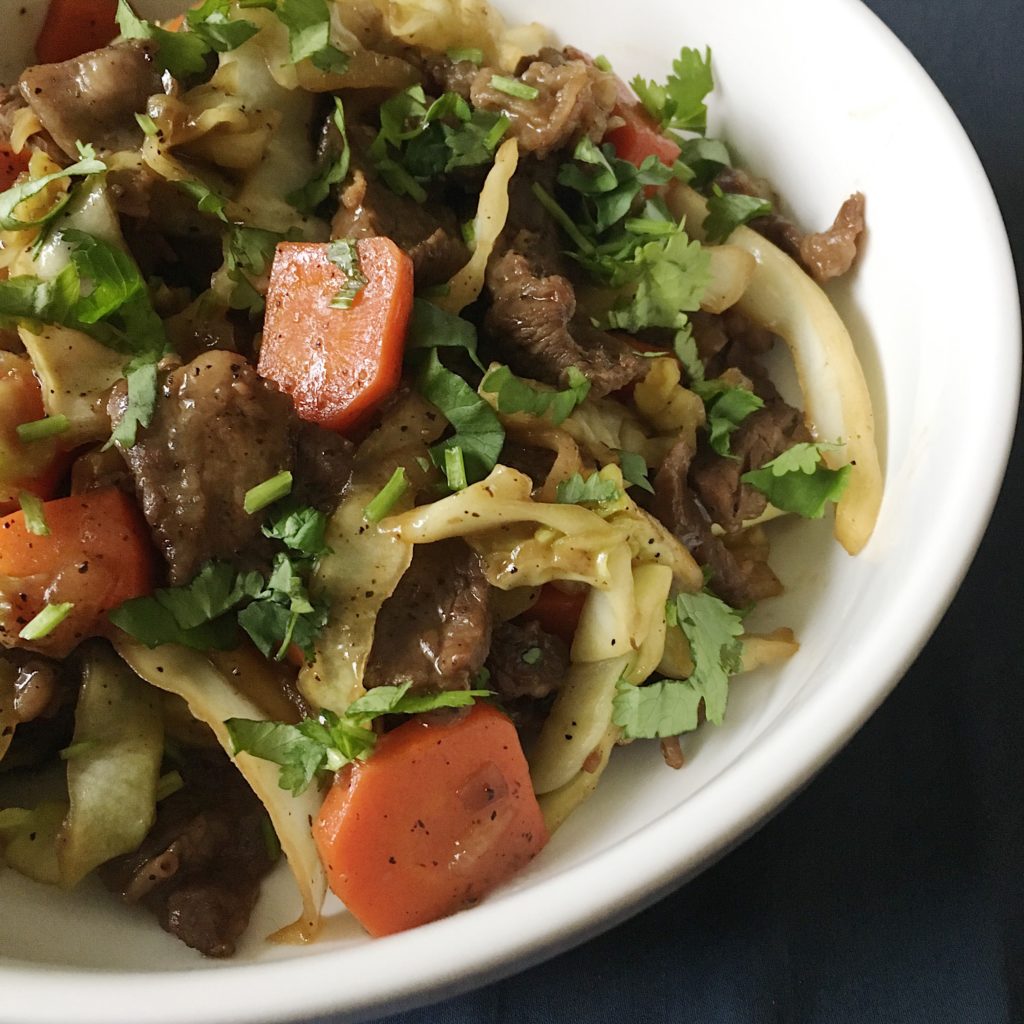 My followers on Instagram know that I love stir fry. Like, seriously love it. It gets me through any Whole30 round because it's a fast and easy meal to make and doesn't require a lot of planning. I also love it because you can literally throw whatever protein and veggies you have in your fridge into the stir fry, and it'll be delicious because the key to good stir fry is the sauce.
It's always the sauce. I didn't have any almond butter to make my spicy almond butter stir fry, so I played around in the kitchen with what I did have on hand and created this deliciousness.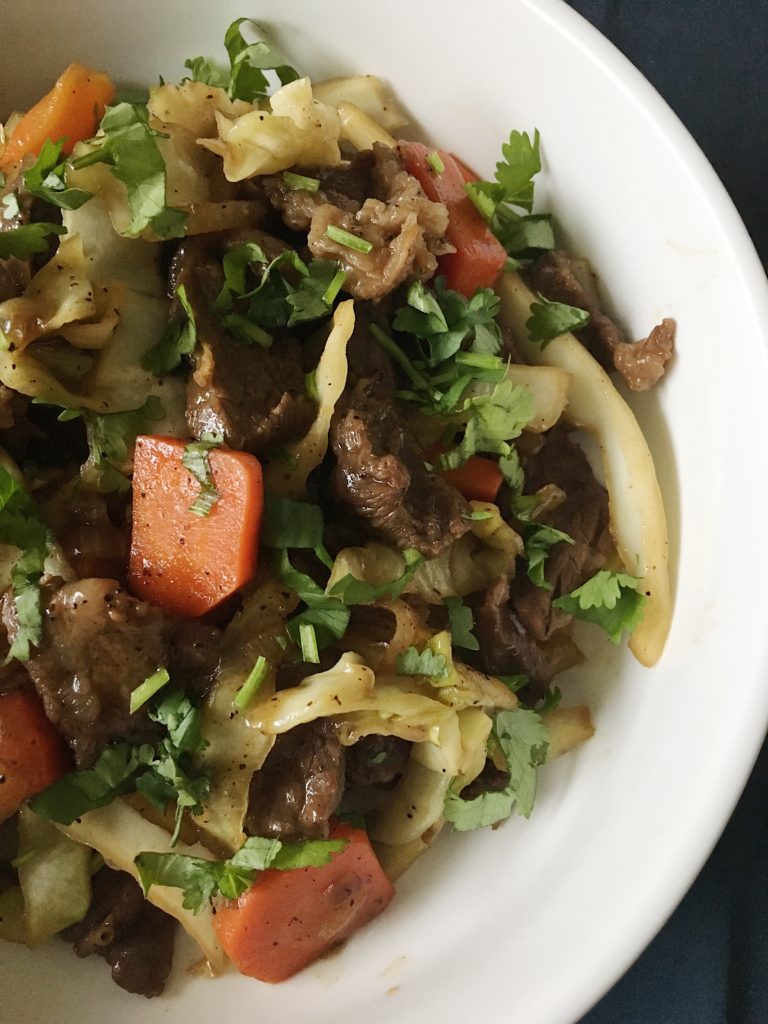 I'll definitely be adding this ginger garlic stir fry to the stir fry rotation. Ginger-garlic is probably one of my favorite flavor combos, but it's not for the faint of heart. If you can't handle the taste of fresh ginger, start off with a tablespoon and see how you feel. As always, I want you to make this your recipe. Play around with the measurements. Use different types of vegetables and meats. Make it super spicy or don't. Don't be afraid to experiment!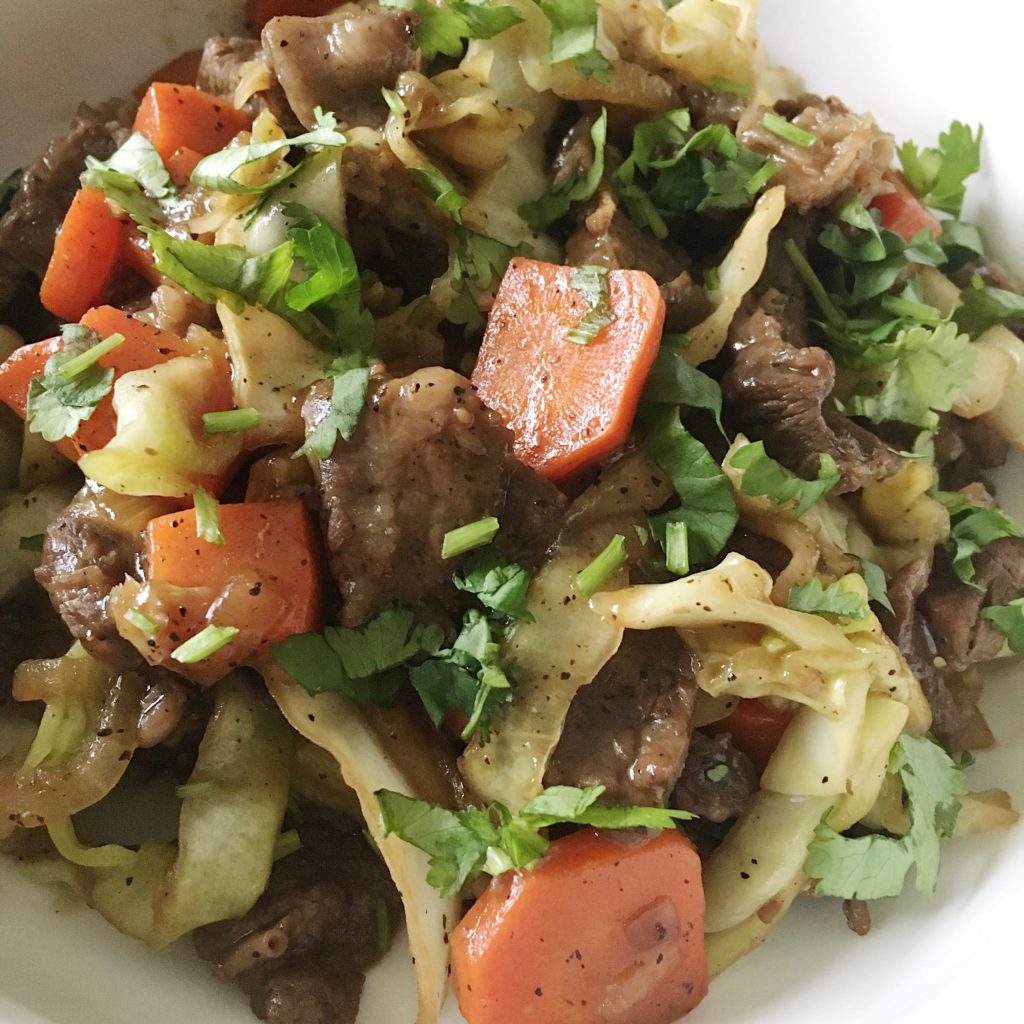 Oh, another reason why stir fry is great: it takes no more than 30 minutes! So for all of you "I don't have time" people, stir fry is your answer! You can make a double batch ahead of time and have it throughout the week. So no excuses. Get out there and start stir frying it!
P.S. stir fry is great because it's the perfect excuse to use any leftover veggie scraps and protein in the fridge. No waste here! So if you don't have any of the ingredients listed, use what you have in your fridge to make this quick & easy ginger garlic stir fry.
Ginger Garlic Stir Fry
Ingredients
1

lb

sirloin steak

thinly sliced

2

cups

cabbage

sliced

1

large carrot

sliced

½

large onion

sliced

3

garlic cloves

minced

2

tbsp

ginger

peeled and grated

3

tbsp

coconut aminos

2

tbsp

sriracha sauce

recipe from Whole30 Fast & Easy*

1

tbsp

fish sauce

1 ½

tsp

fresh cracked black pepper

Salt to taste
Instructions
Preheat a large skillet (or wok if you have one) over medium-high heat with about 2-3 tbsp of

avocado oil

. Add in cabbage, carrots, onions and ginger. Saute for about 8-10 minutes stirring occasionally.

Move vegetables to the side of skillet, add steak and garlic to skillet and cook until steak is almost cooked through.

Stir in

coconut aminos

, fish sauce, sriracha and a pinch of salt while combining vegetables and steak together. Cook until steak is done.

Taste stir fry to see if you need more salt or

coconut aminos

. Serve over cauliflower rice.
Recipe Notes
*Nom Nom Paleo also has a great sriracha recipe if you don't have the Whole30 Fast & Easy cookbook.
**fish sauce has a lot of salt in it, so adjust how much salt you use accoring to your taste preference
Pin this recipe for later!