Sweet with a hint of spice for a little kick, these Strawberry BBQ Chicken Skewers are going to be a summer hit! Plus, food always tastes better on a stick, right? Right.
The post is in partnership with The New Primal.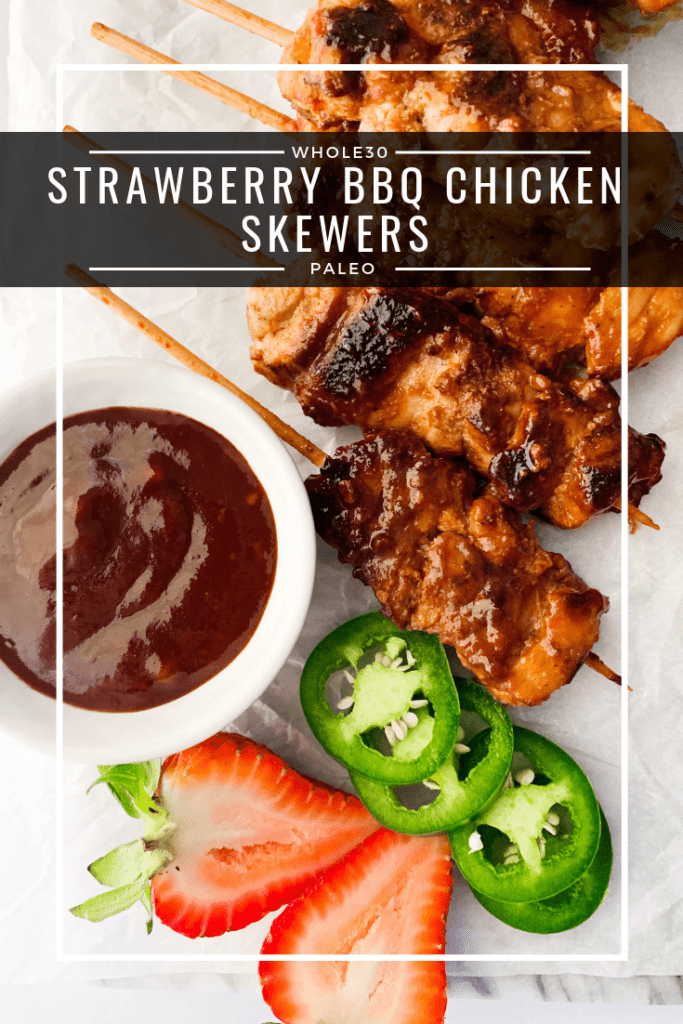 At this point, no one, and I mean NO ONE, should be surprised that I love flavor combos. Honestly, that might be my new niche. Just recipes that combined flavors that are …opposite(?) from each other. We'll use these Strawberry BBQ Chicken Skewers to kick off. LOL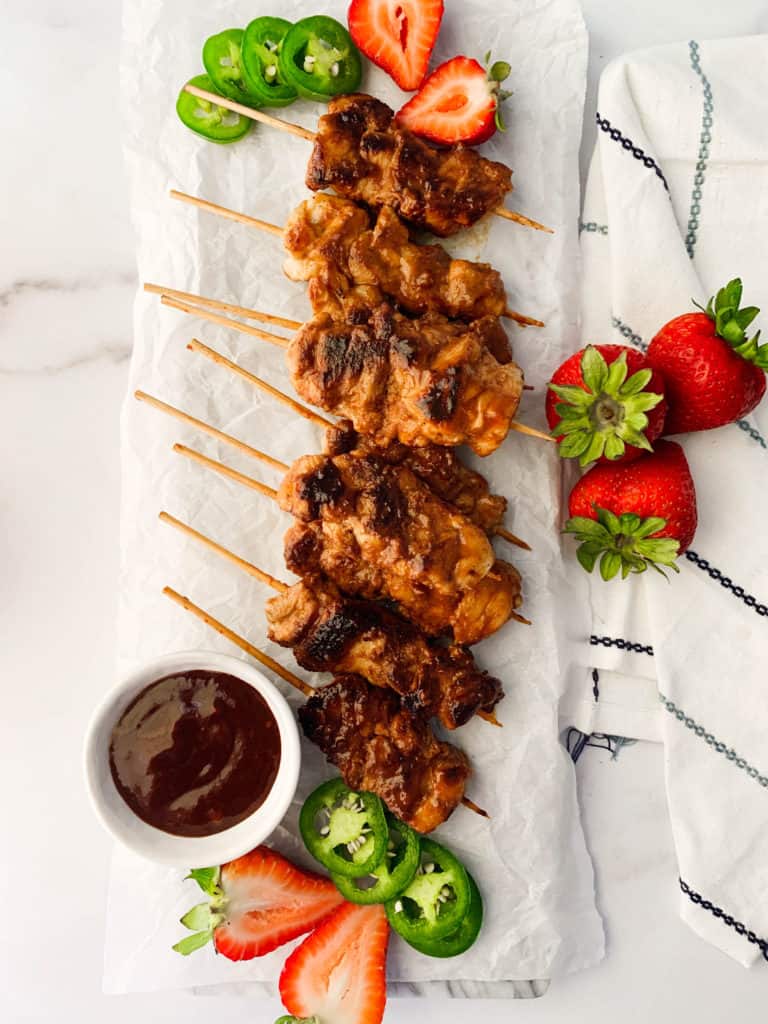 In all serious though, if you're not adding delicious ripe fruit to your BBQ sauce, you're doing it all wrong. Seriously, you can use any type of fruit preserve you want and it will work out. I chose strawberries because they are in season, and it just screams summer time for me.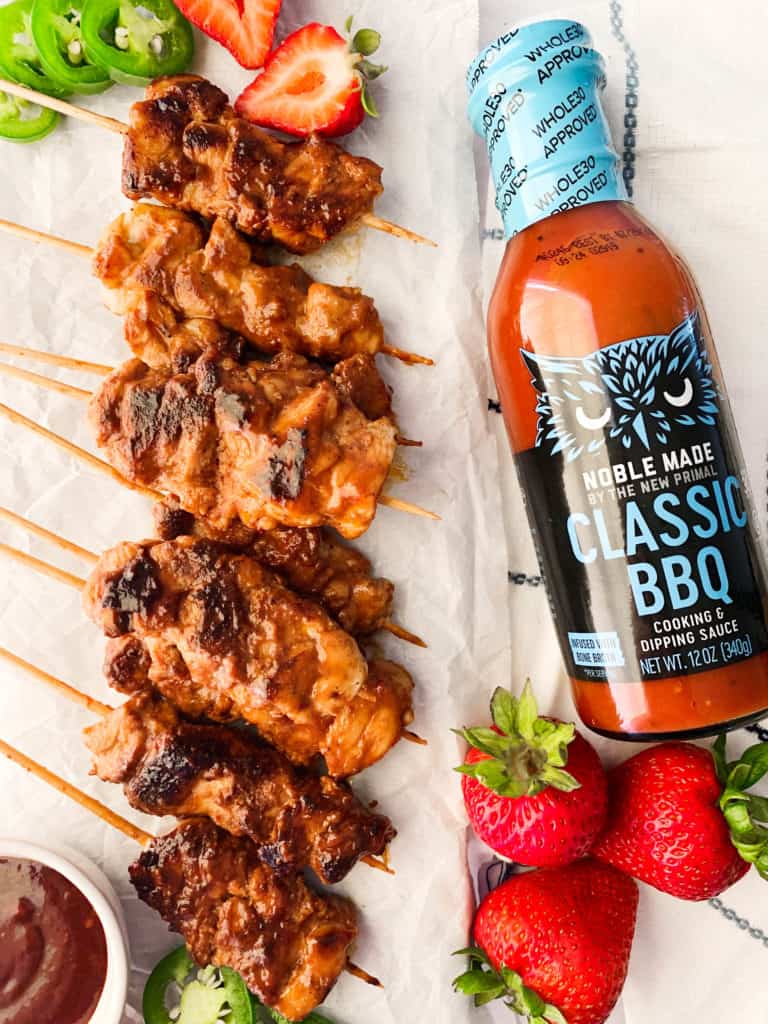 Here's the thing though, if you're not making your own BBQ sauce, I highly highly recommend using The New Primal's Noble Made Classic BBQ Sauce. Why? Here's why:
It's unsweetened so the strawberry flavor really shines and it's not overpowered by sugar.
It's Whole30 approved which means all the ingredients are real whole ingredients.
It tastes like the BBQ sauce you're use to so no one will ever have to know that it doesn't contain sugar or any other funky ingredients used in other store bought BBQ sauce!
Plus, it's just delicious.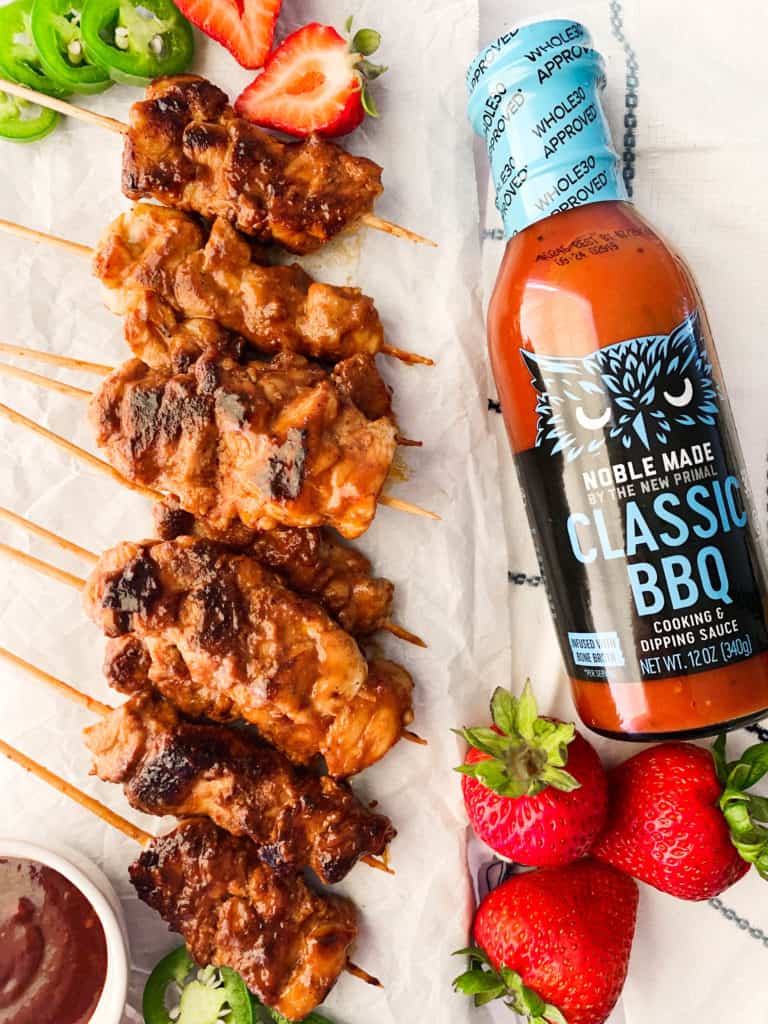 A few other things:
You can definitely double the strawberry BBQ sauce. Store it in an airtight container, and it will be good for a couple weeks.
You can use other proteins for the skewers. The sauce is literally delicious on any kind of protein.
You can omit the jalapeños if you want, but I find that it really balances out the sauce.
Yes, definitely meal prep friendly!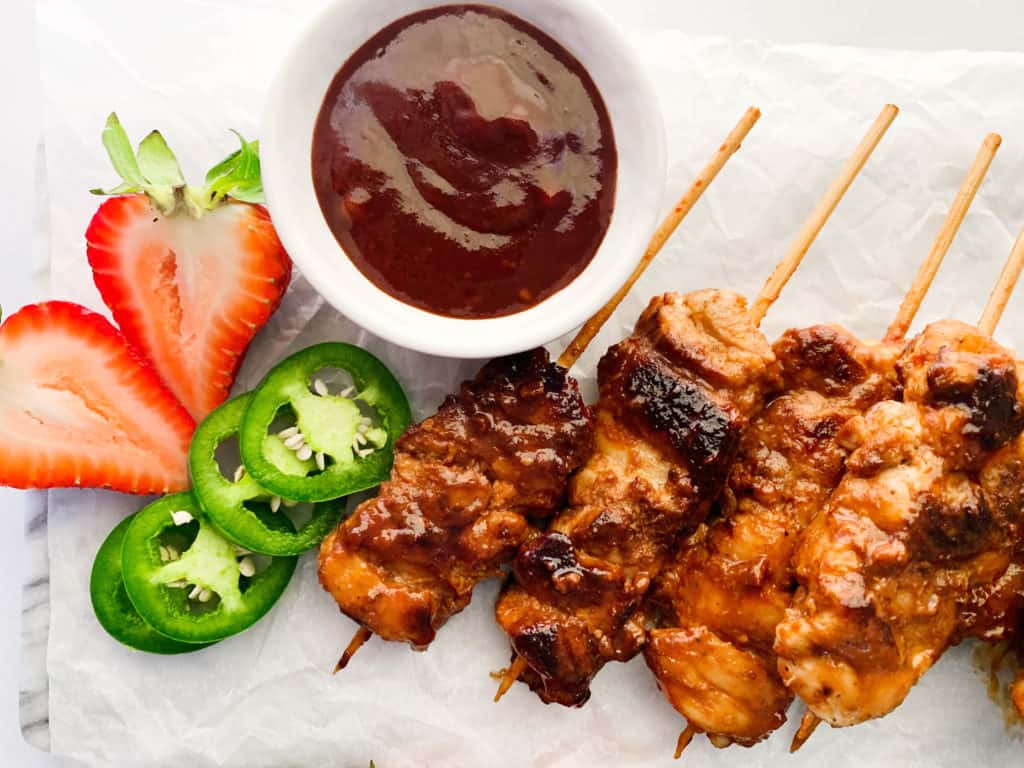 Strawberry BBQ Chicken Skewers
Instructions
Soak wooden skewers in water for at least 30 minutes and set aside until ready to use.

In a food processor or blender, add in Noble Made Classic BBQ Sauce, strawberry preserve, jalapeño slices, and jalapeño brine. Blend until the jalapeños slices are well blended.

Add strawberry BBQ sauce to a small saucepan and gently simmer for about 10 minutes. Separate ½ cup of strawberry BBQ sauce.

Cube chicken into bite size pieces. Season with kosher salt, black pepper, and ¼ cup of strawberry BBQ.

Thread 4-5 pieces of chicken onto the wooden skewer. Marinate for 30 minutes.

Preheat a nonstick skillet (or you can grill) over medium-high heat with about a tablespoon of avocado oil.

Add the chicken skewers to skillet and lightly baste the chicken skewers using the 1/2 cup of strawberry BBQ sauce you separated.

Cook the chicken for 2-3 minutes, flip, baste, cook for another 2-3 minutes, and then flip one more time and cook until chicken is cooked through.

Serve with any leftover strawberry BBQ sauce.
Recipe Notes
If you have to cook in batches, be sure to wipe down the skillet, add more avocado, and then cook the chicken skewers.
---
SIMILAR RECIPES:
Salmon Satay Skewers
Lao Inspired Chicken Wings
Grilled Sriracha Turkey Patties
---
---
Please note that I only work with companies and use products that meet the values and standards of a dash of dolly. This post is sponsored by The New Primal. While I am compensated for the work I do, ALL of the opinions are my own and 100% honest. Thank you for your support!