Packed with flavor. Easy to make. Perfect for your Whole30 and life after. These Lao Inspired Chicken Wings are going to give you a glimpse into my childhood. Make these and you'll understand why these were always made for dinner growing up.
This post is in partnership with The New Primal.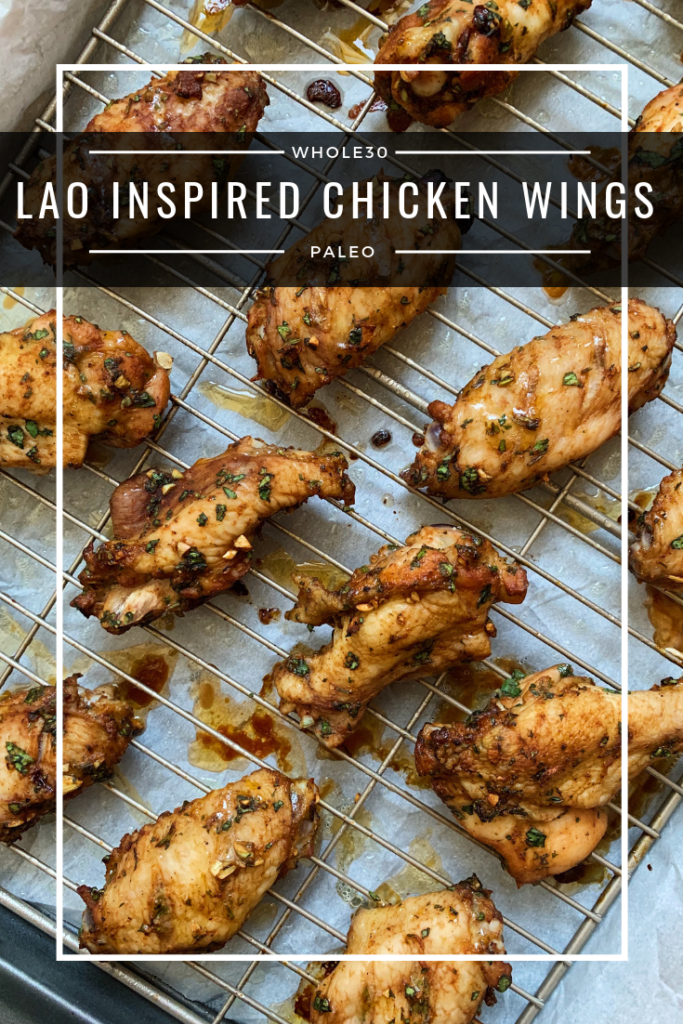 As a kid, I'm pretty sure I lived off of chicken wings and sticky rice. They were a staple growing up, and til this day, I always make it whenever I'm homesick or just want good ole comfort food. Because I was so picky when I was younger, this was always a go-to dish my parents made for my brother and me.
I may be bias, but my mom makes the best chicken wings because it's all in the sauce. Typically in Lao cooking, one of the main ingredients when it comes to marinades and flavoring is oyster sauce.
Since oyster sauce is far from Whole30 compliant and there aren't any that do not contain soy or wheat, I had to get creative, and thus comes in The New Primal Noble Made Classic BBQ Sauce for these Lao Inspired Chicken Wings!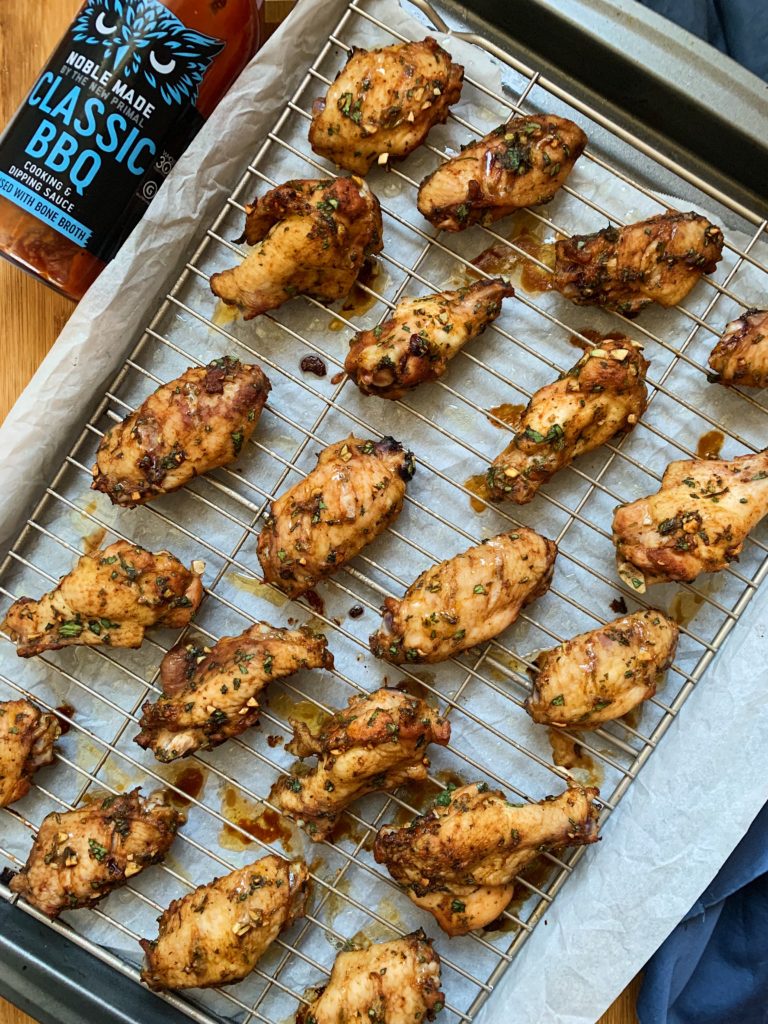 Why The New Primal Noble Made Classic BBQ Sauce you ask? Here are a few reasons:
It's delicious.
It's made with real food ingredients.
It's great on its own, but also works really well with other added ingredients.
It's versatile. It can be used as a dip, marinade, and/or finishing sauce.
It's Whole30 approved.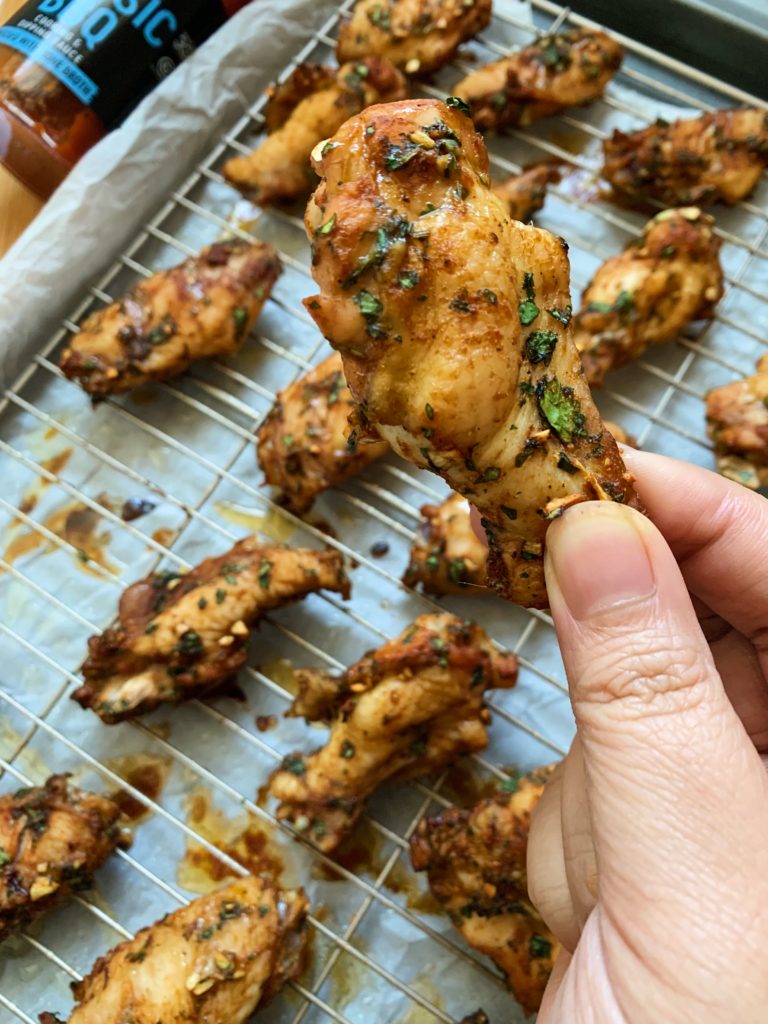 Though these Lao Inspired Chicken Wings aren't the real deal, I will have to say they are pretty darn close! All of the ingredients outside of the BBQ sauce reflects the bold flavors used in Lao cooking. You'll notice that in lots of Lao cooking, food is flavored with herbs and aromatics like lemongrass and ginger.
This is one of the reasons why I find it pretty easy to convert some of the dishes I grew up eating to Whole30 and/or Paleo recipes. Plus, with products like The New Primal Noble Made Classic BBQ Sauce, it makes it a bit easier!
Lao Inspired Chicken Wings (Whole30, Paleo)
Instructions
Make small diagonal slits on the skin side of the flats to help the marinade marinate the meat.


In a food processor, add in the garlic cloves, kosher salt, white pepper, garlic powder, Noble Made Classic BBQ Sauce, coconut aminos, fish sauce, and cilantro.


Pulse until everything is combined and you have a rough paste.


Pour marinade onto the chicken wings making sure each piece gets coated.


Marinate the chicken for at least one hour to overnight.


Two ways to cook chicken: preheat oven to 425F, place chicken on a parchment lined baking sheet, roast for 25-30 minutes, flipping halfway through OR grill over direct heat for 25-30 minutes flipping halfway through.
---
SIMILAR RECIPES:
Thai Fried Chicken
Green Papaya Salad
Spicy BBQ Chicken Wings
---
Please note that I only work with companies and use products that meet the values and standards of a dash of dolly. This post is sponsored by The New Primal. While I am compensated for the work I do, ALL of the opinions are my own and 100% honest. Thank you for your support!