Everyone's heard of chicken satay, but I'm going to step it up and share with you this Salmon Satay Skewers recipe. Satay is popular street food in Asia and it can be made so many different ways. It's portable, flavorful, and affordable. Plus, it's always fun to eat food off a stick, right? Right.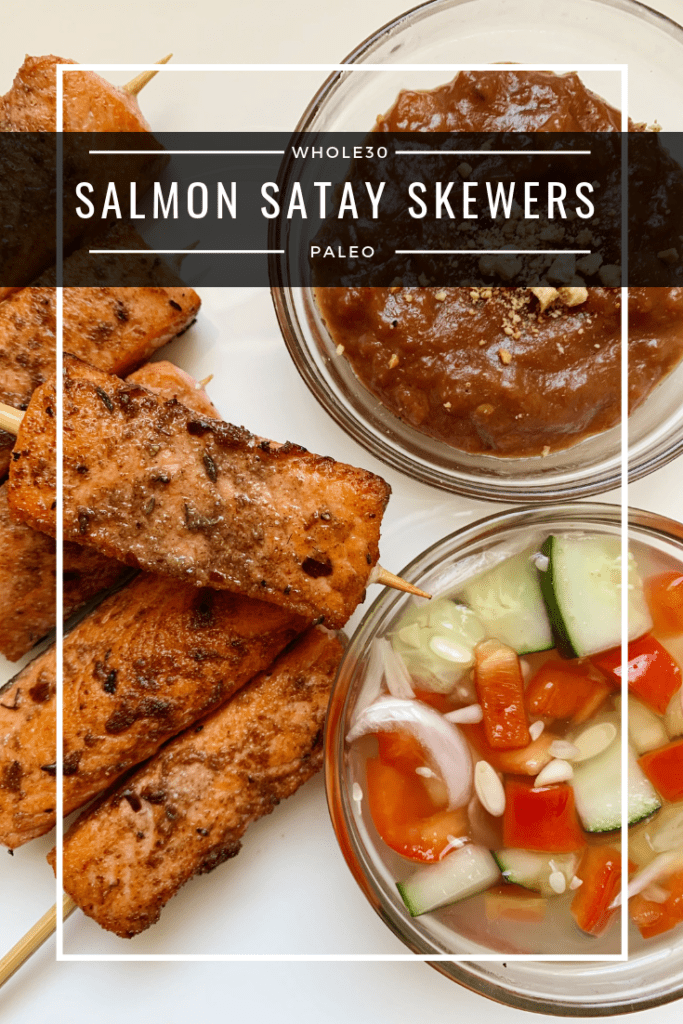 There are three elements to this salmon satay skewers: you have the protein (which is the salmon), the satay sauce (a red curry nut butter based sauce), and the ajat (a Thai cucumber relish). All three work together harmoniously to balance out flavors and texture.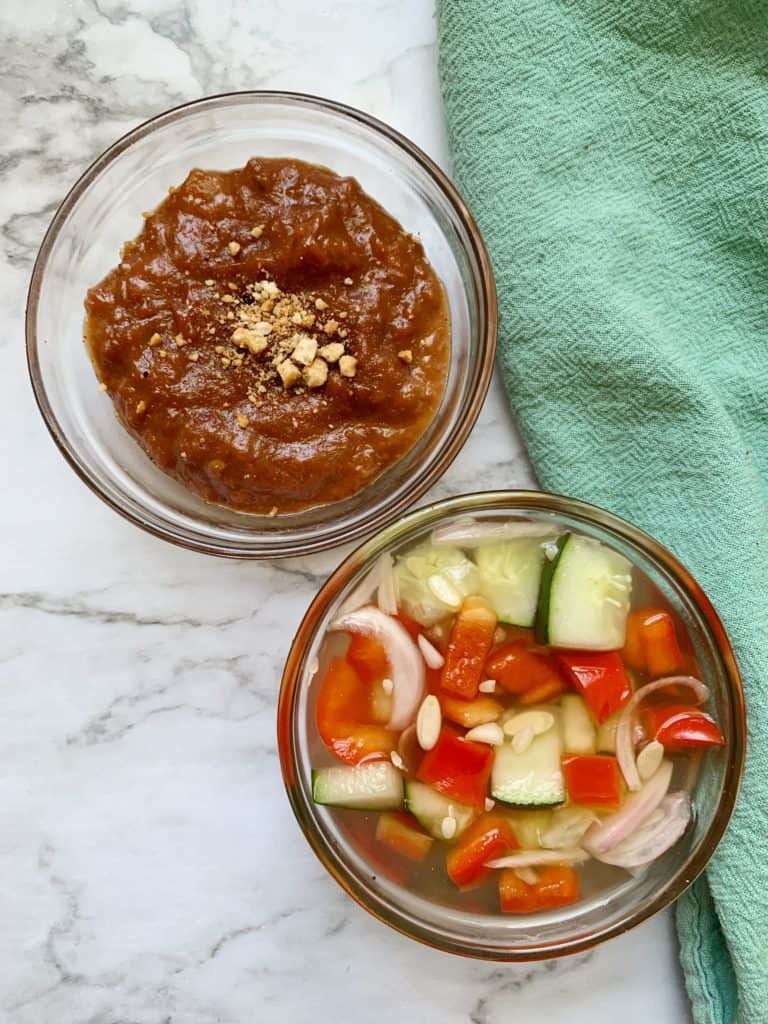 Balancing the flavors and textures of a dish is huge when it comes to Lao and Thai cooking. We are firm believers that every flavor palate should be hit when possible. I think this is why people think Lao and Thai dishes are complicated. The flavors are so complex, BUT when you break it down, the ingredients used aren't complex at all.
Anyway, back to this delicious salmon satay skewers recipe. This recipe is simple and easy to make. If you've stocked up on your Asian pantry staples, I'm sure you can throw this dish together in no time.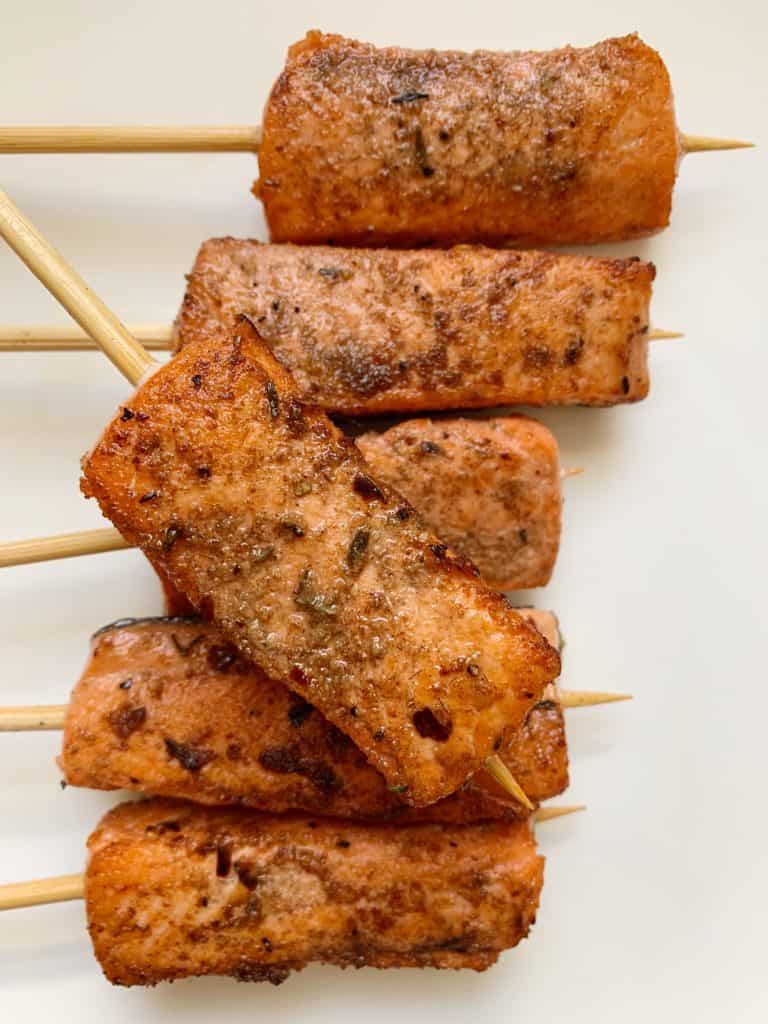 A few things about this recipe:
I love Mae Ploy Red Curry Paste. It's the same curry paste my mom uses if she's not making her own. It's so much more flavorful than other brands out there.
Traditionally, the satay sauce uses peanut butter. For the sake of Whole30 and Paleo, I like using cashew butter or almond butter.
I'm not going to tell you what to do, but I'm going to tell you what to do. Here's how to properly eat this dish to get the full experience: dip the salmon skewers into the satay sauce, take a bite, then use the tip of the skewer to stab the cucumbers and then eat it. Repeat until your heart's content!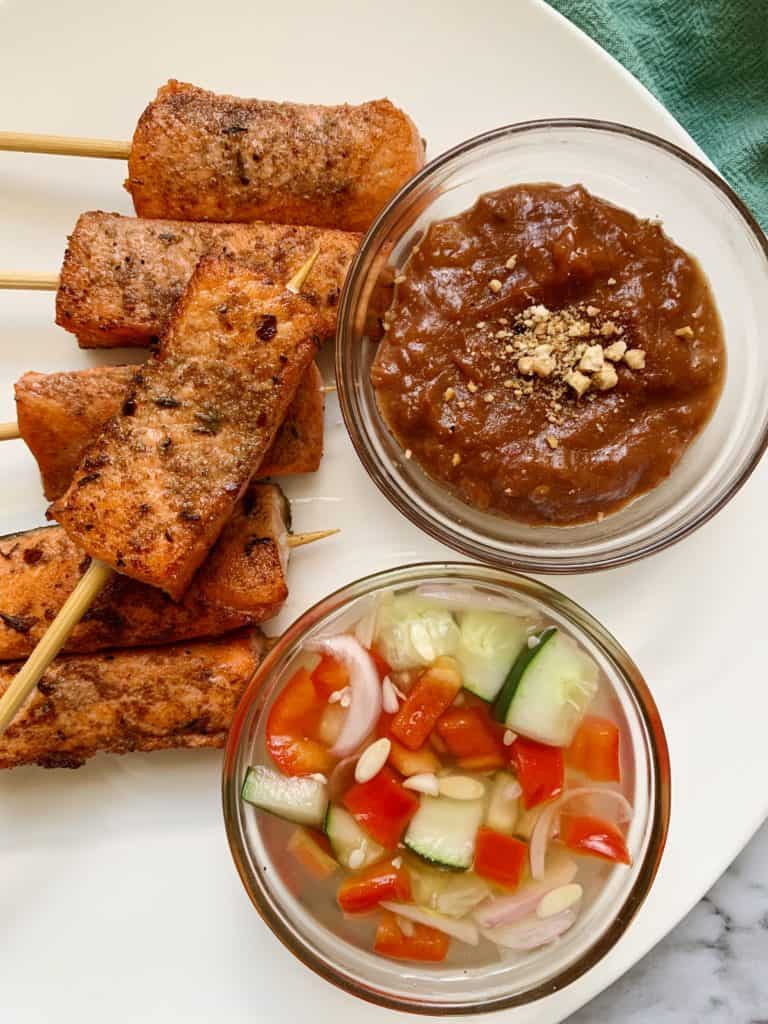 If you can't have salmon, you can switch it with chicken or pork belly. All work so well with this recipe!
Salmon Satay Skewers (Whole30, Paleo)
Ingredients
1 1/2

lbs

skinless salmon

1

tbsp

curry powder

1/2

tbsp

avocado oil
Ajat (Thai cucumber relish)
1/2

cup

white vinegar

1/4

cup

apple cider or apple juice

1

tsp

kosher salt

1/2

cucumber

diced into bite size pieces

1

small

shallot

sliced

1/2

red bell pepper diced

or 1 Thai chili pepper sliced
Instructions
If using wooden skewers, soak in water for at least 20 minutes to prevent from burning while cooking.

You can either cut salmon fillets into one inch cubes or slice the fillet lengthwise to get strips.

Place salmon in a bowl, add in the curry powder and avocado oil. Gentle mix until salmon is coated.

Thread the skewers into the salmon and marinate for about 10 min.

Heat a skillet or grill over medium-high heat with some avocado oil.

Cook the salmon skewers for 2-3 minutes on each side or until cooked to your liking.
Satay Sauce
Add the avocado oil to a sauce pan over medium heat. Then add in the red curry paste and saute for 1-2 minutes or until fragrant.

Add in the coconut milk, cashew butter, crushed cashews, fish sauce, and apple cider.

Cook sauce for an additional 2-3 minutes. Best served warm.
Ajat (Thai cucumber relish)
In a bowl, mix the white vinegar, apple cider, and kosher salt until salt has dissolved.

Add in the cucumbers, shallots, and red bell peppers. Let sit for about 5 minutes and then serve.
---
SIMILAR RECIPES:
Spicy Coconut Shrimp
Pad Thai
Braised Pork Belly & Shrimp Stir Fry
---