Summer grilling season is upon us and it's going to get spicy up in here! These Grilled Sriracha Turkey Patties are going to be your go to patties to make this summer. Bold statement, but I'm convinced you'll make it a bunch!
The post is in partnership with The New Primal.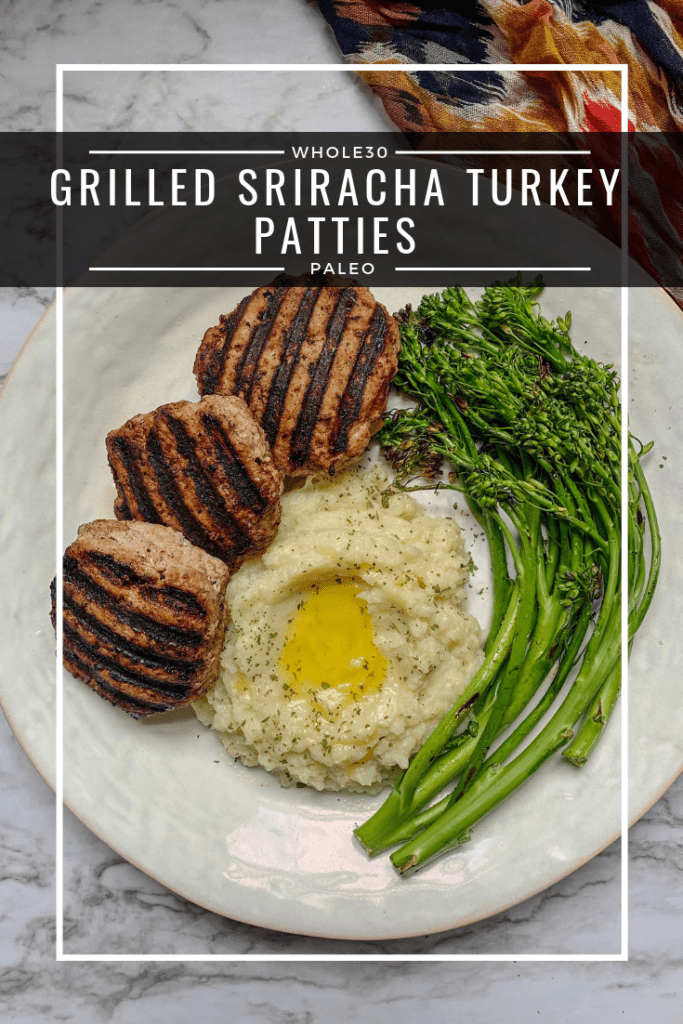 I feel like turkey anything gets a bad rep. It's synonymous with healthy eating, but in the boring sense. I want to change that because turkey is actually really delicious and it does not have to be boring!
First, if you're making these Grilled Sriracha Turkey Patties, you need to at least use half a pound of dark turkey meat mixed with the lean ground turkey breast. Dark meat is the key to flavor and to preventing the turkey patty from drying out. Much like chicken, turkey dark meat is far superior. Don't @ me.
For this recipe, I use all dark meat.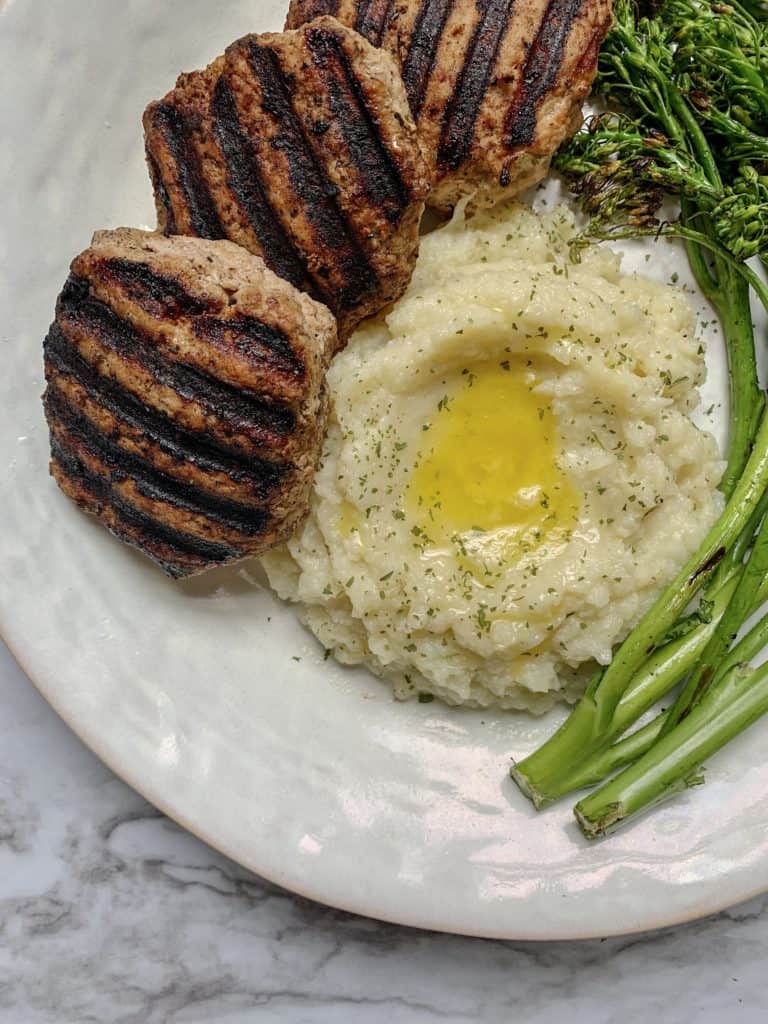 The other reason turkey probably gets a bad rep is because no one is properly seasoning it! Y'all. Please season your protein. Salt and pepper is just not enough. There are so many herbs and spices available, and everyone needs to be taking advantage of it!
Also, this is where The New Primal comes in. Their Sriracha Tahini Salad Dressing is more than just dressing. I absolutely love using it as a marinade and flavor enhancer. So if you don't want to use herbs and spices, at least use this dressing, okay? Okay.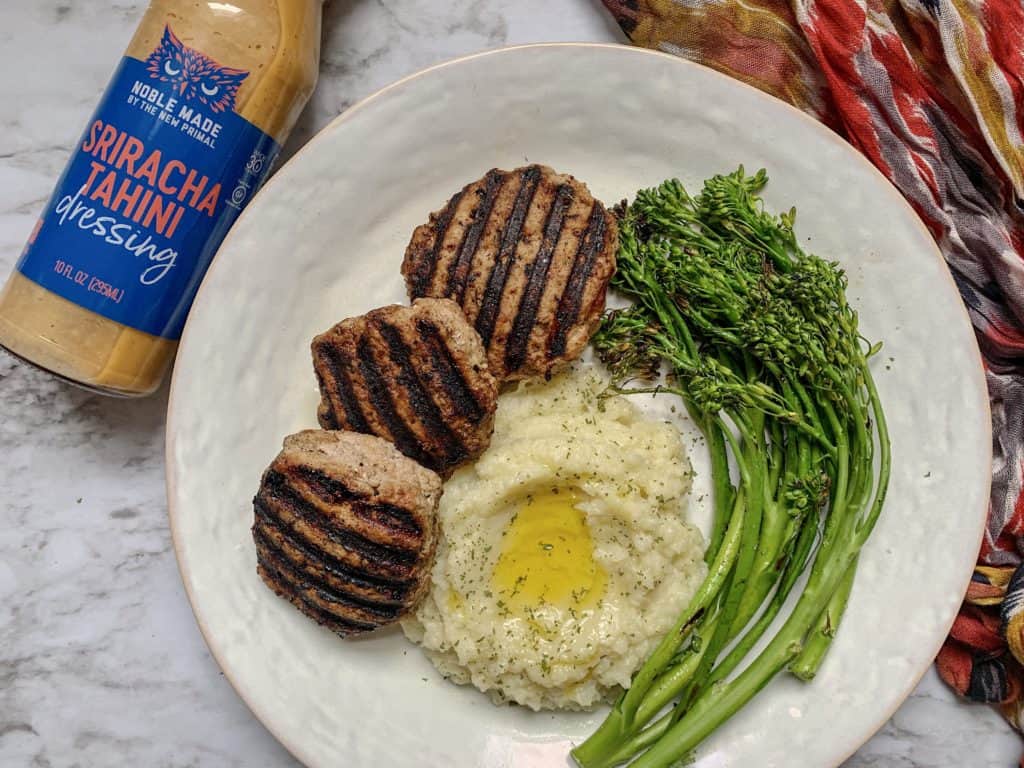 Why The New Primal Noble Made Sriracha Tahini Salad Dressing?
Sriracha. Need I say more?
It's a one stop shop when it comes to enhancing flavor in your dishes.
It's not super spicy, but does add a nice kick to things.
It's Whole30 approved which means all the ingredients are real whole foods!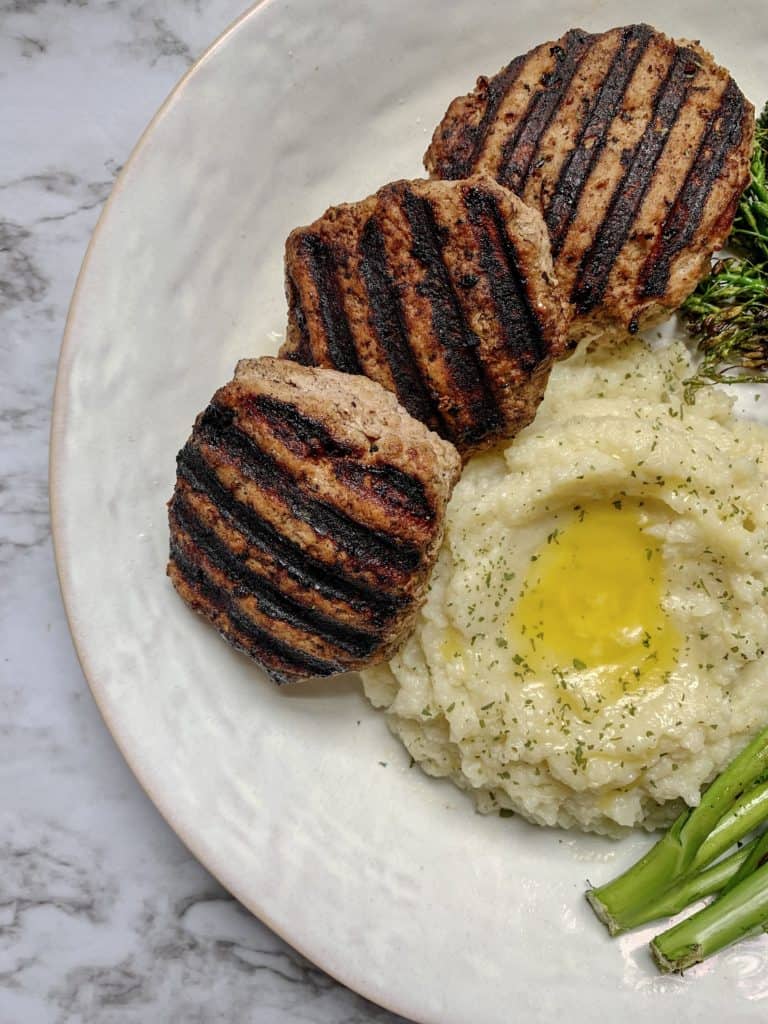 Also, these turkey patties are super versatile! Here I'm serving them with mashed cauliflower and roasted baby broccoli. You can turn this into a super tasty turkey burger and top it with all of your favorite fixings. This would also be great for breakfast if you're getting tired of eggs. Seriously, you can do so much with it!
Grilled Sriracha Turkey Patties (Whole30, Paleo)
Ingredients
1

large onion

thinly sliced

1

tbsp

ghee

2

lbs

ground turkey

or any ground protein

1/4

cup

coconut aminos

2

tsp

kosher salt

1

tsp

ground black pepper
Instructions
Preheat a skillet over medium heat with ghee.

Add onions once ghee has melted and stir occasionally until onions are caramelized. ~20-25 minutes.


Remove onions from skillet and let it cool completely.


In a large bowl, add in the ground turkey, coconut aminos, Noble Made Sriracha Tahini Salad Dressing, kosher salt, ground black pepper, and caramelized onions.

Mix until well combined and form 6 turkey patties.


Place turkey patties on a plate, cover, and refrigerate for at least 30 minutes.


Preheat your grill over medium-high heat and lightly grease with avocado oil.


Grill the turkey patties for 6-7 minutes per side or until cooked through.


Serving suggestions: serve with mashed potatoes or cauliflower and roasted greens or turn into a burger with your favorite toppings!

---
SIMILAR RECIPES:
Instant Pot Cauliflower Mash
In n Out Burgers
Grilled Potato Salad
---
---
Please note that I only work with companies and use products that meet the values and standards of a dash of dolly. This post is sponsored by The New Primal. While I am compensated for the work I do, ALL of the opinions are my own and 100% honest. Thank you for your support!