Tostones Week 2019 has officially begun and it only made sense to kickoff with Air Fryer Tostones! The most frequently asked question I get whenever I share a dish with tostones is if it can be made in the air fryer. I'm here to tell you, YES, yes it can!
This post is in partnership with Gourmia.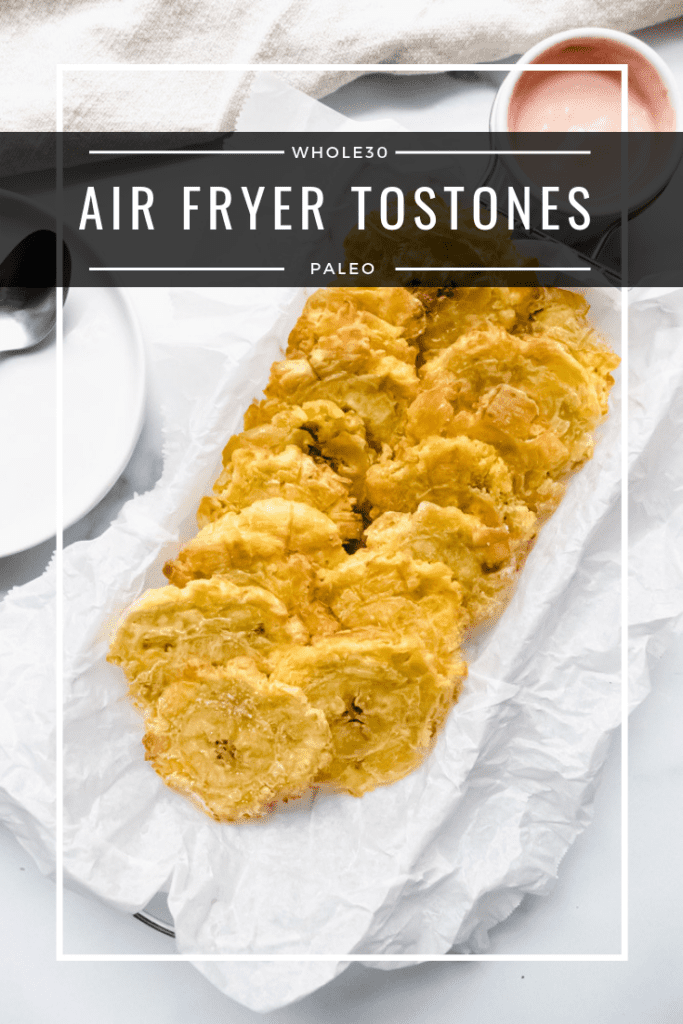 I'm not kidding when I say the most frequently asked question I get whenever I share tostones is whether or not it can be made in an air fryer. Luckily, my friends at Gourmia sent me their Gourmia GAF680 Digital Free Air Fryer to try out and review. Obviously, the first thing I made were these tostones.
First, I just want to say this air fryer has changed my life. Okay, maybe I'm being a bit dramatic, but it's definitely changed my life in the kitchen. It's quickly become one of my top three kitchen appliances, and we all know I'm always hesitant to promote any appliances because your girl does not have the counter space! So a new appliance has to be REALLY worth it. Let's just say some adjustments were made and the air fryer has a permanent spot on my counter.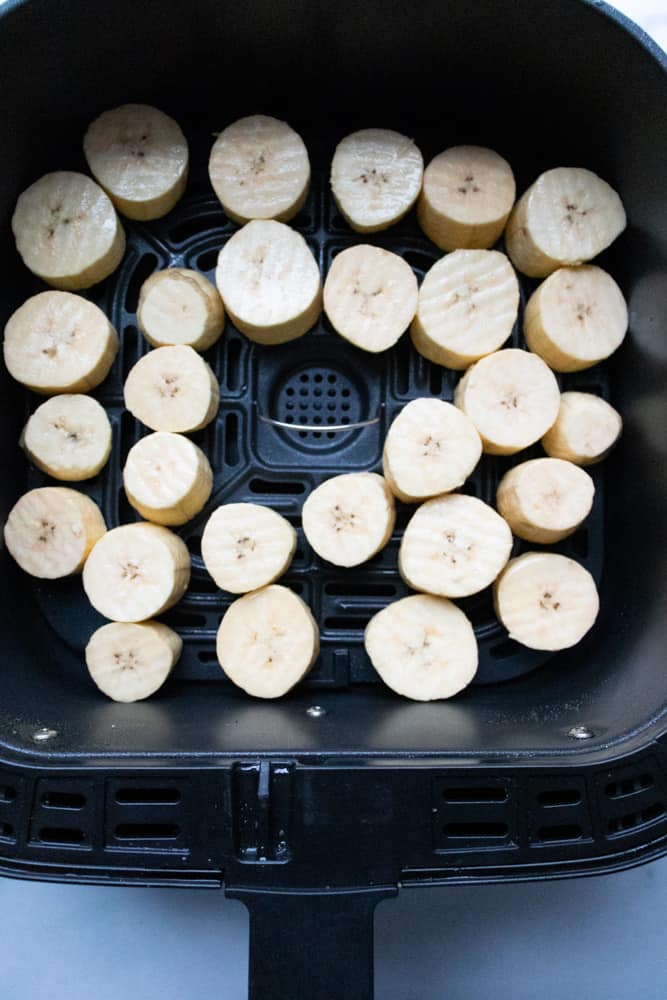 Here's why I'm LOVING Gourmia GAF680 Digital Free Air Fryer:
It cooks food so much faster than my oven and makes everything SO crispy. An air fryer is basically a mini convention oven.
Speaking of oven, I don't have to turn on my oven this summer if I don't want to! An air fryer does almost everything my oven can do.
Meal prepping has become so much more enjoyable (re: food cooks so quickly).
This 6 qt size fits so much food! Perfect if you have a large family.
It came with a multipurpose rack and four skewers –which means so many different types of food can be made in it and the rack gives you more space for more food.
The digital preset temperature and time for certain foods was so helpful when I was learning how to use it.
There's no need to preheat the air fryer. So all you have to do is put your food in the basket, set the temperature, set the time, and then let it do its thing.
Clean up is hassle free. The removable "crisper" and the pan can easily be wiped down with a damp paper towel or washed thoroughly with hot water, soap, and a non-abrasive sponge.
This model is so sleek and looks great on your counter.
I can make a TON of tostones in it. Seriously. I have 3 sliced green plantains pictured, but I could have fit at least one more.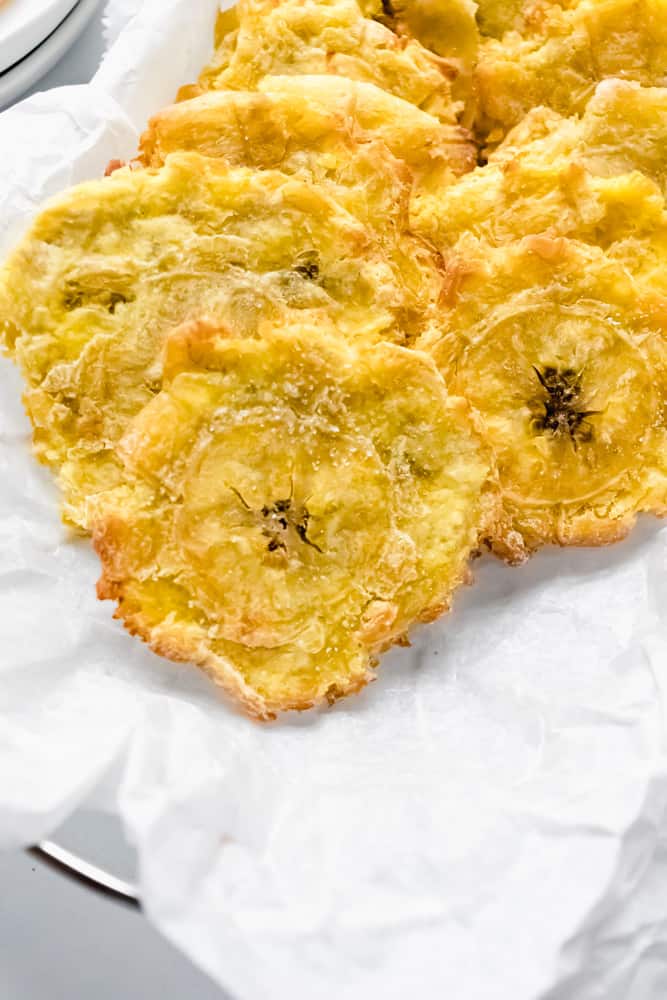 I will have to say, the only thing that freaked me out was the smell it omitted when I first used it. Gourmia does warn you that it will smell like hot plastic during the first few uses and then the smell will go away. Apparently this is pretty standard for most air fryers and it's because the materials are being heated up for the first time. After about 4-5 uses, it no longer smells like burnt plastic.
Alright, onto these Air Fryer Tostones! Very similar to baked tostones, you won't get the same crispy kind of tostones you would get if you pan fried them, but they're crispy none the less. Air frying them definitely cuts down the mess and cooking time.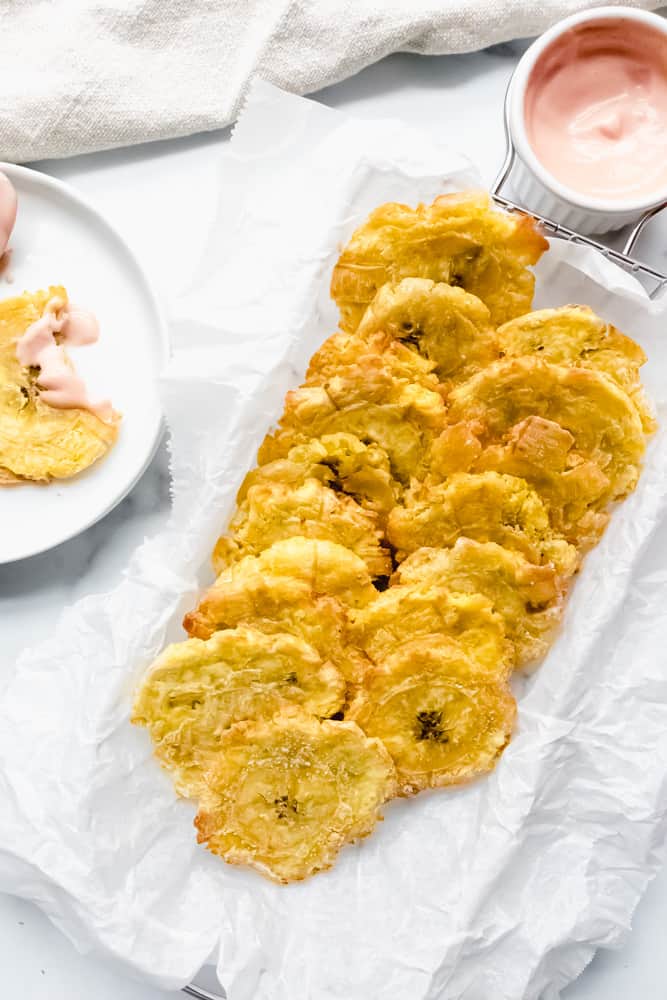 What I personally have been doing is, air frying the plantains, flattening them, letting them cool, then I freeze them in a single layer and then place in ziplock once frozen. When I'm ready to make some tostones, I pull them out of the freezer and pan fry them.
Having an air fryer saves me the step of having to fry them twice which has been a time saver! We all know I always need a batch in the freezer, and having an air fryer makes it so easy.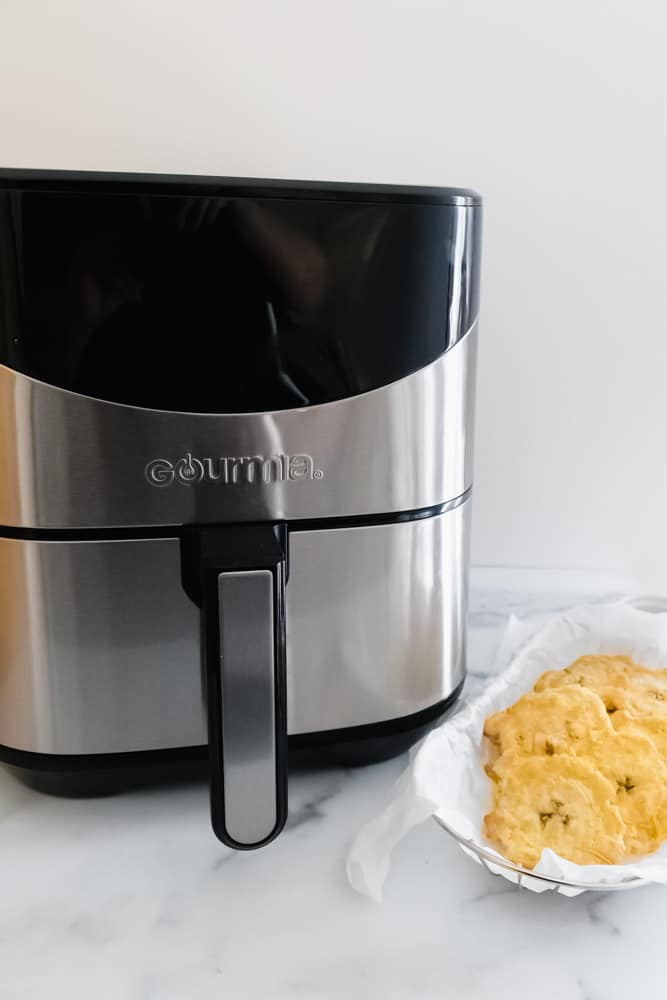 If you are looking to invest in an air fryer, I cannot recommend the Gourmia GAF680 Digital Free Air Fryer enough! If anything, get it so you can also make a ton of tostones. Totally worth it for that alone.
Air Fryer Tostones (Whole30, Paleo)
Ingredients
4

green plantains

kosher salt
Instructions
Cut off ends of green plantains.

Carefully use your knife to score the skin of the plantain then peel off the skin.

Cut the plantain into 1 inch coins.

Toss the plantains in enough avocado oil to coat.

Line your air fryer with the plantains in a single layer.

Air fry at 400F for 5-6 minutes.

Remove plantains, then flatten with something with a flat surface (bottom of a cup, plate, bowl, or small skillet).

Toss the flatten plantains with more avocado oil and kosher salt.

Place the flatten plantains back into the air fryer in a single layer (you may have to cook in batches) and air fry for 5 minutes at 400F.

Flip the tostones and then air fry for an additional 4-5 minutes at 400F or until golden brown.

Serve tostones immediately!
---
SIMILAR RECIPES:
Oven Baked Tostones
Shallow Fried Plantains
Quick and Easy Shrimp Ceviche Tostadas
---
Gourmia sent me their Gourmia GAF680 Digital Free Air Fryer to test and review. All opinions are honest and my own.