Sounds fancy, but super easy to make. This steak frites recipe will wow anyone in your life. Sounds like a complicated dish, but quite the opposite. It just takes a few extra steps to make this dish extra special.
This post is in partnership with Western Grassfed Beef.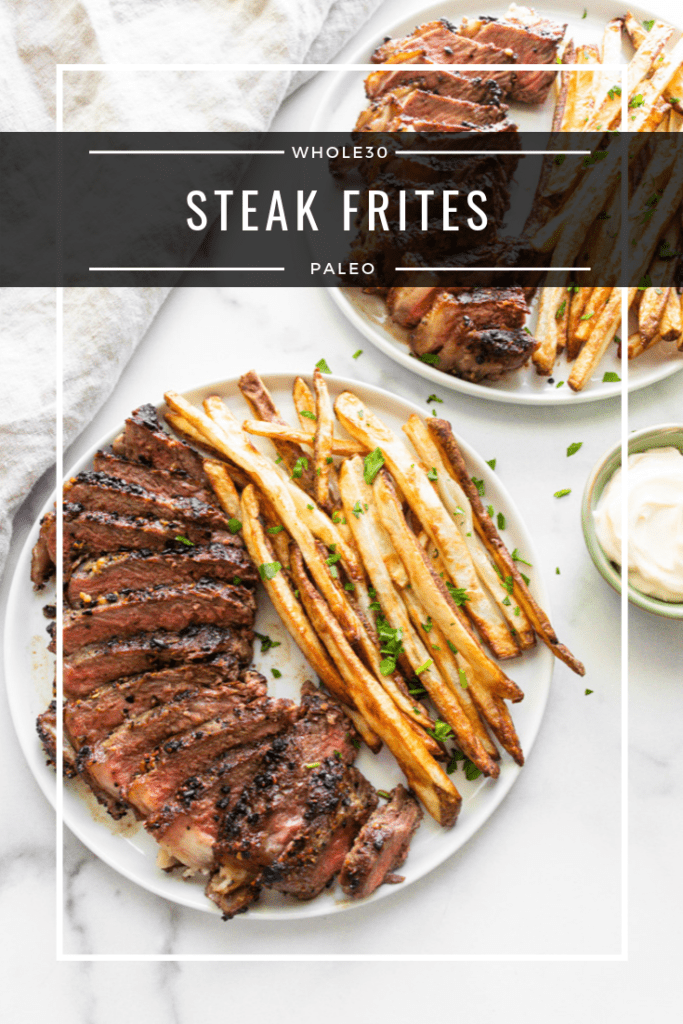 I will forever be a steak and a potatoes kind of girl –which is exactly what this steak frites recipe is. I do love that French made it sound fancy by calling it steak frites, but when it comes down to it, it's a good ole fashion steak and potatoes recipe.
This dish always sounds super fancy, but it really is pretty simple to make! With just a few extra steps, this dish will wow anyone in your life.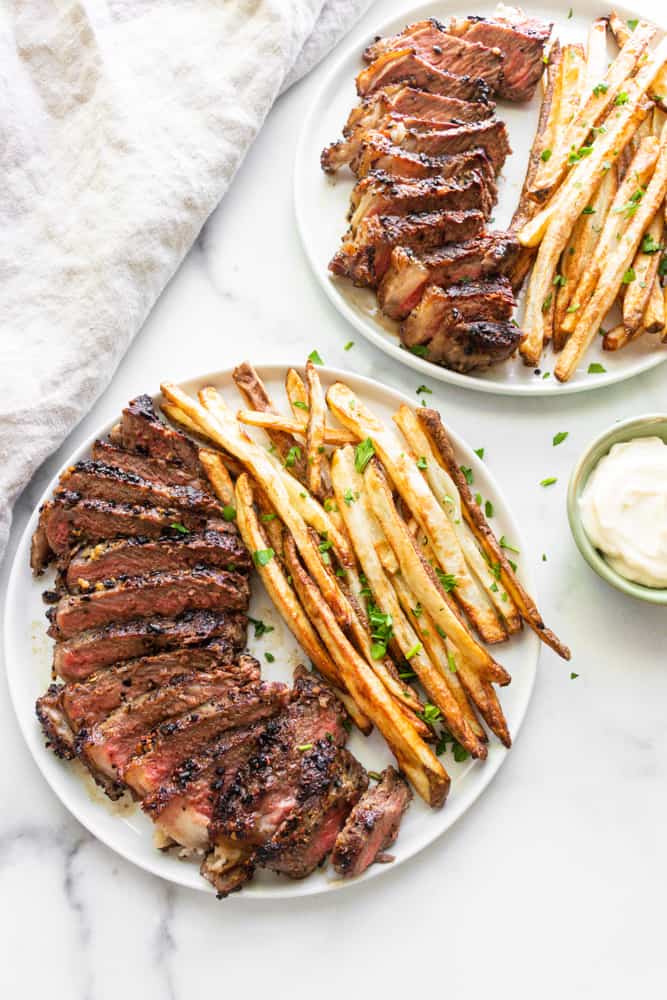 Let's talk about the steaks. I get my steaks (mostly rib eye and New York strip) from Western Grassfed Beef. I'm really picky when it comes to buying beef and I always want the best quality. Western Grassfed Beef is one of the very few steak companies I trust when it comes to sourcing my beef.
Because beef doesn't always fit the budget, I like to make a big order every few months so that I always have good quality steaks in my freezer. It's a great way to budget beef into your diet.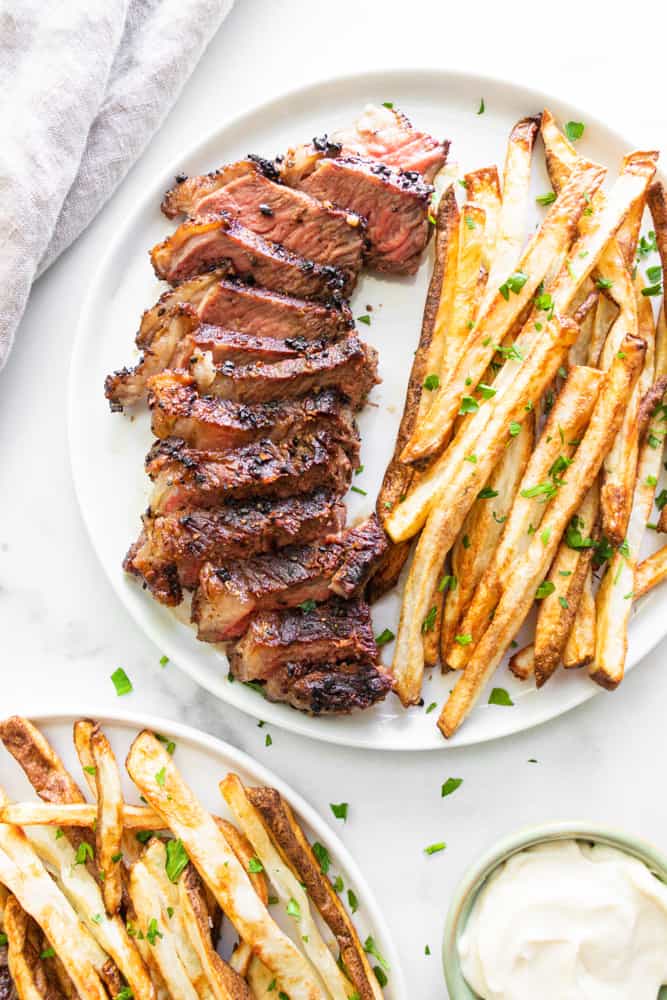 Since you have great quality steaks, you really don't need to add much to it! You really want that beefy flavor to shine through and all it takes is some good quality kosher salt and fresh (yes, fresh) ground black pepper. Cooking method is totally up to you.
I personally like using a cast iron skillet when it's not barbecue season. Depending on my mood I switch back and forth between a regular cast iron skillet or a grill cast iron skillet. The grill cast iron is usually used when I am feeling fancy and want to create those grill lines on my steaks. Doesn't happen often, but when it does, I go all out. LOL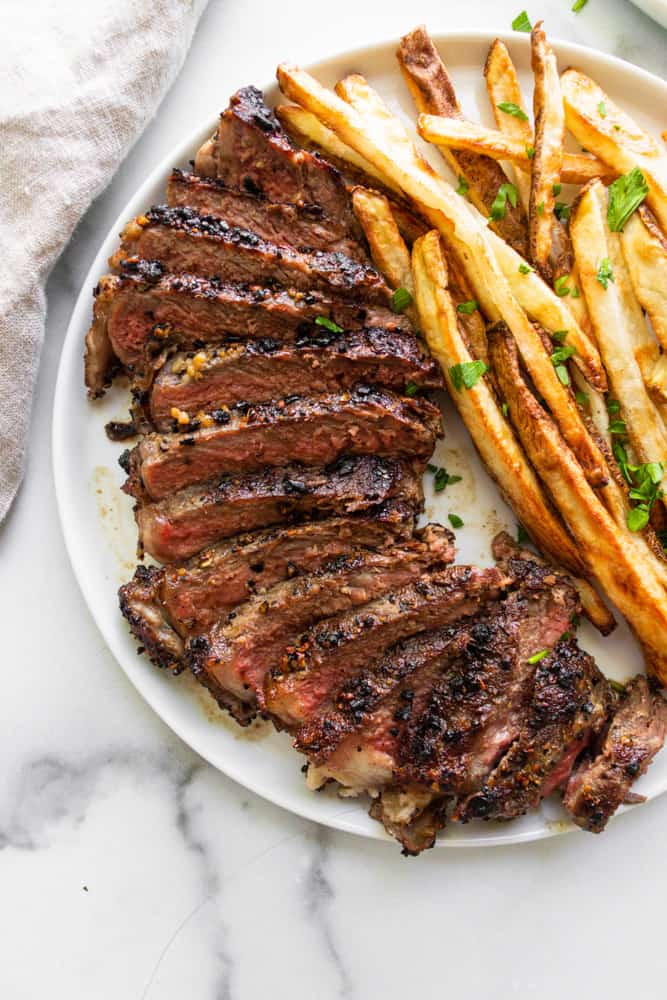 Now let's talk about the frites in this steak frites recipe. Frites is really just a fancy way of saying French fries. Let's be real here. Now, you can just quickly make frites if you want to, but I recommend you take these few extra steps so you have exceptional frites.
Soak your russet potatoes in cold water for at least 30 minutes. This will remove the starch which will help the frites get extra crispy.
It is crucial that you pat your potatoes as dry as possible. You don't want the potatoes to steam in the oven. They won't get crispy.
You can use any kind of cooking fat you want, but if you've never roasted anything in duck fat, treat yourself. Seriously. Duck fat is so underrated. It's one of my favorite fats to cook my potatoes in. Once you go duck fat you won't go back. Trust.
Duck fat melted with garlic will change your life.
Season your frites AFTER they've been roasted. You don't want to season prior because you don't want the salt to pull out any liquid from the potatoes. Again, we don't want the potatoes to steam!
Must dip frites in garlic mayo. Please don't serve ketchup with this meal. We're trying to be fancy here, okay? Okay.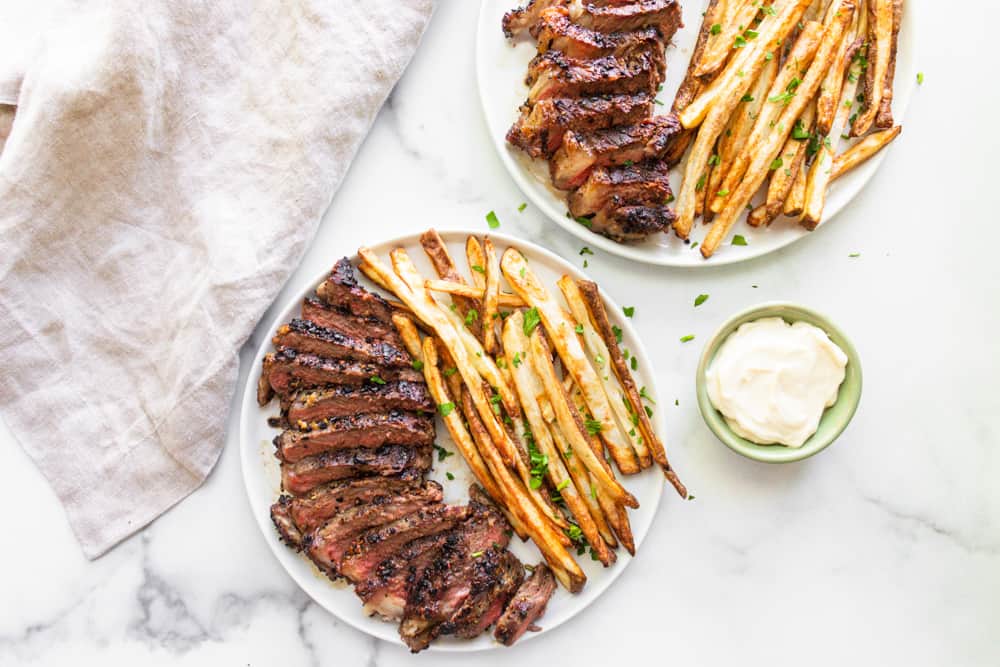 Now that you've learned how easy it is to make steak frites, grab the ingredients, and go impress some loved ones!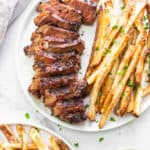 Steak Frites (Paleo, Whole30)
Ingredients
Frites
2-3

large russet potatoes

3

tbsp

duck fat

2

garlic cloves

minced

2

tsp

kosher salt
Steak
2

pieces

NY strip steak or rib eye

kosher salt

fresh ground black pepper

1

tbsp

ghee
Instructions
Frites
Preheat oven to 375F. Line baking sheet (might need two) with parchment paper.

Scrub potatoes clean or peel the skin off. I keep the skin on.

Cut into 1/4 inch thick french fries. Add to a bowl with cold water and let sit for 30 minutes.

Meanwhile, melt duck fat with minced garlic. Mix until well combined.

Remove potatoes from water, pay dry (make sure they are really dry), and then toss in duck fat with minced garlic.

Add potatoes to baking sheet in a single layer making sure not to overcrowd the potatoes.

Roast for 20 minutes then toss the potatoes. Turn the oven up to 425F and roast for an additional 15-20 minutes or until frites are crispy and golden brown.

Season frites with kosher salt and serve.
Steak
Let your steaks come to room temperature.

Pat dry and then generous season with kosher salt and fresh crack black pepper.

Preheat a cast iron skillet over medium high heat. Add ghee once the skillet is hot.

Melt the ghee and make sure to swirl it around to cover the bottom of skillet.

Add the steak to the skillet and sear one each side for 3-4 minutes per side for medium-rare steak. Sear longer one each side if you want your steak cooked more.

Remove steaks from skillet and let rest for at least 10 minutes before cutting and serving.
Garlic Mayo
Mix both ingredients until well combined. Store in refrigerator until ready to use. Dip your frites in this!
---
SIMILAR RECIPES:
Instant Pot Baked Potatoes
Spicy Thai Beef Salad
Crying Tiger Beef
---