Crying Tiger Beef (sua rong hai) is a little misleading because the star of the dish is the sauce you dip the beef in. There are various stories as to why it's called crying tiger beef. The legend I heard growing up was that the cut of meat the ancient people used, brisket, reminded them of tiger skin and called it "tiger meat."
So when the meat is grilled, the fat and juices produced from the heat fell like tears, hence "crying tiger." Whatever the story is, I love this dish.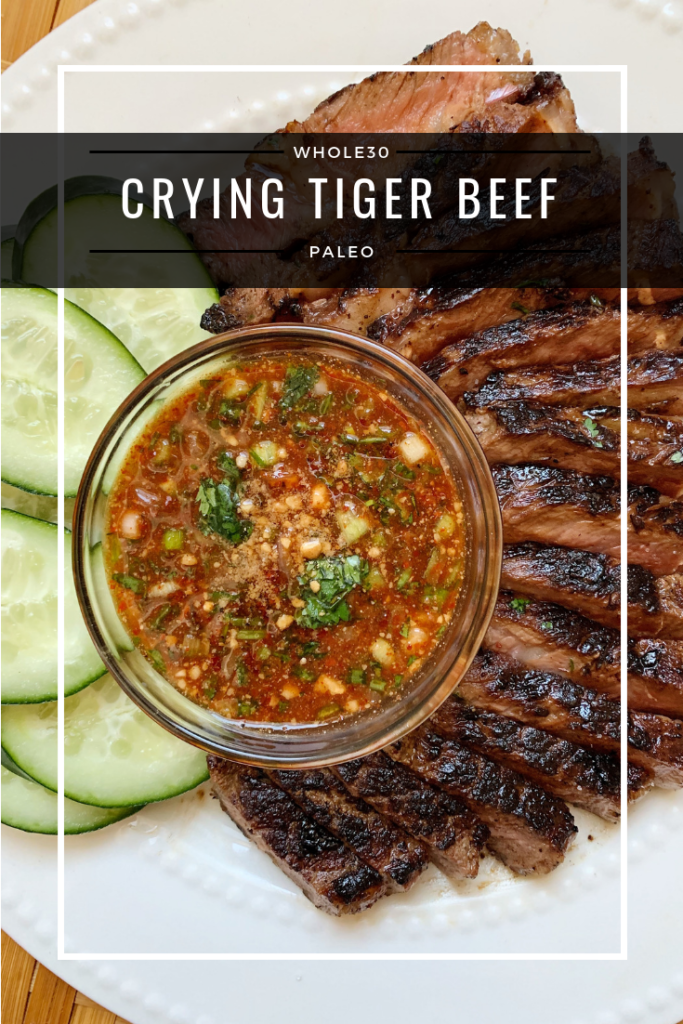 Crying Tiger Beef originated from the northeastern part of Thailand, also known as Isan, where my dad's family is from. A lot of the traditions and food in that area is heavily influenced by Laos (where my mom is from). So a lot of the food I grew up eating is a cross between the two cultures. Sometimes I never know where some of the dishes I ate originated from because the cultures are so similar.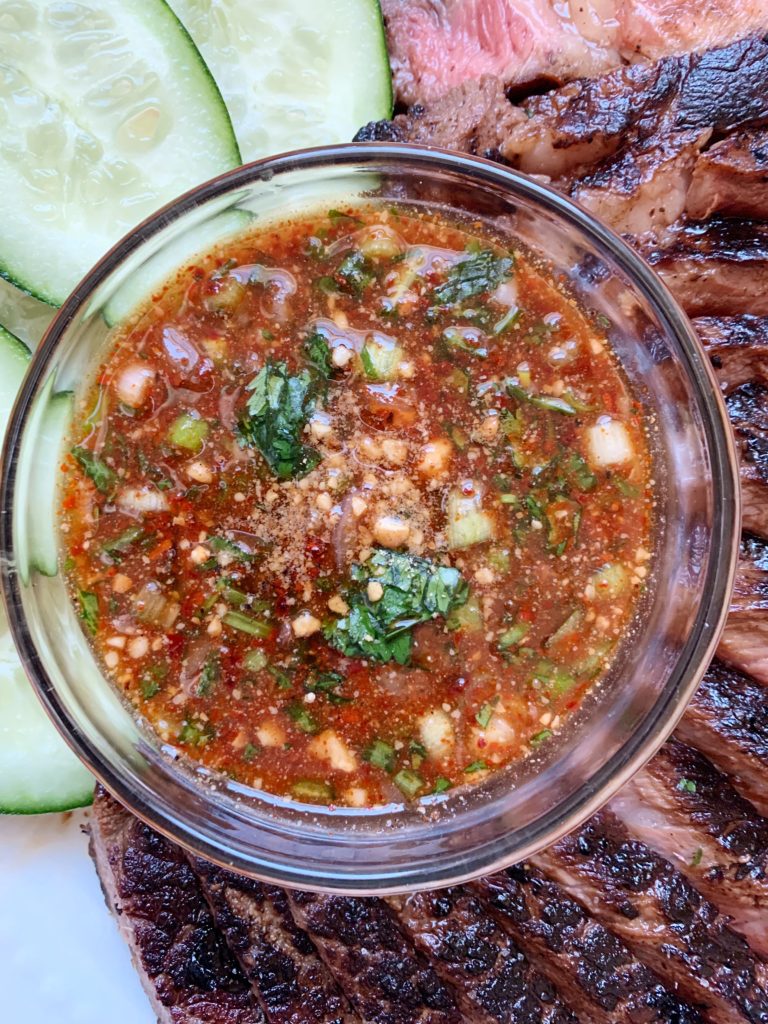 Anyway, like I mentioned earlier, the real star of this dish is the spicy dipping sauce (nam jim jaew). It's spicy, sour, and has a hint of sweetness to it. It's great with any kind of protein and I love dipping veggies in it as well.
A few things about this dish:
Traditionally brisket is used but I'm not crazy about brisket so I just used whatever cut of meat I could find. Like I said, the real star of this dish is the dipping sauce.
In a lot of Lao and Thai cooking, we use toasted rice powder which is glutinous rice toasted and then ground into a fine powder. Since rice is out for Whole30/Paleo, I have found that cashews are the perfect substitute. This will add a warm nuttiness flavor to the sauce (or any dish) and it will help thicken the sauce a bit.
The sauce also calls for tamarind juice/concentrate like my Pad Thai recipe. I found a tutorial online on how to make the tamarind juice/concentrate for those who can only find tamarind paste here.
Use the recipe I give you for the sauce as a guide. You can make it spicier if you want it spicier. You can make it more tangy and sour by adding more lime juice if you want. Obviously, I like mine on the spicier side. It's totally up to you on how you want to make the sauce. Play around with it!
If you're not doing Whole30, you can use palm sugar instead of the apple juice and it's the same amount.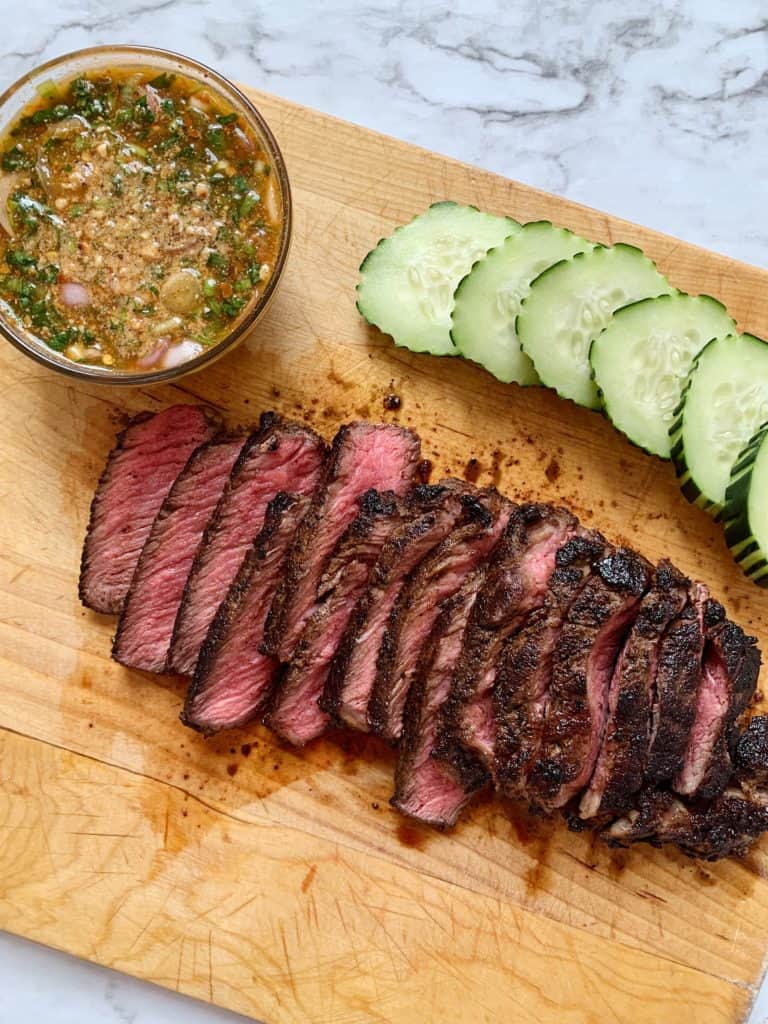 If you're not doing the Whole30, this dish is best served with some fresh made sticky rice and lots of fresh veggies. I personally love dipping cucumbers into the sauce. I hope you enjoy this dish as much as I do!
Crying Tiger Beef (Whole30, Paleo)
A Whole30 and Paleo take on the traditional Thai Crying Tiger Beef.
Ingredients
Nam Jim Jeaw (Spicy Dipping Sauce)
1 1/2

tbsp

finely sliced shallots

2

green onions

finely sliced

2

tsp

finely chopped cilantro

1 1/2

tbsp

fish sauce

1

tbsp

lime juice

1

tbsp

tamarind concentrate

*

1 ½

tbsp

100% apple juice

or ½ tbsp sugar

1

tbsp

red pepper chili flakes

more if you want it spicier

2

tsp

toasted cashew powder

or toasted rice powder if not doing Whole30 or Paleo
Instructions
Steak
Marinate the steak in fish sauce, coconut aminos, and black pepper for 15-20 minutes.

Preheat a cast iron skillet or grill over medium-high heat with avocado oil.

Place steak into skillet and cook for 5-7 minutes per side or longer if you want your steak more on the well-done side. This will get you medium to medium rare depending on thickness of steak.

Let the steak rest for at 10 minutes before slicing into thin pieces. Serve with dipping sauce and fresh vegetables.
Nam Jim Jeaw (Spicy Dipping Sauce)
Mix all of the ingredients but the toasted cashew powder together.

Taste to see if you want it spicier or more sour. Adjust to your preference.

Add the toasted cashew powder right before serving.
Toasted Cashew Powder
Toast the cashew in a skillet over medium heat until golden brown and fragrant. It will be about 10-15 minutes.

Place the cashews in a mortar and grind until it's a fine powder with a pestle. You can also grind it in a food processor.
Recipe Notes
*If you can only find tamarind paste, start with 1 tsp of the paste and adjust to your preference. Tamarind paste is more concentrated than the tamarind concentrate/juice.
---
---
This post contains affiliate links. I will receive a small commission if you make any purchases using my link and it will not cost you anything extra. Thank you for your support!