The next time you find yourself at a Thai restaurant, order the Spicy Thai Beef Salad and thank me later. It might also be listed as Nam Tok Neua which translates to "waterfall beef salad". It's said that it's called waterfall beef salad because when it's made on the grill, the juices of the meat falling into the fire reminds people of a waterfall. Whatever the case may be, make this recipe and be sure to order it the next time you're getting Thai food.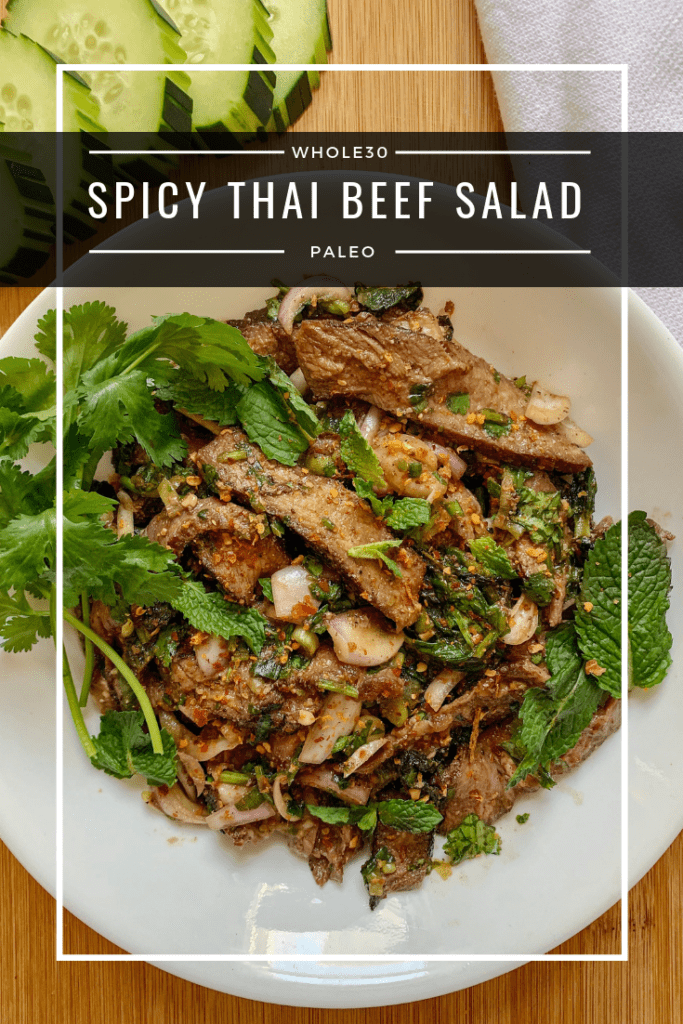 This Spicy Thai Beef Salad is like almost all Thai and Lao dishes. There are different layers of flavors to hit every single taste bud. I'm sure you're sick of me saying this, but this is why I always favor recipes that have flavor combos.
There are many variations of Thai beef salad, but this one reflects the Isan style version –which is the northeastern area of Thailand. It's where my dad's family is from!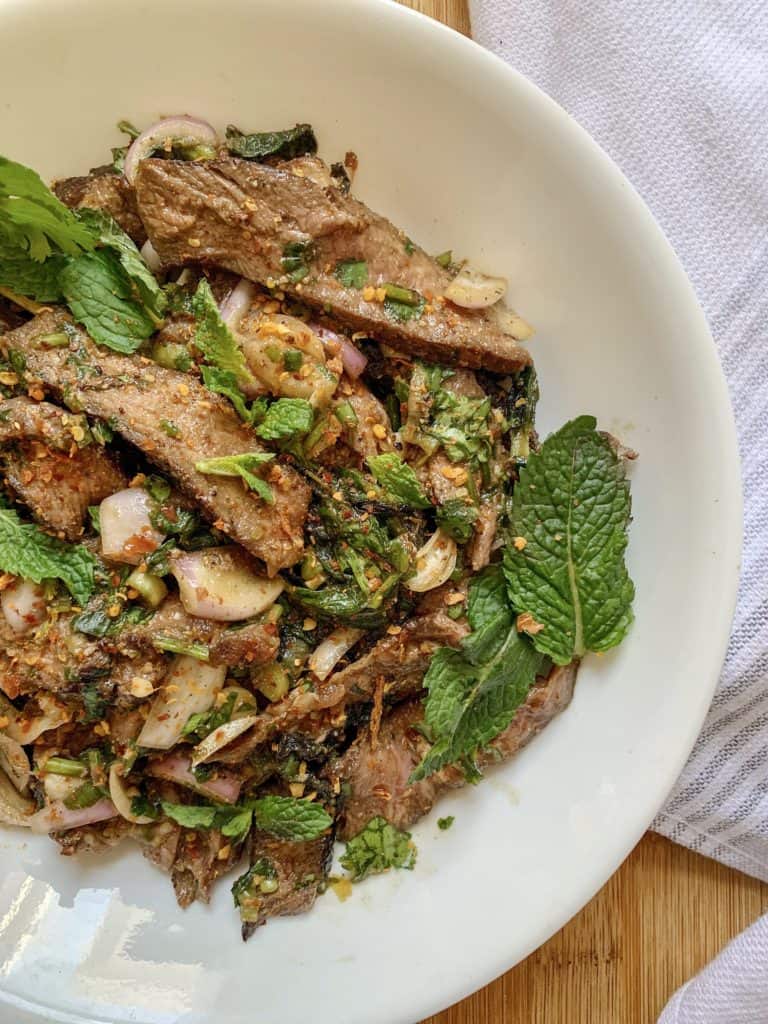 It's light and refreshing and can be served as a starter or the main dish. If it's served as the main dish, rice is typically served with it alongside fresh veggies like cabbage and cucumbers. The fresh veggies help cut the spiciness and cleanses the palate between bites.
A few things about this recipe:
I love using ribeye steak but any cut of beef will work. The lime juices will help tenderize the meat.
I suggest cooking the meat a little less done than you usually like it, unless you like your meat medium-rare. The lime juices will help continue to cook the meat. So if you like your steak at medium, cook it at medium-rare. If you like it well-done, cook it to medium.
Traditionally toasted rice powder is used, but much like my Crying Tiger Beef recipe, we're going to replace it with cashews that are toasted and ground into a powder. If you can't have cashews, you can skip it all together.
Traditionally sawtooth coriander is used, but regular cilantro is fine. For my cilantro haters, yes (reluctantly) you can leave out the cilantro.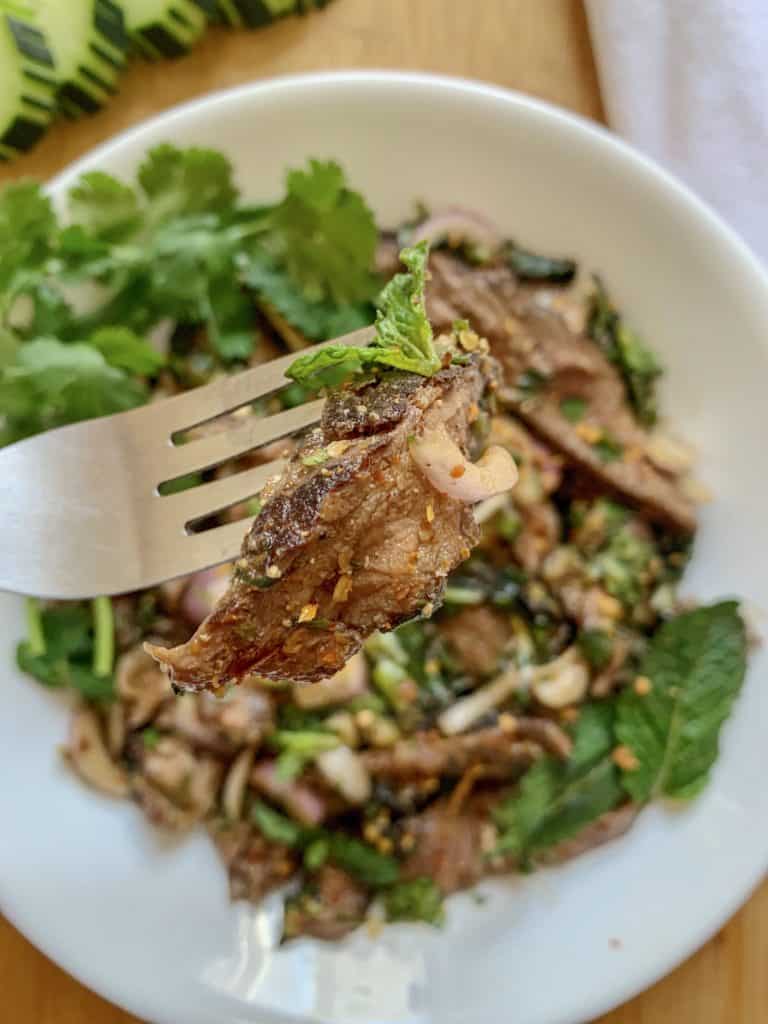 You all know I love meal prepping, but here's the thing. Spicy Thai Beef Salad should be eaten right away. The herbs will still be vibrant and won't get all wilted. The cashew powder won't soak up all of the dressing. Plus, it's really delicious when the meat is still warm.
BUT if you want to make it ahead of time. Make the components of the salad and then mix it when you're ready to it.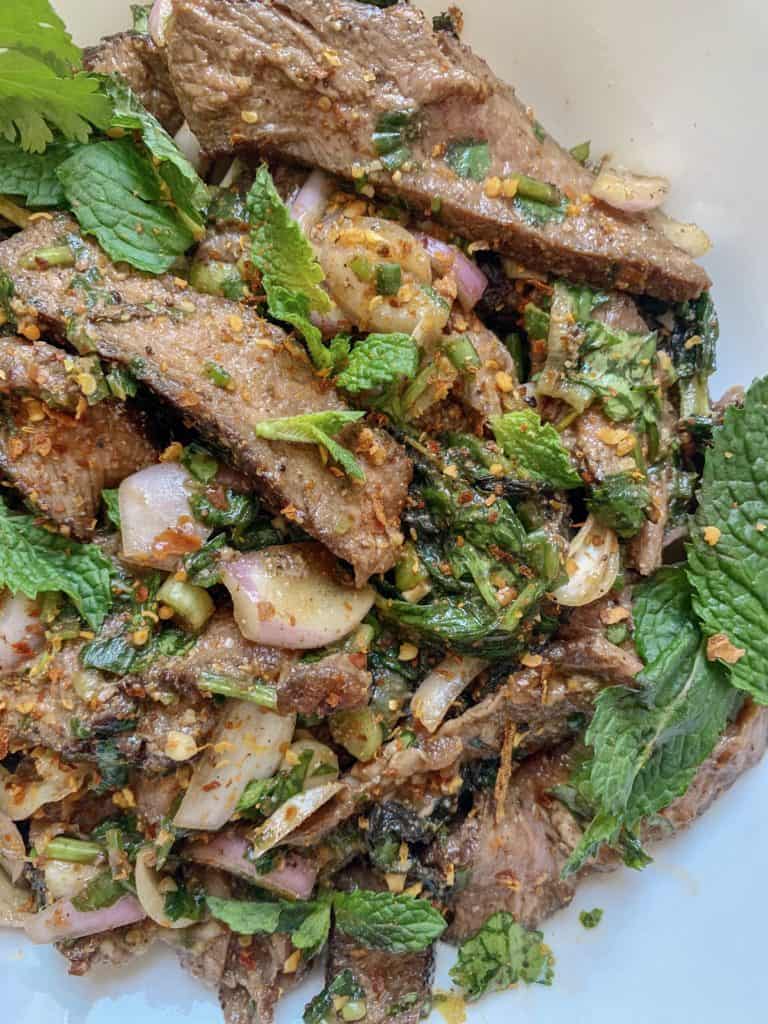 I hope you enjoy this Whole30 and Paleo friendly version of this recipe!
Spicy Thai Beef Salad (Whole30, Paleo)
Marinating Time
20
minutes
Ingredients
Ribeye Steak
1

lb

ribeye steak

or any cut of meat

2

tbsp

fish sauce

1

tbsp

apple cider

or apple juice

1/2

tsp

black pepper

1

tbsp

avocado oil

or any cooking fat
Dressing
3

tbsp

fish sauce

1

tbsp

apple cider

or apple juice

2

tsp

chili flakes

more if you want

2

tbsp

lime juice
Spicy Thai Beef Salad
1/4

cup

sliced shallots

1/2

cup

mint leaves

removed from stem

1/4

cup

finely chopped sawtooth coriander

or regular cilantro

1/4

cup

sliced green onions

1

tbsp

toasted cashew powder*
Instructions
Ribeye Steak
In a shallow bowl or ziplock bag, mix together the fish sauce, apple cider, and black pepper. Add in the ribeye steak and marinate for 20 minutes at room temperature.

Preheat a skillet or grill over medium-high heat with avocado oil. Add the ribeye and cook on each side 3-4 minutes for medium-rare or 5-6 minutes for medium.

Remove steak from heat, rest for at least 10 minutes, and then thinly slice the steak against the grain.
Dressing
In a large mixing bowl, add all of the ingredients, and then mix until well combined. Taste to see if you want it spicier or if it needs more lime juice. Adjust to your preference.
Spicy Thai Beef Salad
To the mixing bowl with the dressing, add in the sliced ribeye steak, sliced shallots, mint leaves, chopped cilantro, green onions, and cashew powder.

Gentle mix until everything is coated with the dressing.

Serve immediately with veggies like cucumbers and cabbage wedges.
Recipe Notes
*Toasted Cashew Powder:
Toast the cashew in a skillet over medium heat until golden brown and fragrant making sure to move it around. It will be about 10-15 minutes.

Place the cashews in a mortar and grind until it's a fine powder with a pestle. You can also grind it in a food processor.
---
SIMILAR RECIPES:
Crying Tiger Beef
Thai Holy Basil Stir Fry
Thai Fried Chicken
---