This Spicy Szechuan Wontons recipe is bursting with so much flavor from the silky smooth wontons down to the spicy hot chili oil that's infused with delicious aromatics. This recipe is a take on the wildly popular wonton street food that can be found in Sichuan.
It's not surprise I love wontons and it's absolutely no surprise I love spicy food. That's why Szechuan or Sichuan dishes are my favorite kind of Chinese dishes. They don't skimp on the heat and I'm here for it!
These Spicy Szechuan Wontons are the perfect combination of spicy and umami. The different textures also provide a great experience depending on how you cook the wontons!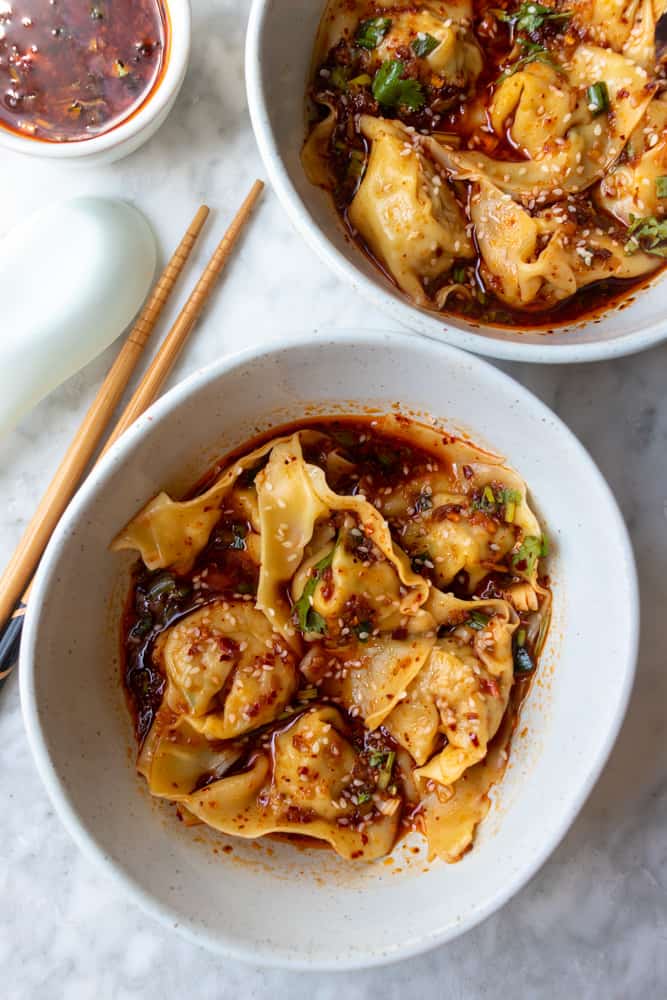 Let's break down this recipe to ensure you get the best Spicy Szechuan Wontons.
What you'll need for the Spicy Szechuan Wontons:
Wonton wrappers: I prefer the thinner wonton wrappers, but if you're going to fry the wontons using this recipe, get thicker wonton wrappers. The thinner wrappers are sometimes labeled Hong Kong style while the thicker ones are labeled Shanghai or Northern style.
Ground pork: if you don't eat pork you can substitute with ground chicken but make sure it's mixed with dark meat. When using ground pork, the fattier the better!
Chicken broth & egg: this is a really wet batter and when thoroughly mixed, it will also become sticky. This is normal and is how you get the silky smooth texture when it's cooked.
The seasoning for these wontons are super simple because the spicy Szechuan sauce will help add so much flavor.
If you haven't made my hot chili oil yet, you can replace it with a spicy chili paste. But if you want the flavor of the Szechuan peppercorns, make my hot chili oil!
Helpful tips to get the best Spicy Szechuan Wontons:
You can boil, steam, or fry the wontons. I prefer the wontons boiled for this recipe, but you do you. IF you are going to pan fry these wontons, use a thicker wonton wrapper to make the wontons. Depending on how you cook the wontons, the textures will be different from one another. Each great, but again, I prefer boiled wontons because they are super silky and soft.
This recipe makes about 36-40 wontons, but the sauce is good for about 2-3 servings (12-18 wontons). You can freeze the wontons for later use. First freeze them in a single layer then once frozen you can store in a container. When you're ready to cook the wontons just cook them straight from the freezer.
When you are making the wontons, please do not overfill the wrappers. You want no more than 1 teaspoon of filling in each wonton. Overfilling can lead to them bursting when you cook them and it'll turn into a mess. Less is more in this case!
There are so many ways to fold the wontons but I like to keep it simple. There are so many tutorials on YouTube!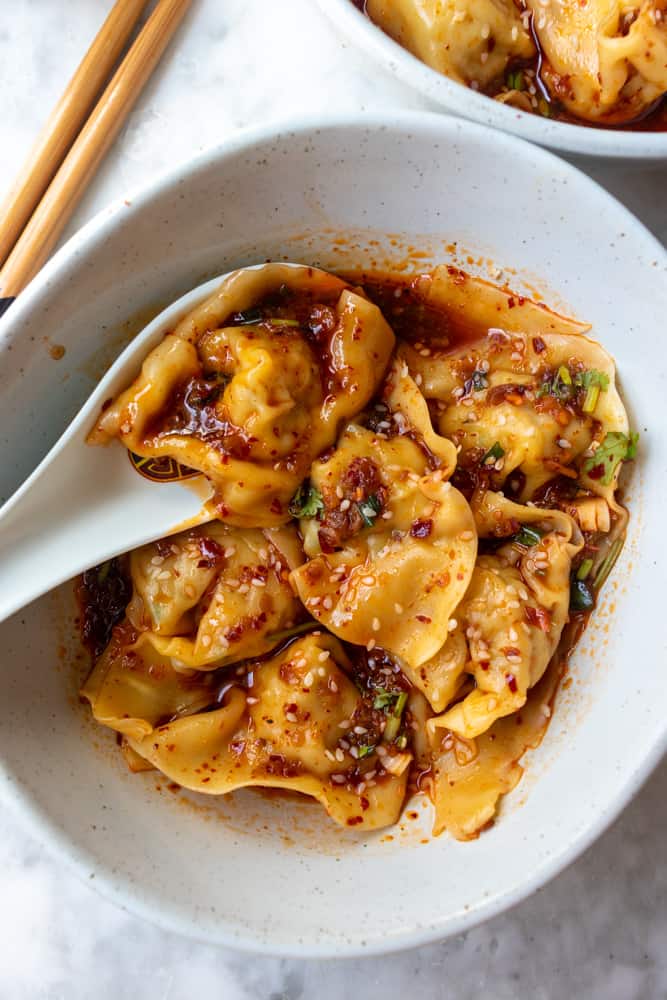 The spicy Szechuan sauce:
Customize it to your liking. Make it as spicy as you want or less spicy.
If your sauce is thick, you can thin it out by using a couple tablespoons of the water used to boil the wontons.
Be sure you grab the chili flakes from the hot chili when making the sauce. It'll add texture and some extra heat.
You can use either fried garlic or fresh grated garlic. I prefer the fried garlic because it adds a little crunch to the sauce. Again, different textures makes this dish even better.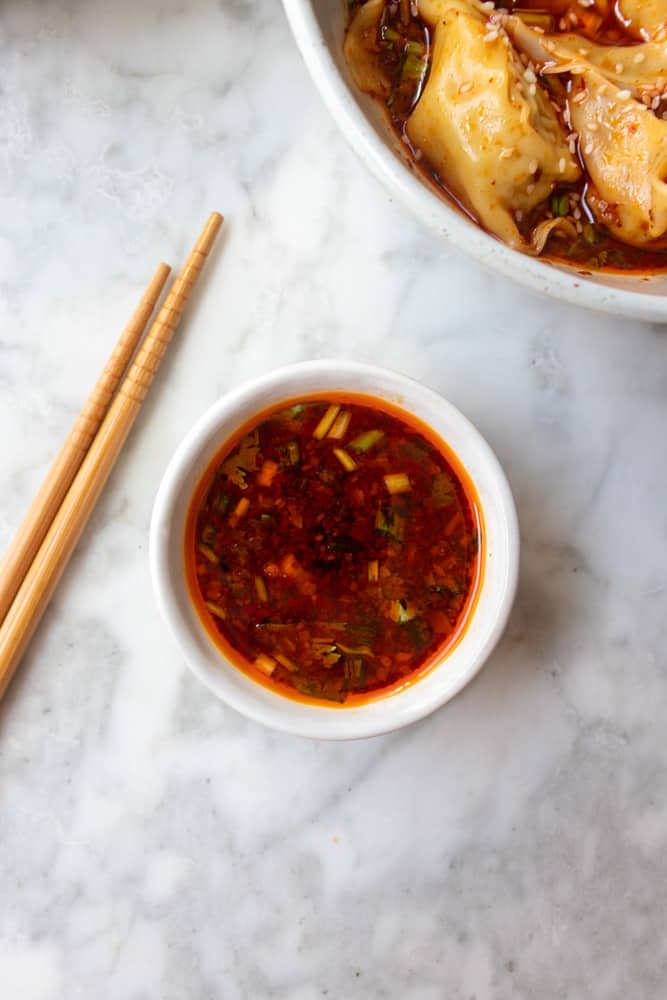 SIMILAR RECIPES: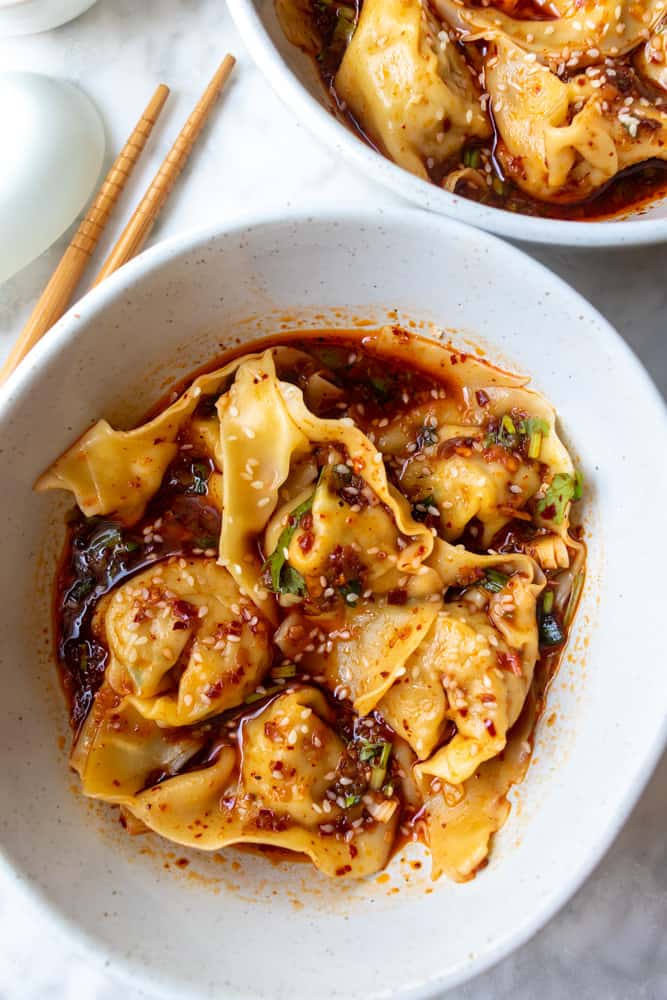 If you make this recipe, please be sure to tag me on Instagram at @adashofdolly. I love seeing your recreations!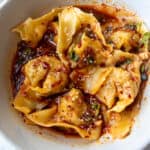 Spicy Szechuan Wontons
Ingredients
Wontons
½

lb

ground pork

1

egg

1

green onion

finely sliced

¼

tsp

ground ginger

¼

cup

chicken broth

2

tsp

cornstarch

or tapioca flour

1

tsp

kosher salt

¼

tsp

ground white pepper

1

package

wonton wrappers*
Spicy Szechuan Sauce
4

tbsp

hot chili oil

(make sure to include chili flakes)

4

tbsp

coconut aminos

or light soy sauce or tamari

1 ½

tbsp

rice vinegar

1

tbsp

fried garlic

or half a fresh garlic grated

1-2

tsp

chili paste

or hot sauce

2

tbsp

finely sliced green onions

1

tbsp

chopped cilantro

sesame seeds

(optional)
Instructions
Wontons
In a bowl, add the ground pork, egg, green onion, ground ginger, chicken broth, cornstarch. kosher salt, and ground white pepper.

Using chopsticks or a spoon, vigorously stir in the same direction until everything is well combined. The mix will be wet and sticky.

Take one of the wonton wrappers in your hand, place 1 teaspoon of the mixture in the middle, gently wet two of the edges with water, bring one corner to the opposite corner to form a triangle (or a half circle if using circle wonton wrappers). Seal the wonton making sure you press all the air bubbles out.

Next moisten the two bottom points of the wonton, make a little dent in the center of the wonton filling, and then bring together bottom points to form a sort of boat shape. Repeat until all of the mixture is used. You'll get around 36-40 wontons.

If not using wontons right away, place on a tray, freeze, and then transfer into a ziplock or container once frozen. When ready to use, just cook wontons straight from freezer.

Boil: bring a pot of water to a boil, add the wontons (making sure not to overcrowd), and cook for 5-7 minutes or until all the wontons are floating to the top. Occasionally stir the wontons so they don't stick to the bottom of the pot.

Steam: add wontons to a steamer and steam for 5-7 minutes or until cooked through.

Fry: ONLY pan fry if using thicker wonton sheets. This is a wetter batter so you don't want to run the risk of the wontons exploding. Heat 1-2 tablespoons of oil in a skillet over medium-high heat, add the wontons and fry for about 1-2 minutes or until the bottom is golden brown. Lower the heat to medium, add about ¼-½ cup of water to the skillet, cover, and cook for an additional 5-7 minutes or until the wontons are cooked through.

Serve the wontons with the spicy Szechuan sauce!
Spicy Szechuan Sauce
Mix all of the ingredients but the sesame seeds in a bowl. This sauce makes enough for two-three servings (12-18 dumplings).

Pour sauce over wontons when ready to use.

Use sesame seeds to garnish the dish.
Recipe Notes
*You want to get wonton wrappers that are on the thinner side (sometimes labeled as Hong Kong style). If you're going to fry the wontons, get thicker wontons (sometimes labeled as Shanghai or northern style).
---
---