There are many variations of Hot Chili Oil but the one thing the variations have in common is that it's almost always found in an Asian household. The versatility of the oil is what makes it so great.
Hot Chili Oil is probably one of the most versatile Asian condiments out there. Almost every Asian culture has their version, and it literally goes with just about everything! Not only is it delicious and brings a little spice to your life, it's shelf stable and lasts forever –if that is even possible.
There are lots of variations to making hot chili oil, but I like to keep mine simple so that I can spruce it up depending on what recipe I'm using it for, but you can totally make this recipe your own.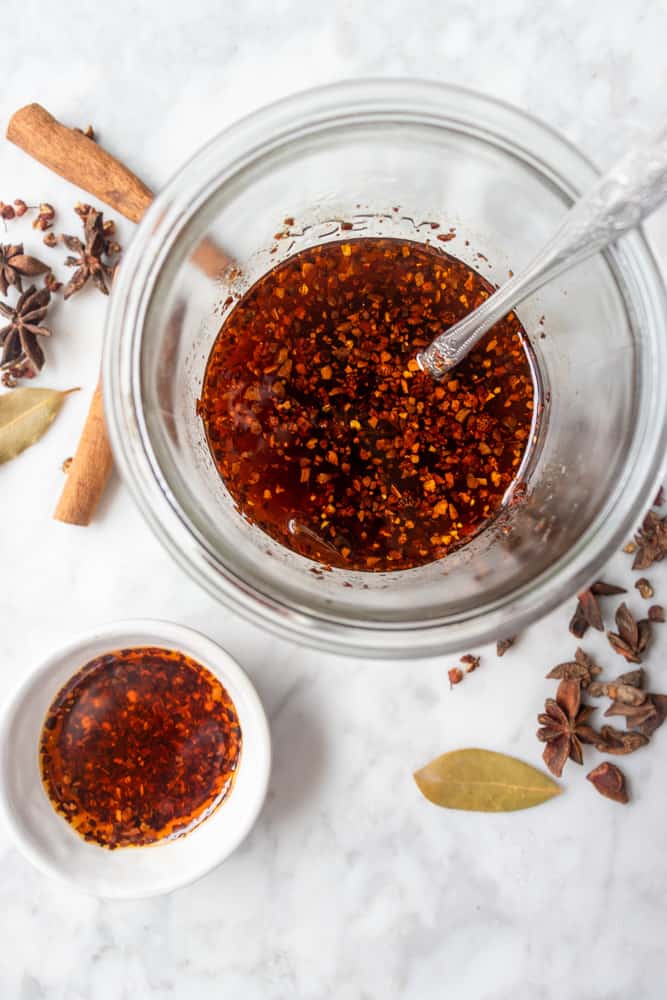 Let's talk about how to get the best possible results for your hot chili oil.
Oil:
It's important to use neutral flavored oil. I personally like using sunflower oil because of it's super neutral flavor and it's lightness.
Other oils you can use: avocado, grapeseed, vegetable, canola, peanut, or soy
I do not recommend using any kind of olive oil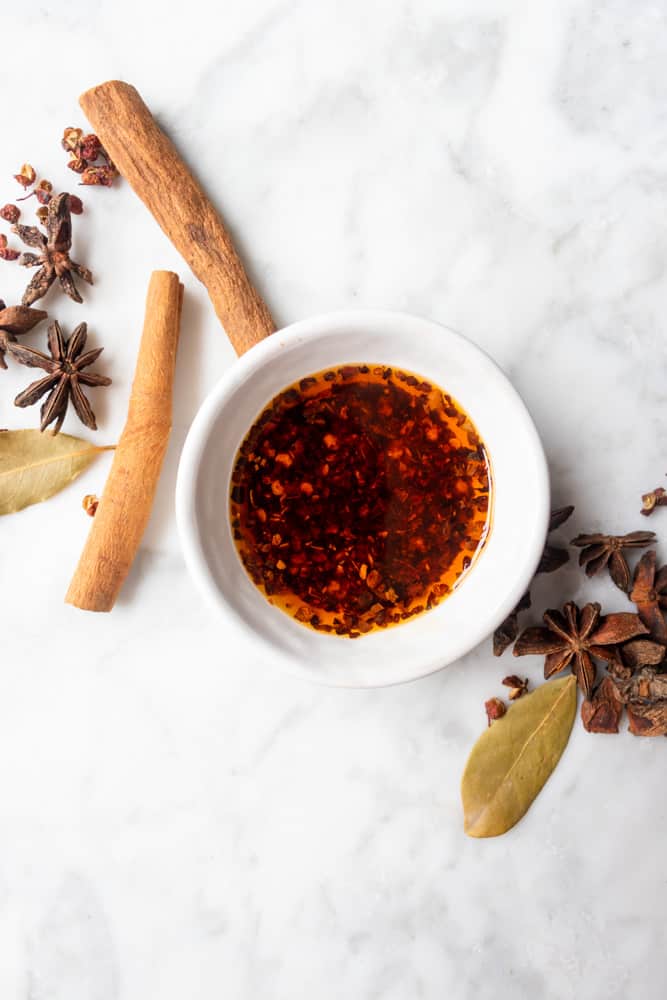 Aromatics:
Must have aromatics: Szechuan peppercorns, star anise, a cinnamon stick, and bay leaves.
Garlic is an added bonus but if you just want pure hot chili oil, leave it out.
Other aromatics you can use: cardamom pods, shallots, ginger, and etc.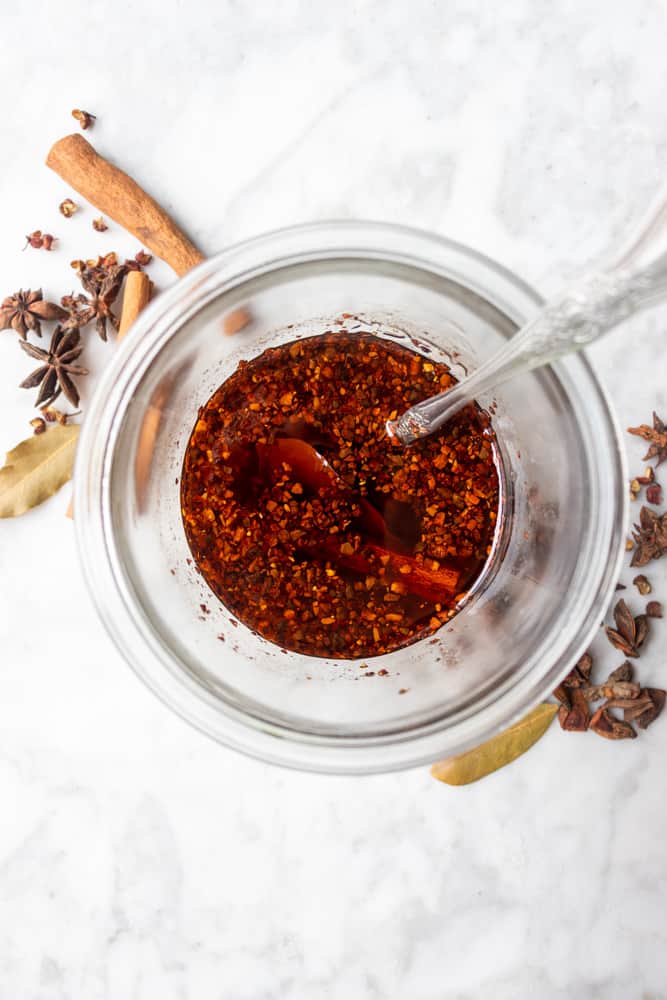 Asian Red Chili Powder:
The type of chili powder you use matters. You want to get an Asian brand because it has a nice balance of seeds, flakes, and powder.
If you can only find red chili flakes, mix that with chili powder. Red chili flakes are typically heavy on the seeds so you want to balance it out with the powder.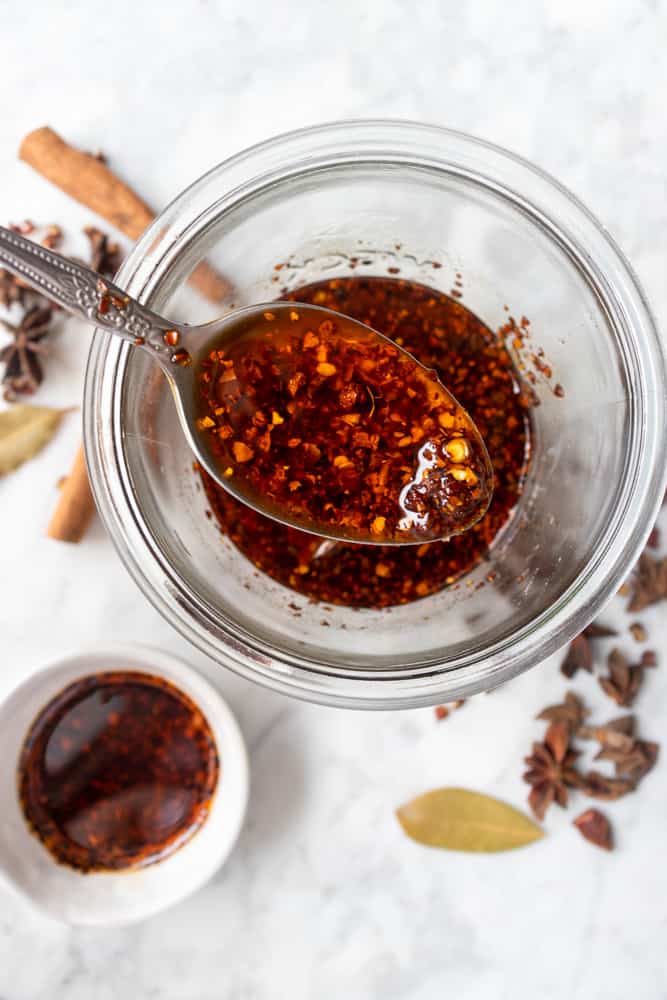 You can also play around with the ratio of oil, red chili powder, and aromatics. If you want it chili powder heavy, add more. Add more oil if you're going to use the oil for cooking.
Like I mention, this hot chili oil is so versatile and can be used in so many different ways. Add it to soups, sauces, and/or marinades for an extra kick to any dish!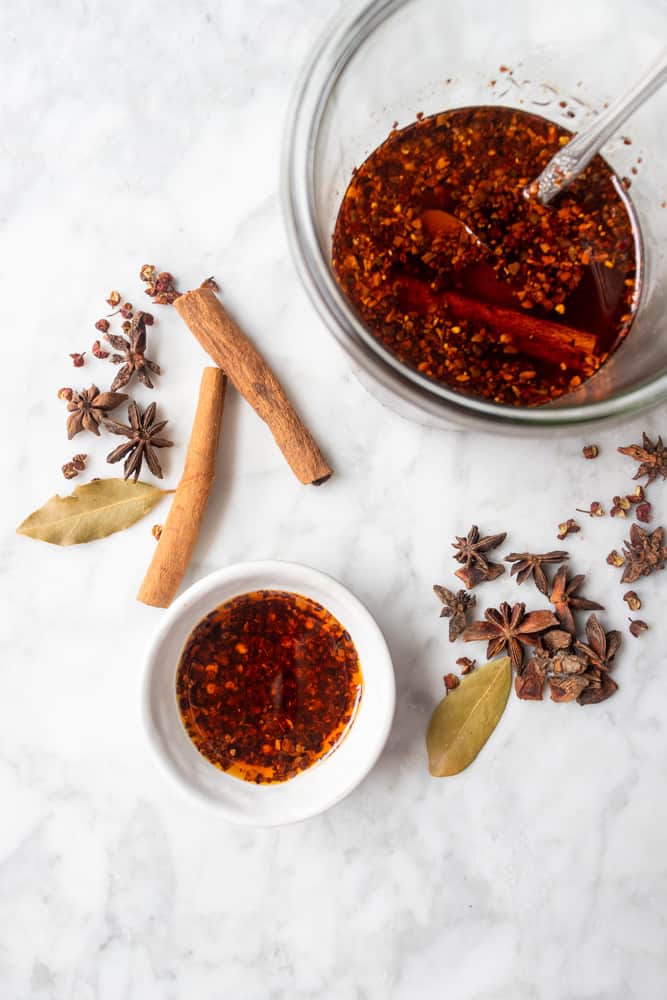 If you make this hot chili oil, be sure to tag me on Instagram so I can see!
Hot Chili Oil (Gluten Free, Vegan)
Ingredients
1

cup

neutral oil

avocado, grapeseed, sunflower, vegetable, canola, peanut, or soy

3

tbsp

Szechuan peppercorns

2

bay leaves

3

garlic cloves

peeled and crushed

½

cup

Asian red chili powder*

1

tsp

kosher salt

more to taste
Instructions
Place the oil in a sauce pan over low heat to start heating it up.

Meanwhile, add Szechuan peppercorns, star anise, cinnamon stick, and bay leaves into a skillet over medium heat. Toast the aromatics for 3-4 minutes or until you see wisps of smoke. Make sure to move the skillet around to prevent burning.

Remove the aromatics from the skillet add it to the oil alongside the crushed garlic cloves.

Bring the heat up to medium and let the oil gently sizzle for 10-15 minutes. You want gentle bubbles around the aromatics. If they start getting rigorous, lower the heat. The oil temperature should be around 200-225F.

Add the Asian red chili powder to a heatproof bowl or container.

Strain the infused oil onto the Asian red chili powder. Stir to distribute the oil and then mix in the salt.

Let the hot chili oil completely cool down before storing in an airtight container.

The hot chili oil can be stored at room temperature or in the refrigerated. It will last for months.
Recipe Notes
*You want to find an Asian brand of chili flakes because it has a good combination of seeds, flakes, and powder. If you can't, you can combine red chili flakes with chili powder.
---
SIMILAR RECIPES:
Szechuan Pepper Chicken Wings
Szechuan Green Beans and Pork
Kung Pao Chicken Meatballs
---