This Easy Wonton Soup is the perfect fake-out takeout soup you could make! It's a really simple recipe that takes a little extra time to prepare, but once you do, your future self will be thanking your past self for the efforts! There's also a Paleo and Keto option.
One of my favorite soups from my local Chinese restaurant is their wonton soup. It's amazing how simple the soup is but it packs so much flavor and can really heal the soul.
This version of my easy wonton soup is by no means authentic, but it is a great alternative if you need a warm cozy soup made in the comfort of your home.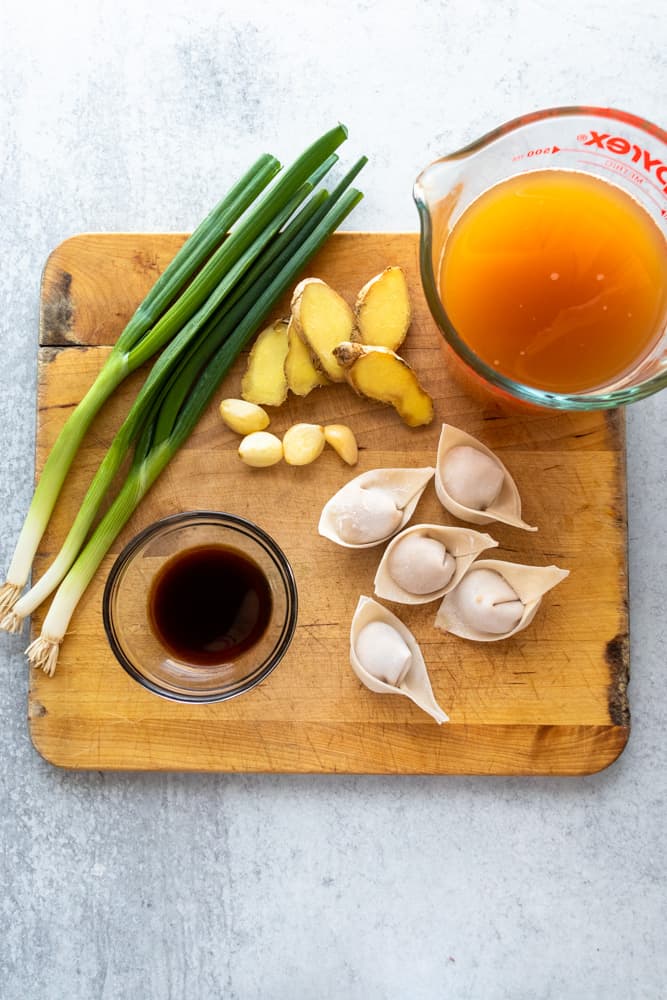 I mentioned that future you will thank past you and that's because this recipe makes for a lot of pork and shrimp wontons. You'll get around 40-48 depending on how much of the mixture you place in the wonton wrapper.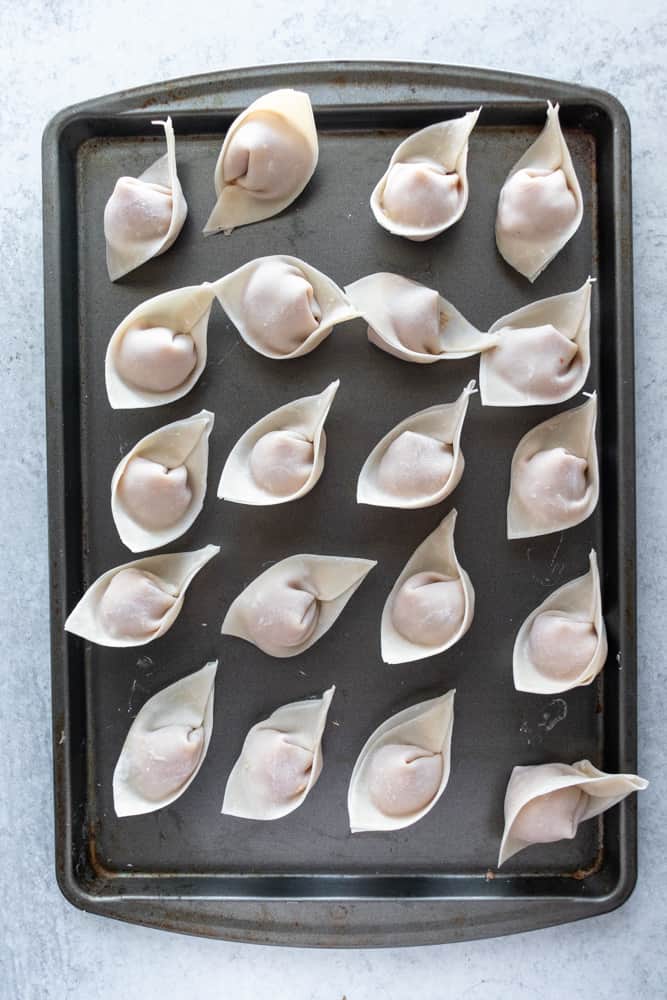 I love making a ton of the wonton dumplings, freezing it on a tray, and then once frozen you can transfer them to a ziplock or container. Whenever you're ready for some easy wonton soup, just cook the wontons straight from the freezer in boiling water.
These last forever in the freezer and can actually be used in any kind of soup recipe you're making. It's souper (HA!) versatile.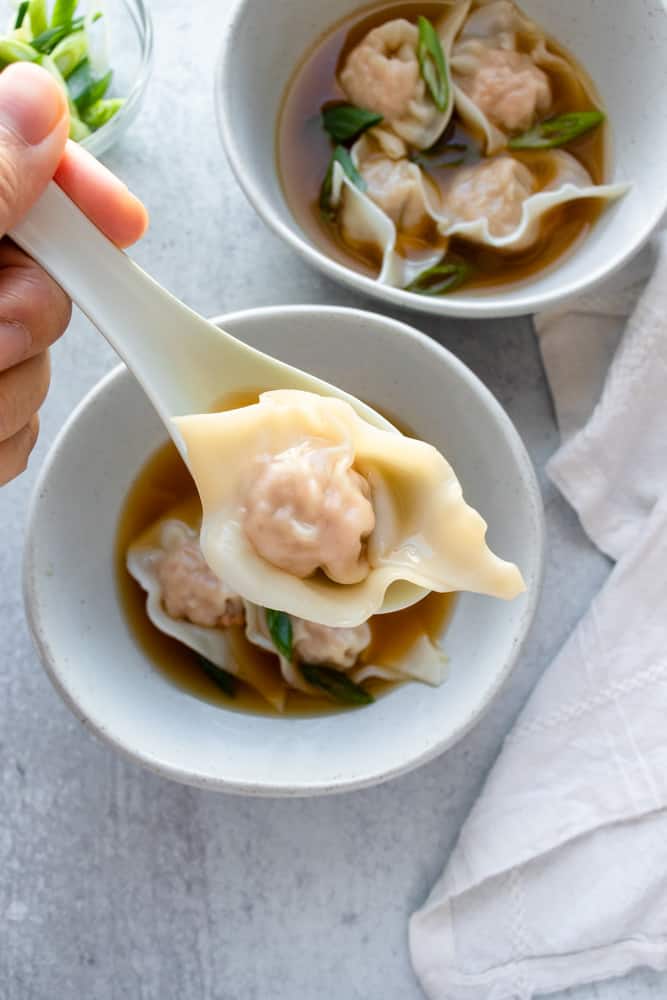 Now, if you are gluten free, paleo, keto, and whatever else, you can easily turn this easy wonton soup recipe into a wonton meatball soup recipe! With just a few adjustments, you can also enjoy this delicious soup.
Here are a few things to ensure you get the best results:
I prefer using the square wonton wrappers that are a bit thinner. This will make wrapping easier and cooking time faster.
Always always cook your wonton dumplings in water and not the broth. Because there's flour on the dumplings, it will thicken your broth and make it murky. You don't want that.
The filling calls for a pork & shrimp mixture, but you can use all pork or all shrimp. If you don't eat pork, you can replace it with ground chicken or turkey.
There are lots of ways to wrap the wontons. YouTube has lots of tutorials and I show you two different methods in my video.
When filling the wrappers do not fill with anymore than 1 teaspoon. You don't want the mixture spilling out.
If you are making the meatballs, you're going to omit the chicken broth. I recommend taking a bit of the mixture and cooking it to see how it tastes. You might need to add more kosher salt and ground black pepper for flavor.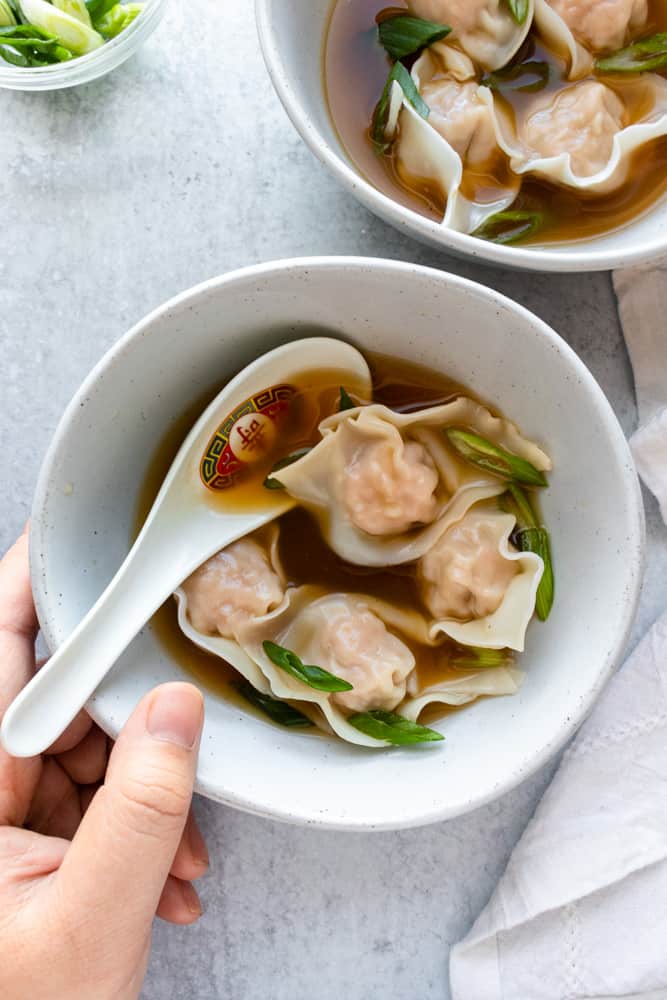 Another great thing about this easy wonton soup is that you can definitely dress it up! You can add noodles to it or even blanch veggies like bok choy to make it a complete meal. I've been adding hot chili oil to mine because we all know I love spicy!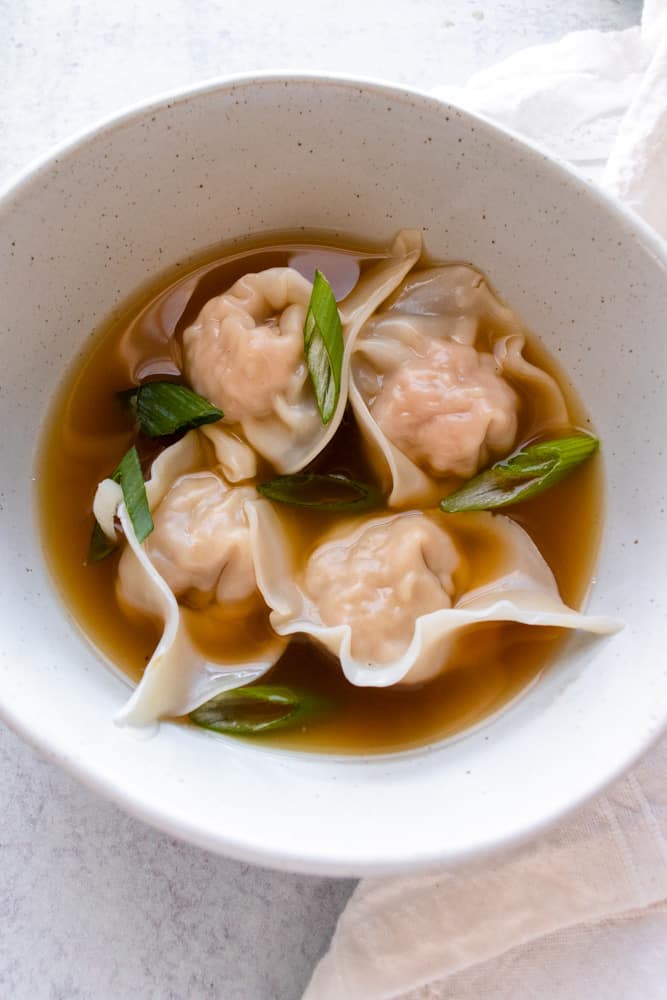 Be sure to tag me on Instagram if you make this recipe. I hope you're staying safe and healthy.
Easy Wonton Soup (with Paleo and Keto options)
Ingredients
Pork & Shrimp Wontons or Meatballs
½

lb

ground pork

½

lb

shrimp

peeled, deveined, and ground in food processor

1

tbsp

grated fresh ginger

or 1 tsp ground ginger

½

tsp

kosher salt

¼

tsp

ground black pepper

½

tsp

sesame oil

1

egg

whisked

¼

cup

chicken broth or stock

(omit if making meatballs)

2

tsp

tapioca flour

or arrowroot flour

40-48

wonton wrappers

(omit if making meatballs)
Wonton Soup
2

green onions

4 ½

cups

chicken broth

3

garlic cloves

crushed

3-4

one inch slices of fresh ginger

1

tbsp

coconut aminos

or soy sauce or gluten free soy sauce

kosher salt

to taste

ground black pepper

to taste
Instructions
Pork & Shrimp Wontons or Meatballs
Add all ingredients but wonton wrappers into a mixing bowl.

Using chopsticks or a spoon, vigorously stir in the same direction until everything is well combined. The mix will be wet and sticky.

Take one of the wonton wrappers in your hand, place 1 teaspoon of the pork & shrimp mixture in the middle, gently wet two of the edges, bring one corner to the opposite corner to form a triangle. Seal the wonton making sure you press all the air bubbles out.

Next moisten the two bottom points of the wonton, make a little dent in the center of the wonton filling, and then bring together bottom points to form a sort of boat shape. Repeat until all of the mixture is used.

If not using wontons right away, place on a tray, freeze, and then transfer into a ziplock or container once frozen. When ready to use, just cook wontons straight from freezer.

If making meatballs: add all ingredients into a mixing bowl, mix everything together with your hands, and then form meatballs using a medium size cookie scoop ~about 1-2 tbsp of pork & shrimp mixture. Roast meatballs in a preheated 400F oven for 15-20 minutes.

If not using meatballs right away, cook meatballs, cool, freeze on a tray in a single layer, and then transfer to a ziplock or container once frozen. When ready to use, just reheat meatballs in broth.
Wonton Soup
Cut off the root of the green onions and then with the back of your knife, gently bruise the green onions. This will help release its flavor.

In a pot, add chicken broth, green onions, garlic cloves, ginger slices, and coconut aminos over medium-high heat.

Bring to a boil and then lower the heat to medium-low. Simmer for 15-20 minutes.

Strain the broth and then taste to see if you need additional salt and black pepper. This will depend on what kind of chicken broth you use.

For wontons: bring a pot of water to a boil. Add 4-5 wontons at a time (more if you're using a bigger pot, you just don't want to overcrowd) and cook for 3-4 minutes or until wontons are cooked through and floating to the top. When wontons are done, add to a bowl and then ladle the broth over it. Garnish with green onions.

For meatballs: add cooked meatballs to a bowl and then ladle broth over it. If using frozen meatballs, add meatballs to the broth 10 minutes after it's been simmering. Simmer until meatballs have heated through. Garnish with green onions.
---
SIMILAR RECIPES:
Thai Pork Omelette Soup
Thai Beef Noodle Soup
Beef Pho to Go
---