This Spicy Tuna Crispy Rice recipe is a take on the simple but delicious crispy rice recipe from Koi restaurant in Los Angeles. This dish is a fun take on sushi.
The first time I ever had/heard of crispy rice was when I went to Koi restaurant in Los Angeles. I got both the spicy tuna and yellowtail tartare, and not to be dramatic or anything, it was one of the best things I ever put in my mouth.
The contrast of the crispy rice and soft silky spicy tuna and yellowtail was amazing. It was the perfect balance of texture and flavor. So here I am tryin to recreate it.
My version of Spicy Tuna Crispy Rice is pretty simple but it hits the spot. With a few tips and tricks you'll be experiencing this deliciousness in no time!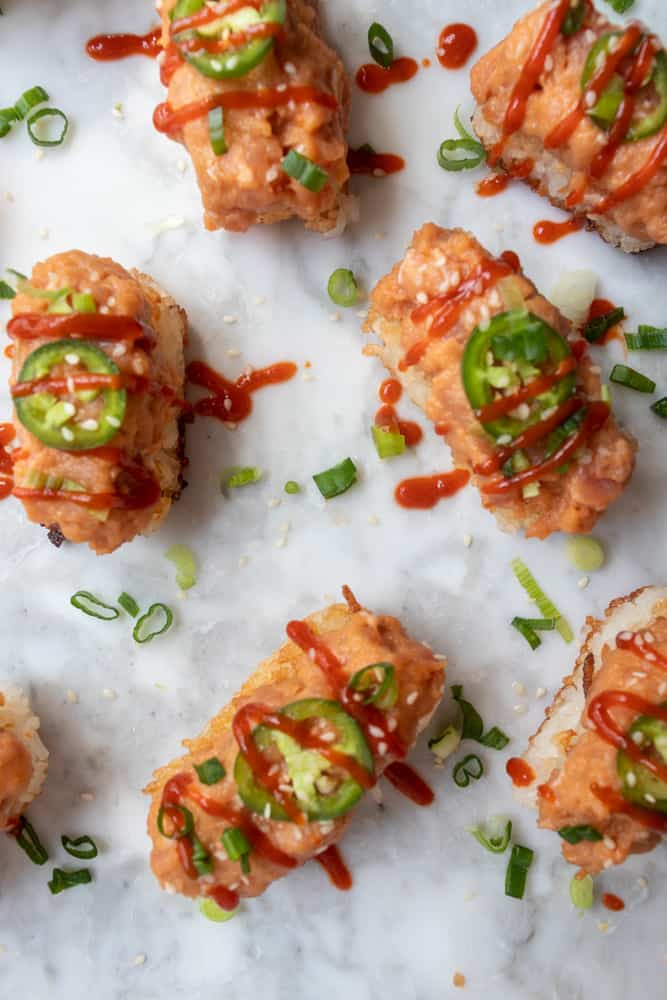 WHAT YOU'LL NEED FOR THE SPICY TUNA CRISPY RICE:
Sushi rice or a short grained rice is preferred, but you can also use jasmine rice.
Rice seasoning: rice vinegar, sugar, sesame oil, and kosher salt.
Avocado oil or any kind of cooking for frying the rice.
Sushi grade ahi tuna: fresh is best but frozen works. Just be sure it's labeled sushi grade because it makes it the highest quality and it will be safe to eat raw.
Basic mayo or Japanese mayo are the preferred choice.
Seasoning: sriracha, soy sauce, sesame oil, and lemon juice.
Optional toppings: sliced jalapeno, additional sriracha, avocado slices, green onions, and microgreens.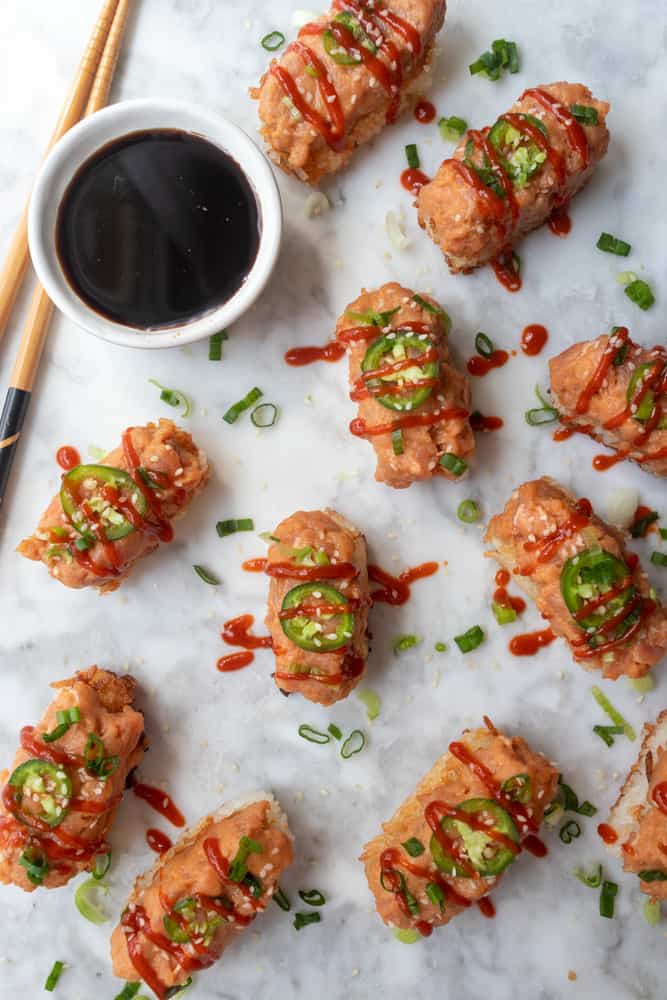 HELPFUL TIPS AND TRICKS TO GET THE BEST SPICY TUNA CRISPY RICE:
You MUST wash your rice. Please do NOT skip this step whenever making rice for any recipe. Washing the rice will remove excess starch and any debris. Wash until the water runs clear.
Before shaping the rice, wet your hands a bit so the rice doesn't stick. If you don't want to shape your rice you can also purchase a rice mold to make things even simpler!
If you're not making the crispy rice right away, you can mold the sushi rice and place it in the refrigerator until ready to use. Just fry them straight from the fridge.
Do not overcrowd the skillet when frying because the rice will stick together. Cook in batches if you need to.
If frying isn't your thing, you can also air fry the rice! Just brush both sides with oil and cook for 15 minutes at 400F flipping halfway through.
For the spicy tuna, I like dicing the tuna as small as possible. It'll give it a more silky texture.
You can also make the spicy tuna ahead of time. Once you mix everything, cover it, and put it in the fridge til ready to use.
If you don't eat raw tuna, you can replace it with canned tuna, shredded imitation crab meat or salmon.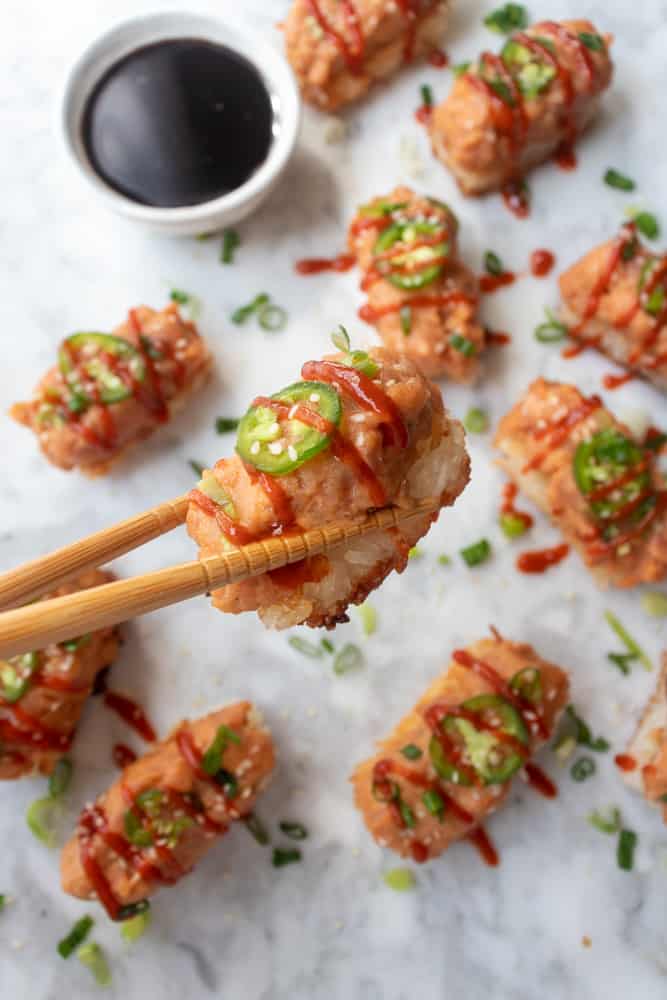 Now be sure to serve these spicy tuna crispy rice with some soy sauce, wasabi, and ginger to get the full effect! I'm convinced this will be your favorite way to eat spicy tuna.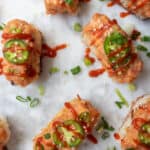 Spicy Tuna Crispy Rice (Gluten Free)
Ingredients
Spicy Tuna
1

lb

sushi grade ahi tuna

¼

cup

basic mayo

or Japanese mayo

2-4

tbsp

sriracha sauce

(more for taste)

2-3

tbsp

soy sauce

or coconut aminos

1

tsp

sesame oil

½

lemon

juiced

sliced jalapeno peppers
Instructions
Sushi Rice
Wash rice 3-4 times or water runs clear.

Rice cooker: add rice and water to the rice cooker and let rice cook according to rice cooker setting.

Instant pot: add rice and water to the insert, close the lid, seal it, and cook under rice setting for 12 minutes under lower pressure. Let it naturally release for 10 minutes.

Stovetop: add rice and water to pot, cover and bring to a boil over medium-high heat. Once boiling, boil for 10 minutes, then lower the heat and cook for an additional 5 minutes. Turn off the heat and let the rice stand for an additional 5 minutes with the lid still on.

When rice is done, gentle fluff the rice and then season with rice vinegar, sugar, sesame oil, and kosher salt.

Let the rice cool down to room temperature. Once cooled, take about 1-2 tablespoon of rice and shape1 into a rectangle or any desired shape. You can also use a rice mold2 to shape the rice. Continue making until rice runs out.

Preheat a large skillet over medium heat with avocado oil or cooking fat with enough oil covering the bottom of the pan and it's about ¼ inch high.

Carefully add the shaped sushi rice and cook for 3-4 minutes on each side or until golden brown. Do not overcrowd the skillet because the rice will stick to each other.

Air fryer method: brush both sides of shaped sushi rice with oil, place in air fryer, and cook for 15 minutes at 400F flipping halfway through.

Place on a lined paper towel plate to drain and then top with spicy tuna, jalapeno slices, and additional sriracha sauce. Best served warm.
Spicy Tuna
Dice tuna into really small bite size pieces.

Once tuna is diced, place in a bowl and add in the mayo, sriracha, soy sauce, sesame oil, and lemon juice. Mix, taste, and adjust seasoning to your liking.
Recipe Notes
Wet your hands a bit before shaping the rice. This will help prevent the rice from sticking to your hand.
If using a rice mold, add the warm rice to the mold, shape it, and then let it completely cool down before frying. Stick it in the refrigerator to speed up the process.
---
SIMILAR RECIPES:
Poke Tuna Stacks
Fish Ceviche (Ceviche de Pescado)
Chicken Katsu Onigirazu
---
Some of my posts contain affiliate links. If you use my links to purchase a product, I will receive a small commission, but it will not cost you anything extra. Thank you for your support!