Super juicy and luscious are the only ways to describe these Pork Dumpling Meatballs. Pack with lots of umami flavor and perfectly paired with a delicious dipping sauce, you are in for a treat!
This post is in partnership with The New Primal.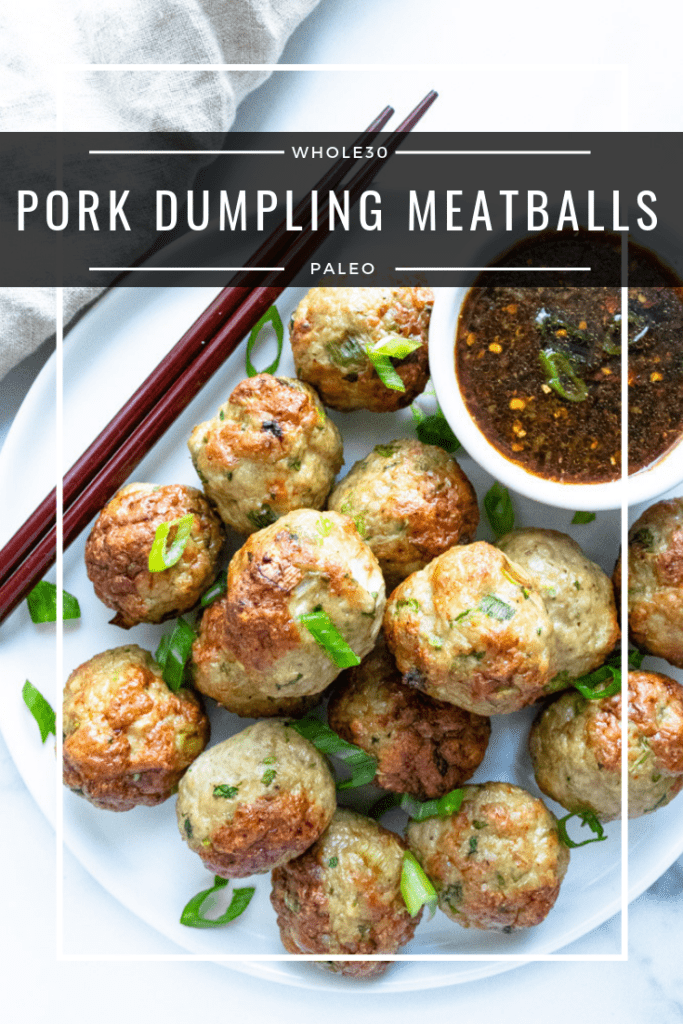 First and foremost, we need to applaud The New Primal for making their Noble Made Original Coconut Aminos. I've had my fair share of coconut aminos and this is the first one that doesn't require me to add fish sauce or salt to get a salty umami flavor!
It's not overly sweet like other coconut aminos and has the perfect amount of salt to balance out the sweetness and give that umami pop.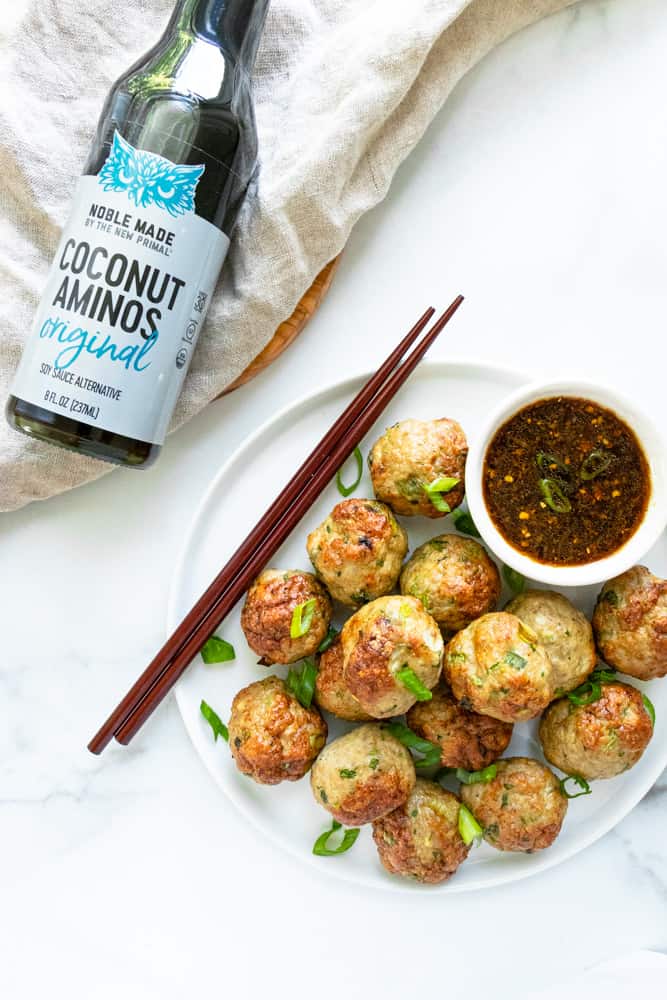 I was never really picky about my coconut aminos because they were pretty much all the same to me. I knew I'd have to supplement it with either fish sauce or salt anyway. That has completely changed after trying The New Primal's!
So for all my friends who always complain about me using fish sauce or if you are allergic, give this one a try! I think you'll be pleasantly surprised. I know I definitely was.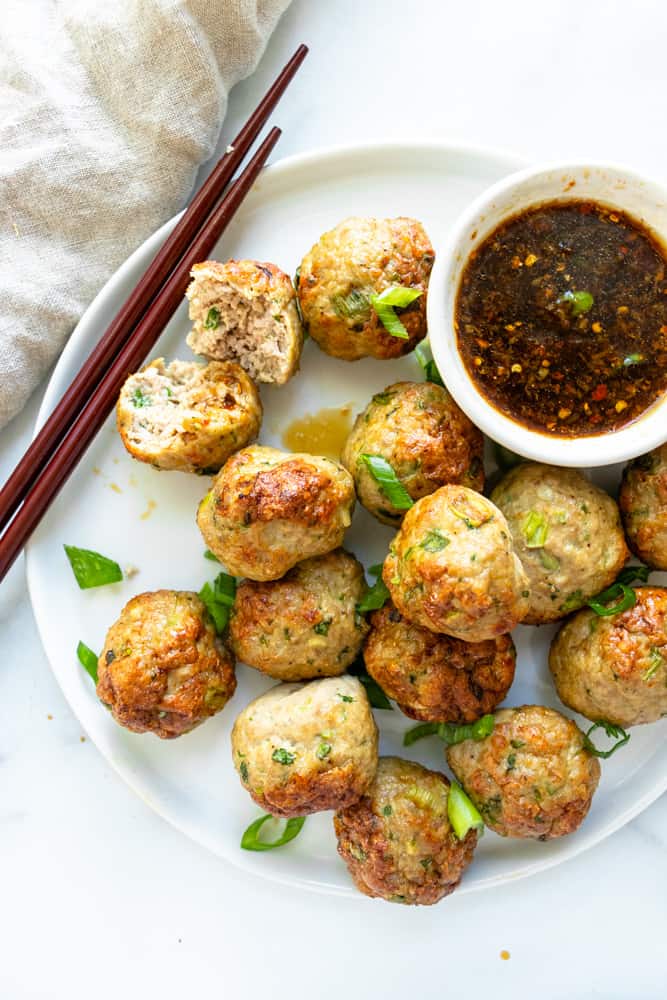 Now onto the good stuff! These Pork Dumpling Meatballs are going to be a family favorite. We all know my infinity for meatballs, so it was only natural I made meatballs around one of my favorite foods: dumplings.
If you've had good dumplings, you know how juicy and luscious the fillings are. Seriously, I'm drooling thinking about it. My goal was to get that same juiciness when it came to these meatballs and I think I did a pretty great job.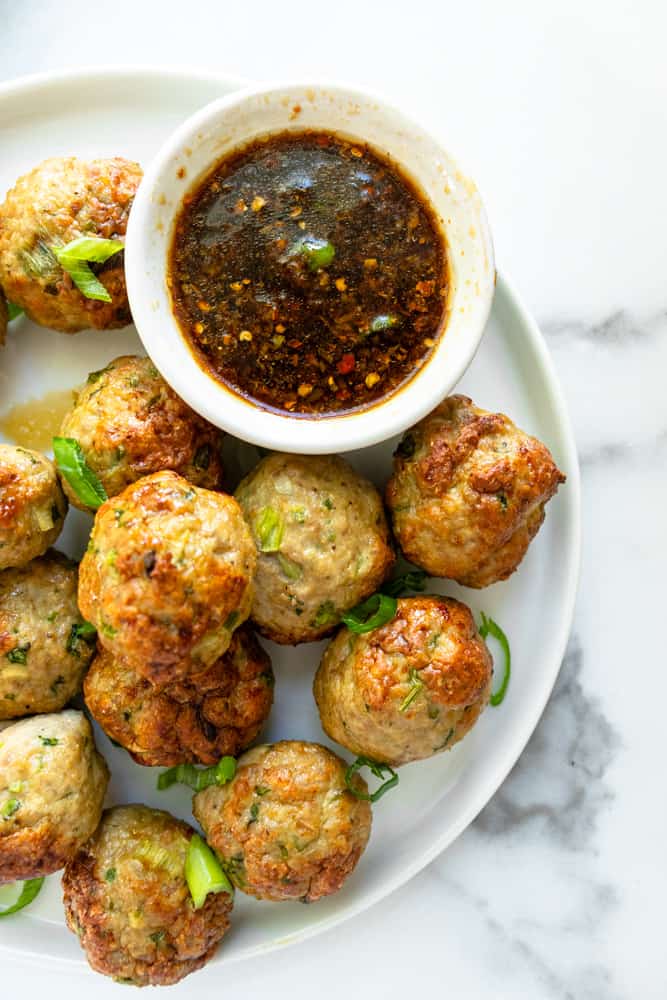 Here's a few key things to make these Pork Dumpling Meatballs great:
Use ground pork that has a good amount of fat. If you use lean ground pork, the meatballs run the risk of being too dry.
Do NOT overcook the meatballs. Cooking time will vary based on how large you make the meatballs.
Ground pork is very forgiving. So don't be afraid to work the meat. You are looking for it to turn "sticky" before rolling it into meatballs.
Hope you enjoy this recipe as much as I do!
Pork Dumpling Meatballs
Ingredients
Pork Dumpling Meatballs
1

lb

ground pork

(the fattier the better)

1

egg

whisked

2

green onions

thinly sliced

1

garlic clove

finely minced

2

tbsp

chopped cilantro

¾

tsp

kosher salt

½

tsp

ground black pepper
Instructions
Dipping Sauce
Mix all ingredients except lime juice in a bowl.

Place in the refrigerator covered until ready to use.

Stir in lime juice before serving.
Pork Dumpling Meatballs
Preheat oven to 400F. Line a baking sheet with parchment paper, set aside.

In a mixing bowl, add in the ground pork, whisked egg, green onions, garlic clove, cilantro, Noble Made Coconut Aminos, kosher salt, and ground black pepper.

Mix until everything is well combined and the mixture is sticky.

Using a medium cookie scoop, scoop the pork mixture and form meatballs. If you don't have a medium cookie scoop, scoop about 1-1 ½ tbsp of pork mixture to form meatballs.

Place meatballs on parchment lined baking sheet and roast for 15-20 minutes or until cooked through.

Air Fryer method: place in air fryer basket, set temperature to 400F, and cook for 10-12 minutes depending on the size of meatballs.

Serve pork dumpling meatballs with dipping sauce.
---
SIMILAR RECIPES:
Basic Asian Meatballs
Chicken Teriyaki Meatballs
Lamb Meatballs
---