This Spicy Garlic Linguine dish is an Asian and Italian fusion that has ingredients you can find in your pantry! The luscious linguine is stir fried in a spicy buttery garlic sauce that comes together in less than 30 minutes.
Very seldom do I get on board with fusion recipes. Mostly because I don't think they work out, BUT this Spicy Garlic Linguine pasta dish made me a believer. You're getting the best of both Asian and Italian flavors in this dish.
I was inspired by Marion's Kitchen to recreate her Spicy Garlic Butter Linguine dish with ingredients I had on hand and with ingredients that fit my dietary needs. Let me tell ya, it did not disappoint! Who knew parmesan cheese would work with fish sauce?!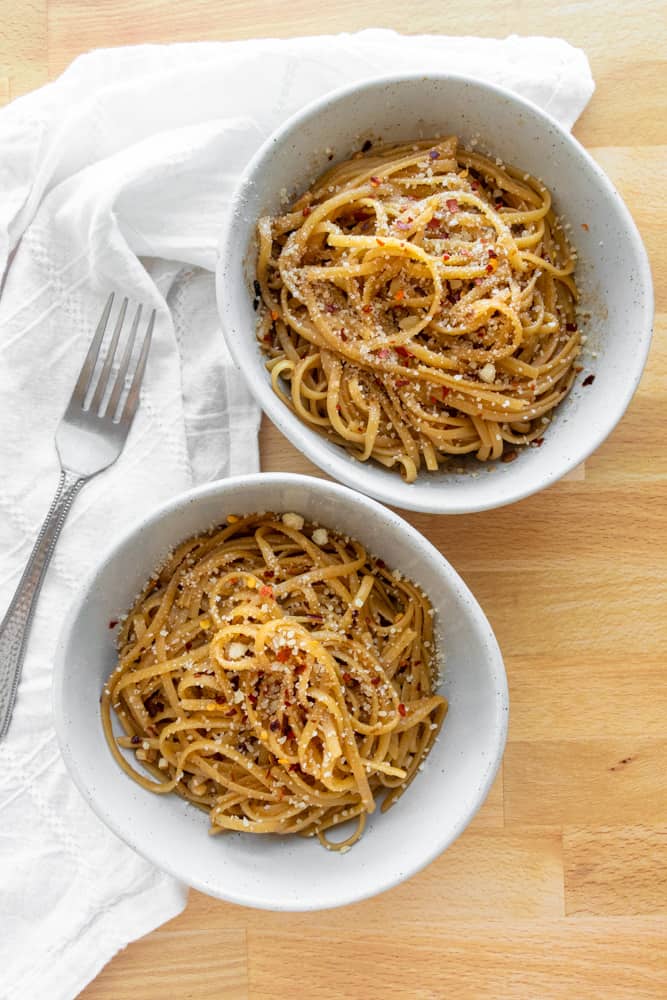 This Spicy Garlic Linguine is so easy to make and takes less than 30 minutes. The hardest part is probably waiting for your pasta to cook. After that it's easy-peasy lemon squeezy.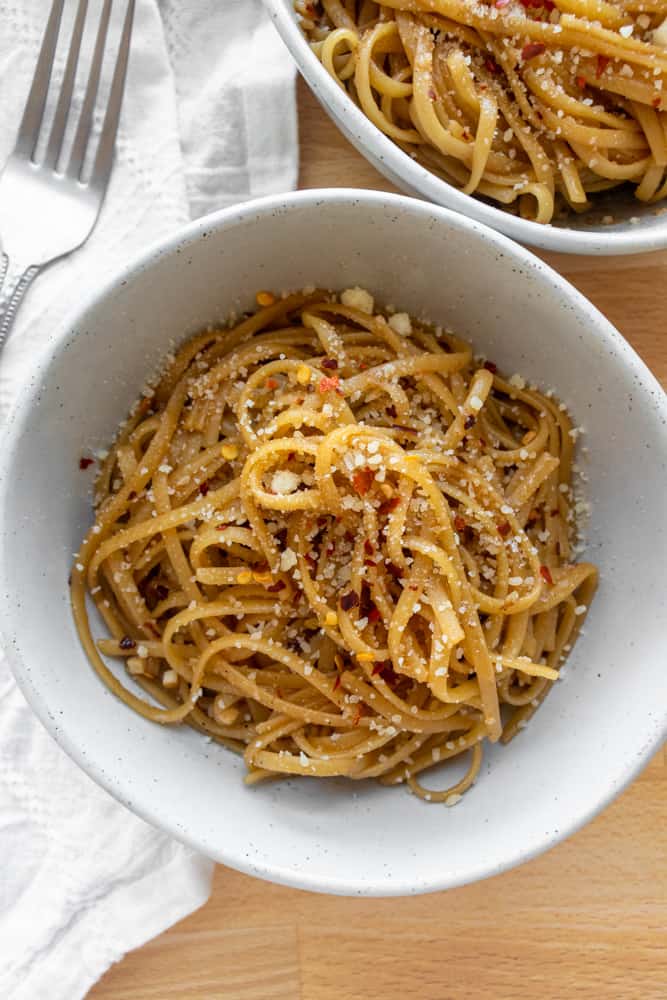 Here are a few things about this dish:
I prefer linguine pasta but you can really use any type of pasta you have in your pantry. Just cook it according to the package.
You also don't have to use pasta. I've made this using udon noodles and ramen noodles.
For my paleo/gluten free friends, you can use things like spaghetti squash. zoodles, or any kind of spiralized veggie. It all works.
If you're keto, use whatever kind of noodles that fit your dietary needs. There are lots of options out there!
You can make this dish your own. If you want it extra spicy, add more chili flakes. Don't want it spicy, leave out the chili flakes. Love garlic? Add more to it! Make. It. Your. Own.
If you want to add protein to this dish, I highly recommend cooking about 1/2 pound ground protein in the sauce and then adding the noodles. So good!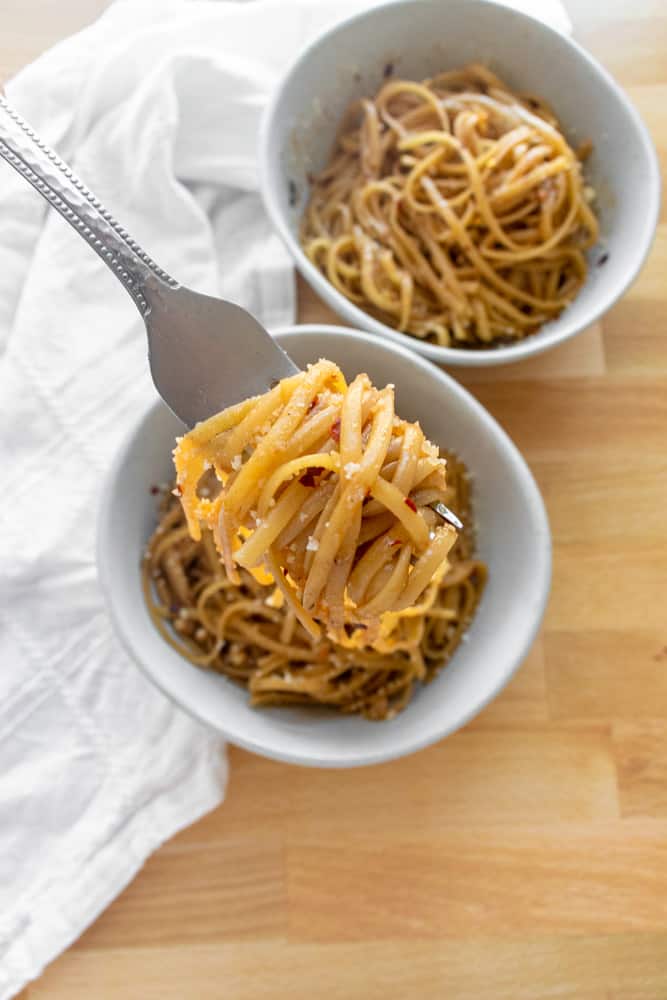 I hope you enjoy this Asian/Italian fusion Spicy Garlic Linguine dish as much as I do. Be sure to tag me on Instagram if you make it!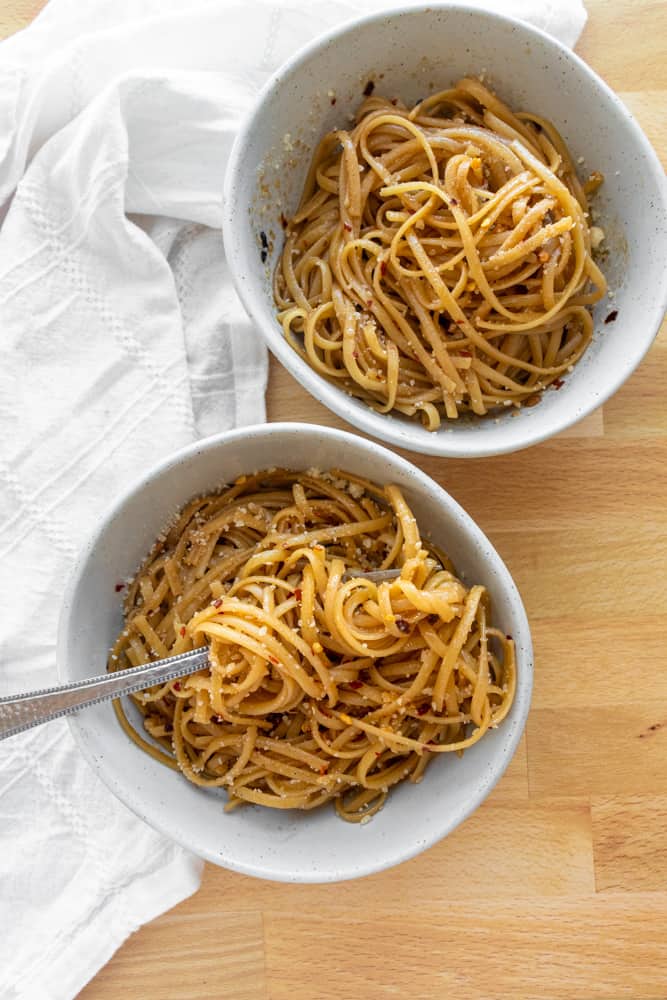 Spicy Garlic Linguine (with Paleo and Gluten-Free options)
Instructions
Cook linguine according to package. Save 1/2 cup of water.

Preheat skillet over medium heat with ghee, garlic, and red chili flakes.

Saute for 2-3 minutes or until garlic becomes fragrant.

Next stir in the coconut aminos and fish sauce.

Add in the cooked linguine and toss until well coated with sauce. If noodles look dry, start by adding a couple tablespoons of the reserved pasta water and continue to add until desired consistency.

Once linguine is well coated, turn off the heat, and stir in the parmesan cheese.
Recipe Notes
*To make this Paleo and gluten-free use roasted spaghetti squash, zoodles, and/or any type of veggie spiralized. Any kind of gluten-free pasta will work for this dish as well. 
---
SIMILAR RECIPES:
Easy Wonton Soup
Sesame Ginger Udon Stir Fry
Pad Thai
---