Quick, easy, and delicious are just a few words to describe this 15-minute Sesame Ginger Udon Stir Fry. This stir fry is perfect for those days you might not feel like cooking and want a fast meal to put on the table.
This post is in partnership with JSL Foods.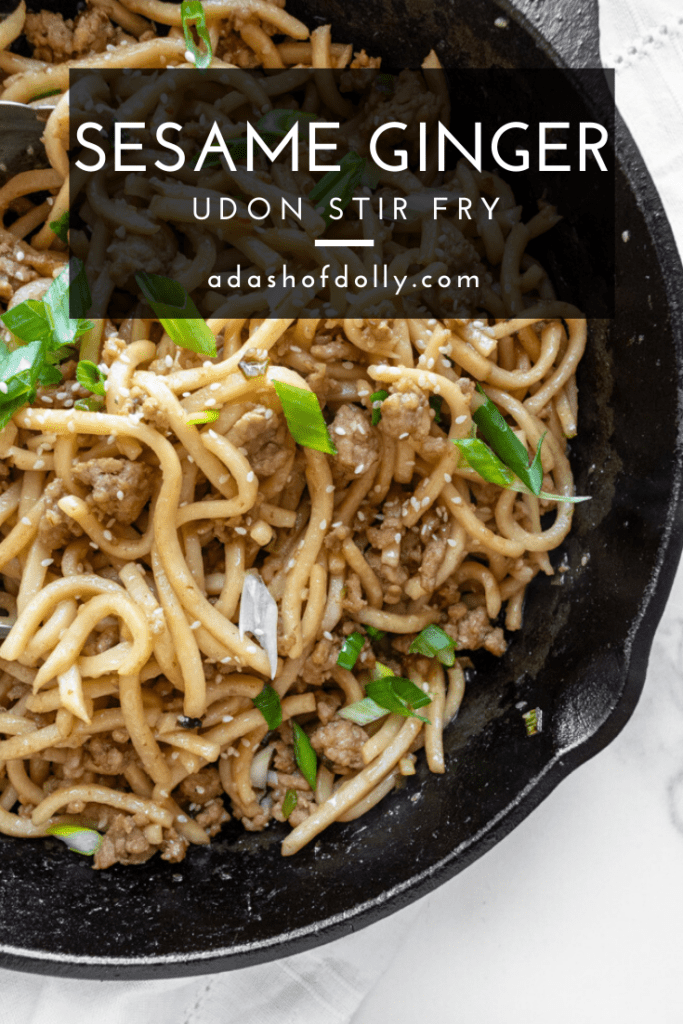 I love stir fry and I love udon noodles. So when I was asked to join the JSL Foods Fortune Noodle Blogger Recipe Challenge, I immediately jumped on board.
If you've never had udon noodles I highly recommend you pick some up now. You can purchase Fortune Udon Noodle products at places like Roche Bros or Shaws. Udon noodles are thick chewy noodles that are perfect in soup or in this case stir fry. These particular udon noodles also have only four ingredients. So I knew they would be perfect for my Sesame Ginger Udon Stir Fry.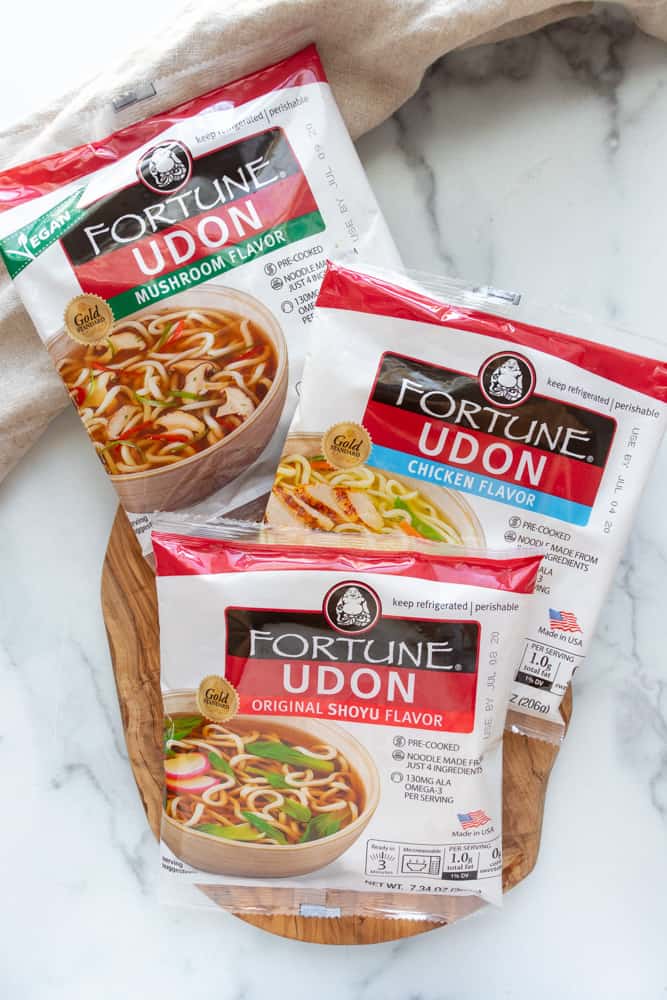 The Fortune Udon Noodle products come in three different flavors. For this recipe I used the original shoyu flavor because I used ground pork as my protein. The two work perfectly together!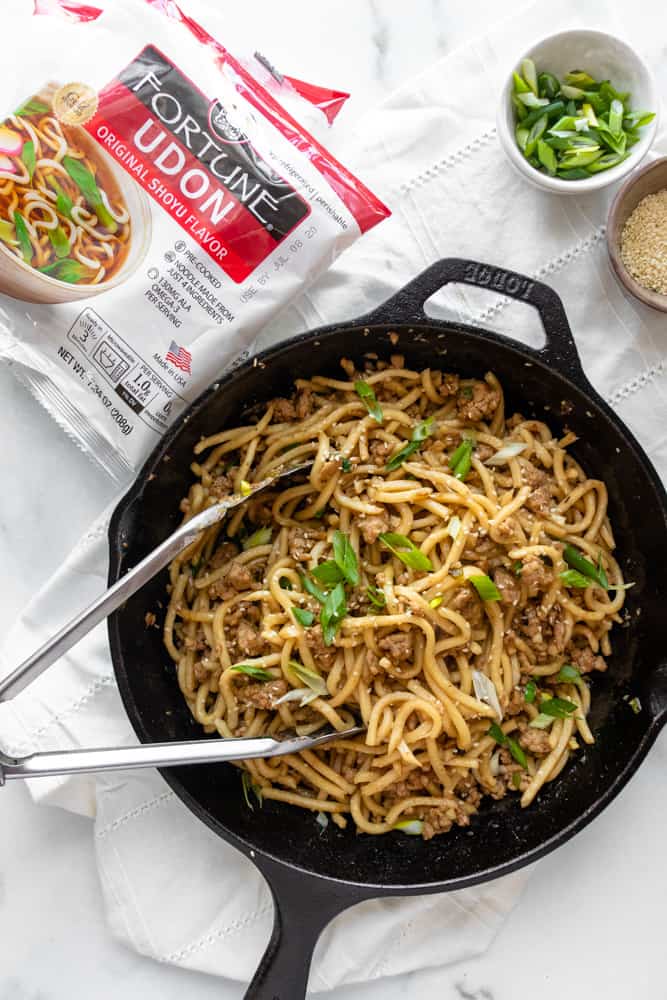 For this challenge, I wanted to create a quick and easy meal that includes ingredients you can easily source. Stir fry is always my go-to when I want a fast meal, so I figured why not put two and two together?! Thus was born this delicious Sesame Ginger Udon Stir Fry.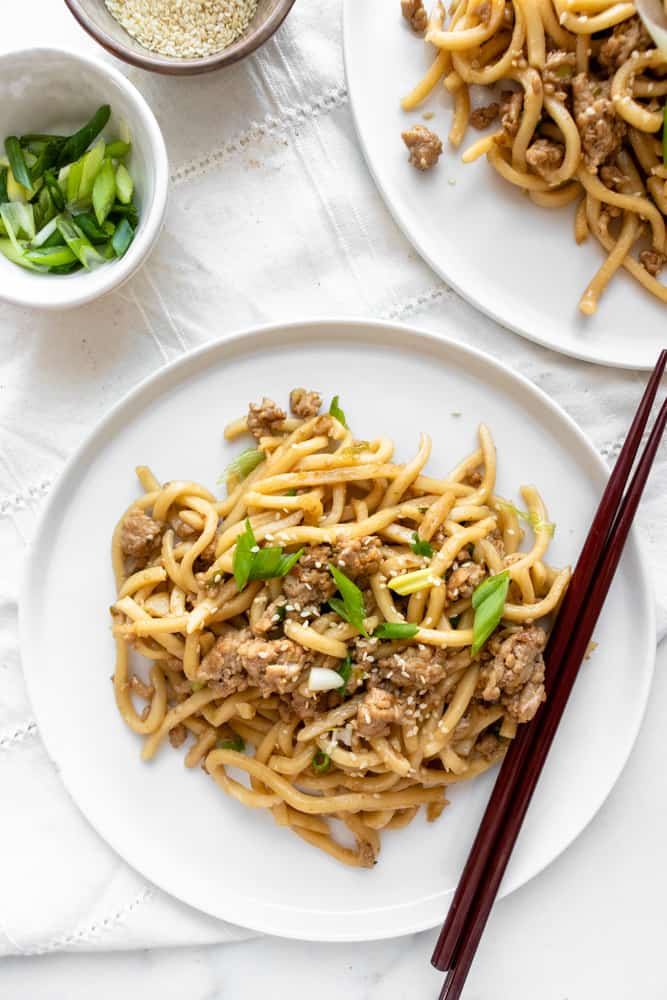 What's great about this recipe is that you can totally make it your own. Like I mentioned, since I used the original shoyu flavor, I used ground pork as my protein.
You can make this completely vegetarian and/or vegan by using the mushroom flavor and using chopped up mushrooms as the ground protein. If you use the chicken flavor, ground chicken would pair nicely! However, you can totally mix and match.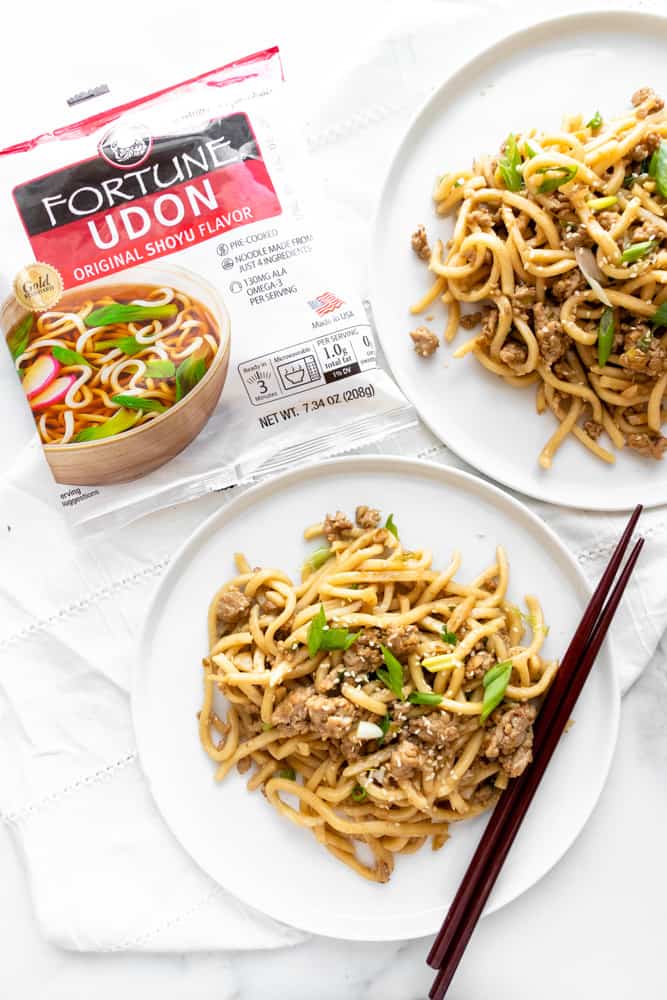 Here are a few things to ensure you get the best Sesame Ginger Udon Stir Fry:
It is key that you do not overcook the noodles. I followed the directions on the package and made sure I took the noodles out immediately. Overcooked noodles will get soggy and won't hold up well when stir frying.
Prepare ALL of your ingredients in advance. This recipe moves fast. You don't want things burning while you're prepping.
Like I mentioned, you can use any ground protein of your choice or you can make the meal vegetarian by using the mushroom flavor.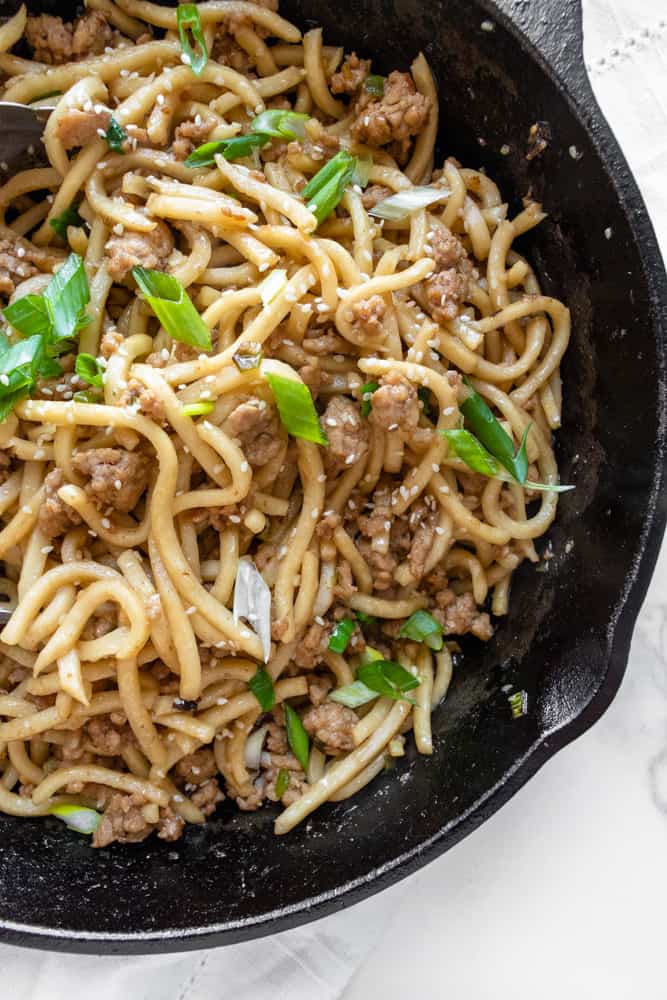 You can also grab yourself a coupon by joining the Noodle Club, and be sure to follow JSL Foods on their social media platforms: Instagram, Twitter, and Facebook.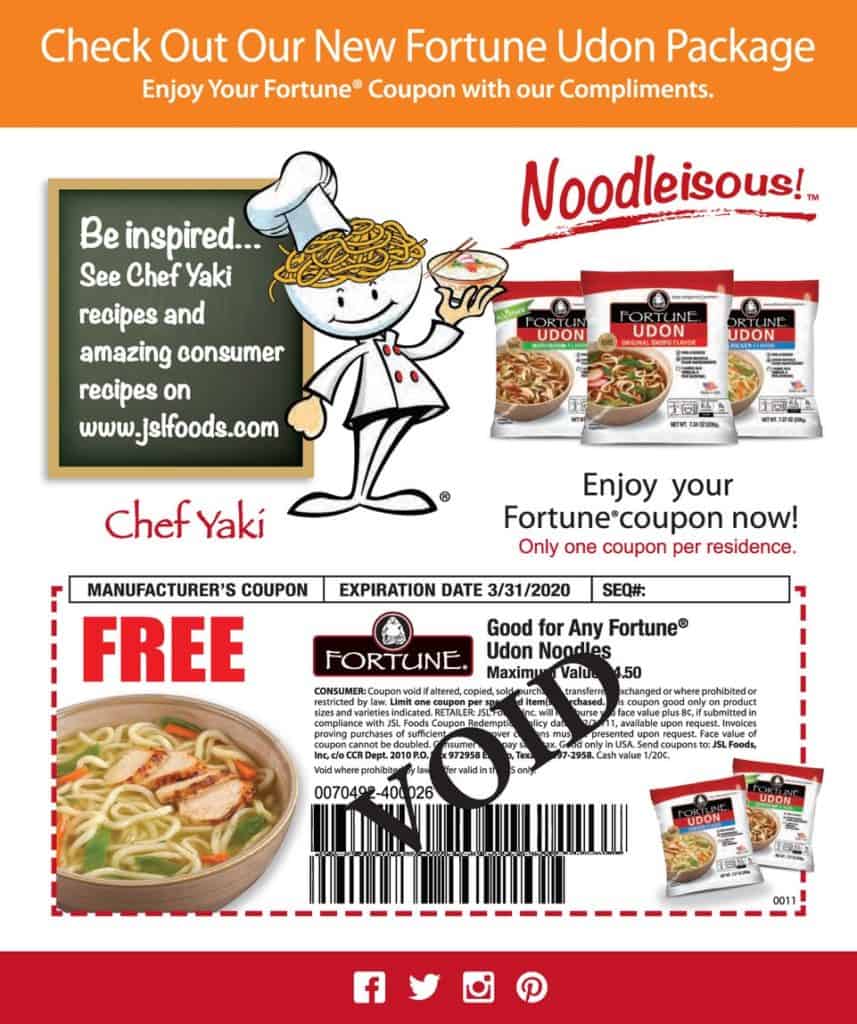 I hope you enjoy this Sesame Ginger Udon Stir Fry as much as I do. I've literally been eating it 2x a week. If you make it, be sure to tag me on Instagram!
Sesame Ginger Udon Stir Fry
Ingredients
2

packages

Fortune Udon Noodles Original Shoyu Flavor

2

tsp

toasted sesame oil

2

tbsp

avocado oil

3

green onions

1

tbsp

thinly sliced ginger

4-6

garlic cloves

roughly chopped

1

tbsp

sesame seeds

½

lb

ground pork

½

tsp

kosher salt

¼

cup

coconut aminos

or shoyu sauce

2

tbsp

Fortune Udon Noodles Original Shoyu Flavor broth
Instructions
Prepare udon noodles according to package.

Once cooked, remove noodles from broth and mix with toasted sesame oil. Reserve about 2 tablespoons of the broth.

Preheat a wok or skillet over medium-high heat with avocado oil.

Slice green onions separating the white part from the green part.

Add the bottom part of the green onions, ginger slices, and garlic cloves to the skillet. Stir fry for 30-45 seconds.

Then add in the sesame seeds and cook for an additional 45-60 seconds or until sesame seeds start getting toasted.

Move the aromatics to the side, add in the pork, and season with kosher salt. Break up the pork and let it sit for 2-3 minutes and then flip. Cook until no longer pink.

Next add in the udon noodles, coconut aminos, and the reserved broth. Stir fry until sauces are mixed through and coat all of the noodles.

Turn the heat off and stir in the remaining parts of the green onion.
---
SIMILAR RECIPES:
Pad Thai
Quick & Easy Ginger Garlic Stir Fry
Cold Sesame Wasabi Noodles
---