These Easy Scallion Pancakes are a quick and easy way to get your scallion pancakes fix if you don't feel like making the dough from scratch. They have all the elements we all love when it comes to Chinese scallion pancakes: crispy, flaky, and chewy.
First and foremost, I want everyone to know that this is obviously not an authentic scallion pancake recipe. Second, this also wasn't my idea. I was scrolling through Instagram late at night and stumbled upon this scallion pancake hack!
My life has never been the same, and if you're the person who came up with this genius hack, please let me know so I can properly give you credit and thank you til the end of time.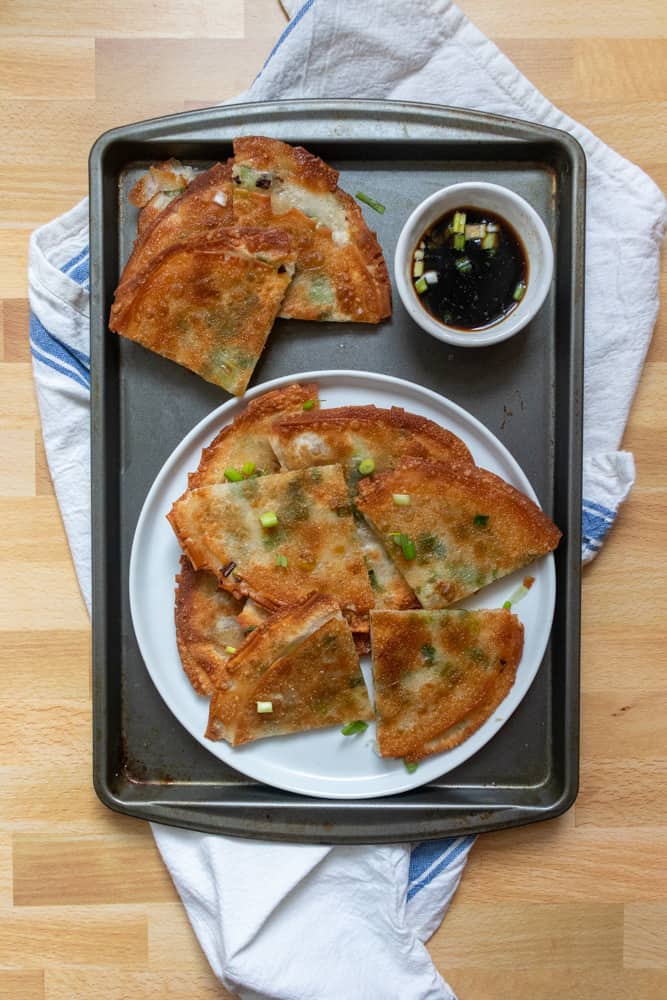 If you've never had scallion pancakes, I highly recommend you order yourself some the next time you get Chinese food. They are these perfectly fried dough filled with scallions that are savory, flaky, and chewy. What more could you possibly ask for?!
I also highly suggest you watch videos of them being made because it's a labor of love. I've attempted numerous times to make everything from scratch but for some reason dough and I just don't work well together.
However, when I found this hack, my mind was blown and life changed because now I can have scallion pancakes whenever my little heart desires!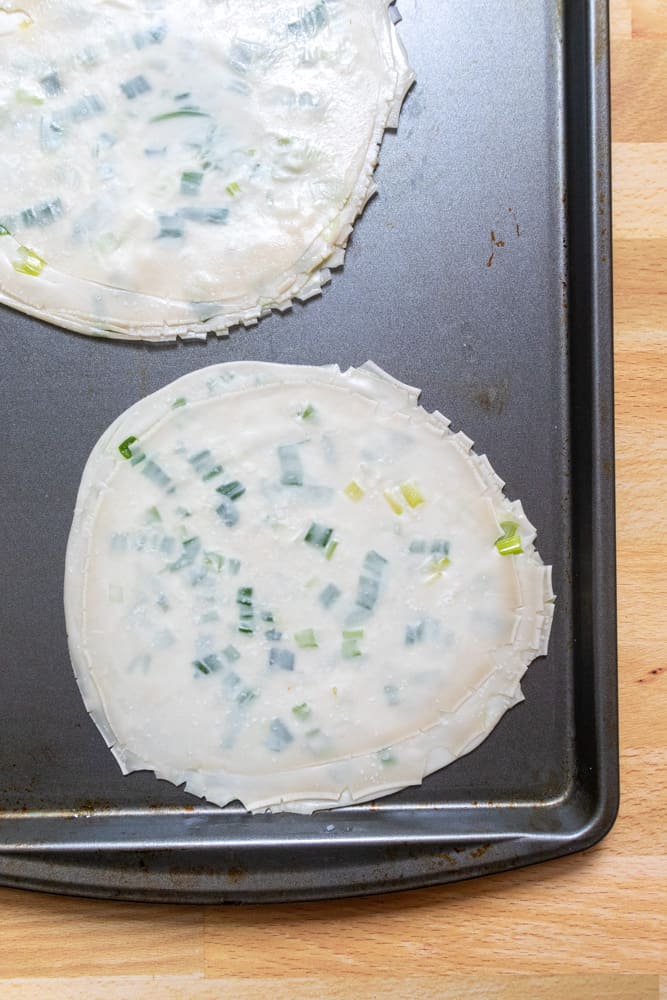 So what makes these Easy Scallion Pancakes easy? Instead of making dough from scratch we are using wonton wrappers! When wonton wrappers are fried they have a similar texture to traditional scallion pancakes so it makes sense that this hack works so beautifully.
The wonton wrappers are layered with sesame oil, green onions, and a pinch of salt. I find that a stack of five wrappers works best. The stacks are then rolled out and fried to perfection!
When you cut these easy scallion pancakes you get the flakiness (from all the layers) and chewiness as well as a crispy exterior.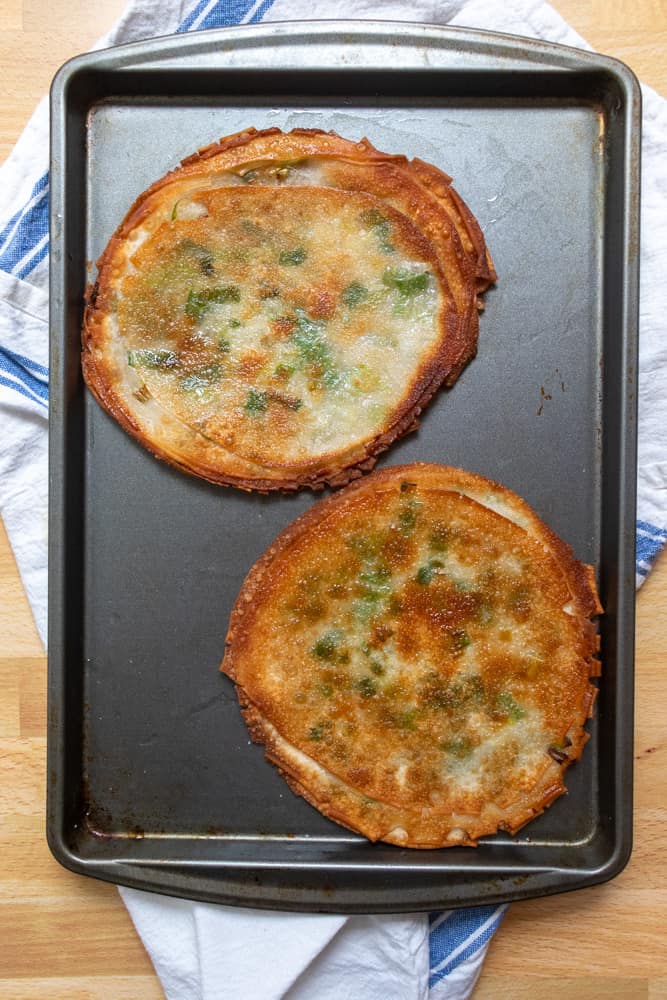 Here are a few tips and tricks:
I prefer using the eggless circle wonton wrappers. The square shaped wonton wrappers are bit thinner than the circle ones so they tend to brown too quickly.
These can be frozen! After you roll out the pancakes, stack them with wax or parchment paper in between each layer. Whenever the craving hits just pull them out of the freezer and fry.
These are best served warmed and should be eaten right away, however, if you have leftovers for whatever reason, just throw them into a lightly oiled skillet and reheat until the exterior is crispy again.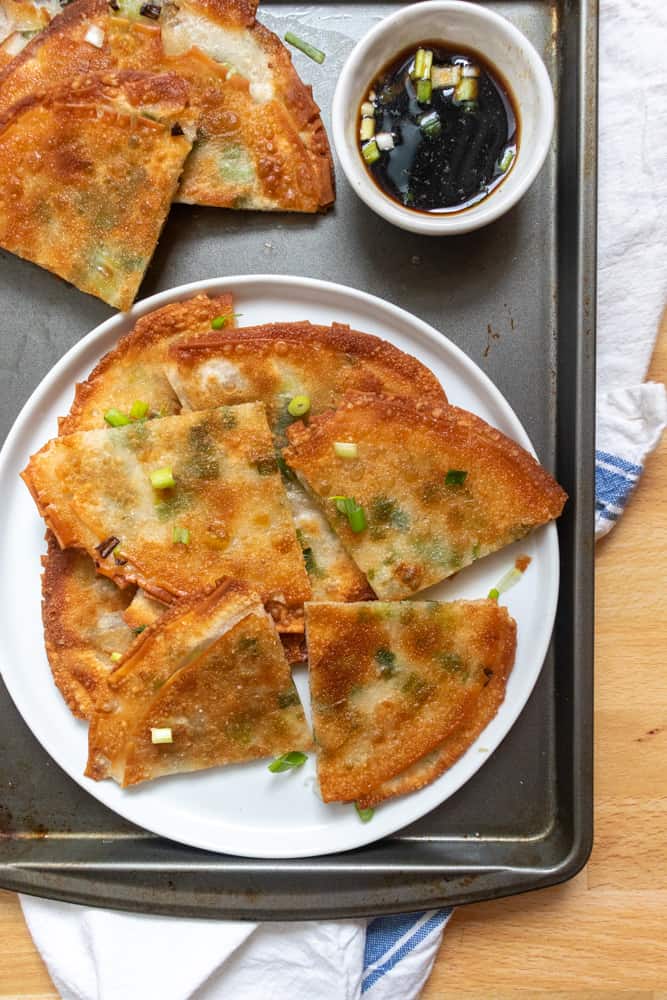 I hope you enjoy these Easy Scallion Pancakes as much as I do! Be sure to tag me on Instagram if you take advantage of this hack.
Easy Scallion Pancakes (Vegetarian, Vegan)
Ingredients
Easy Scallion Pancakes
40

wonton wrapper sheets

(choose egg free wonton wrappers to keep it vegan)

¼

cup

sesame oil

6-8

green onions

finely sliced

kosher salt
Instructions
Easy Scallion Pancakes
Lay one wonton wrapper down on a surface. Lightly brush with sesame oil (enough to just moisten it, don't over saturate the wrappers), add a teaspoon or so of the sliced green onions, and a small pinch of salt.

Place another wonton wrapper on top and repeat with brushing the wonton wrapper with sesame oil, green onions, and pinch of salt until you have a stack of five wonton wrappers. (Do not add sesame oil, green onions, and salt to the top layer.)

Once you've created the stacks (you'll have 8 total) roll it out until flattened. The thinner you roll it, the crispier the pancake.

Preheat a large skillet over medium heat with enough avocado oil to cover the bottom of the skillet.

Once heated, add one or two pancakes (you don't want to overcrowd the skillet), and cook on each side for 2-3 minutes. While cooking the pancakes be sure to press your spatula down on the pancakes so they don't puff up and separate.

Drain scallion pancakes on a paper towel lined plate.

Air Fryer method: once scallion pancakes are flatten, brush both sides with sesame oil, place in air fryer and cook for 12 minutes at 360F flipping halfway through.

Best served warm with dipping sauce.
Dipping Sauce
Add ingredients to a bowl and mix until well combined.

Refrigerate until ready to use.
---
SIMILAR RECIPES:
Szechuan Green Beans and Pork
Easy Wonton Soup
Kung Pao Chicken Meatballs
---