When the heatwaves hit, the last thing I want to do is turn on my stove. Luckily, this Cold Sesame Wasabi Noodles dish doesn't require turning anything on!
This post is in partnership with The New Primal.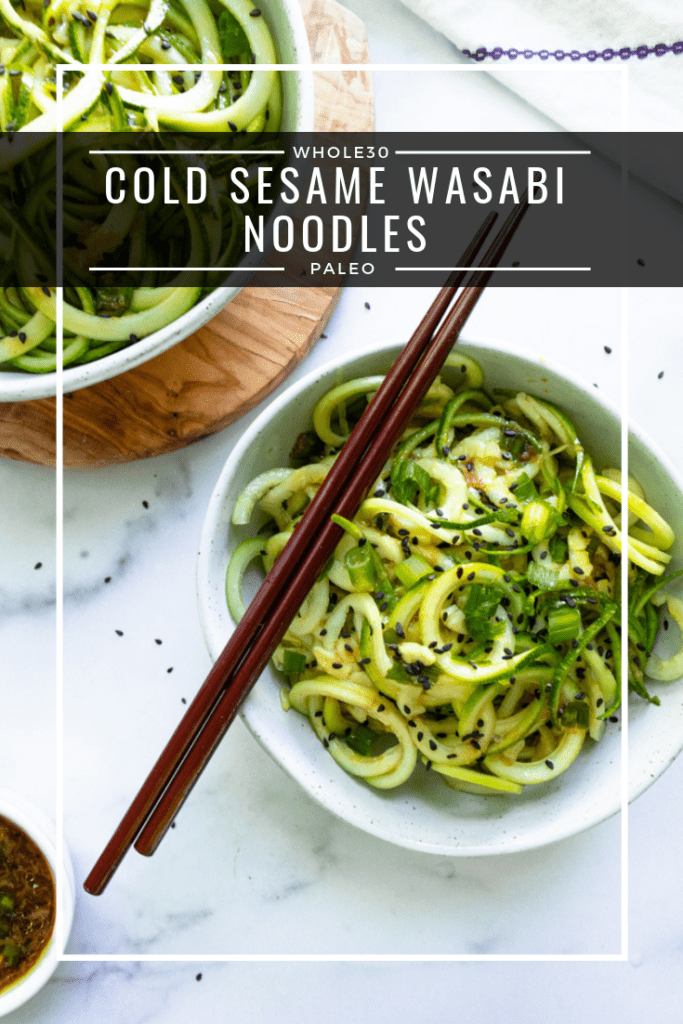 Listen up, this is a no cook recipe so NONE of you have any excuses to not make it. The only ingredient you probably don't have right now is The New Primal Noble Made Wasabi Coconut Aminos. So go pick up a bottle, okay? Okay!
Maybe pick up more than one bottle because The New Primal did an amazing job when comes to the original and wasabi flavored coconut aminos. Like I mentioned before, it's not overly sweet so you don't need to add fish sauce or salt to bring out the umami flavor. Win-win all around!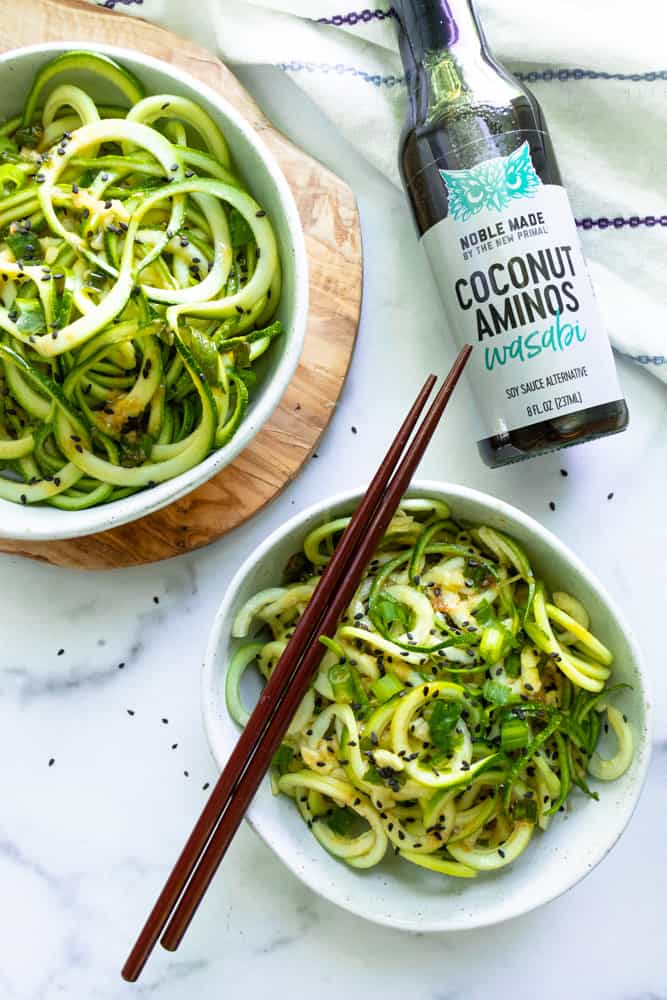 If you've never had traditional sesame noodles, I suggest you order it the next time you get takeout. It's the simplest dish but packs SO much flavor.
I'm always all about the simple dishes that pack flavor. Bonus when you don't even have to cook!
Also, I've very aware that sesame noodles typically don't have wasabi in them, but I wanted to add a fun twist to the dish and these Cold Sesame Wasabi Noodles have a little kick to it. We all know I need some element in a dish that is either spicy or adds a little umph to it.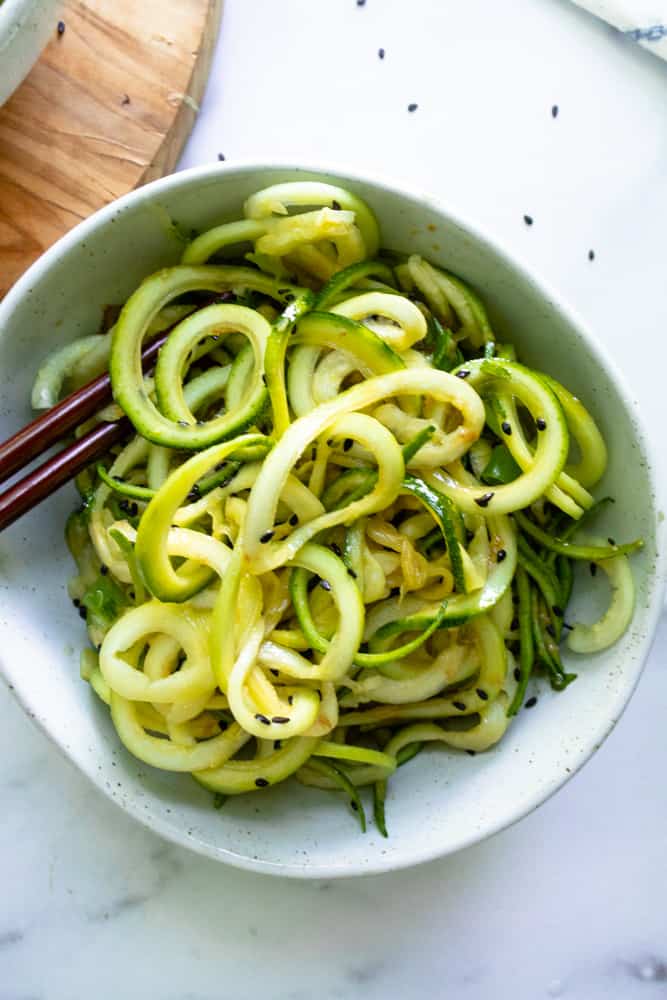 If zucchini noodles (aka zoodles) aren't your thing, you can totally use different veggies (butternut squash noodles, spaghetti squash, sweet potatoes, and etc) or even use regular noodles for this! The sauce can also be used on anything, but I prefer them with noodles. I mean, who doesn't love noodles?! But as always, you do you.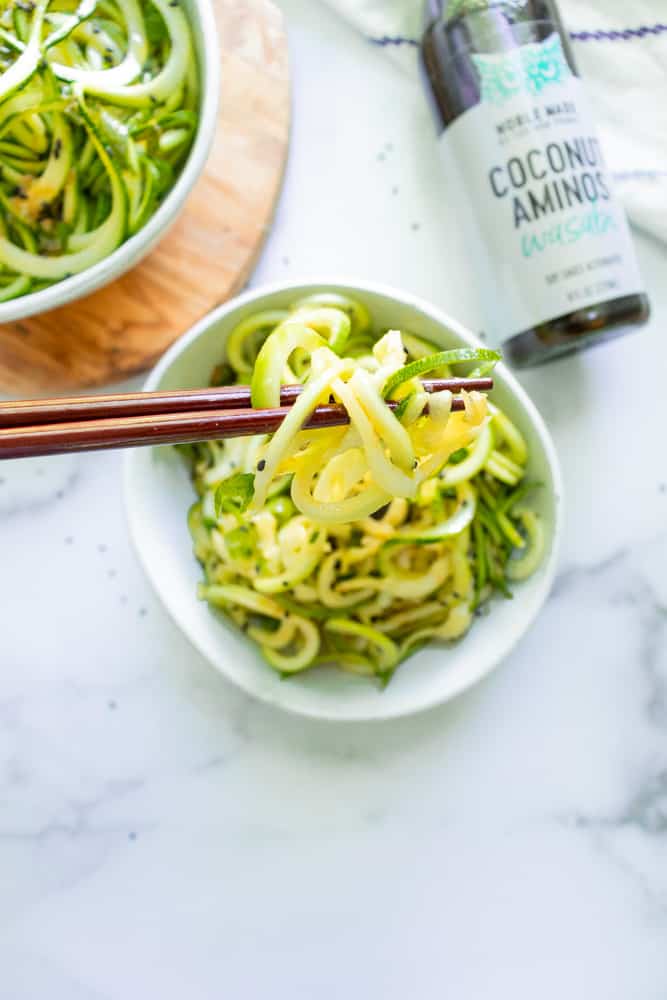 For my meal prep people, I recommend mixing the sauce and keeping it separate from the noodles until you are ready to eat. No one wants to eat soggy zoodles. Trust me.
This dish isn't the best as leftovers. So if you plan on having it for the week, make it as you go. I mean, it's not like you are turning on the stove or anything. You just have to mix and combine!
Cold Sesame Wasabi Noodles
Ingredients
4

medium zucchini

2

tsp

kosher salt

¼

cup

Noble Made Wasabi Coconut Aminos

2

tbsp

rice wine vinegar

1

tbsp

sesame oil

2

garlic cloves

grated or finely minced

2

green onions

thinly sliced

1-2

tsp

sesame seeds

black or white
Instructions
Spiralize zucchini, put in a colander in the sink or over something to catch the water, add salt, and mix. Let sit for about 15-20 minutes.

Remove spiralized zucchini from colander and place between paper towels. Squeeze excess liquid from zucchini.

Add spiralized zucchini, green onions, and about 1-2 tsp of sesame seeds to the bowl with the sauce.
---
SIMILAR RECIPES:
Beef Pho to Go
Thai Beef Noodle Soup
Thai Drunken Noodles
---