Peppery and crispy, these Szechuan Pepper Chicken Wings are the ultimate game day eats. They are definitely not your average everyday salt and pepper wings.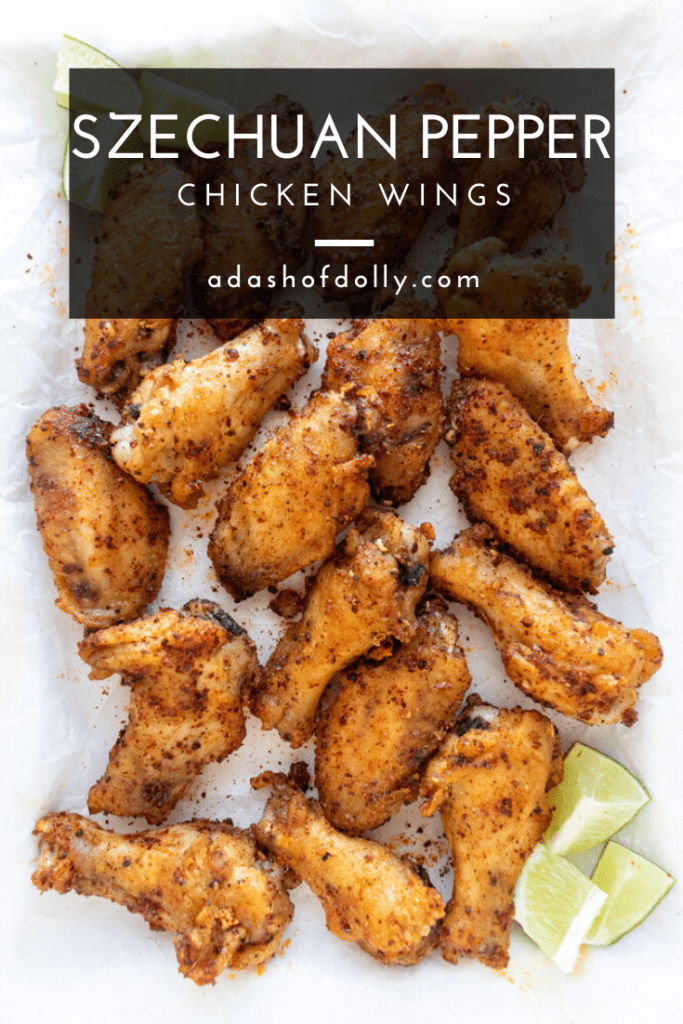 There are so many salt and pepper chicken wing recipes out there and as delicious as they are, I needed a chicken wing recipe that had a little more umph. A little more of a kick. A little more of just about everything.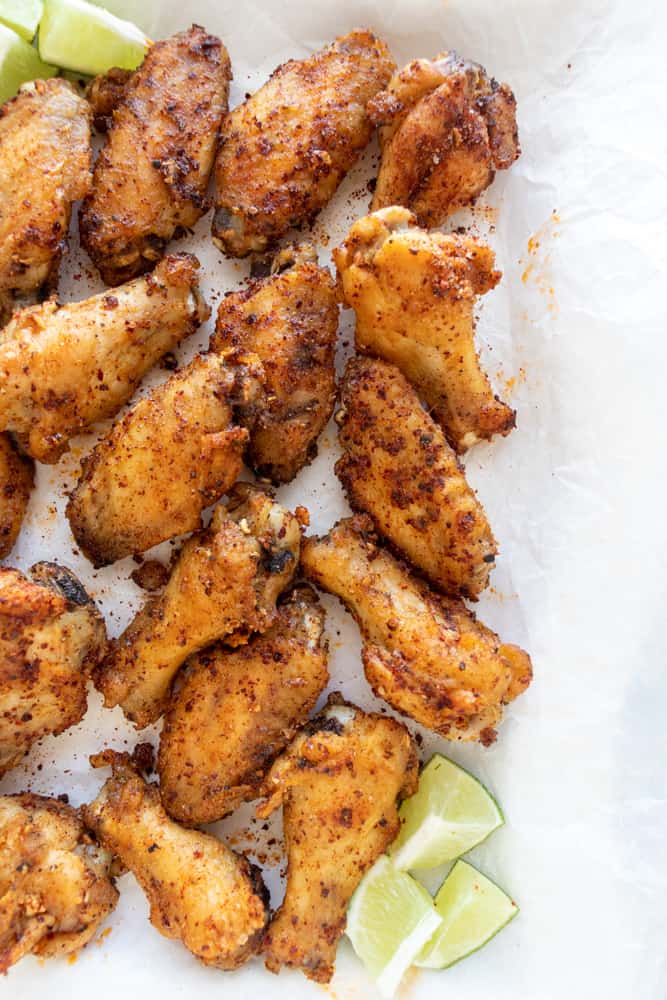 These Szechuan pepper chicken wings were the answer! If you've never had Szechuan peppercorns in a dish, you're in a for treat. These little peppercorns aren't spicy in the least bit, but they provide a fruity citrusy flavor to a dish and they make your lips and tongue a little tingly.
Don't be put off by that. It's just the nature of the peppercorn but it does make any dish just elevate a little more. These wings have a combination of both Szechuan and black peppercorns. I like combining the two because the black peppercorns bring a little heat.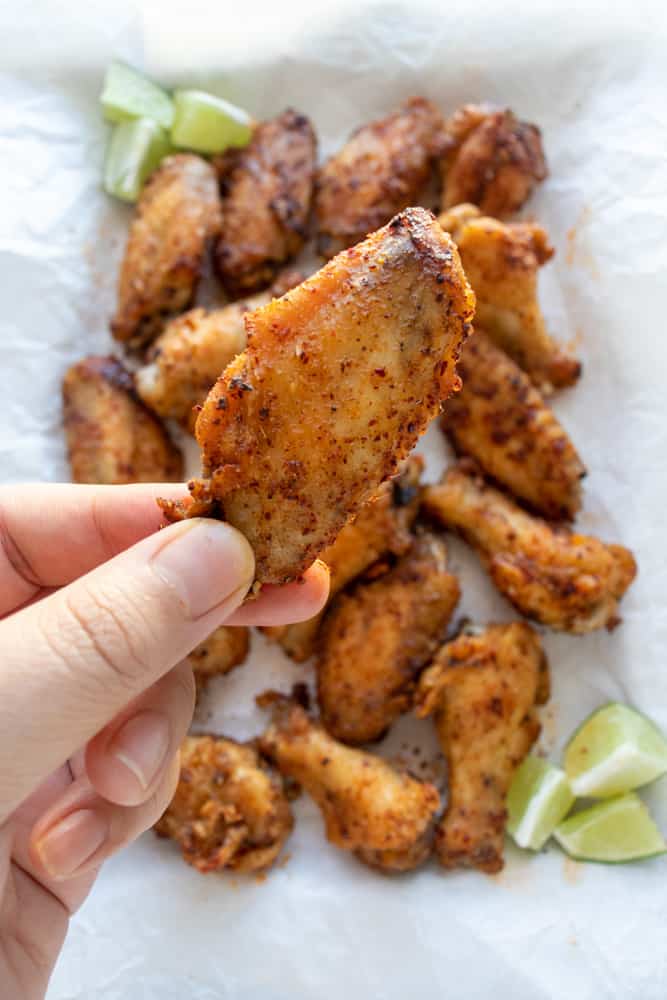 Here are a few things to ensure you get the best Szechuan Pepper Chicken Wings every single time:
I like getting peppercorns and grinding them myself. The flavors are more potent and the oils are released which brings a lot of flavor. So if you don't have a mortar and pestle, I recommend investing in one OR add the peppercorns to a ziplock and crushing them that way.
People always ask why I pat the chicken wings dry and then coat it in avocado oil. Moisture is the enemy when it comes to getting chicken wings crispy. The avocado oil will help the seasonings and potato starch stick to the chicken wings. Plus if you're using an air fryer or baking the chicken wings, the avocado oil will help with the crisping.
I always mention this, but get yourself some potato starch. It makes a huge difference. If not potato starch, tapioca flour is my second choice when it comes to coating the chicken wings.
Make this recipe yours. Feel free to play around with the spices. Use as much or as little as you like.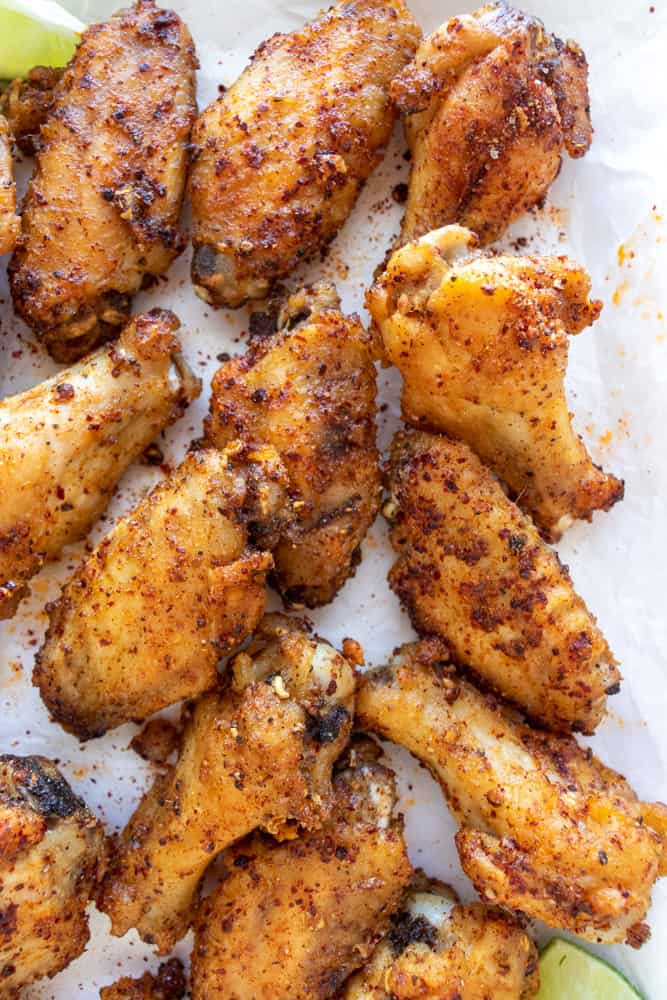 I hope you enjoy these Szechuan Pepper Chicken Wings as much as I do! Be sure to tag me on Instagram if you make it.
Szechuan Pepper Chicken Wings (Paleo, Keto, Whole30)
Ingredients
Seasoning Salt
1

tsp

kosher salt

1

tbsp

chili flakes

1

tbsp

cumin

½

tsp

Szechuan and black pepper powder
Instructions
Add Szechuan and black peppercorns into a mortar and grind until you have a find powder.

Pat chicken wings dry and then toss in avocado oil.

Season with kosher salt and 1 teaspoon of the Szechuan and black pepper powder. Mix until well combined.

Dust chicken wings with potato starch making sure all sides are coated.

Oven method: preheat oven to 450F. Line a baking sheet with parchment paper. Add the chicken wings to baking sheet in a single layer, Roast for 20 minutes, flip and roast for an additional 10-12 minutes or until chicken wings are cooked through and golden brown.

Frying method: preheat a large skillet over medium heat. Add in enough oil to cover the bottom of the skillet with 1/4 inch height. Once heated, add the chicken into the skillet but don't overcrowd the skillet. Cook in batches if you need to. Fry for 12-15 minutes flipping halfway through.

Air Fryer method: add chicken wings to air fryer basket, cook at 375F for 20 minutes shaking halfway through, afterwards turn air fryer up to 400F and cook for an additional 5 minutes.

Once cooked add chicken wings to a bowl and toss with 1 tablespoon seasoning salt. You can add more if you want. Serve with lime wedges.
Seasoning Salt
Add ingredients into a small bowl and mix until well combined. Set aside until ready to use.
---
SIMILAR RECIPES:
Spicy Salt & Pepper Chicken Wings
Spicy Honey Butter Chicken Wings
Spicy BBQ Chicken Wings
---