These quick and easy Red Curry Salmon Cakes come together in less than 15 minutes! They are inspired by Thai fish cakes, but take much less time to throw together.
I can even begin to tell you how excited I am for these red curry salmon cakes! They are a play on the traditional Thai fish cakes, but we're cutting the prep and cooking time in half. Ain't nobody got time to find a whole piece of mackerel and then flake off the flesh with a spoon.
If you want to see that done, look up Thai fish cake recipes on YouTube.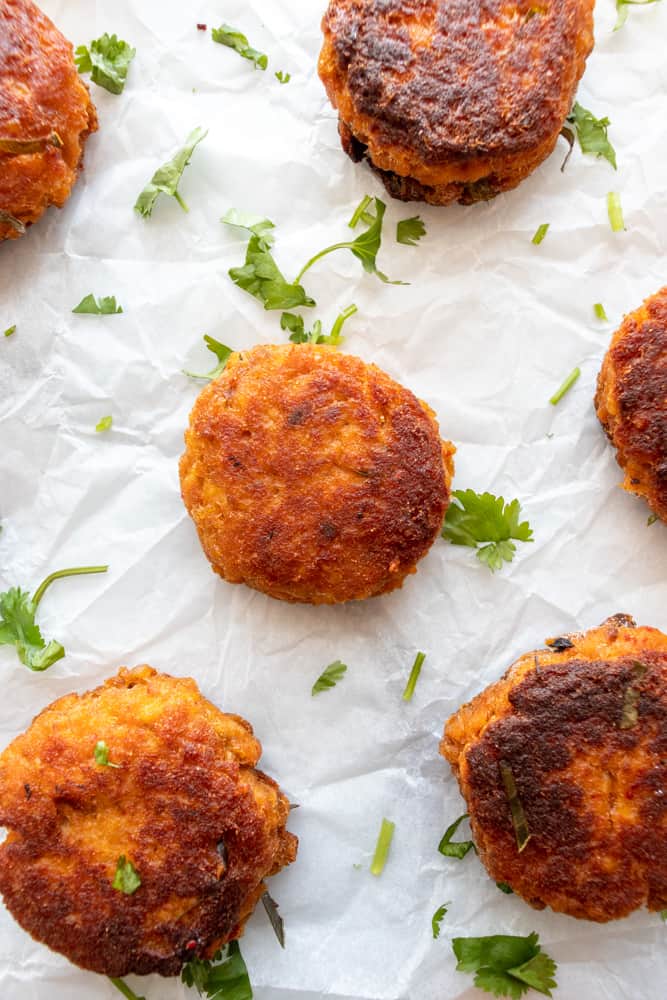 Anyway, these red curry salmon cakes are packed with SO so so much flavor from the red curry down to the finely chopped pieces of kaffir limes leaves. They have all the flavors that are found in Thai and Lao cooking.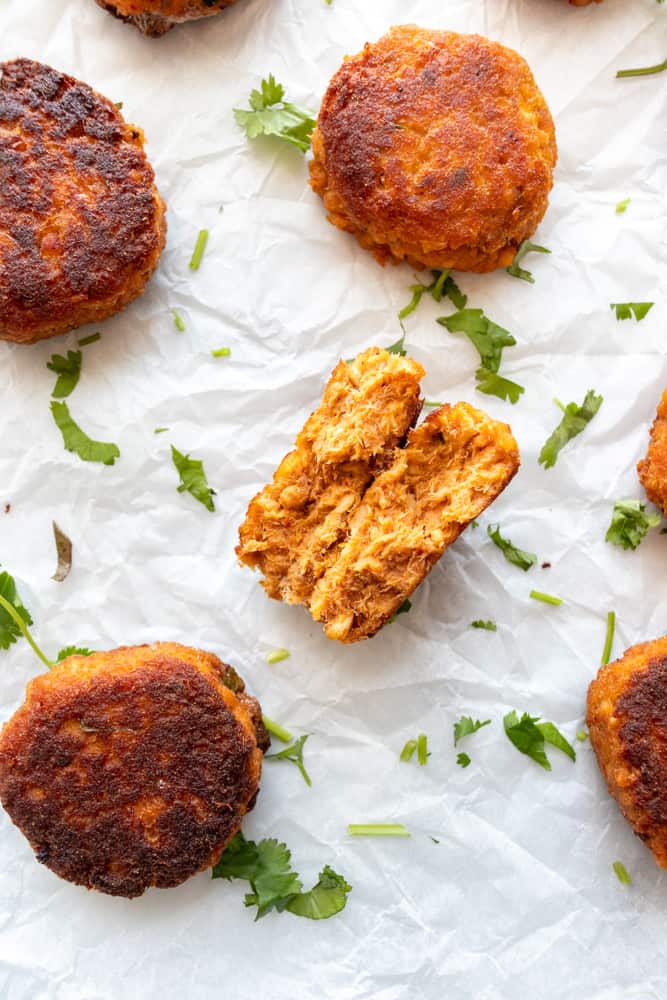 So here are a few things about this recipe:
I use wild caught salmon that comes in a can, but you can make your own salmon and use that for the salmon cakes. You can also used canned tuna if you want.
Kaffir lime leaves are used in SO many Thai and Lao dishes. Check your local Asian grocery store to see if they carry it. Buy a bunch and then freeze it. They last almost forever in the freezer. Still can't find it? You can also buy kaffir limes leaves on Amazon. If you're serious about Thai and Lao cooking, this is an essential ingredient.
If you really really can't find kaffir lime leaves or don't want to purchase a bag from Amazon, you can swap it out for zest from a lime. It doesn't quite have the same flavor as kaffir lime leaves, but it does add a freshness to the salmon cakes.
The type of curry paste you use matters. My all time favorite is Mae Ploy red curry paste. It's what my parents use when they don't make their own. Mae Ploy's red curry paste is as close to homemade as possible.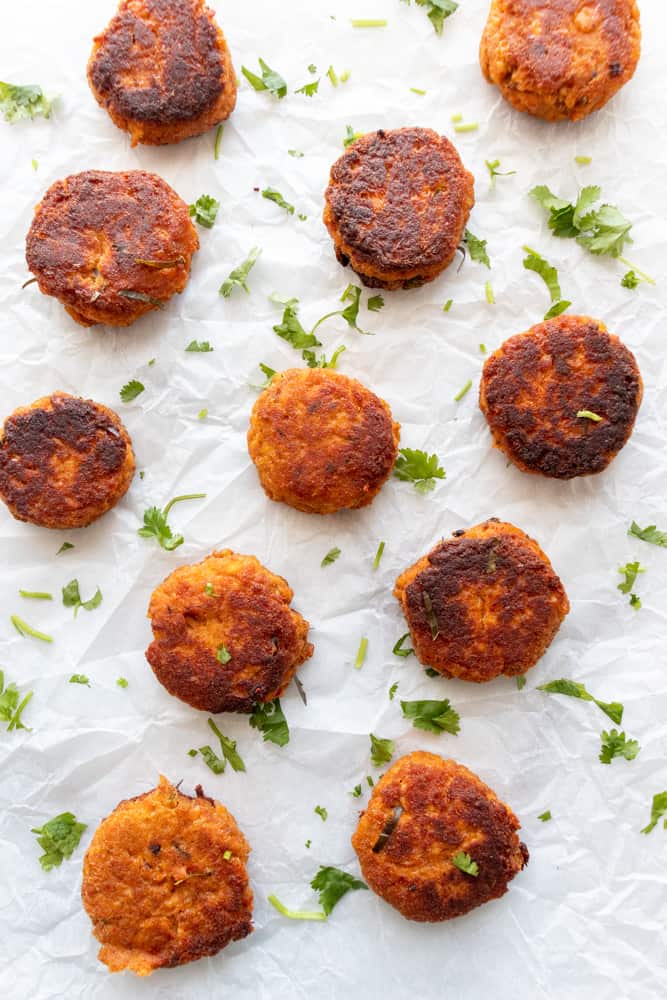 I hope you enjoy these Red Curry Salmon Cakes as much as I do! If you make the recipe, be sure to tag me on Instagram.
Red Curry Salmon Cakes (Paleo, Keto, Whole30)
Instructions
Drain wild caught salmon and add to a bowl.

Add in red curry paste, egg, fish sauce, sugar or apple sauce, kaffir lime leaves, cassava flour, and kosher salt.

Preheat skillet over medium heat with enough avocado oil to cover the bottom of the skillet.

Form salmon mixture into salmon cakes and add to the skillet. You can make them as little or as big as you want.

Fry for 4 minutes, flip and fry for an additional 4 minutes or until a crust forms and salmon cakes are heated though. If your salmon cakes are browning too quickly, lower the heat down if necessary.
Recipe Notes
*Kaffir lime leaves can be tough so be sure to finely chop it.
---
SIMILAR RECIPES:
Salmon Satay Skewers
Lamb Keema & Garlic Tostones
Poke Tuna Stacks
---