These Spicy Honey Butter Chicken Wings are the ultimate sweet and spicy wings that will be a huge hit for game day or any night of the week. The chicken wings are tossed in the perfectly spicy honey butter sauce –that should obviously be doubled so you can toss everything in it!
I officially declare myself a chicken wings expert. I mean, I have enough recipes on this blog to call myself one. LOL No, but really though, I love chicken wings and these Spicy Honey Butter Chicken Wings are up there for me.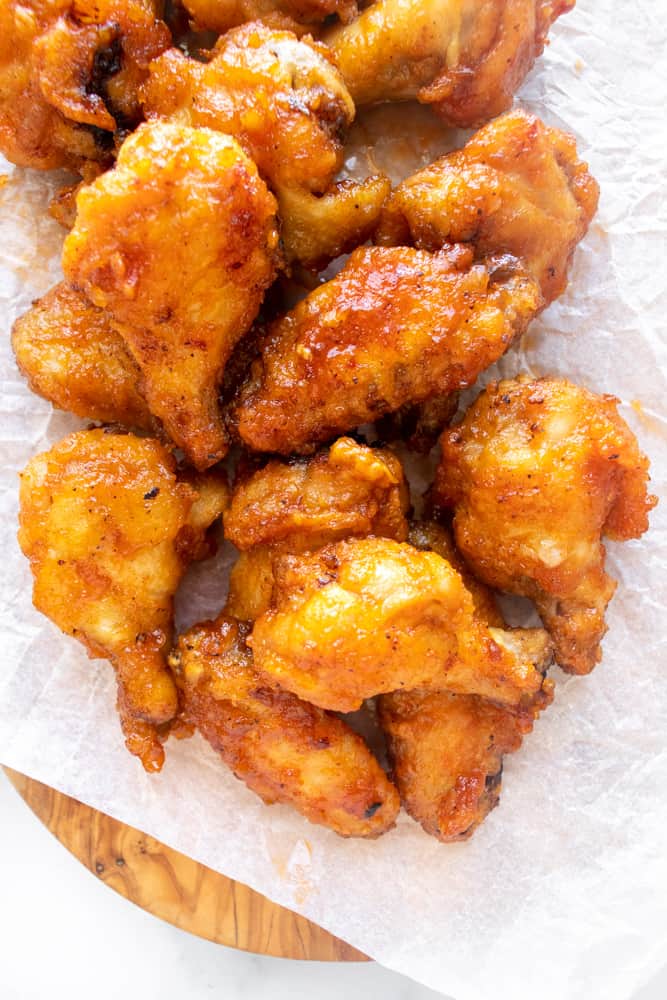 If you're new here, you're going to quickly learn I LOVE LOVE love flavor combos. Sweet and spicy is my favorite and these wings hit that sweet and spicy spot.
This recipe was actually inspired by John Legend's fried chicken recipe. I spruced it up to fit how I enjoy wings and lemme say, watch out John Legend! But really though, his fried chicken is coated with flour and spices and then deep fried. Mine is not.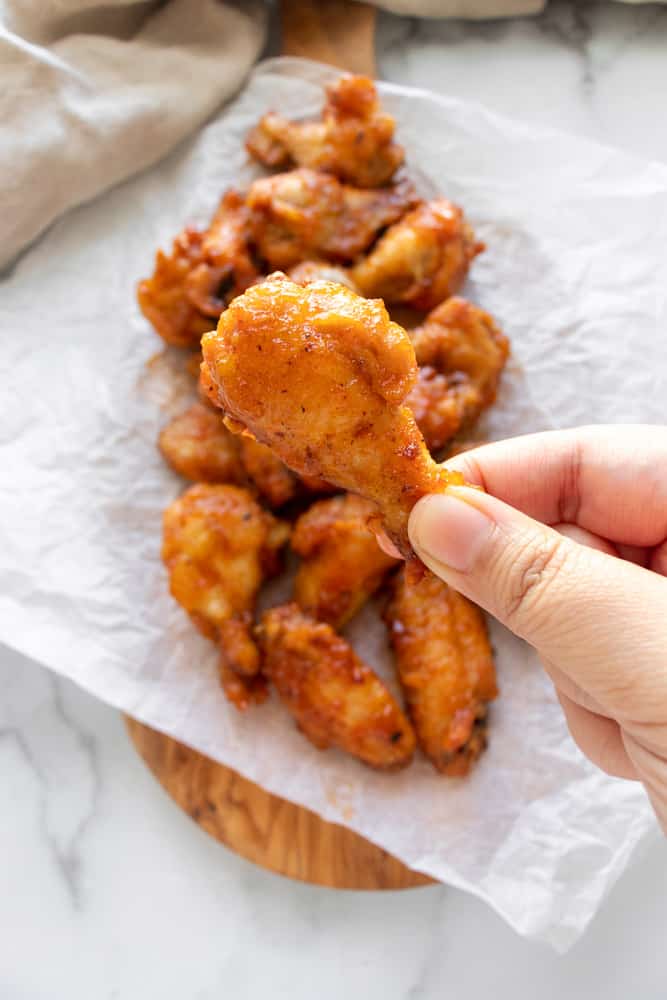 You all know I don't deep fry anything so I am sharing with you THREE, yes 3, different methods. Mostly because someone will ask if these can be made in [insert cooking method]. I tested these wings in the oven, air fryer, and skillet (shallow frying). My favorite texture was from shallow frying, but I love the convenience of air frying the wings. You can't go wrong with whatever method you decide to do.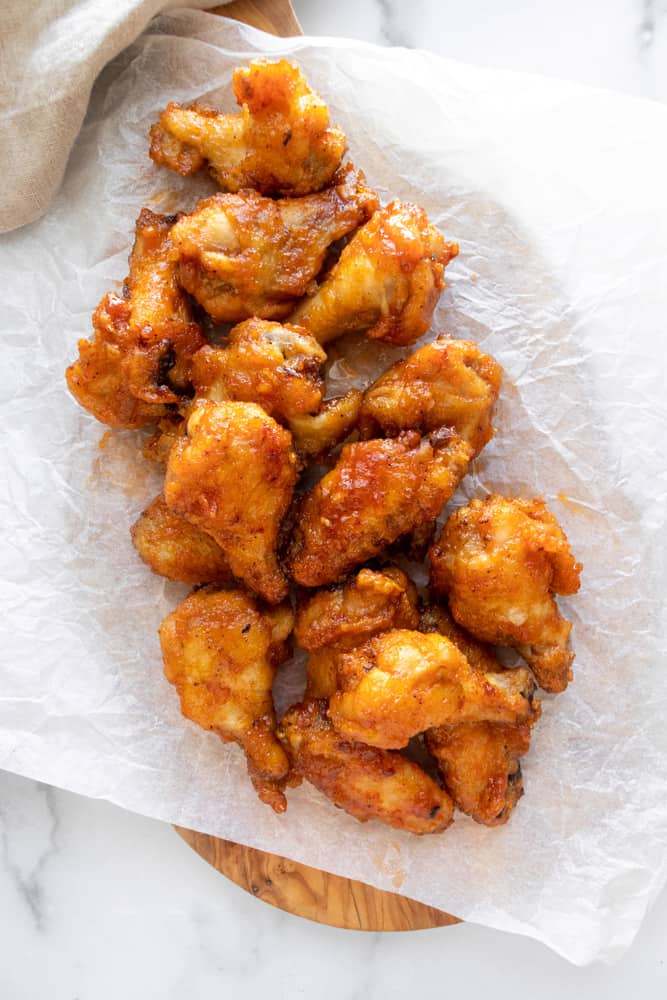 Here are a few things to make sure you get delicious Spicy Honey Butter Chicken Wings every single time:
If you haven't invested in potato starch, now is the time. Potato starch is used in a lot of Asian cooking in place of rice flour or cornstarch. It just works way better than arrowroot flour, but if you can find it, tapioca flour is the next best things. It does two things: helps with crisping up the chicken wings and helps the sauce adhere to something. Don't skip this step.
Also, when coating your chicken with the potato starch, make sure it is lightly coated. I like using a sieve to sprinkle the potato starch over the chicken. This helps with not wasting the starch as well.
John Legend uses Cholula in his spicy honey butter, and I agree with him. However, you can use whatever hot sauce your little heart desires. If you want an Asian flair to your wings, use sriracha sauce. If you love buffalo wings, add in buffalo sauce.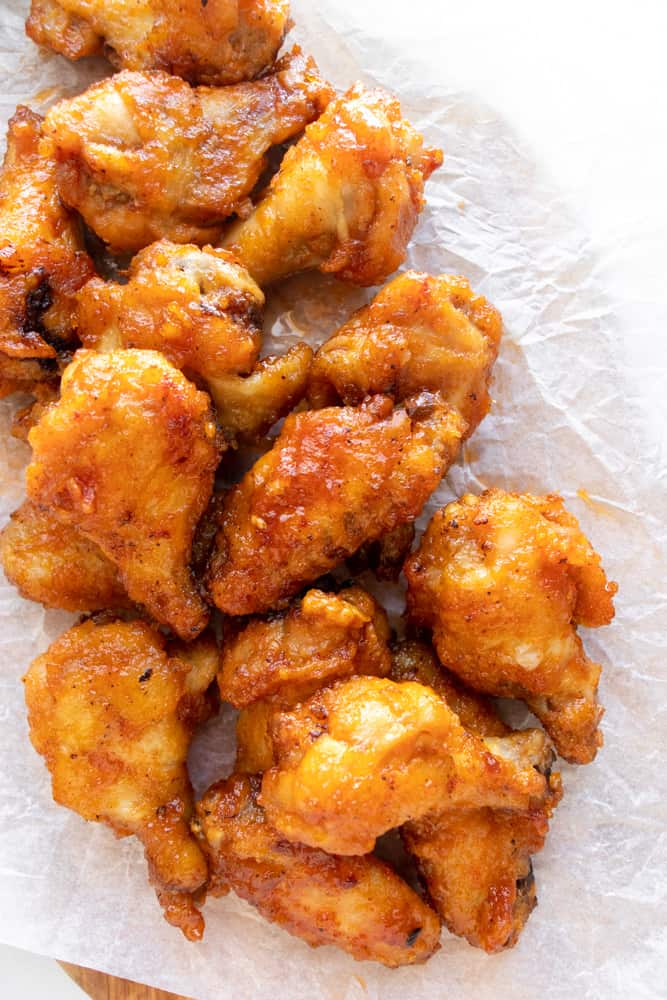 I hope you enjoy these Spicy Honey Butter Chicken Wings as much as I do! If you make the recipe, be sure to tag me on Instagram.
Spicy Honey Butter Chicken Wings
Spicy Honey Butter Chicken Wings are the ultimate sweet and spicy chicken wings.
Instructions
Chicken Wings
Add chicken wings to a bowl and mix with avocado oil.

Next season with kosher salt, ground black pepper, garlic powder, and cayenne pepper.

Once mixed, coat with potato starch. Shake off any excess.

Oven method: preheat oven to 450F. Line a baking sheet with parchment paper. Add the chicken wings to baking sheet in a single layer, Roast for 20 minutes, flip and roast for an additional 10-12 minutes or until chicken wings are cooked through and golden brown.

Frying method: preheat a large skillet over medium heat. Add in enough oil to cover the bottom of the skillet with 1/4 inch height. Once heated, add the chicken into the skillet but don't overcrowd the skillet. Cook in batches if you need to. Fry for 12-15 minutes flipping halfway through.

Air Fryer method: add chicken wings to air fryer basket, cook at 375F for 20 minutes shaking halfway through, afterwards turn air fryer up to 400F and cook for an additional 5 minutes.

Once chicken is done, toss in spicy honey butter sauce and serve.
Spicy Honey Butter
Add butter or ghee, honey, hot sauce, and cayenne pepper to a saucepan over medium heat.

Stir to combine ingredients.
---
SIMILAR RECIPES:
Paleo Honey Sriracha Roasted Drumsticks
Spicy BBQ Chicken Wings
Spicy Salt & Pepper Chicken Wings
---