Lamb Keema & Garlic Tostones is a nontraditional take on the delicious lamb keema naan. Keema is a dish that originates from Indian subcontinent. It is packed with lots of bold flavors that work so well together. This nontraditional version is the perfect to get your Indian food fix if you have any dietary restrictions.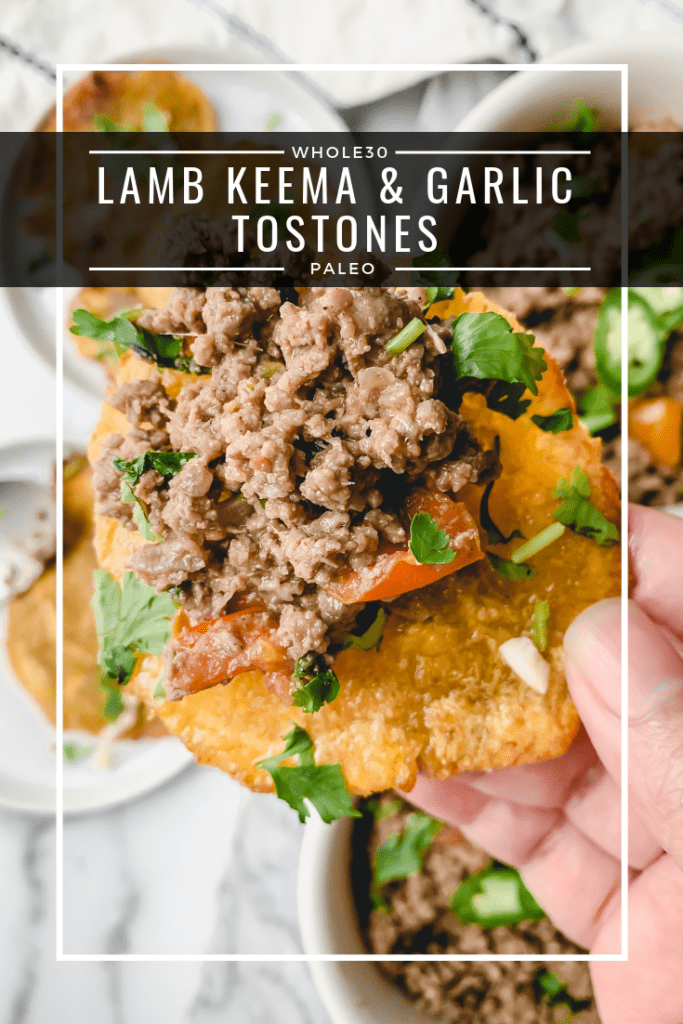 The first time I had lamb keema was when I was visiting a friend and we randomly found a little hole in the wall Indian restaurant. Whenever I get Indian food, naan is a non-negotiable and we both noticed lamb keema naan. Neither one of us had lamb keema before, so we figured why not?!
Y'all, when I say it was one of the best things I've ever tried, I'm not kidding. It was fluffy naan bread stuffed with perfectly spiced ground lamb that was pack with SO much flavor. It was so good, we ordered another one and I made a vow to recreate it so it find into my everyday diet needs.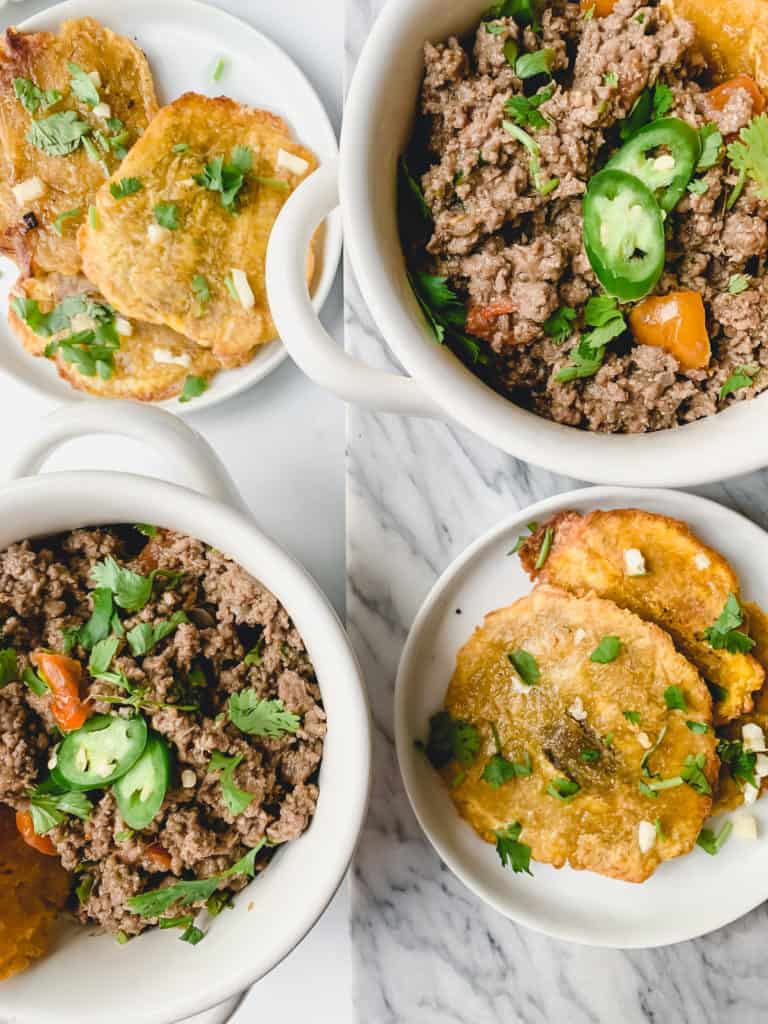 Garlic naan is one of favorites, so I figured why not make a deconstructed lamb keema naan and use tostones as the garlic "naan" to scoop up the delicious ground lamb. Thus was born this amazing Lamb Keema & Garlic Tostones dish.
If you've never had lamb keema, it's flavor profiles are pretty similar to an Indian samosa. The flavor base is a delicious paste with all of the aromatics I love: onions, ginger, garlic, and has a little heat from the serrano chili pepper.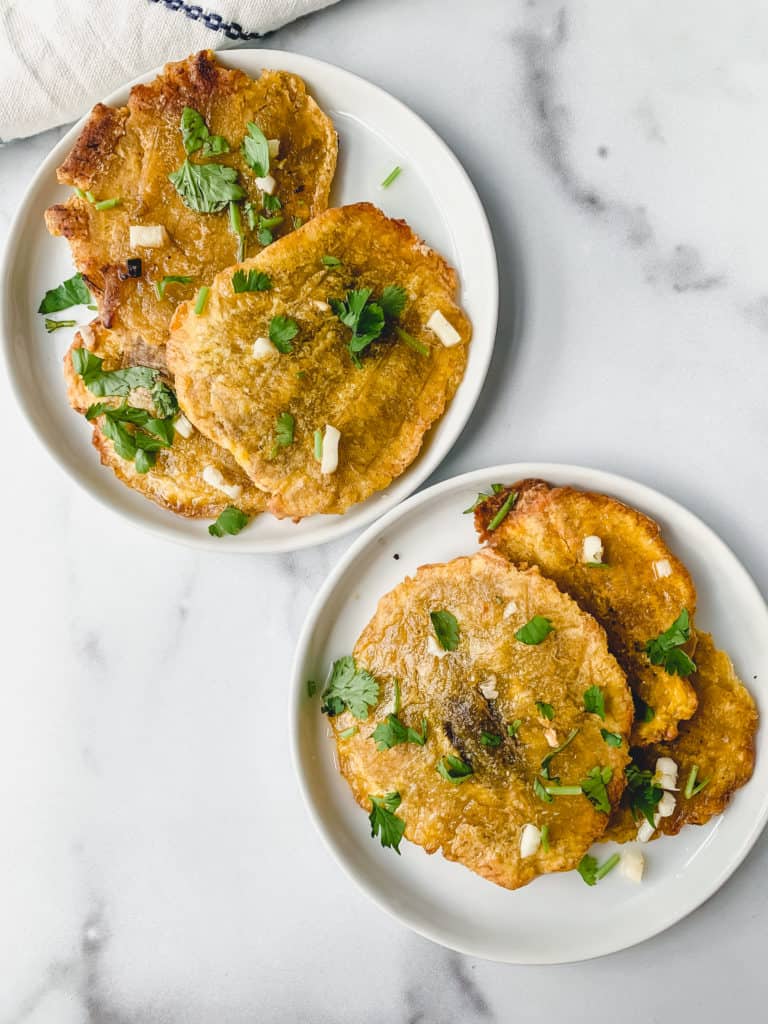 You can use any ground protein you want, BUT I highly-highly recommend going the traditional route and using ground lamb. My friends over at Parker Pastures sent me their grass-fed ground lamb to sample, and it was delicious.
They specialize in grass-fed beef and lamb, and I love their mission in regenerative agriculture. If you are in the Gunnison, CO area, I recommend doing a ranch tour to learn more about their mission!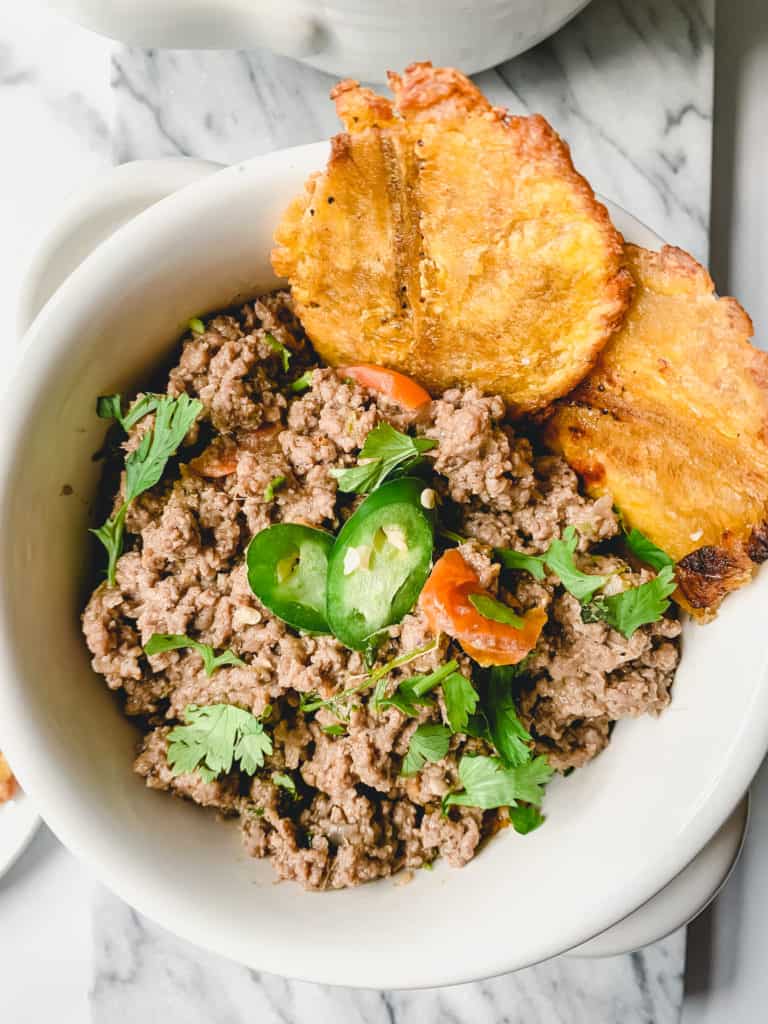 I hope you all enjoy this dish as much as I do! It comes together so quickly, and if you're gluten free these garlic tostones are the perfect substitute to the garlic naan I'd totally eat with this.
Oh, and for my meal preppers, this dish is definitely meal prep friendly! It's even better the next day because all the flavors come together.
Lamb Keema & Garlic Tostones (Whole30, Paleo)
Total Time
1
hour
15
minutes
Ingredients
Lamb Keema
1

medium onion

roughly chopped

2

tsp

grated ginger

1

serrano pepper

or any green chili

2

garlic cloves

peeled

2

tbsp

avocado oil

2

tsp

garam masala

1

lb

ground lamb

1

large

tomato

diced

2

tbsp

coconut cream

3

tbsp

water

1

tsp

kosher salt

½

tsp

black pepper

¼

cup

finely chopped cilantro
Garlic Tostones
1 ½

cup

cold water

2

tbsp

kosher salt

8

garlic cloves

roughly chopped

3

green plantains

¼

cup

melted ghee

2

tbsp

finely chopped cilantro
Instructions
Lamb Keema
Add onion, ginger, serrano pepper, and garlic cloves to a food processor. Blend until you form a paste.

Preheat a large skillet over medium-high heat with avocado oil. Add in the paste and saute for 2-3 minutes or until fragrant.

Add in the ground lamb and garam masala. Break up the ground lamb and cook until almost complete browned.

Next add in the diced tomato, coconut cream, water, kosher salt, and black pepper. Mix until well combined.

Lower the heat and let simmer for about 5-7 minutes.

Once everything is cooked through, turn off the heat, and stir in the chopped cilantro. Serve with garlic tostones.
Garlic Tostones
In a bowl, mix the water and salt until the salt is dissolved. Add in half of the chopped garlic to the water. Set aside.

Cut off the ends off the ends of the plantain. Carefully use your knife to score the skin making sure to not cut through the plantain.

Peel the skin off and cut into 1 in coins.

Add the plantains to the bowl of water and let it brine for at least 30 minutes.

Once brined, remove plantains from water and dry with a paper towel.

Preheat a skillet over medium heat with enough avocado oil to cover the skillet.

Add in the plantains and fry for about 3-4 minutes per side or until lightly browned and cooked through.

Remove plantains from skillet, then flatten with something with a flat surface (bottom of a cup, plate, bowl, or small skillet).

Re-fry the plantains for 2-3 minutes per side or until golden brown.

In the meantime, melt the ghee and mix in the remaining garlic cloves.

Before serving, brush the tostones with the ghee and garlic and garnish with cilantro.

Use garlic tostones to scoop up the lamb keema!
---
SIMILAR RECIPES:
Spicy Shredded Beef Tostadas
Shrimp Ceviche Tostadas
Loaded Tostones Nachos
---