Bold flavors. Easier to make than it sounds. A fun twist on how you make baby back ribs. These lemongrass garlic baby back ribs are a great introduction to Lao cooking with a twist!
The post is in partnership with The New Primal.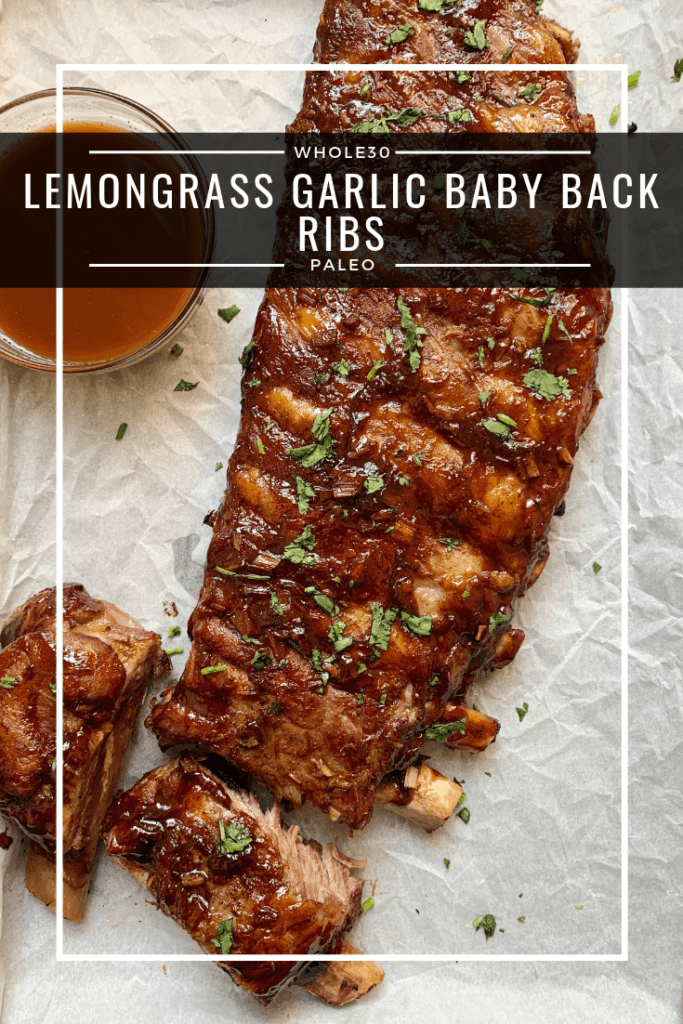 As I mentioned in my Lao Inspired Chicken Wings recipe, a lot of Lao cooking uses herbs and aromatics to season food. We're big on bold flavors that hit the entire palate. It's probably why I love dishes that are flavor combos (i.e. sweet and savory or sweet and spicy). It's pretty much written in my DNA.
So whenever I smell things like lemongrass ans garlic, I'm automatically taken back to my childhood where I would come home from playing outside after school and dinner was being made. It's some of the most comforting smells, and lemongrass and garlic are the perfect duo.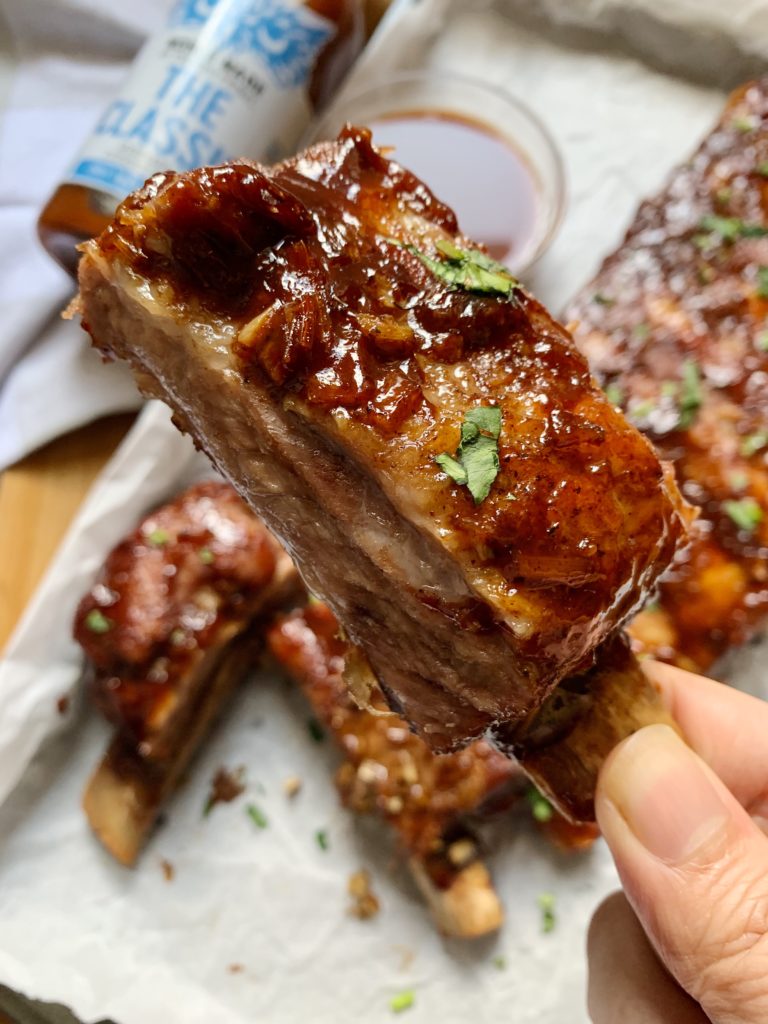 These lemongrass ginger baby back ribs are a rendition of one of my mom's ribs recipe. She always marinated them using lemongrass and ginger as the base and then mixed it up with whatever sauce she was feeling that day. For this recipe I'm using The New Primal Noble Made Classic Marinade as the base of the marinade and sauce for the baby back ribs.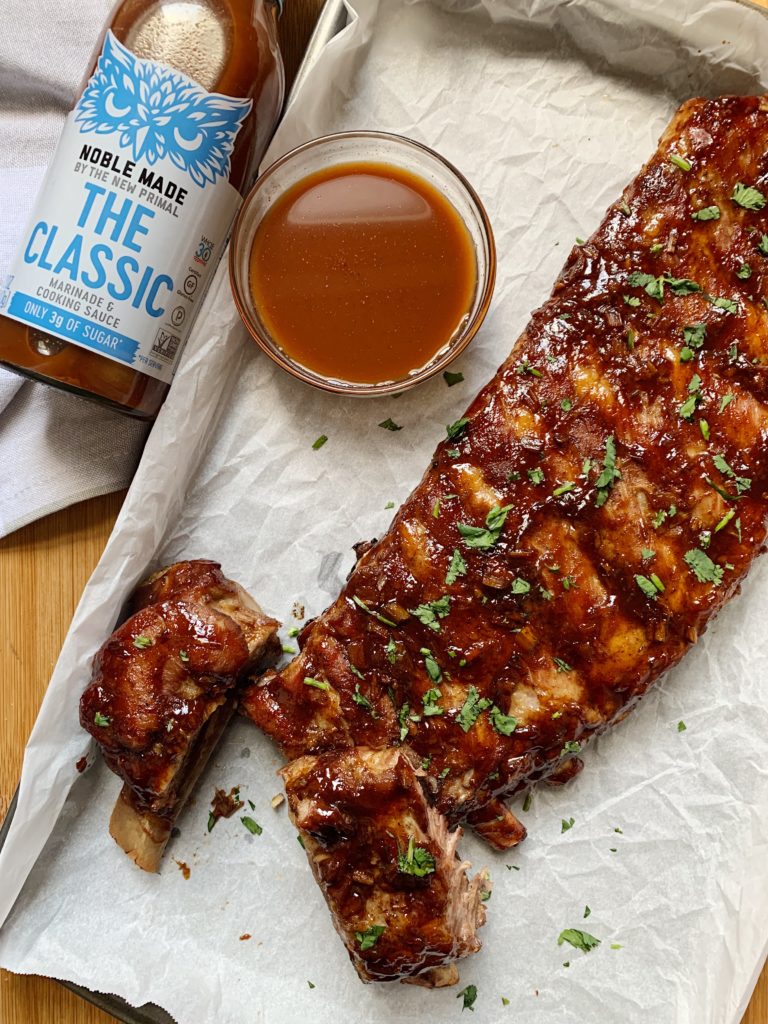 Why The New Primal Noble Made Classic Marinade?
The marinade is made with real food ingredients.
Coconut aminos is used in the marinade which is a soy sauce replacement in the Whole30 and Paleo world. So the marinade has an Asian flair to it and it's packed with umami flavor.
The marinade is super versatile. You can also use it as a stir fry sauce or reduce it to make a glaze (what we'll be doing with this recipe).
It's Whole30 approved.
Did I mention it's delicious? Because it is.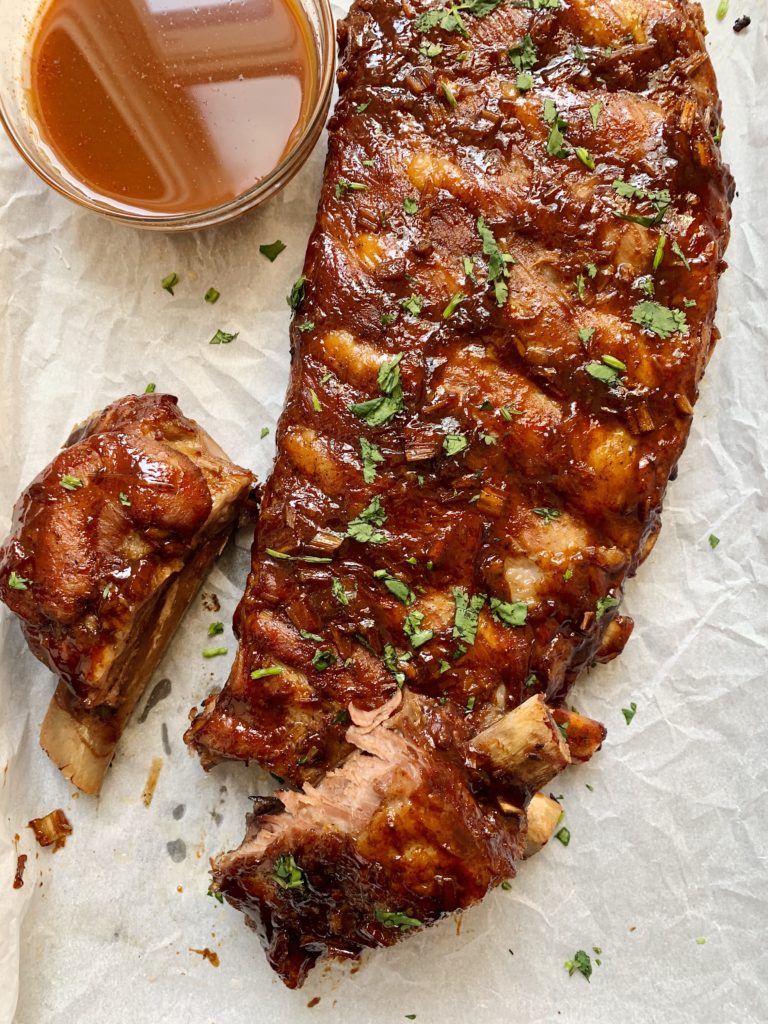 A few things about this recipe:
You can find lemongrass at your local Asian grocery store but a lot of regular grocery stores have been carrying them nowadays. Check your produce section in the herbs area. It might already be prepped for you so you might not have to take off the woody outer layer.
I share with you two ways to prepare the ribs. You can use the Instant Pot to oven method or just cook it in your oven the whole time. I prefer the Instant Pot method. It takes less time to cook!
I prefer baby back ribs, but you can use any kind of ribs you like. Cooking time may vary.
The longer you marinate the ribs, the better! My mom would always marinate them overnight.
As for the finishing sauce, remember, a little goes a long way. Since we're reducing the Noble Made Classic Marinade and thickening it up with arrowroot flour, the flavors will be concentrated.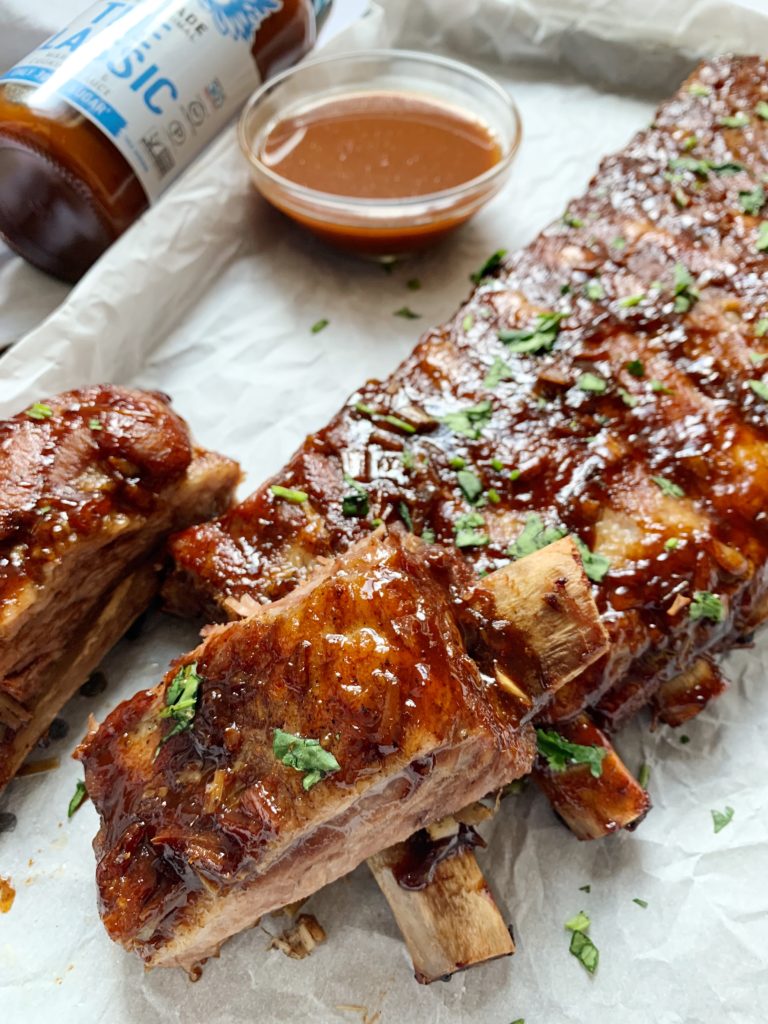 As always, with any Lao recipe, you can serve this with some sticky rice (or jasmine rice) and fresh veggies like cucumbers or even some green papaya salad. The world is your oyster!
So the next time you want to make ribs, add these Lemongrass Garlic Baby Back Ribs to the menu!
Lemongrass Garlic Baby Back Ribs (Whole30, Paleo)
Instructions
Flip the baby back ribs meat side down. Run a sharp knife under the membrane. Take a paper towel to grip the membrane and pull it off the ribs. Set aside.

To prepare the lemongrass stalk, remove the woody outer layers. Thinly slice it with a sharp knife.


In a food processor, add in the sliced lemongrass, garlic cloves, apple cider, kosher salt, black pepper, and 2 tablespoons of the Noble Made Classic Marinade. Pulse until a rough paste forms and everything is well combined.


Rub the rough paste all over the baby back ribs making sure all sides are coated. Marinate for at least 2 hours to overnight.


Instant Pot method: place trivet into the Instant Pot, add ½ cup water, place ribs on top of the trivet. Close lid, seal the valve, and cook at high pressure for 20-25 minutes depending on how tender you want the ribs. Once done, let it naturally release before removing. Remove ribs from the Instant Pot and place on a rimmed baking sheet lined with foil or parchment paper


Oven method: preheat oven to 350F, place ribs on a foil lined rimmed baking sheet and bake for 2-2 ½ hours. Remove from oven.


During the last 10 minutes of the ribs cooking, regardless of which cooking method used, add 1 cup of the Noble Made Classic Marinade and fish sauce into a saucepan.


Bring to a boil, and then lower the heat to bring the sauce to a simmer. Meanwhile, mix the arrowroot flour with the warm water to create a slurry.


Add the slurry to the marinade, mix until well combined, and simmer until sauce thickens. Remove from heat.


Brush the marinade onto the baby back ribs on both sides (a little goes a long way), and then add the baby back ribs into a preheated 450F oven. Roast for about 5-7 minutes to help caramelize the marinade.

---
SIMILAR RECIPES:
Lao Inspired Chicken Wings
Green Papaya Salad
Instant Pot Pulled Pork
Korean BBQ Spare Ribs
---
Please note that I only work with companies and use products that meet the values and standards of a dash of dolly. This post is sponsored by The New Primal. While I am compensated for the work I do, ALL of the opinions are my own and 100% honest. Thank you for your support!