This Thai fried chicken is about to change your fried chicken game. It is crispy, juicy, and packed with lots of flavor. The ingredients are so simple and can be found at any grocery store. This Thai fried chicken goes great with anything and everything, but it really pairs well with green papaya salad.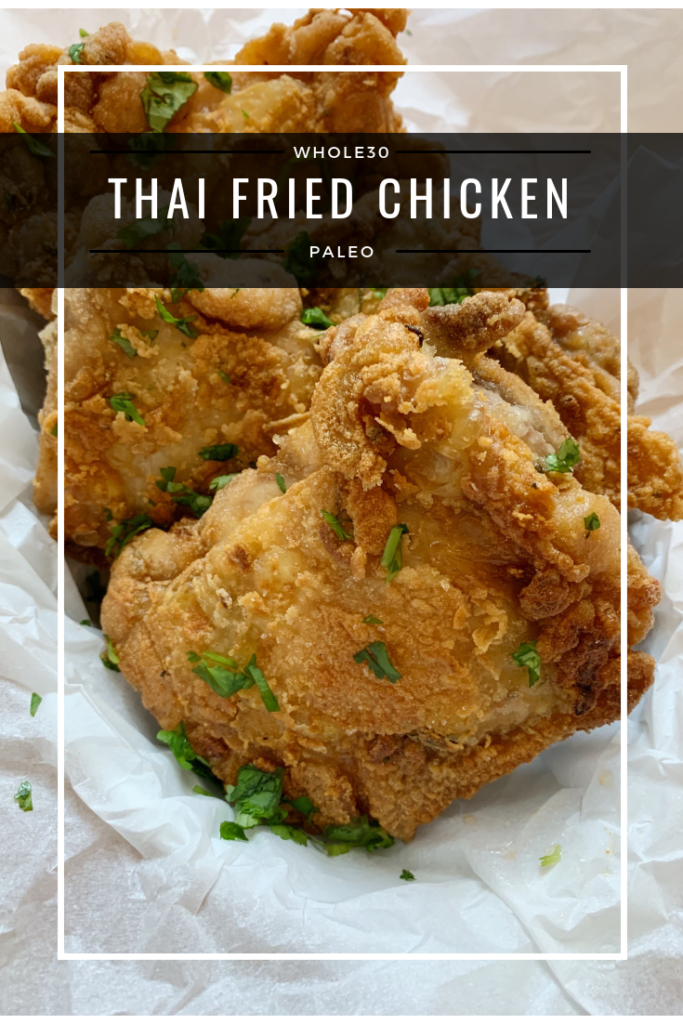 Fried chicken (or any kind of chicken) and green papaya salad go together like spaghetti and meatballs. It is a staple in many Lao and Thai homes. I grew up eating it on a weekly basis, and it is the ultimate comfort food for me.
Typically it is also served with sticky rice, but sense that is out for the Whole30, I like to have my rendition with cauliflower rice, and fresh vegetables like cucumber and cabbage. Seriously, so effin delicious!
Now let's cover a few things for this recipe:
If you don't have a mortar and pestle, I highly recommend getting one. I like grinding my spices and making pastes and sauces in one because pounding the ingredients really releases the the oils which really helps with flavor. You can get a traditional Lao clay one like I have here or a smaller on off of Amazon here. If you don't have one, you can still use a food processor or spice grinder.
This recipe calls for cilantro root. Yes the root. The root and stem of cilantro is packed with so much flavor. It's used in a lot of Lao and Thai cooking. So the next time you buy cilantro, pick the ones with the root still attached! Just wash it off, then cut about a 2 inch piece off, and use it in the marinade. If you don't have the root, just use the stems of the cilantro.
You're probably thinking fried chicken on the Whole30, say whaaat?! Yes! Totally compliant because we're not deep frying this chicken. You really don't need to deep fry to get crispy juicy chicken. We're using enough oil to just cover the bottom of the skillet you are using. Also, the secret to getting crispy chicken is using either cassava flour, tapioca flour, and/or potato starch. Lightly coating the chicken with these flours will help it get nice and crispy.
If chicken thigh isn't your thing (which I will never understand), you can use chicken wings instead. Cooking time will obviously vary.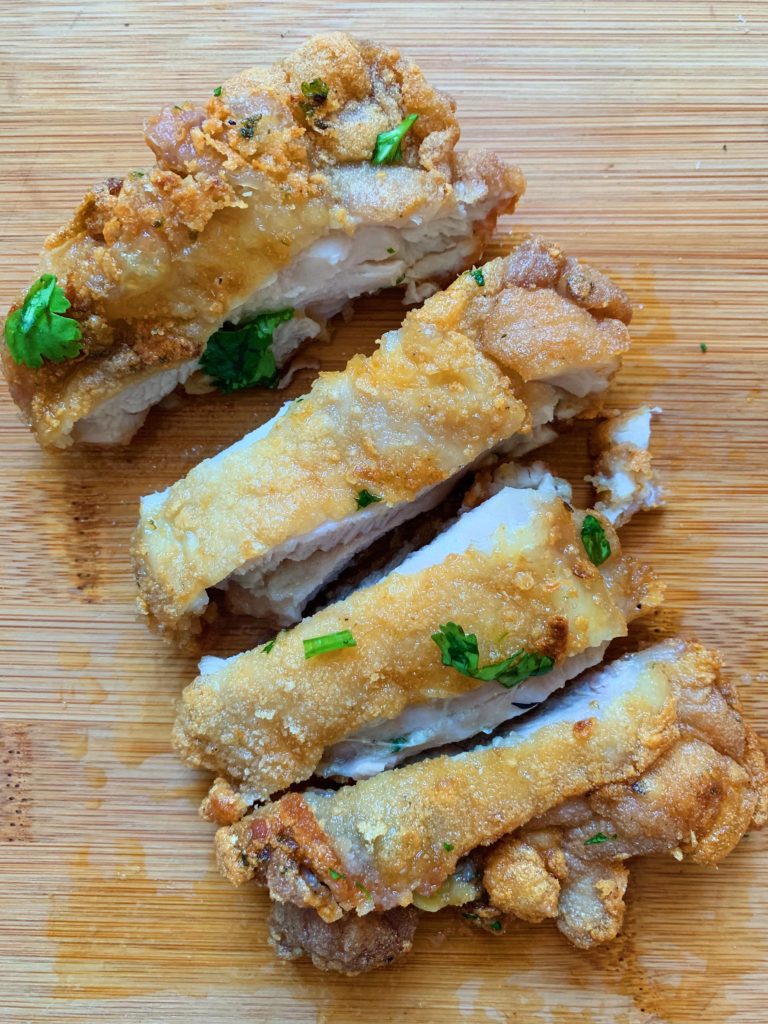 Y'all if you're not drooling over this Thai fried chicken, I don't know what to tell you. It's such a great way to change up how you make chicken, and if you're new to Thai cooking, this is a great starting point.
Because someone will ask, yes I'm sure this can be made in the air-fryer. I don't have one, but if you do and want to share how you made it, I will add it to the blog post and give you credit!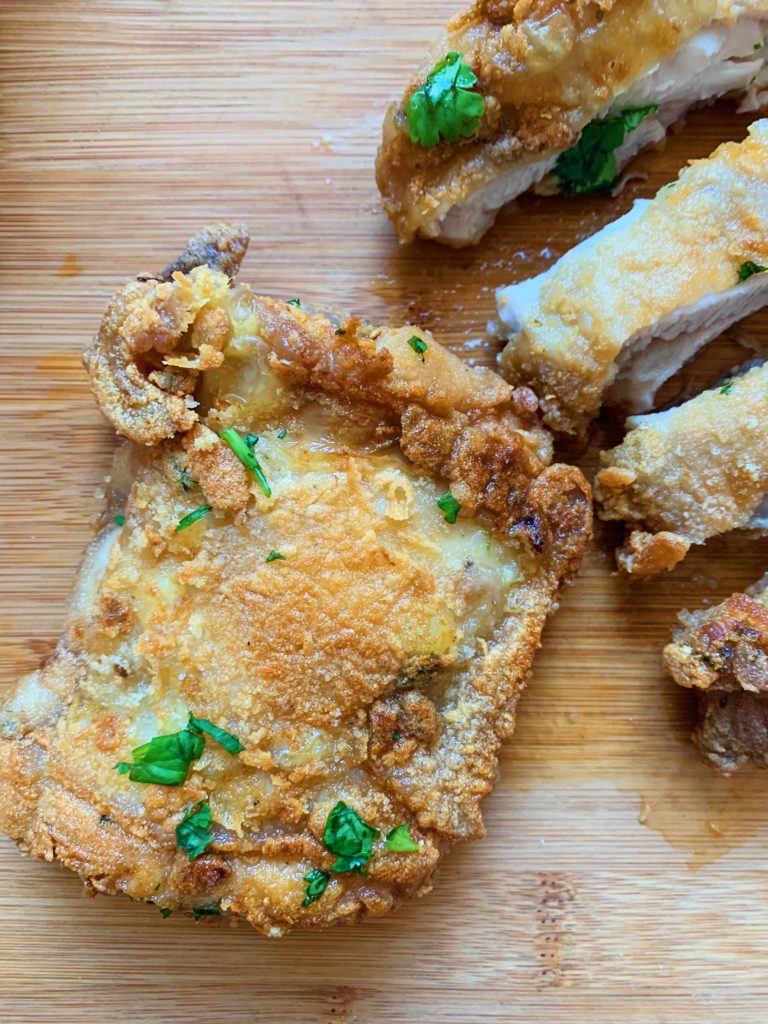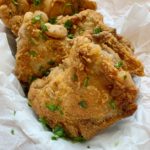 Thai Fried Chicken (Whole30, Paleo)
A simple but flavor packed Thai fried chicken recipe.
Ingredients
4-6

chicken thighs

skin on, bone removed

1/2

cup

cassava flour

or tapioca flour or potato starch

4-6

garlic cloves

peeled

2

cilantro roots

cleaned and chopped

1/2

tsp

black peppercorns

2

tbsp

fish sauce

1-2

tsp

kosher salt
Instructions
In a mortar, add in the garlic cloves, cilantro roots, black peppercorns, and a pinch of kosher salt.

Using the pestle, grind the ingredients until you get a rough paste. Then add in the fish sauce. Stir until well combined.

Pour the marinade over the chicken thighs and let it marinate for 30 minutes at most. Make sure each piece is coated with the marinade.

In a shallow bowl, add the cassava flour and 1 tsp of kosher salt. Mix until well combined.

Dredged each chicken into the cassava flour making sure to shake off any excess flour. You want this to be lightly coated.

Let the chicken rest at room temperature once coated with cassava flour while you preheat a skillet over medium-high heat with enough avocado oil to cover the bottom of the skillet.

When the oil is heated, place the chicken thighs skin side down and cook for 7-8 minutes or until it's golden brown and halfway cooked.

Flip the chicken and cook for an additional 5 minutes or until cooked through.

Remove chicken from skillet, place on a paper towel lined plate to drain, and immediately salt with remainder of kosher salt.

Serve while still warm!
Recipe Notes
Recipe inspired by Marion's Kitchen.
This blog post contains affiliate links. I receive a small commission if you use my links but does not cost you anything additional. Thank you for your support!