When you think of Lao food most people will automatically think green papaya salad (thum mak hoong). It originated from Laos, and I will fight anyone who says otherwise. (I'm actually surprised it's not the national dish of Laos, but I digress.) There are various versions of it, and this one I'm sharing is a hybrid of the Lao and Thai version (som tum). The main difference between the is that Lao people use fermented fish sauce (padaek) in addition to the regular fish sauce.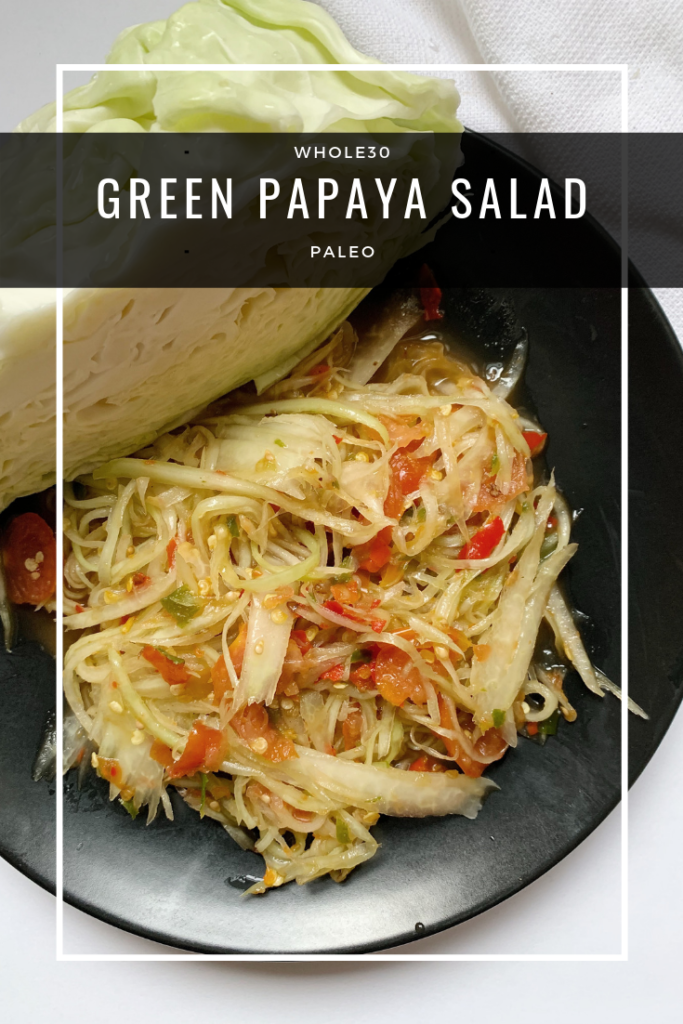 I grew up eating the Lao version which is much more complex than the Thai version. Some of the ingredients for the Lao version is hard to come by and most are not Whole30 or Paleo friendly. So before all you thum mak hoong purist out there come at me, this is obviously not an authentic Lao version. I will share that recipe later on. For now, this will hold you over if you're doing the Whole30 or follow a Paleo diet.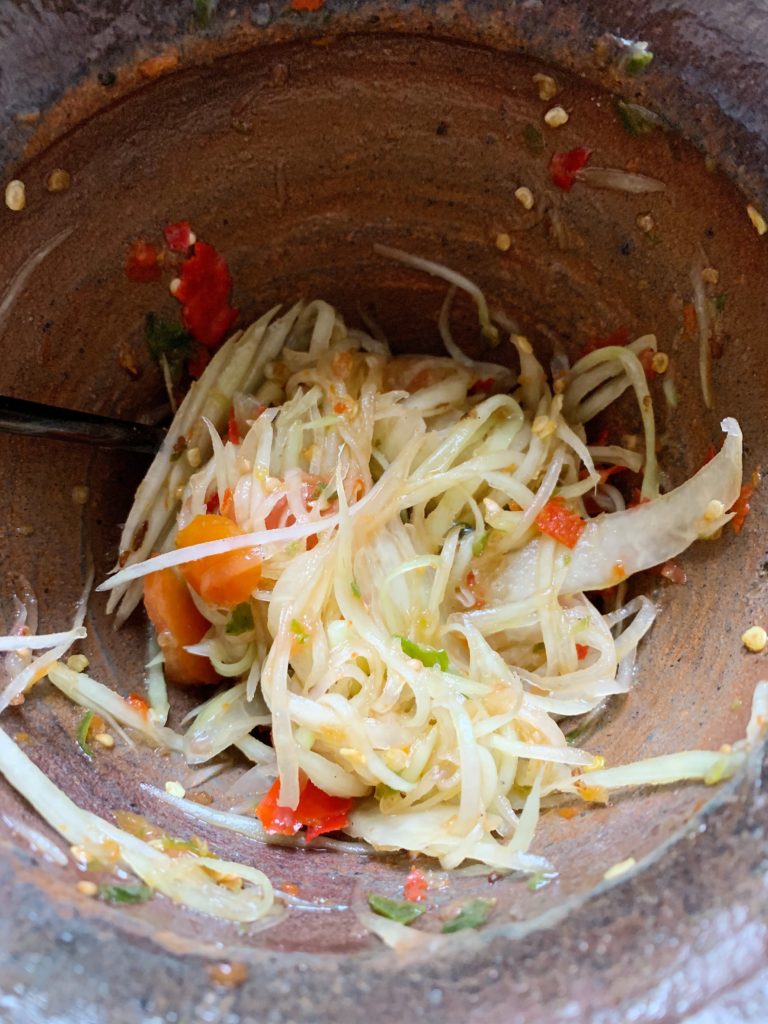 If you don't know what green papaya salad is, it's a salad made in a mortar and pestle that's filled with shredded unripe papaya (the green ones), tomatoes, fish sauce, sugar, and of course Thai chili peppers.
The spicier the better, I say! Everyone has their own version and I'm basing mine off of how my mom makes it –she's always the go-to person whenever anyone wants green papaya salad.
A few things about green papaya salad:
If you can't find green papaya you can substitute it with cucumbers. Just shred the the cucumbers and follow the same steps. You can find green papaya in the Asian grocery store and I've even seen it stores like Whole Foods.
I recommend getting a julienne peeler like this one here. You can also pick one up at an Asian grocery store. The traditional way to shred the papaya requires you using a super sharp knife and pounding it into the fruit to create the shreds. I personally like my fingers and that method is not meant for beginners.
if you don't have a mortar and pestle, you can still make this salad. The reason why a mortar and pestle is used is because it really helps release the juices and oils of everything in the salad. You can either put everything into a large bowl and then bruise the ingredients using something heavy or you can put the ingredients for the sauce in a food processor, add everything to a large ziplock bag, and then use a rolling pin or something heavy to combine the ingredients.
Thai chili peppers are non-negotiable. Use at least one or two if you can't handle spice. I grew up eating it with at least 6 peppers. Mom's crazy. I swear my brother and I came out of the womb eating chili peppers. We don't play with our spice.
Green papaya salad pairs nicely with my Thai fried chicken or any kind of protein really. Chicken was always our go-to growing up. I like to say it's the spaghetti and meatballs of a Lao home. Oh, and if you're not doing the Whole30, I highly recommend it eating it with sticky rice as well.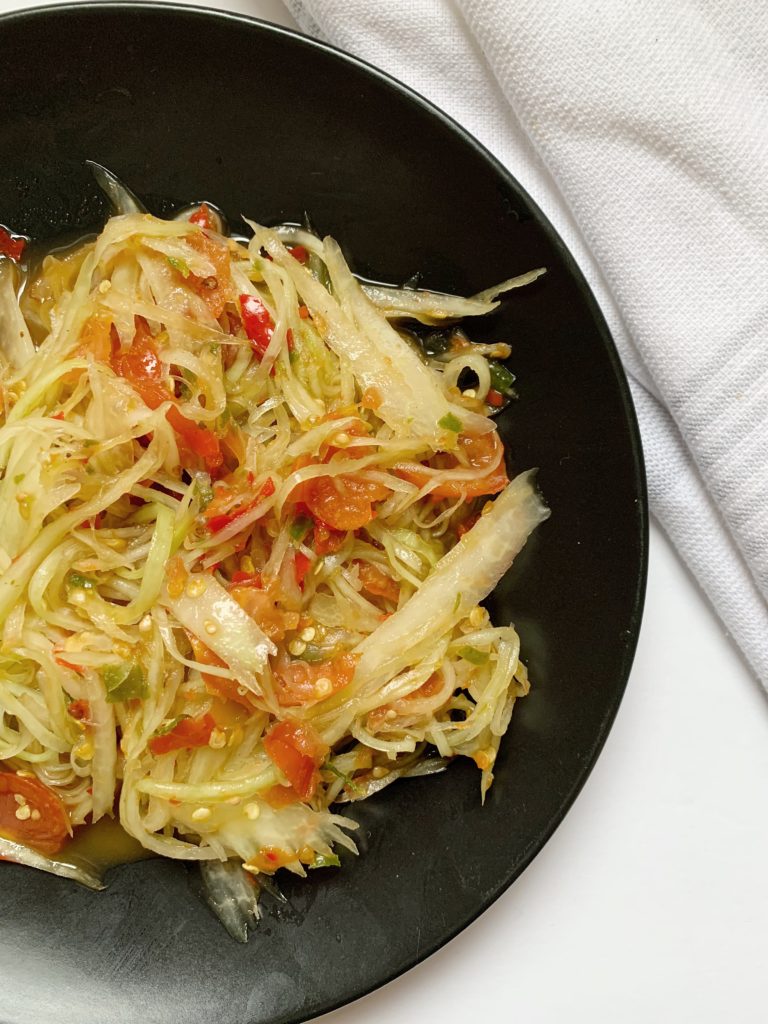 Green Papaya Salad (Whole30, Paleo)
A Whole30 and Paleo twist on the classic Lao green papaya salad.
Ingredients
1

green papaya

4-6

Thai chili peppers

more or less depending on spicy preference

4-6

cherry tomatoes

sliced in half

1/2

lime

juiced

1

tbsp

fish sauce

1/2

tbsp

fermented fish sauce

omit for Whole30

1

tsp

kosher salt

1

tsp

100% apple juice

sugar if not doing the Whole30
Instructions
Using a vegetable peeler or knife, peel the skin of the green papaya then shred with a julienne peeler. Set aside about 2 cups.

In a mortar and pestle, place the chili peppers and salt in it. Pound until you get a rough paste.

Add in the cherry tomatoes and carefully pound the tomatoes to release the juices.

Add in the 1 cup of the shredded green papaya. Start mashing it with the pestle and with a spoon carefully flip it over every so often so all pieces are covered in the chili and tomatoes.

Add the remaining shredded green papaya and repeat the process.

Once the green papaya is coated, add in the fish sauce, fermented fish sauce, apple juice, and lime juice. Start pounding again using the spoon method to flip it over so everything gets coated.

Taste to see if it needs more lime or fish sauce.

Serve with fresh vegetables like Chinese flat cabbage, long beans, and cucumbers.
This blog post contains affiliate links. I will make a small commission if you purchase an item through my link but it will not cost you anything extra. Thank you for your support!