These paleo buffalo chicken tenders are a game changer! Back in my picky eating days, chicken tenders and french fries were jam …even better if the restaurant had buffalo chicken tenders. Didn't matter what restaurant I was at, I was most likely ordering chicken tenders and french fries. Occasionally I'd be daring and order a burger, but even that was unlikely.
Anyway, here's my thing with buffalo chicken tenders: there needs to be the buffalo chicken flavor throughout the tender. You can't skimp on the flavor. I want to bite into the tender and see the red peppers infused in the chicken as well as the crust. So whenever I make my paleo buffalo chicken tenders, I always ensure you're getting a burst of flavor in every layer and bite.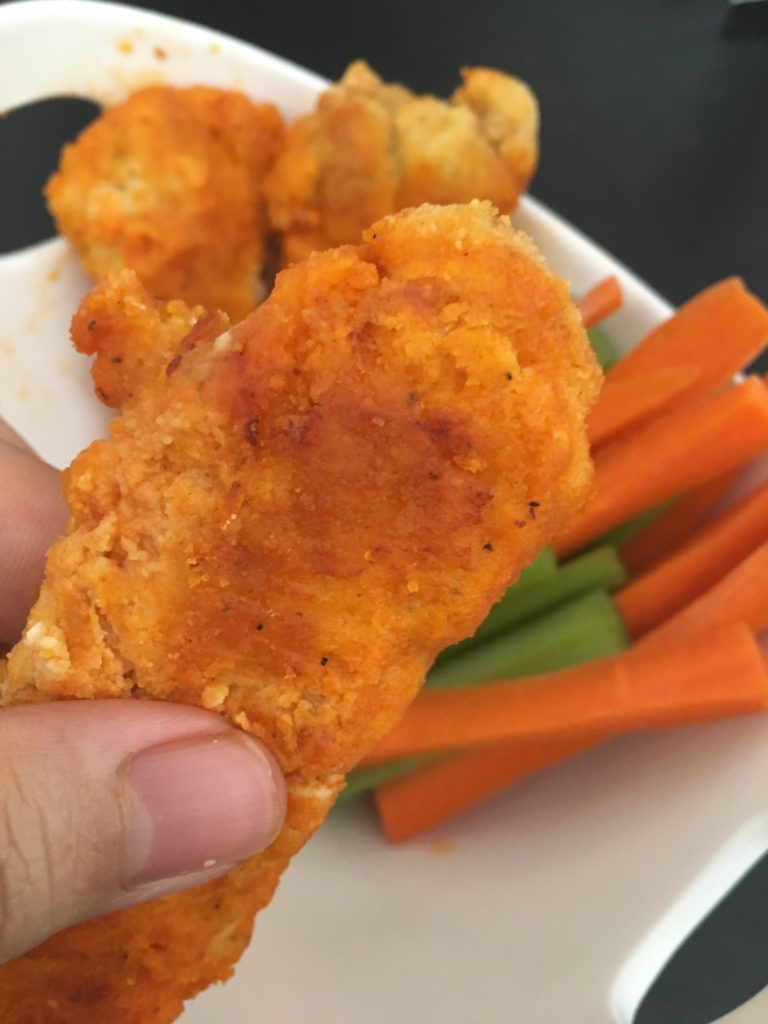 A few key things:
1. If you have a baking rack, use it. If you don't have one I recommend you invest in one. I use this one. The baking rack will help prevent the chicken tenders from getting too soggy on the bottom.
2. Use parchment paper if you don't have a baking rack and lightly grease it with ghee. I prefer parchment paper over aluminum foil because there's a less likely chance of the chicken sticking and the coating coming off.
3. Let your chicken sit in the egg and hot sauce mixture for about 10 minutes so it really soaks in the hot sauce flavor.
4. Don't be afraid to use your spices. Seriously, there are too many recipes that call for like half a teaspoon of a spice for an exorbitant amount of food.
5. Also, don't be afraid to make this your own recipe. Adjust the spices to your preference. If you don't want it too spicy, omit the hot sauce with the eggs and etc.
Paleo Buffalo Chicken Tenders
Instructions
Beat eggs with ¼ cup hot sauce in a large shallow dish (big enough to hold most of your chicken). Add chicken strips and let sit for 10 minutes making sure each strip is covered.

Remove chicken from egg mixture, shake off excess and then dredge in

almond flour

. Shake off excess and place on

wired baking rack

. Bake chicken for 15 minutes.

In the meantime, heat ½ cup hot sauce,

ghee

and

apple cider vinegar

in a sauce pan. Bring to a boil and then turn off heat.

Remove chicken from oven after 15 minutes, brush or spoon buffalo sauce on chicken tenders making sure to coat all sides.

Bake chicken for an additional 15 minutes or until chicken is cooked through.

Serve warm with celery sticks, carrot sticks and your favorite

ranch dressing

.
Recipe Notes
*instead of eggs, you can use ranch dressing mixed with the hot sauce to turn this recipe into buffalo ranch chicken tenders.
Pin this recipe for later!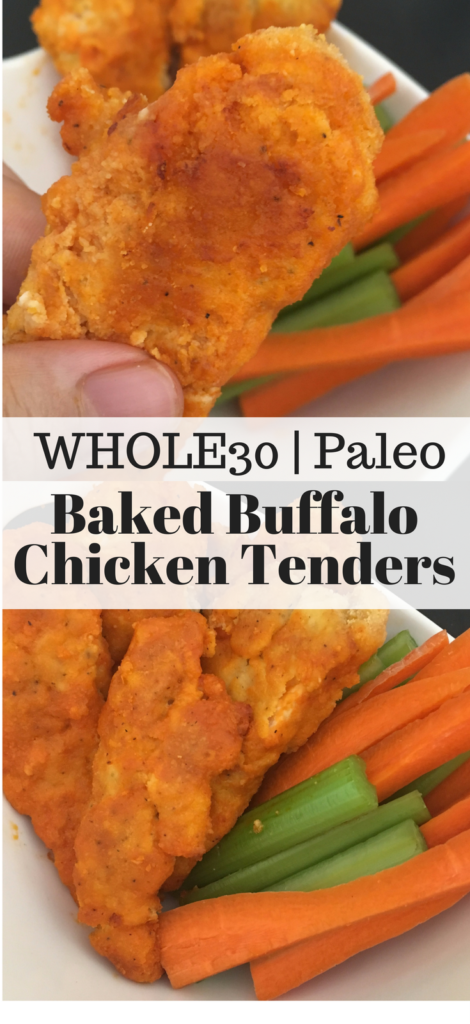 **Please note this post may contain affiliate links. It does not affect the cost of the product but I do make a small commission to help keep this blog running if you decide to make a purchase. Dolly's Whole Life is a participant in the Amazon Services LLC Associates Program, an affiliate advertising program designed to provide a means for sites to earn advertising fees by advertising and linking to Amazon.com.