Buffalo Ranch Chicken Sliders – Whole30 and Paleo friendly. A quick and easy recipe that's perfect for lunch and meal prepping.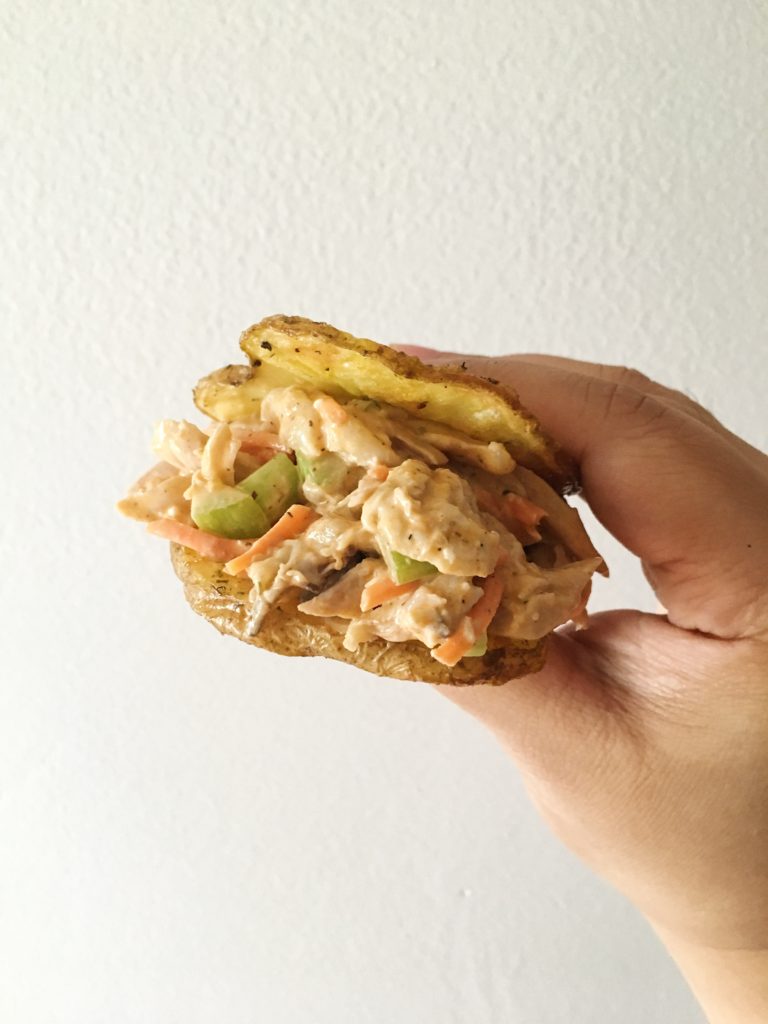 Here's another one of those "recipes" I feel silly posting because it really doesn't require much cooking or anything. It is definitely more of an ingredient recipe where you throw a few things together and it creates a dish. I shared it on my Instagram and it was wildly popular, so I figured I might as well make these buffalo ranch chicken sliders live on the blog because we all know how posts on Instagram get lost over time. So here we are, folks.
I've been on a buffalo chicken kick lately, and if you know me, you know that I've been eating it on repeat for a few days now. I'm definitely guilty of being a meal repeater and I'm pretty okay with it. I typically make some kind of chicken salad during the week for a quick lunch.
I decided to step it up by making a buffalo ranch chicken salad and sandwiching it in between two roasted potato buns. Now don't get me wrong, tostones buns will always be number one, but sometimes you need a little variety! Plus, these potato buns heat up nicely when I don't feel like frying frozen tostones.
If potato buns aren't your thing, you can also make lettuce wraps or just throw the buffalo ranch chicken on top of a bed of greens. If you are meal prepping, I recommend mixing the chicken with the carrots and celery, and then adding the wet ingredients right before you are going to eat it. You don't want things to get soggy. No one likes soggy potato buns or soggy greens. If you do, no judgement here. You do you.
Buffalo Ranch Chicken Sliders
Ingredients
Buffalo Ranch Chicken Salad:
2

cups

shredded cooked chicken

2

celery stalks

diced

½

cup

shredded carrots

or diced carrots

¼

cup

buffalo sauce

2-3

tbsp

mayo

1 ½

tbsp

ranch seasoning

Kosher salt and black pepper

to taste
Instructions
Buffalo Ranch Chicken Salad:
Mix ingredients but kosher salt and black pepper together. Taste to see if kosher salt and black pepper is needed.
Potato buns:
Preheat oven to 425F.

Slice potatoes into ¼ inch thick slices.

Toss in avocado oil and ranch seasoning or kosher salt and black pepper.

Place potatoes on a baking sheet and roast for 40 minutes flipping halfway through.
Pin this recipe for later!