This meal prep and plan guide has been my little side project for the past couple months because I think it's something that everyone can use whether you're a beginner or someone looking for a new method. If you follow me on Instagram, then you know meal prepping and planning is a weekly routine for me. It looks different from week to week depending on my schedule, but no matter what I always make sure to do a little prepping so I'm always prepared.
Meal prepping has also been the key to me finding a sustainable diet that works for me after doing many rounds of Whole30 and reintroduction. It also has helped me save money and lots of time. I don't quickly turn to ordering out because I know there's food prepared at home, and I'm not in the kitchen longer than I have to be. Win-win all around!
In this meal prep and plan guide, I share five different ways to meal prep. I start off with a super simple method that's even great for people who claim they don't like to meal prep and progress from there. Here's a sneak peak of my favorite method: Scoop n Go (click here for the download or click on the image).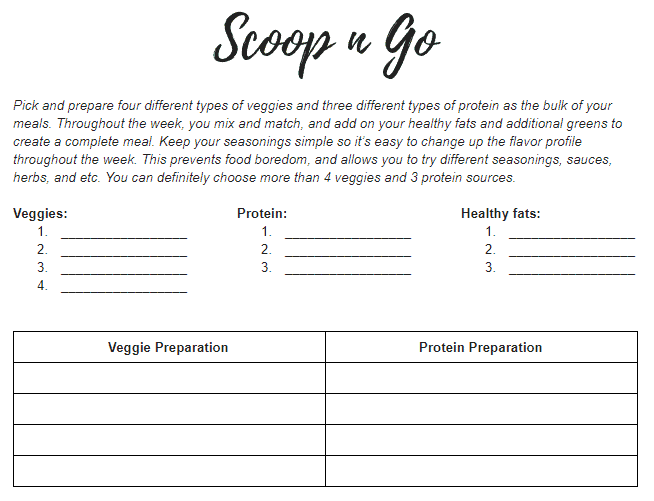 There are many ways to meal prep, and this guide will help you find something that will work for you. I've tried each method I share, and all have worked out perfectly for me. It can fit into any lifestyle, and for those who claim they don't have time, trust me when I say you do have time. You just need to prioritize and make it a part of your weekly routine.
In the guide, I also include a few other resources that will help you stay organized and on top of your meal prepping game! I use these resources all the time. They even help me when I'm recipe developing and testing. To purchase your meal prep and plan guide, just click here or click on the image below!