This French Onion Smothered Pork Chops is the ultimate comfort food. It has the elements of French onion soup while also having the characteristics of the classic smothered pork chops.
This post is in partnership with Bare Bones Broth. Though I am compensated for the work I do, all opinions are my own.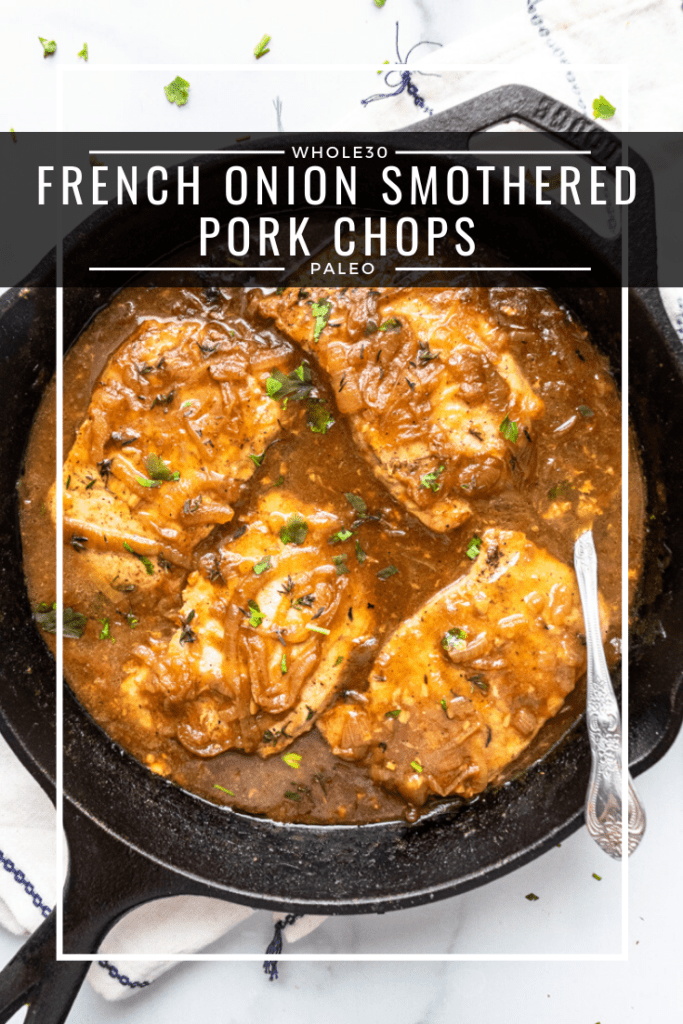 I cannot begin to tell you how much I love recipes like this French Onion Smothered Pork Chops. It has everything I love: simple ingredients, lots of flavor, and brings so much comfort and coziness when you eat it.
I personally love having it over mashed potatoes or cauliflower mash and I make sure to drown them with the gravy. I'm pretty sure you'll be doing the same thing when you make this recipe.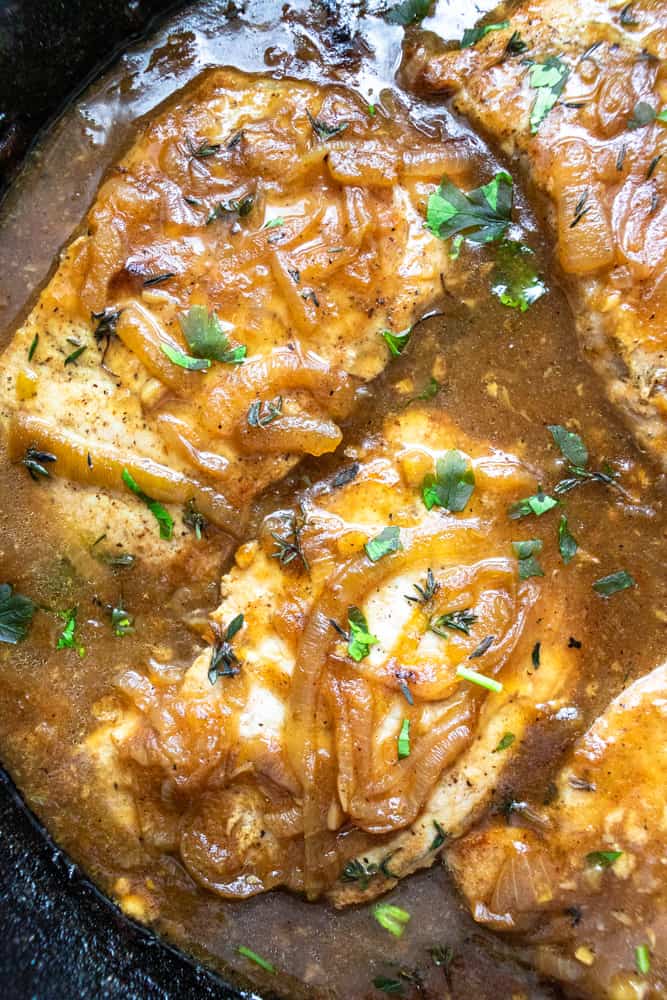 This recipe is inspired by smothered pork chops I had while visiting a friend down south and one of my favorite soups, French onion. My favorite part is the gravy. Oh my goodness the gravy!
The gravy base is made with Bare Bones Broth Grass-fed Beef Bone Broth and it truly makes all the difference. I use bone broth on a weekly basis. It's replaced any kind of stock I've used in the past, and Bare Bones Broth is my preference.
Bare Bones Broth uses quality ingredients which can be scene when you look at their package. Good bone broth in opinion gets gelatinous from all the collagen. Not many store bought bone broths get gelatinous, but Bare Bones Broth definitely does.
I trust the ingredients used and I appreciate all the benefits that come consuming bone broth. Hence why it's the perfect base for the gravy in this French Onion Smothered Pork Chops recipe.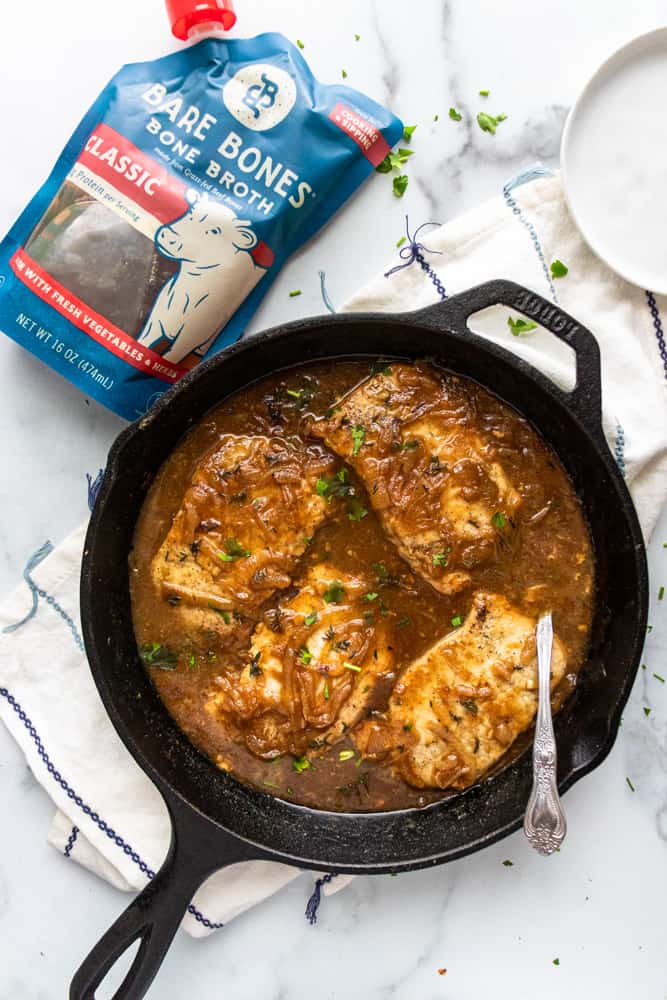 Now onto the recipe. Here are a few things that will ensure you get the best results:
I highly recommend getting thick cut boneless pork chops. If you get bone in pork chops just know that cooking time will vary.
When cooking pork, I always use a meat thermometer to make sure my pork is properly cooked. While we're on the topic, everyone should have a meat thermometer in their chicken. For pork, you want your pork to be between 155F-160F. 155F will get you a blush pink center whereas 160F will get you a well done piece of pork.
I use cassava flour for the gravy, but you can use any kind of flour that works for your dietary needs.
This is definitely a taste as you go recipe. If you're using Bare Bones Broth Beef Bone Broth, you probably won't have to adjust the amount of salt and black pepper you use because their broth is so flavorful.
Like I mentioned, I like to serve this recipe over mashed potatoes or cauliflower mash.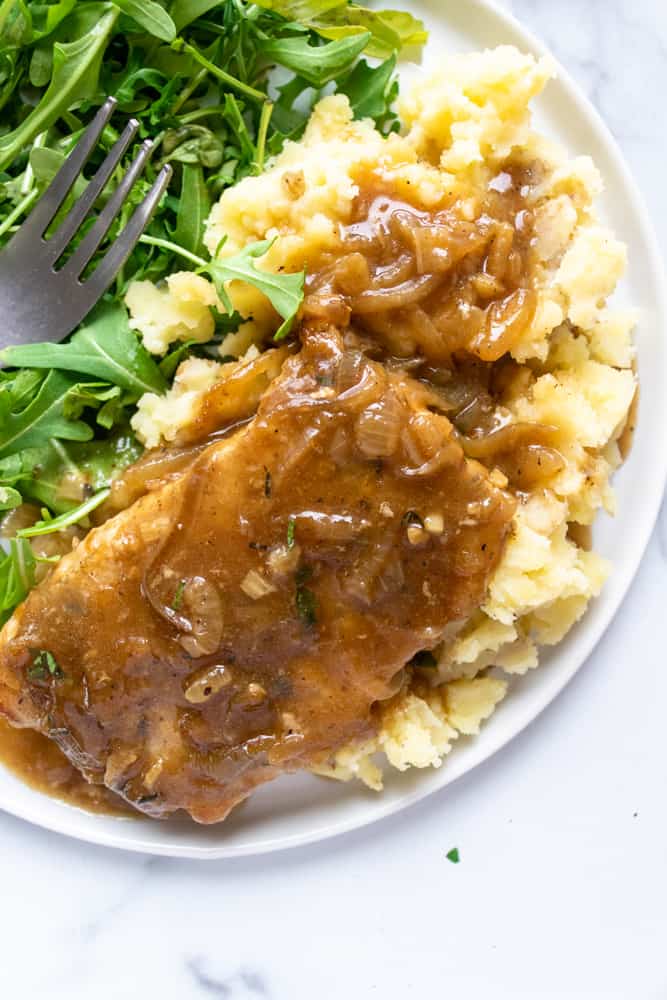 I hope you love this recipe as much as I do! Be sure to tag me on Instagram if you make it!
French Onion Smothered Pork Chops
Ingredients
2

large yellow onions

2

garlic cloves

minced

2 + 1

tbsp

ghee

or butter

2

tsp

kosher salt

separated and more for taste

1

lb

(4) boneless pork chops

1 to 1.5 inch thick cuts are best

½

tsp

ground black pepper

more for taste

½

tsp

garlic powder

1

tsp

fresh thyme

roughly chopped

2

tbsp

cassava flour

or any flour*
Instructions
Peel the onions, remove the ends, cut in half, and then thinly slice into moon shape.

Preheat skillet over medium heat with 2 tablespoons of ghee or butter.

Once melted add in the sliced onions, minced garlic, and 1 teaspoon of kosher salt.

Cook onions until caramelized, stirring frequently for about 20 minutes or until onions have browned.

Remove onions from skillet, turn the heat up to medium-high heat and add 1 tablespoon of ghee.

Season pork chops with 1 teaspoon kosher salt, ground black pepper, garlic powder, and fresh thyme.

Add pork chops to the skillet and sear on both sides for 1-2 minutes depending on thickness (does not have to be cooked all the way through).

Once pork chops are seared, remove from skillet and turn the heat back down to medium.

Add caramelized onions back into the skillet and mix in the cassava flour. Mix until you can no longer see the flour.

Gently stir in Bare Bones Grass-fed Beef Bone Broth and bring to a simmer. Taste to see if you need additional kosher salt or ground black pepper.

Once simmering, add the pork chops back in, cover the skillet with a lid, and cook until pork chops are cooked through --between 155-160F or roughly 7-10 minutes depending on thickness of pork chops.

Serve over things like mashed potatoes or cauliflower mash.
Recipe Notes
*if using arrowroot or tapioca flour, start by cutting the amount in half. If gravy still hasn't thicken stir in an extra teaspoon with 2 tablespoon of water.
---
SIMILAR RECIPES:
French Onion Soup Meatballs
Instant Pot Garlic Cauliflower Mash
BBQ Meatloaf Burgers with Crispy Onions
---