These Bacon Wrapped Fennel are the perfect appetizer for game day or any night of the week! The tender fennel pairs perfectly with the crispy salty bacon and sweet balsamic glaze.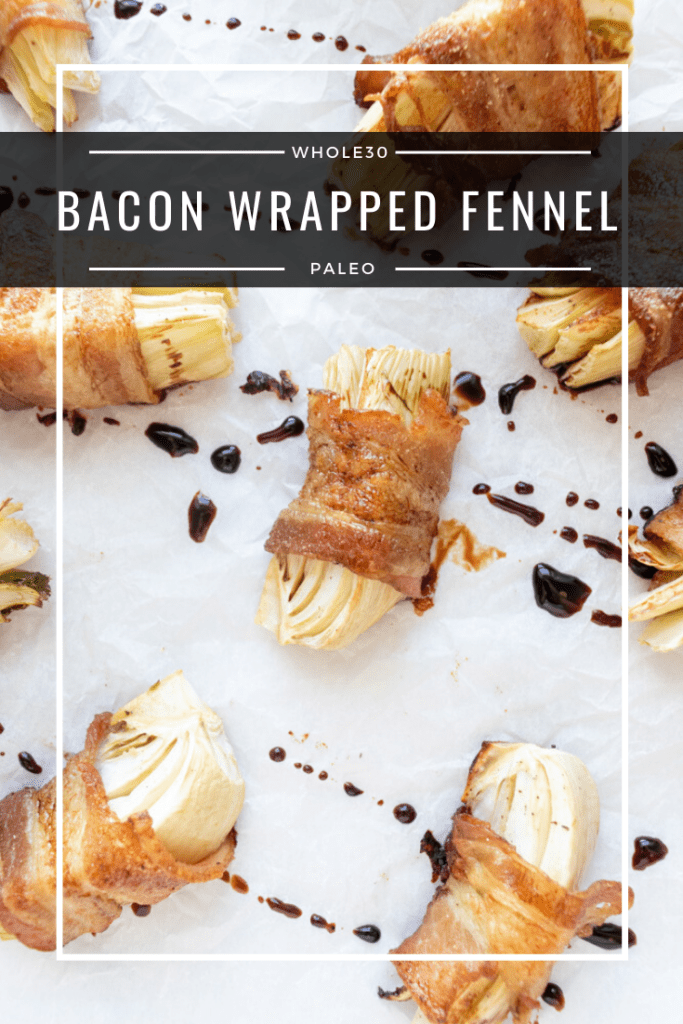 I will be the first to admit that I do not like fennel and it's mostly because it reminds me of black licorice, but I do enjoy using fennel seeds. It doesn't make sense, but it makes sense to me. LOL However, since starting this new series on my Instagram where I create a recipe around a certain ingredient or product, I'm kinda glad my followers picked fennel.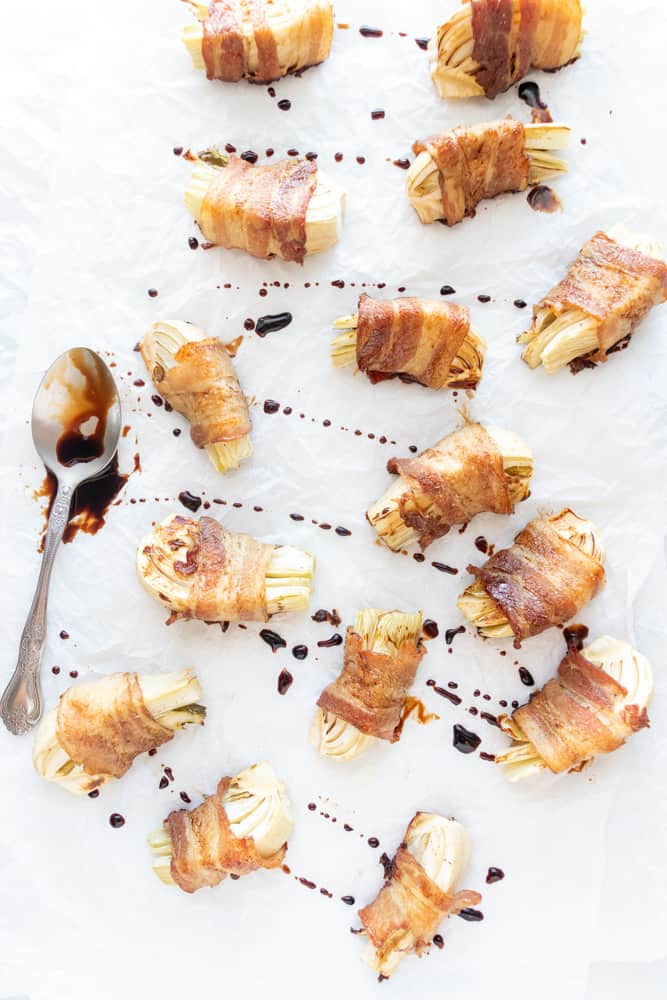 For this recipe, my followers wanted an appetizer recipe that was made in one sheet, had animal protein, and was quick to make. I think I did a pretty good job covering all of that with this Bacon Wrapped Fennel recipe.
After testing a couple recipes using fennel, I wish I could say I loved it, BUT this recipe made me a believer. I think if I keep playing around with fennel I'll grow to love it, but til then, I'll just keep wrapping it up in bacon and having it balsamic glaze.
The flavors really do work well together and I'm convinced if you roast fennel long enough, you can roast the licorice taste out of it. Also, eating these bacon wrapped fennel reminded me of pizza. Maybe because fennel seeds are used in sausages used to top pizza. Who knows?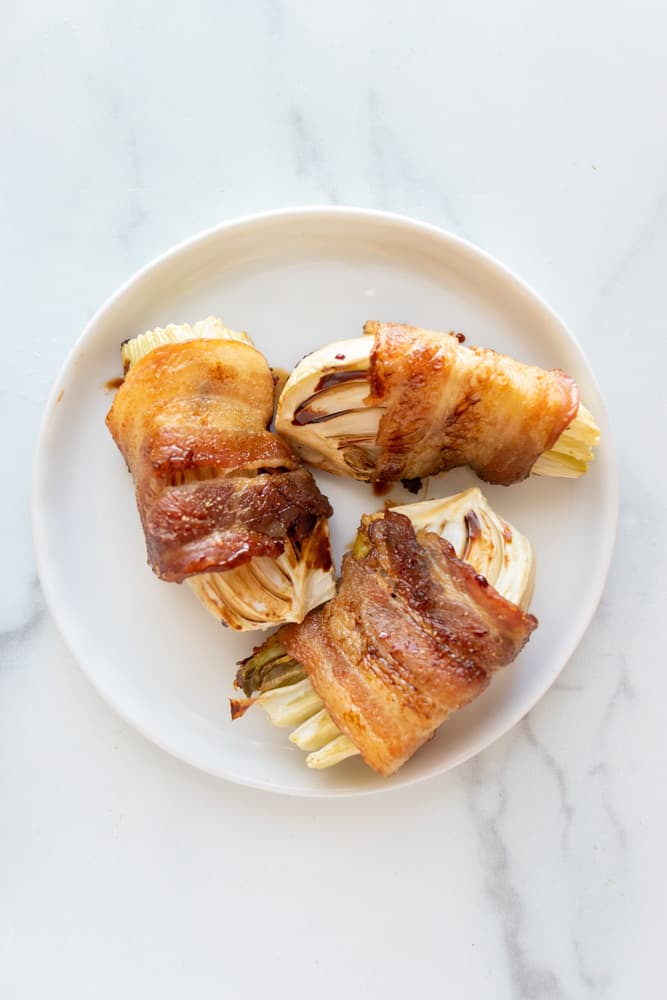 Here are a few things to help with this recipe:
I recommend watching a few YouTube tutorials on how to cut fennel. For this recipe, just be sure to keep the core intact because you want it to hold the fennel wedges together.
If bacon isn't your thing you can use prosciutto. You may want to skip the broiling part if you do. Prosciutto is much thinner than bacon and you don't want it to burn.
Don't skip the balsamic glaze!!! It really does bring everything together. I promise you.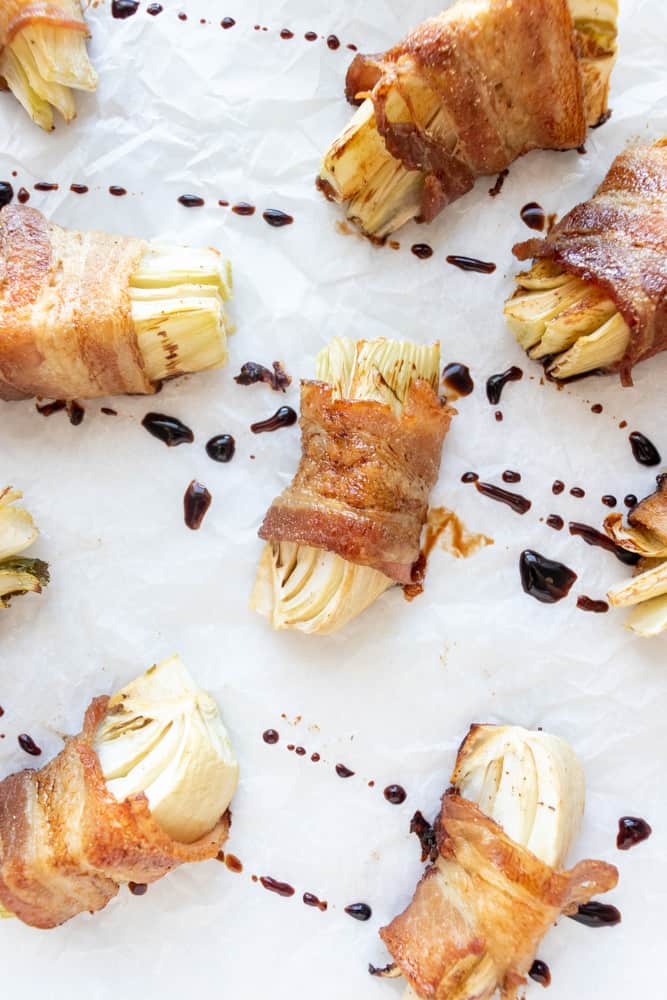 Well, I hope you enjoy this recipe as much as I do! Be sure to tag me on Instagram if you make it.
Bacon Wrapped Fennel (Paleo, Keto, Whole30)
These Bacon Wrapped Fennel are drizzled with balsamic glaze and make the perfect appetizer.
Ingredients
1.5

lb

(2) large fennel

½

tsp

garlic powder

½

tsp

onion powder

¼

tsp

kosher salt

¼

tsp

ground black pepper

1

package bacon

¼

cup

balsamic glaze
Instructions
Preheat oven to 400F. Lightly grease baking sheet with avocado oil.

Prepare fennel: cut off the stem, slice the bottom root but not too deep because you want the core still attached, and then cut the fennel bulb into wedges. You should get 16 wedges.

Mix together the garlic powder, onion powder, kosher salt and black pepper. Then season the fennel wedges.

Remove bacon from package and cut the bacon slices in half.

Wrap the fennel wedges with bacon and place on baking sheet seam side down.

Roast bacon wrapped fennel for 15 minutes, rotate baking sheet, and roast for an additional 15 minutes.

After 30 minutes, turn the oven up to broil and broil for an additional 3-5 minutes or until fennel has charred a bit and bacon is crispy.

Serve with balsamic glaze drizzled over the top.
---
SIMILAR RECIPES:
Perfect Bacon
Kimchi Cauliflower Rice
Spicy Potato Soup
---