This Thai Pork Omelette Soup is the perfect comfort food on those cold wintery days or if you're in need of something warm and cozy. It is also the perfect if you are feeling under the weather and need something to soothe the soul.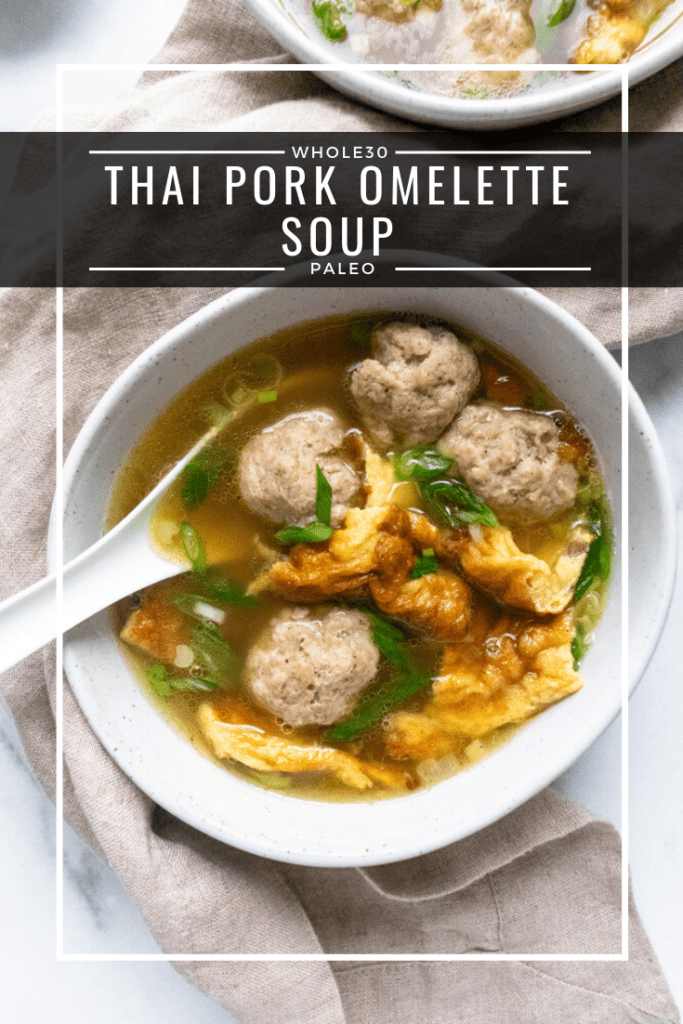 I will always be a soup person no matter what the weather may be outside. Soup to me is warm, comforting, and the perfect cozy meal. You can jazz it up with so many toppings to make it a complete meal or have it on the side with any meal you're eating.
This Thai pork omelette soup checks all the boxes to why I love soup. It also immediately brings me back to my childhood and gets me super nostalgic. Boy do I miss those simpler times!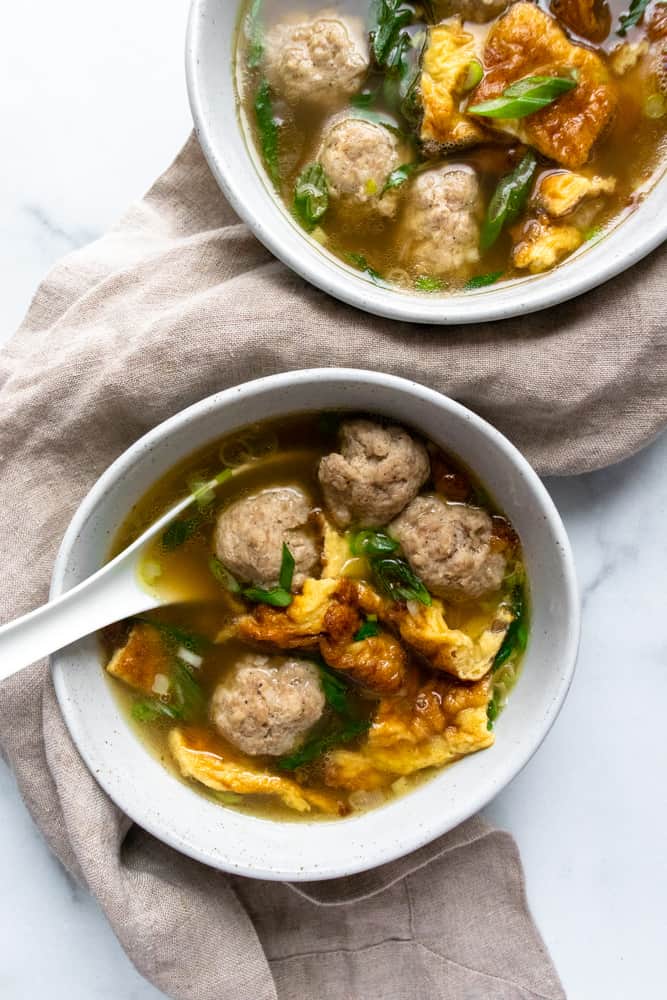 If you've made my Thai Pork Omelette (Kai Jeow Moo Sab), you're going to love this soup. It is pretty much the deconstructed version of it! It's basically the omelette poached in a beautiful infused broth with flavorful pork meatballs and it's then garnished with fresh green onions. YUM!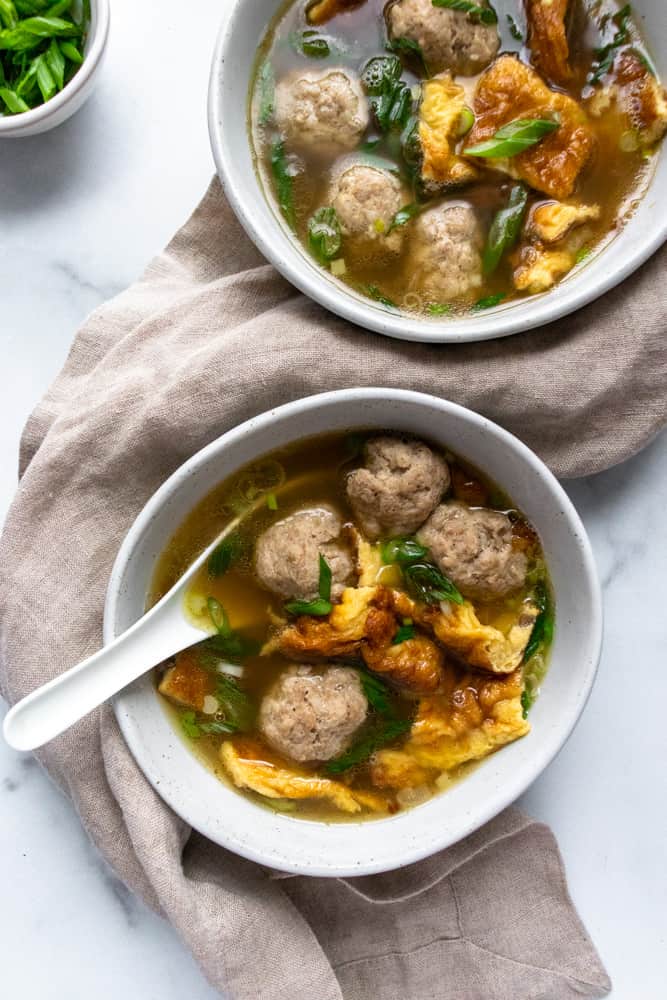 The soup is requires a few simple ingredients, but like all Thai recipes, they pack a lot of flavor. As I continue to learn cook recipes from both the Thai and Lao culture, I now understand why I try to create a lot of recipes that are simple but don't skimp on the flavors. It's in my DNA because a lot of dishes I grew up eating are simple but boy are the flavors far from simple.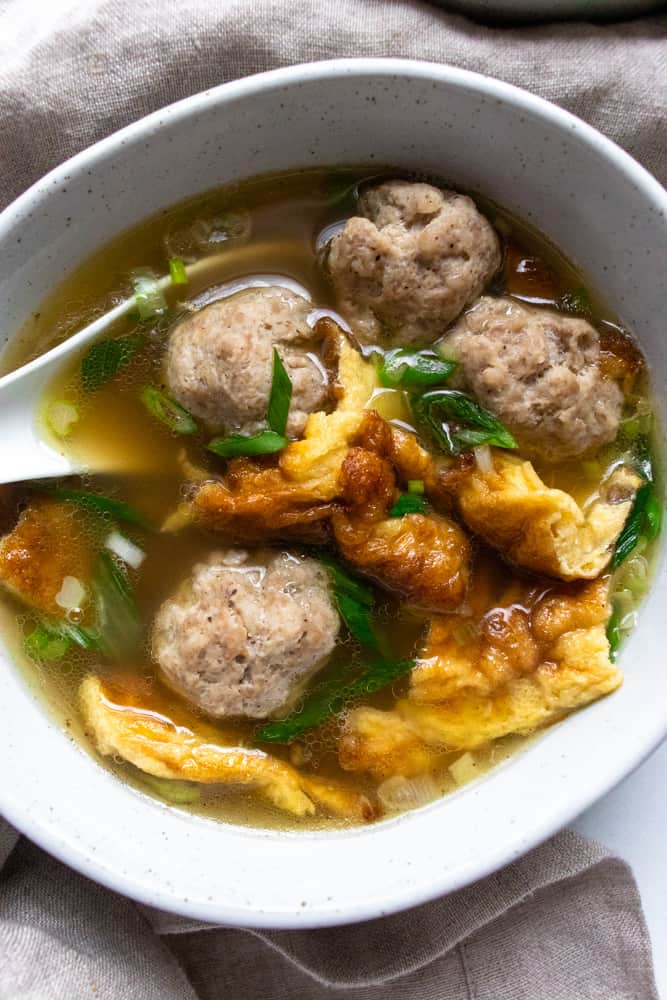 Here are a few things about this recipe:
You don't have to use pork to make the meatballs if you don't eat it. You can use any kind of ground protein you want, but pork is traditionally used.
My parents made the broth from scratch, but I cheat and use store bought chicken broth. I'm all about saving time!
This is one of those dishes you can make your own. Taste it as you go and season as needed. How much salt you use will depend on the type of stock you used and how much the pork meatballs flavored the broth.
To get super fluffy eggs, be sure to whisk the eggs until it's nice and frothy. The air bubbles will help it fluff up!
You're going to use more oil than you're use to to fry the eggs. Essentially you're going to be shallow frying it.
Fish sauce is used in a lot of Thai cooking. If you can't have fish sauce you can replace it with soy sauce or coconut aminos with a bit more salt to get the umami flavor.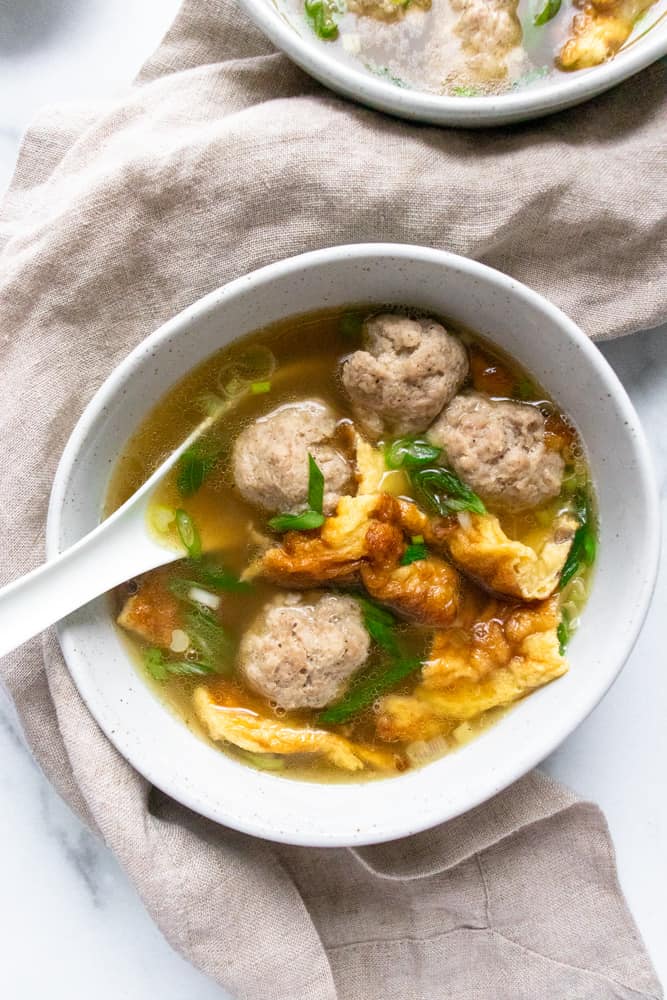 I hope you enjoy this Thai Pork Omelette Soup as much as I do! If you make it, please be sure to tag me on Instagram.
Thai Pork Omelette Soup (Paleo, Keto, Whole30)
This Thai Pork Omelette Soup is a simple but flavor pack soup that is warm and comforting. It consists of all the well known Thai flavors.
Ingredients
Broth
3

green onions

3

slices

fresh ginger

4

cups

chicken broth

½

tsp

ground black pepper

kosher salt

to taste
Pork Meatballs
½

lb

ground pork

or any ground protein

2

tsp

fish sauce

½

tsp

ground black pepper
Instructions
Broth
Take two of the green onions, cut in half, and bruise the white part with the back of knife. Slice the third green onion stalk and set aside.

Add bruised green onions, fresh ginger slices, chicken broth, and black pepper to a large saucepan.

Bring the broth to a boil over medium-heat and then lower to medium-low and simmer with a lid on for 20 minutes.
Omelette
Meanwhile, whisk the eggs with coconut aminos and ground black pepper until it's nice and frothy. The air will help it fluff up.

Preheat a skillet over medium-high heat with 3-4 tablespoons of avocado oil.

Once hot, pour the eggs into the skillet. It will quickly bubble and fluff up which is a good thing!

Cook for about 3-4 minutes and then flip over and cook for additional 2-3 minutes or until eggs are cooked through.

Remove eggs from skillet, let rest for a few minutes on a paper towel line plate, and then slice into 1 inch chunks.
Pork Meatballs
In a bowl, add the ground pork, fish sauce, and ground black pepper. Mix until well combined.

Form into small rough meatballs.

Remove the green onions and ginger slices from the broth. Then add the meatballs to the saucepan. Poach meatballs for about 5 minutes then add in the sliced omelette.

Continue to simmer until the meatballs are cooked through.

Turn off the heat, add in half the sliced green onions, and mix until well combined. Taste the broth to see if you need any kosher salt. I usually have to add about 2 pinches of kosher salt.

Serve in a bowl and garnish with remaining green onions.
---
SIMILAR RECIPES:
Thai Pork Omelette
Thai Beef Noodle Soup
Thai Holy Basil Stir Fry
---