Thai Beef Noodle Soup is the ultimate cozy, nostalgic, comfort food. In Thailand, it is typically served as street food –even in the blistering hot days. We love our soups and won't apologize for it. This Thai beef noodle soup is actually a recipe I learned from a friend in college who was born and raised in Thailand. When I first had it, the flavor profiles were really similar to how my mom makes her pho and instantly brought me back to my childhood. (Again, lots of Thai and Lao food are so similar and inspire other dishes.)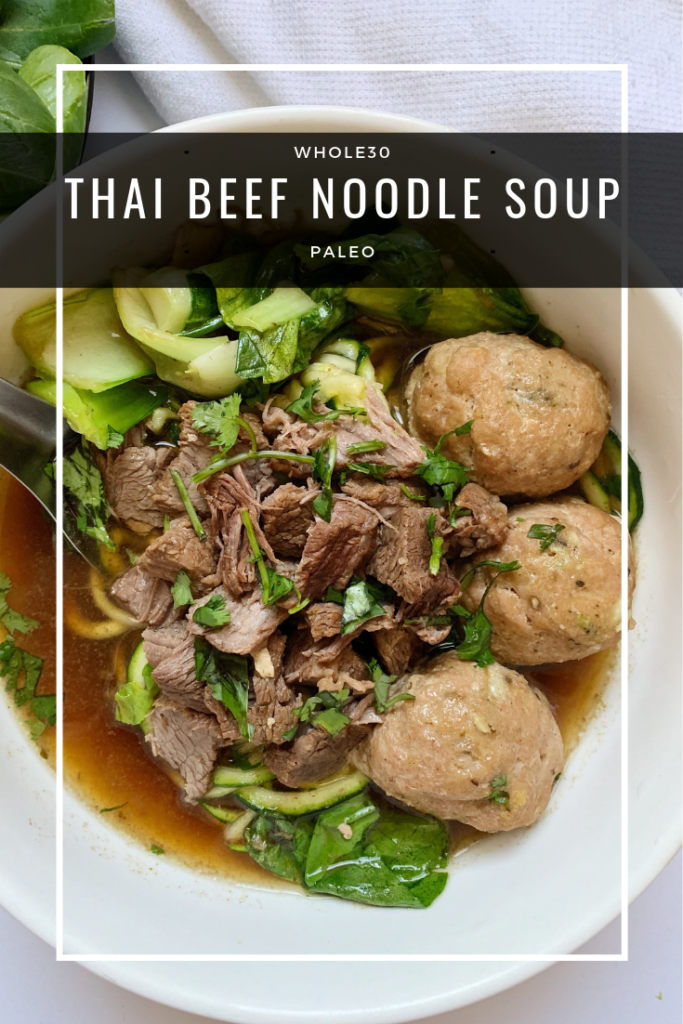 The key to this soup is the broth. Traditionally, it's made using homemade beef stock, but I don't have hours and hours to spare and make my own broth using meat bones. Plus, sometimes it's hard for me to find quality meat bones.
So this is a shortcut version that is just as delicious, and the hardest part is just waiting for the soup to cook. Seriously, you have to be patient. It's one of those soups that absolutely needs time to simmer and come together. The end product is 100% worth it.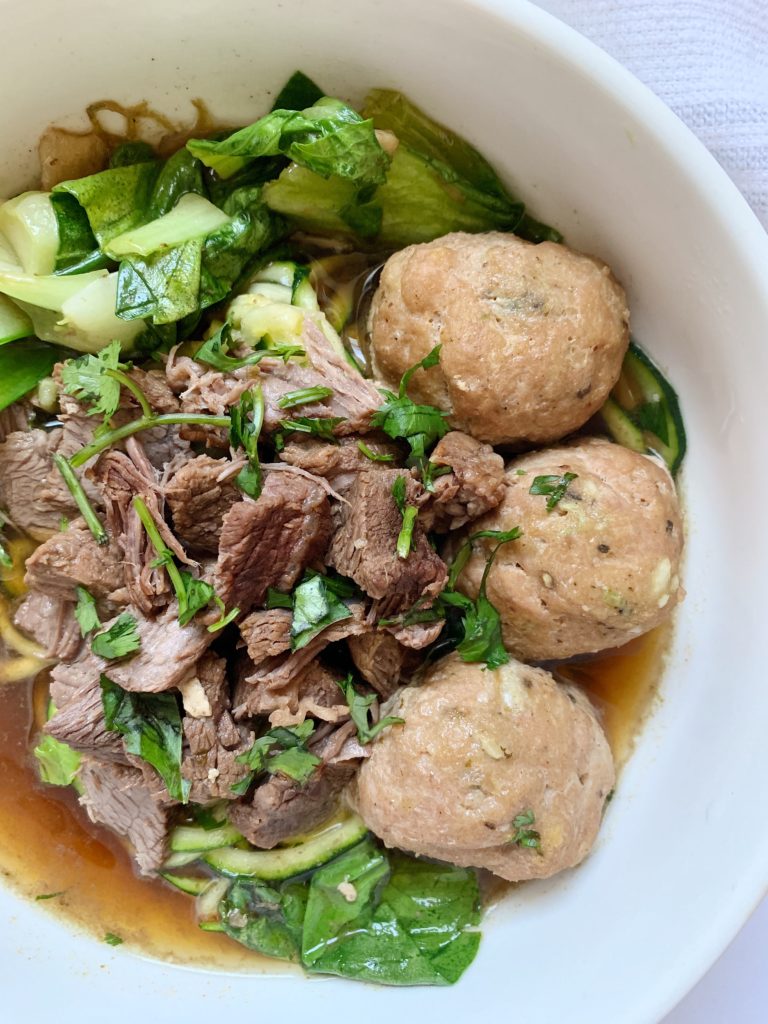 A few things about this dish:
Thai beef noodle soup is obviously a beef based soup and usually calls for Asian beef balls. I don't know how to make those and there are no Whole30 compliant ones available so I used my basic Asian meatballs in place. If you're not doing the Whole30, I recommend picking up some Asian beef balls at your local Asian market.
Soy sauce is traditionally used to season the soup, but again, out for the Whole30 so we're using coconut aminos, fish sauce, and salt. These three things are going to give it that umami flavor that is so necessary.
Two non-negotiable that you cannot skip or substitute: whole dried star anise and cinnamon sticks. These two things are what give this dish its distinct flavor. You can find whole dried star anise at the Asian market or even the Asian section of your grocery store. You can even buy it online here. You also want good quality cinnamon sticks too. Star anise and cinnamon go hand-in-hand and work so well together. Your house is going to smell delicious while this soups simmers!
You can use any type of veggie noodles for this dish, but if you're using something like butternut squash, be sure to blanch it first so it softens and you're not eating raw butternut squash (or sweet potatoes and etc). If you're not going the Whole30, I recommend using medium sized rice noodles. Just follow the directions on the package, and then all you have to do is ladle the broth and goods on top.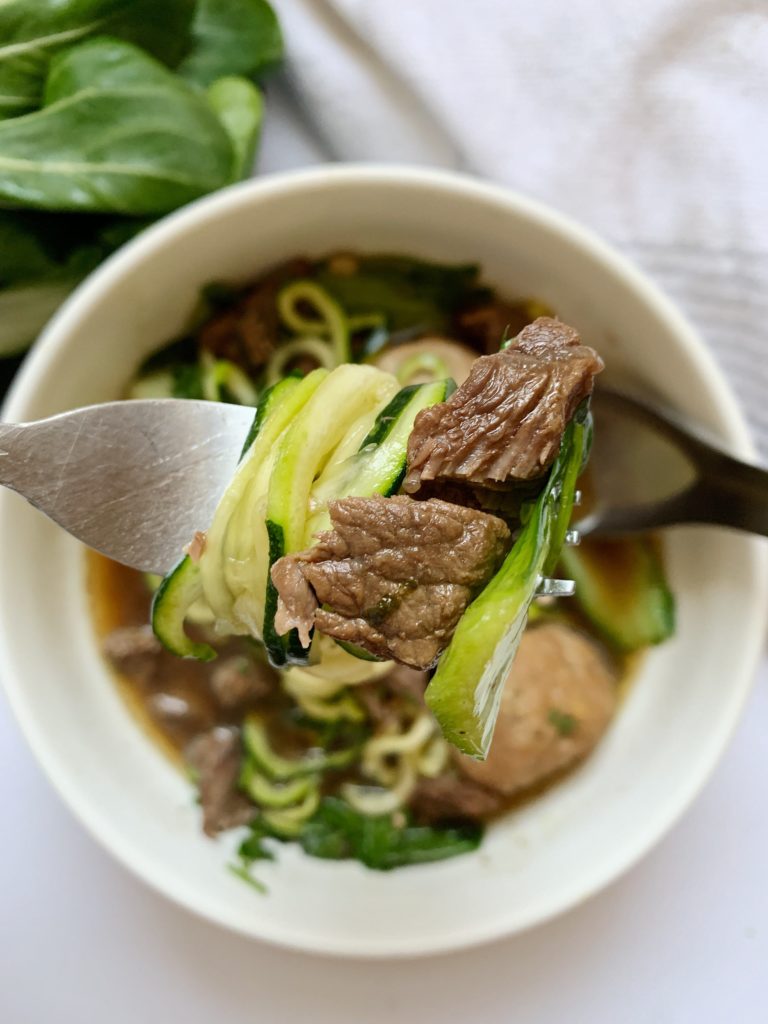 I hope you give this Thai beef noodle soup a try. It's a great way to change it up when it comes to your soup. Plus, it's winter, and everyone needs soup!
Thai Beef Noodle Soup (Whole30, Paleo)
A Whole30 and Paleo take on the classic Thai Beef Noodle Soup.
Cook Time
1
hour
30
minutes
Total Time
1
hour
40
minutes
Instructions
In a mortar and pestle, add in the garlic, cilantro root, and black peppercorn. Grind into a rough paste.

In a large pot, preheat over medium-high heat with avocado oil. Once heated, add the rough paste and cook for about 30 seconds.

Season the beef with kosher salt and add to the pot. Mix it well with the paste and sear on each side for about one minute.

Lower the heat to low, add in the beef bone broth, whole star anise, cinnamon stick, coconut aminos, and fish sauce.

Cover the pot, and let the soup simmer for at least 90 minutes. Check on the soup occasionally and remove and bits and pieces that float to the top.

After the 90 minutes, remove the beef from the pot and shred or cut into smaller bite size pieces.

Taste the broth to see if you need more fish sauce or salt. This will depend on the type of beef bone broth you used.

Add in the baby bok choy and basic Asian meatballs and let it simmer for a few minutes or until the baby bok choy has wilted and the basic Asian meatballs is heated through.

In a bowl, place a single serving size of veggie noodles, a handful of the shredded beef, and then ladle the soup into the bowl with the baby bok choy and a few meatballs.

Garnish with things like: cilantro, Thai basil, bean sprouts.
This blog post contains affiliate links. I will make a small commission if you purchase an item through my link but it will not cost you anything extra. Thank you for your support!