Can you believe this Beef Pho to Go doesn't require you being the kitchen for hours on end?! Seriously, the only labor intensive thing about this recipe is spiralizing, dicing, and chopping the ingredients.
This post is in partnership with Bare Bones.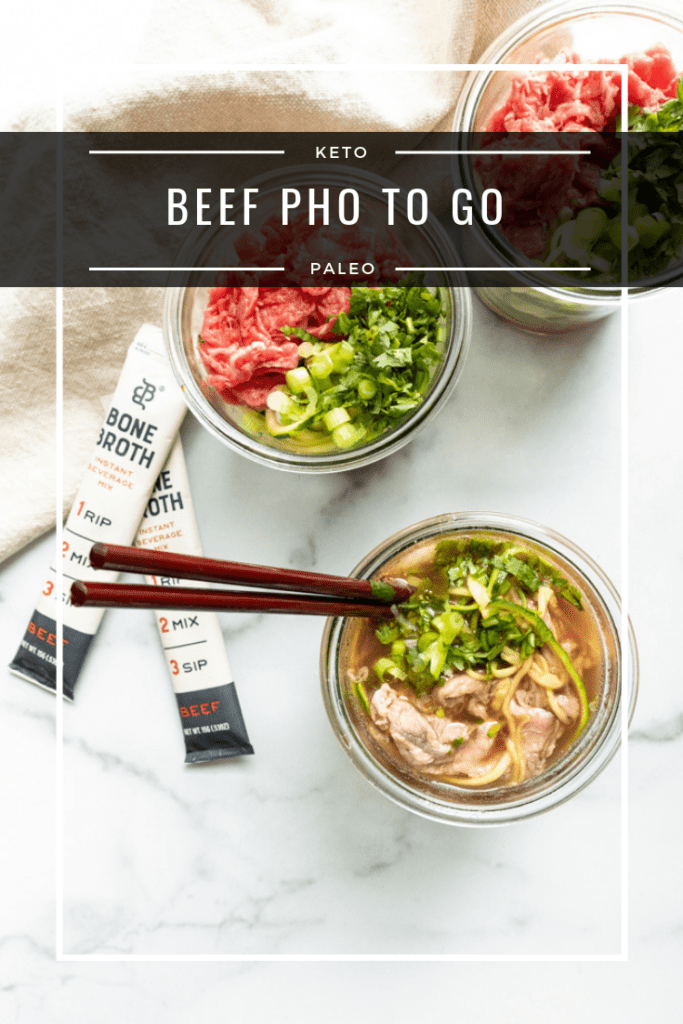 Now before anyone reminds me, obviously this absolutely NOT authentic pho in the least bit. It is a great way to get your pho fix if you don't want have a lot of time on your hands though.
Typically, pho starts off by making the broth which can take hours upon hours to make. Growing up, my mom would start the pho bone broth early in the morning but we were not eating til late in the afternoon.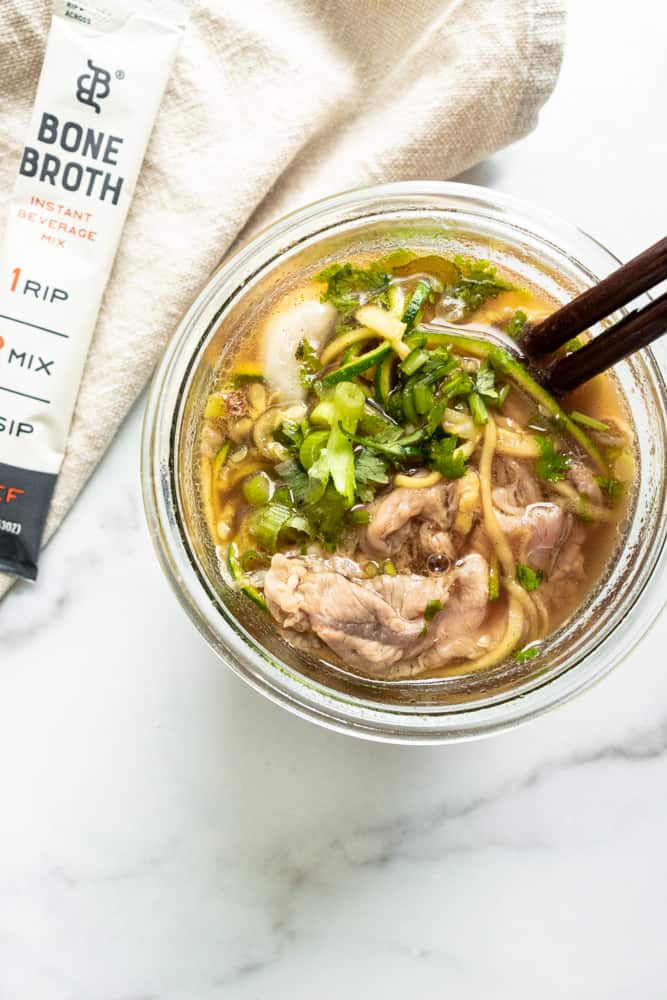 As much as I appreciate the time and labor that goes into pho, sometimes your girl needs a bowl ASAP! Luckily, Bare Bones Bone Broth Instant Beverage Mix comes into play.
Their instant beverage mix can be used as beef bouillon and is perfect for this Beef Pho to Go recipe. The instant beverage mix packs a lot of flavor and pairs perfectly with all of your favorite pho toppings.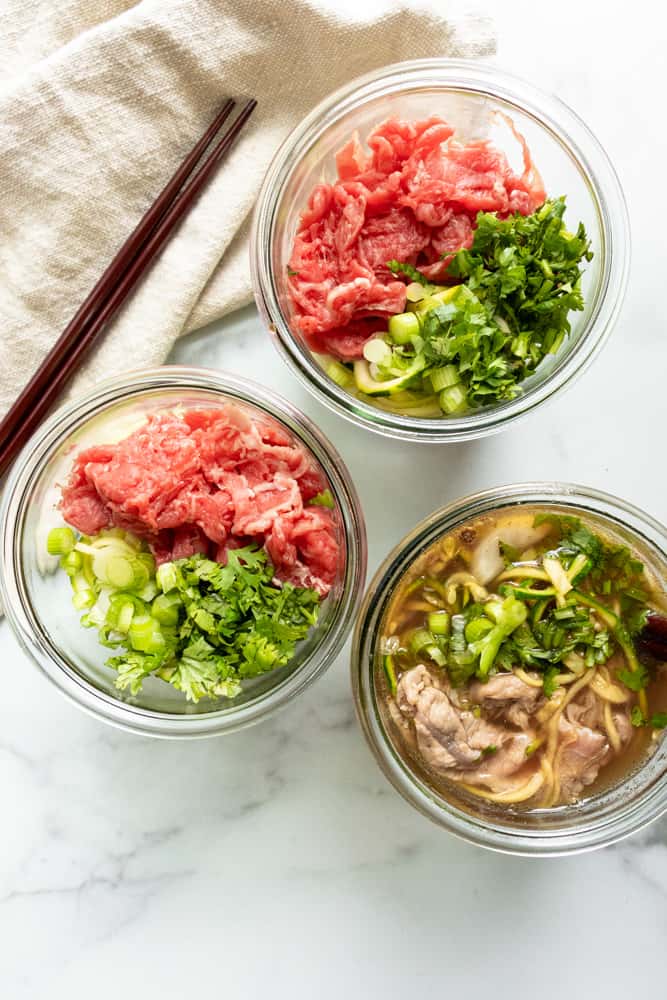 What's amazing about the Bare Bones Bone Broth Instant Beverage is that the ingredients are paleo and keto friendly. No funky ingredients like other beef bouillon. It's also packed with lots of nutrients. It's a great way to get in your protein and a little dose of collagen!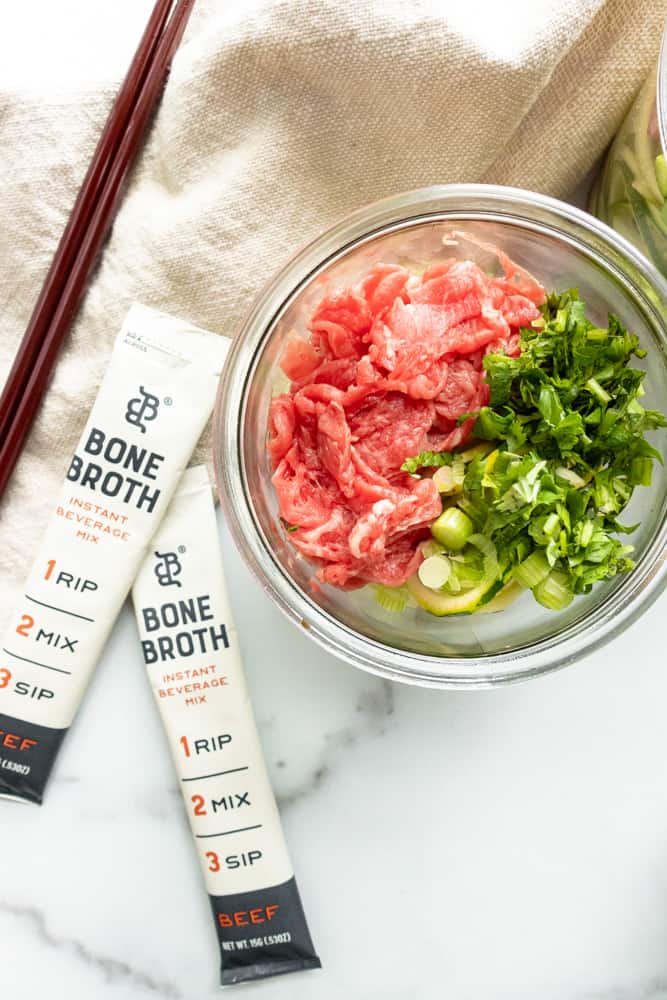 Obviously, this is perfect for my meal prepping friends out there! You can definitely prepare a few jars of this Beef Pho to Go for the week and when you're ready for a nice hot "bowl" of pho, just add some hot water. I do recommend leaving the Instant Beverage Mix out if you're prepping for the week. Add it to the jar and then pour the hot water when ready to eat.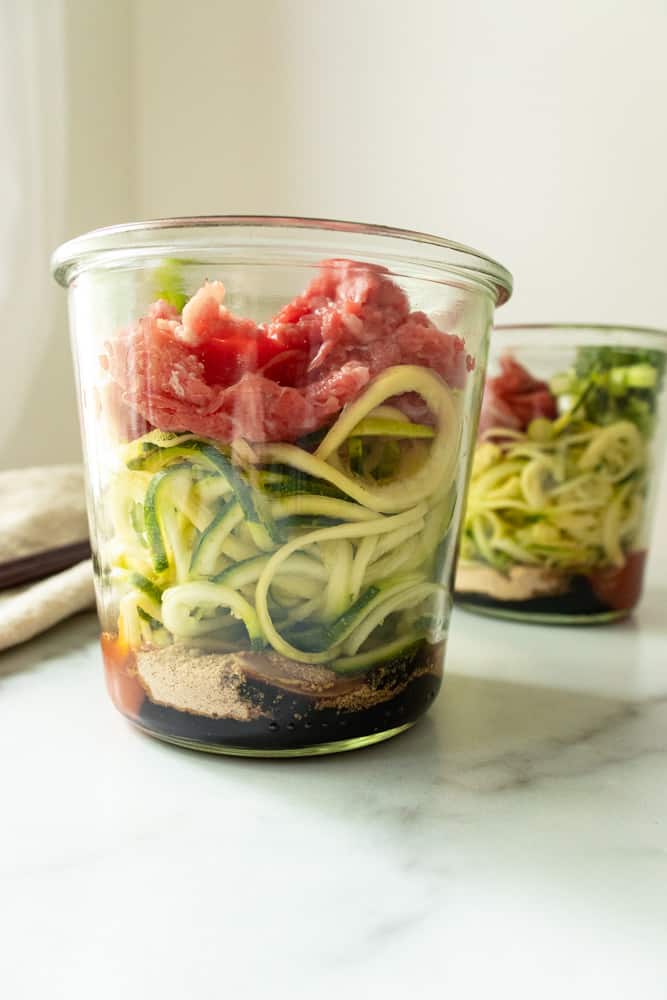 A few things about this recipe:
If you want to keep it completely paleo, I love Nom Nom Paleo's hoisin sauce recipe. It's delicious!
You could replace the zoodles with regular pho rice noodles. Just blanch the noodles prior to adding it to the jar.
Feel free to add any of your favorite toppings. I kept it basic so you all had a good base to start off.
If you are adding beef to this, make sure it is sliced PAPER thin. Trader Joe's carries shaved steak if you don't want to slice your own. It's important that it's paper thin because you want the water to cook it through to your liking.
Again, I know this is NOT authentic pho.
Hope you all enjoy this fun take on pho! Don't forget to get yourself a bag of Bare Bones Bone Broth Instant Beverage.
Beef Pho to Go (Paleo, Keto)
Ingredients
4

tbsp

sriracha sauce

4

tbsp

hoisin sauce

½

onion

thinly sliced

4

zucchinis

spiralized

1

lb

thinly sliced steak

½

cup

cilantro

finely chopped

2

green onions

thinly sliced
Optional Toppings
lime wedges

Thai basil

bean sprouts
Instructions
Add one tablespoon of sriracha sauce and hoisin sauce to four mason jars.

Then add one pack of Bare Bones Bone Broth Instant Beverage Mix into each mason jar*.

Divide the sliced onions and spiralized zucchini into the four mason jars.

Add as much or as little beef to the mason jars, but be sure they are not clumped together.

Pour in the boiling water, cover the mason jar, let it sit for 5 minutes, and then mix.
Recipe Notes
*if making ahead of time, leave Instant Beverage Mix out of the jars. Add the packet to jar when ready to eat.
---
SIMILAR RECIPES:
Thai Beef Noodle Soup
Slow Cooker Sweet Potato & Beef Chili
Chicken & Artichole Spezzatino
---