This one skillet Creamy Spicy Sausage Gnocchi is a quick and easy throw together meal that will wow just about anymore! This dish can accommodate almost any diet without anyone ever knowing they are eating something healthy.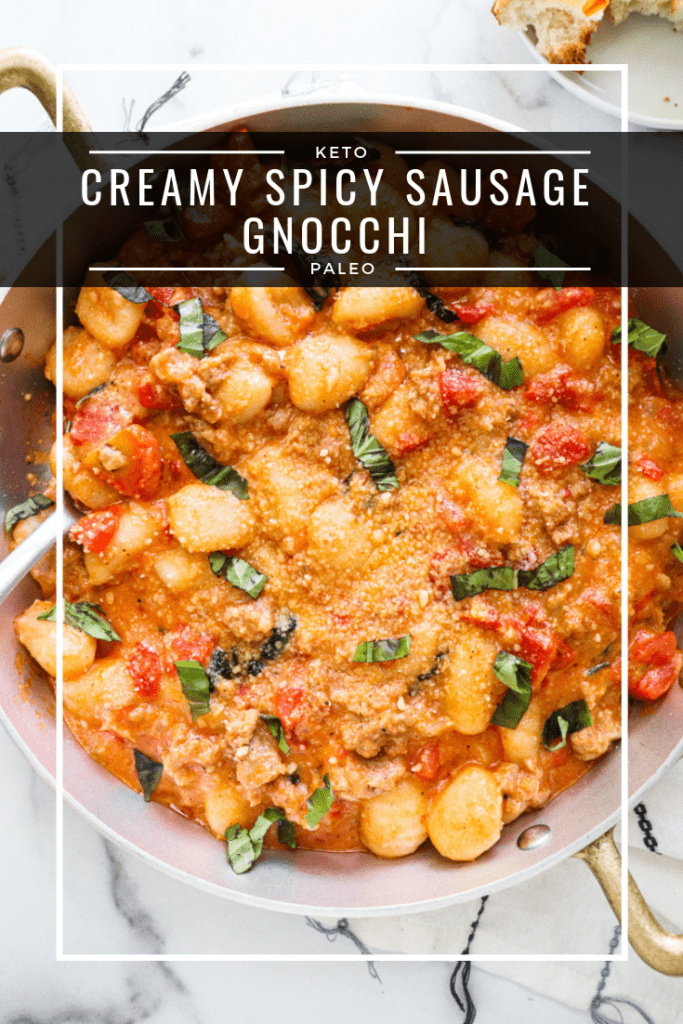 Gnocchi is definitely up there for me when it comes to one of my favorite pastas. It is super versatile and goes well with just about any kind of sauce you throw it.
There are so many ways to make it so it really can accommodate anyone's dietary needs. Personally, I enjoy DeLallo Gluten Free Family Style Gnocchi or Capello's Grain Free Gnocchi. Both are delicious and work well in this recipe.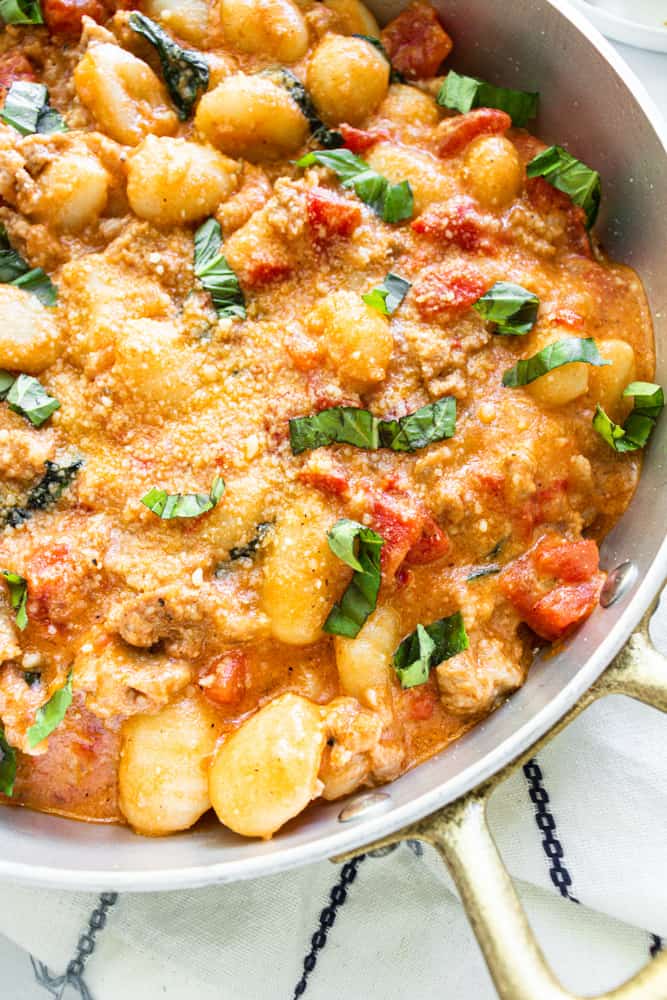 Speaking of this recipe, I am going to answer a few questions I know I will be asked when it comes to this Creamy Spicy Sausage Gnocchi:
If you are keto use Trader Joe's cauliflower gnocchi. Throw it into the skillet still frozen. You might have to adjust the cooking time.
If you are paleo you can also use Trader Joe's cauliflower gnocchi OR Capello's Grain Free Gnocchi.
I prefer to use really good quality heavy cream in this recipe, but coconut cream works as well. And no, it doesn't have a strong coconut taste.
Please don't ask me if this can be made Whole30 compliant. I'm not having that debate.
If you leave out the parmesan cheese, you will have to season the dish with additional kosher salt and ground black pepper.
If you don't eat pork, you can use turkey sausages (taken out of casing) or your favorite ground protein.
This dish is even better the second day. Trust.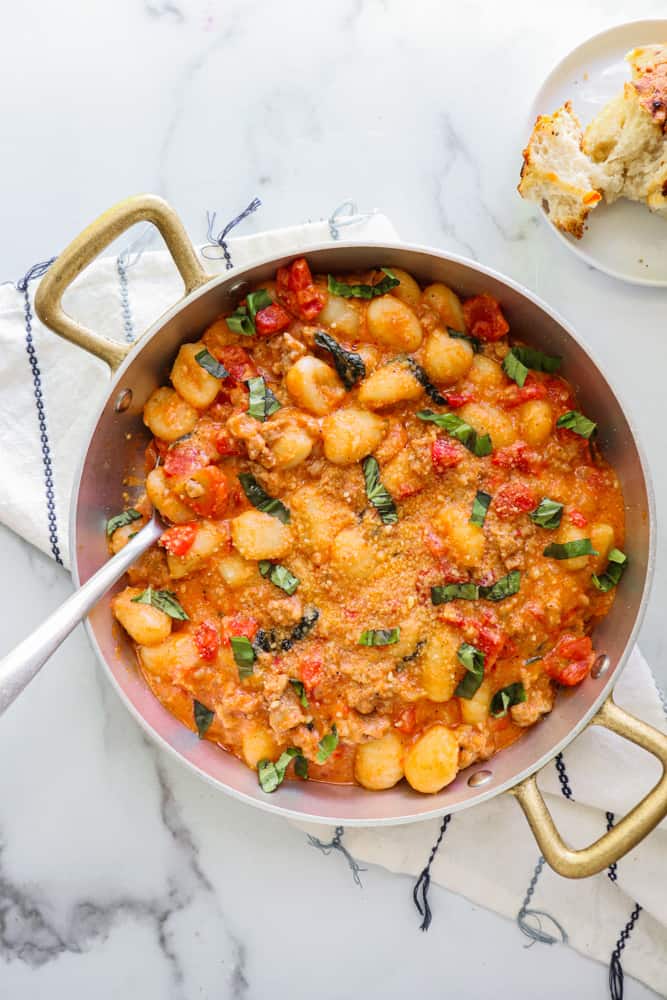 I think that covers everything, but I also know you guys are super inquisitive so if you have anymore questions, just let me know! Oh, and this is an actual true one pan one skillet (whatever you want to call it) dish.
It doesn't require removing things and adding things back into the pan. So you're really only going to have to wash the skillet and whatever you're serving this meal on! …unless you eat straight from the skillet. I'm not judging. I've been there.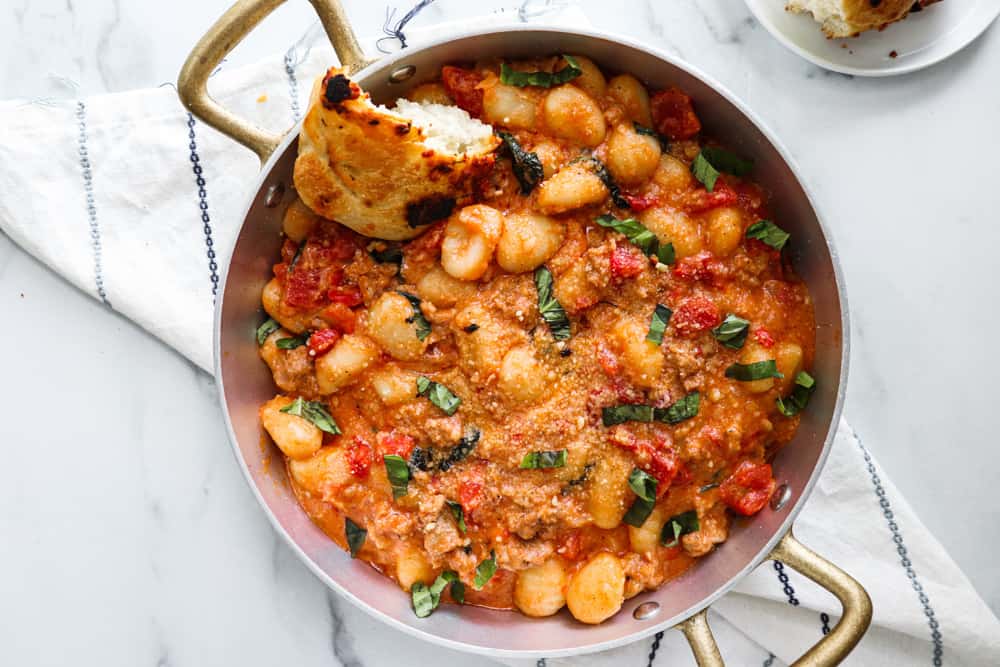 I hope you enjoy this Creamy Spicy Sausage Gnocchi dish as much as I do! Pro-tip: get some really good crusty bread to soak up some of the sauce. You're welcome!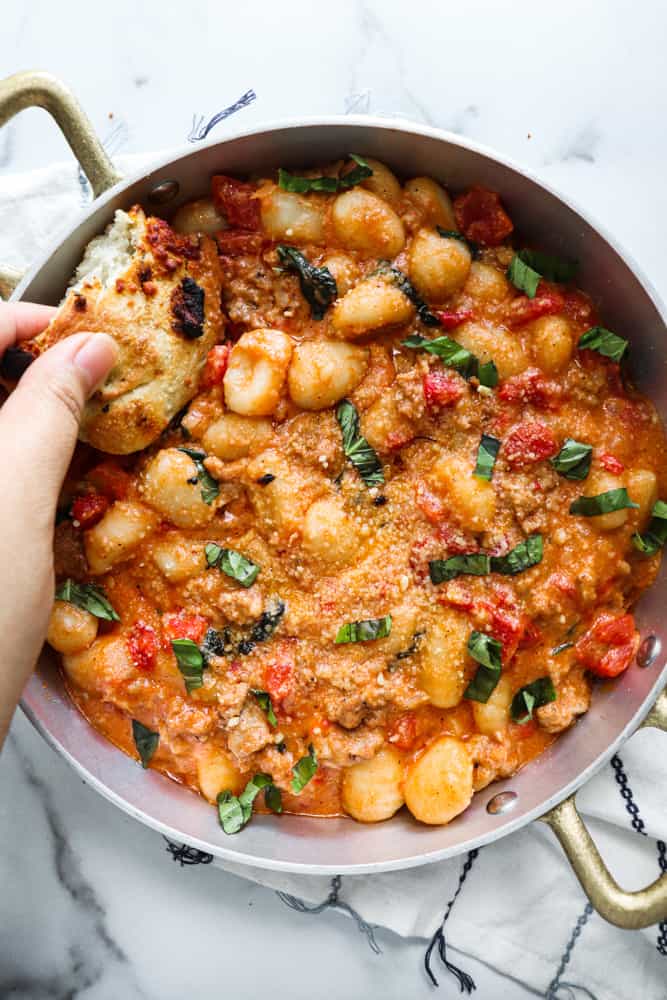 Creamy Spicy Sausage Gnocchi
Ingredients
1

lb

spicy Italian sausage

remove casing

½

tbsp

olive oil

(if needed)

½

onion

finely diced

3

garlic cloves

finely minced

1

tsp

kosher salt

more for taste

½

tsp

ground black pepper

more for taste

½

cup

chicken broth

14

oz

(1 can) diced tomatoes

1

cup

heavy cream or coconut cream

1

lb

uncooked gnocchi*

1

tsp

red pepper flakes

½

cup

parmesan cheese

(optional)

1

cup

loosely packed fresh basil

torn
Instructions
Preheat a large skillet over medium-high heat.

Add the spicy Italian sausage to the skillet and break apart of with a wooden spoon.

Cook until no longer pink and then add in the onions, garlic, kosher salt and black pepper. (If your sausage didn't render much fat, add about 1/2 tbsp of olive oil before adding the onions and garlic.)

Saute for 5-7 minutes or until onions are translucent and becomes fragrant.

Next stir in the chicken broth, diced tomatoes, and heavy cream or coconut cream. Mix until well combined.

Add in the uncooked gnocchi making sure each is coated with the sauce.

Bring to a boil and then lower heat to medium-low and simmer for 5-6 minutes covered.

Remove the lid from the skillet and cook for an additional 5 minutes or until gnocchi is cooked through and sauce has thickened.

When gnocchi is cooked through, turn off the heat, stir in the red chili pepper flakes, parmesan cheese, and fresh basil.

Taste to see if you need additional kosher salt and black pepper.
Recipe Notes
*If you're strict paleo and keto, you can use the frozen cauliflower gnocchi from Trader Joe's. Throw it in frozen and adjust cooking time to ensure it's cooked through.
---
SIMILAR RECIPES:
Thai Drunken Noodles
Pad Thai
Spicy Butternut Squash & Carrot Soup
---