Sweet, savory, and simple to make. These Stuffed Plantains (or in Spanish: Canoas de Platanos) are going to be a weekly go-to meal! These Whole30 and Paleo friend "canoes" are so versatile and can be filled with anything you want.
This post is in partnership with Bare Bones.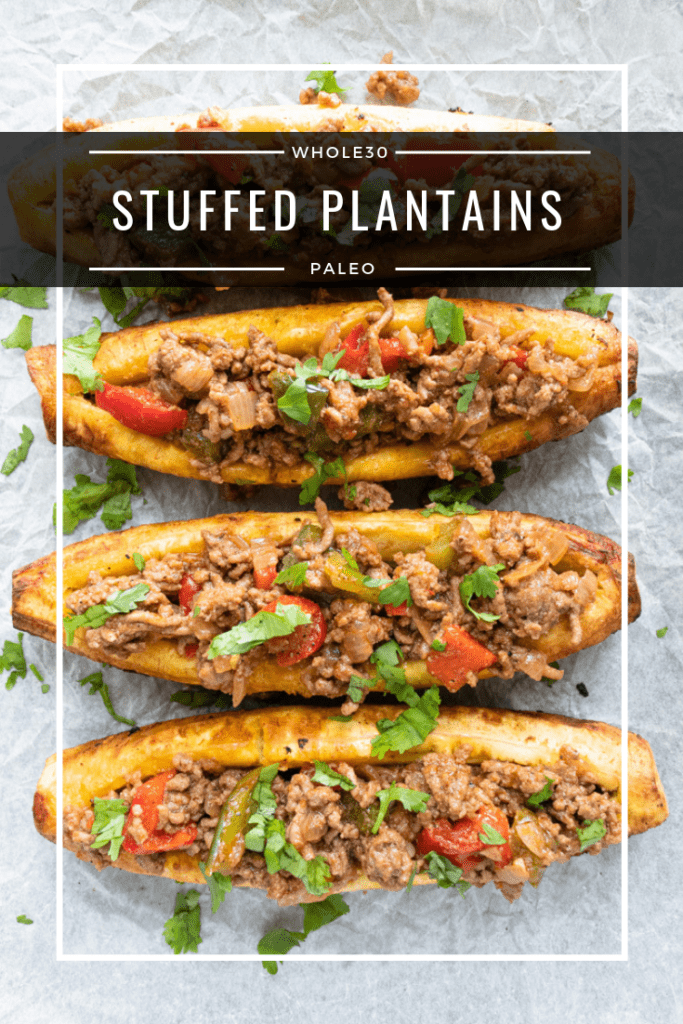 We all know I love green plantains because they can be turned into tostones. However, recently I've been loving sweet yellow ripe plantains. Maybe because they are easier to peel. LOL
But really though, I don't give yellow plantains enough credit.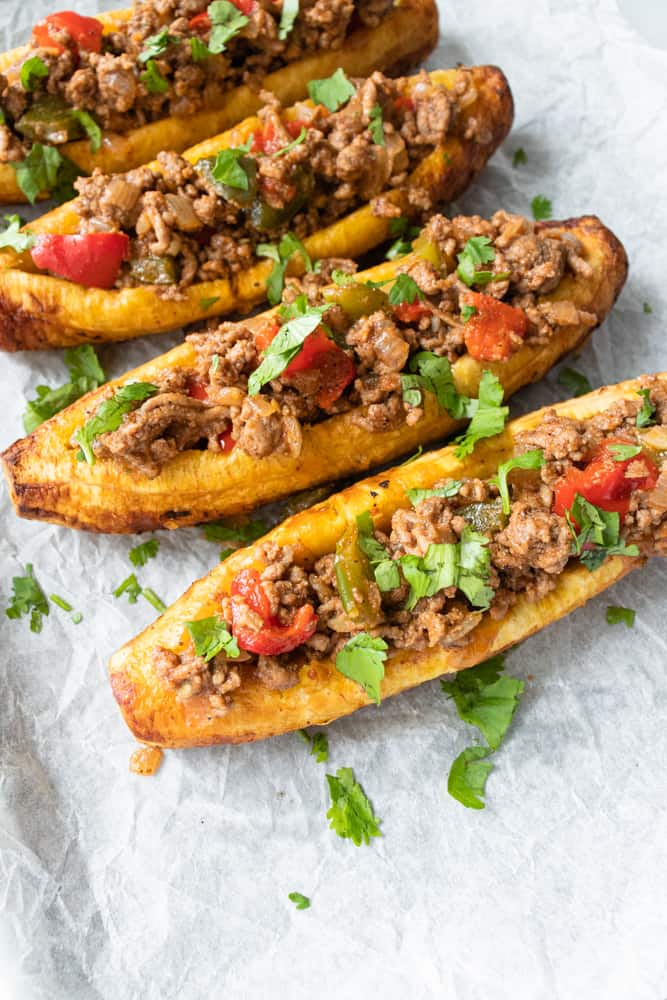 We also all know I LOVE flavor combos. Sweet and savory is up there for me and these Stuffed Plantains will hit the spot. I prefer yellow plantains that are just yellow because anymore ripe, it might get too mushy when you bake it.
However, if you want wicked sweet stuffed plantains, you do you! Just know they'll be super delicate after you roast them.
Now, onto my favorite part about this recipe, the stuffing! This ground beef mixture is so luscious and super moist. The reason? Bare Bones 100% Grass-fed Beef Bone Broth! It's my secret to always having moist and flavorful ground meat.
Adding the Bare Bones Beef Bone Broth not only keeps it moist, but also really helps bring out the beefy flavor and enhances the spices you use. Also, there are so many benefits of bone broth, so might as well sneak in the extra protein and nutrients, right? Right!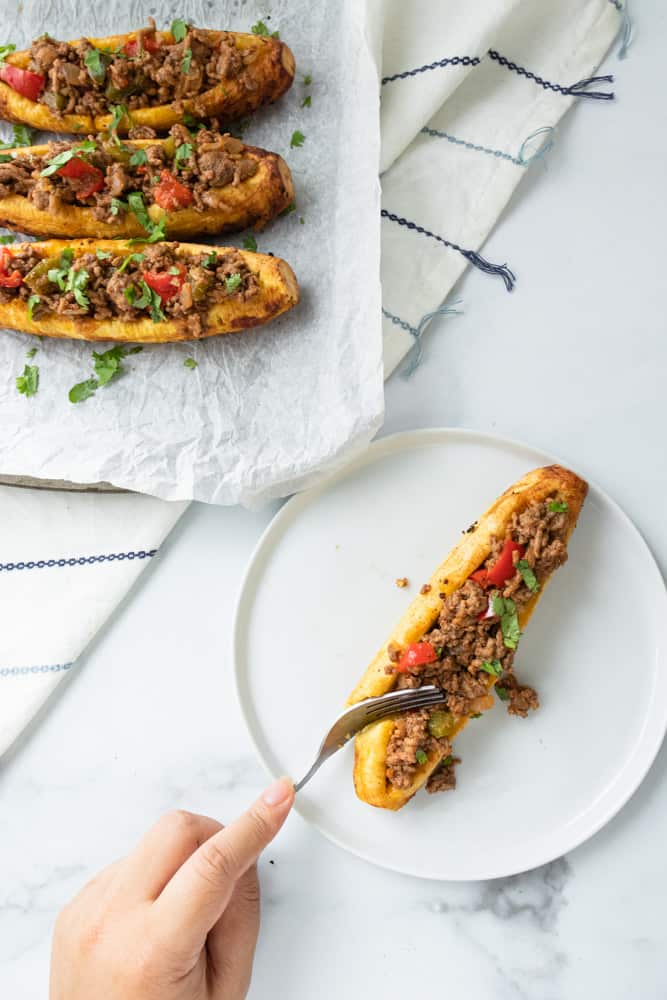 Also, shout out to my bestie for introducing me to these Stuffed Plantains aka Canoas de Platanos. These are widely popular in the Puerto Rican culture, and I'm so grateful I get to experience it.
Next time you find yourself at Puerto Rican or Latinx restaurant, check to see if canoas de platanos are on the menu. Better yet, just order anything and everything that plantain related! They will never steer you wrong. Trust.
Stuffed Plantains (Canoas de Platanos)
Ingredients
4

yellow plantains

2

tbsp

avocado oil

separated

½

medium

onion

finely diced

2

garlic cloves

finely minced or grated

½

green bell pepper

diced

½

red bell pepper

diced

1

tsp

kosher salt

more for taste

½

tsp

ground black pepper

1

lb

ground beef

1

tbsp

adobo seasoning

¼

cup

tomato sauce

¼ - ½

tsp

cayenne pepper
Instructions
Preheat oven to 400F. Line a baking sheet with parchment paper or aluminum foil.

Cut the ends off the plantains. Then carefully score the skin making sure not to cut through the flesh and peel.

Coat plantains with 1 tbsp avocado oil, add to the baking sheet, and roast for 30 minutes flipping halfway through.

Meanwhile, preheat skillet over medium heat with 1 tbsp of avocado oil.

Add in the diced onion, garlic cloves, green bell pepper, and red bell pepper. Season with kosher salt and ground black pepper.

Saute for 5-7 minutes or until onions are translucent and bell peppers start to soften.

Turn the heat to medium-high. Add ground beef to skillet, break it up, and brown.

Stir in adobo seasoning, tomato sauce, Bare Bones Beef Bone Broth, ½ tsp kosher salt, ¼ tsp ground black pepper, and cayenne pepper.

Bring to a boil then bring the heat down to low. Simmer for 8-10 minutes or until most of the liquid has evaporated.

Remove plantains from the oven. Cut a slit lengthwise making sure not to cut all the way through the plantain. Optional: sprinkle a pinch of salt into each plantain.

Stuff the plantains with ground beef mixture and serve.
SIMILAR RECIPES:
Mashed Plantain Buddha Bowls
Sweet & Savory One Pan Breakfast Skillet
Oven Baked Tostones
---