This Instant Pot Creamy Rosemary Lemon Chicken is the answer to cure boring chicken syndrome. Totally just made boring chicken syndrome up, but if you eat chicken as much as I do, you need a little something-something to liven it up!
This post is in partnership with Bare Bones.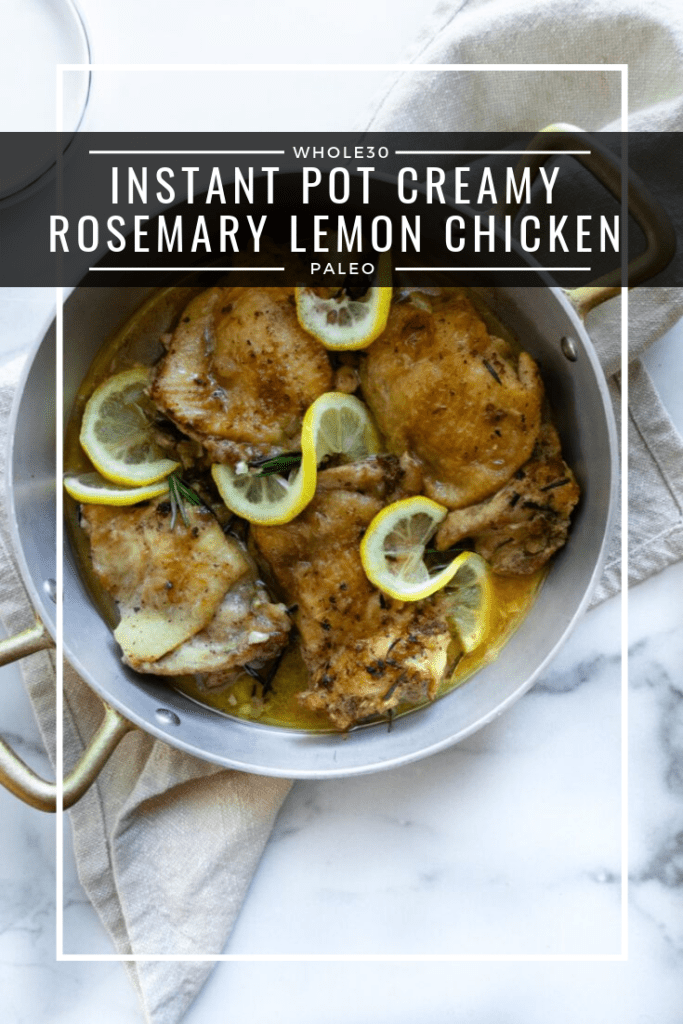 Your boring chicken days are LONG gone. Seriously. I eat chicken almost every single day and some days I have to get really creative. Luckily for me, Bare Bones challenged me to create a recipe around their Rosemary Lemon Chicken Bone Both and I knew I wanted to create something that was comforting and cozy.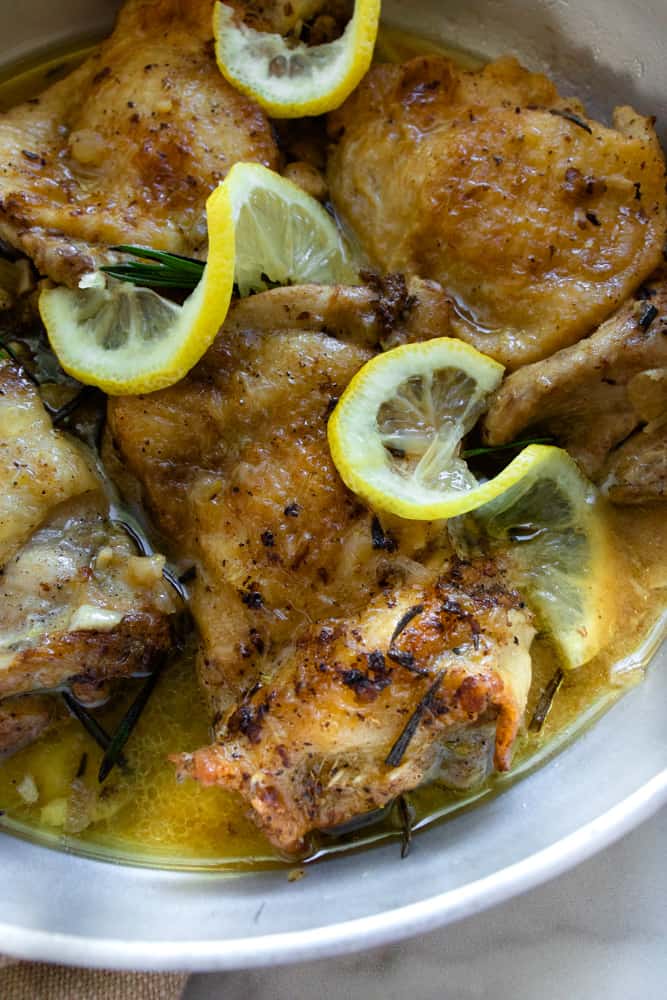 First, let's chat a little more about Bare Bones Rosemary Lemon Chicken Bone Broth.
We all know bone broth has so many health benefits. Bare Bones shares a great list here.
Bone broth doesn't have to be just for soups and sipping. This flavor will enhance any dish. Cook your rice in it next time and thank me later.
Rosemary and lemon are a match made in heaven. I feel like they are the ultimate classic, cozy, comforting flavor combo.
Bare Bones packs their bone broth with so much flavor and nutritionally dense ingredients, so you won't even notice you're sipping on some liquid gold goodness.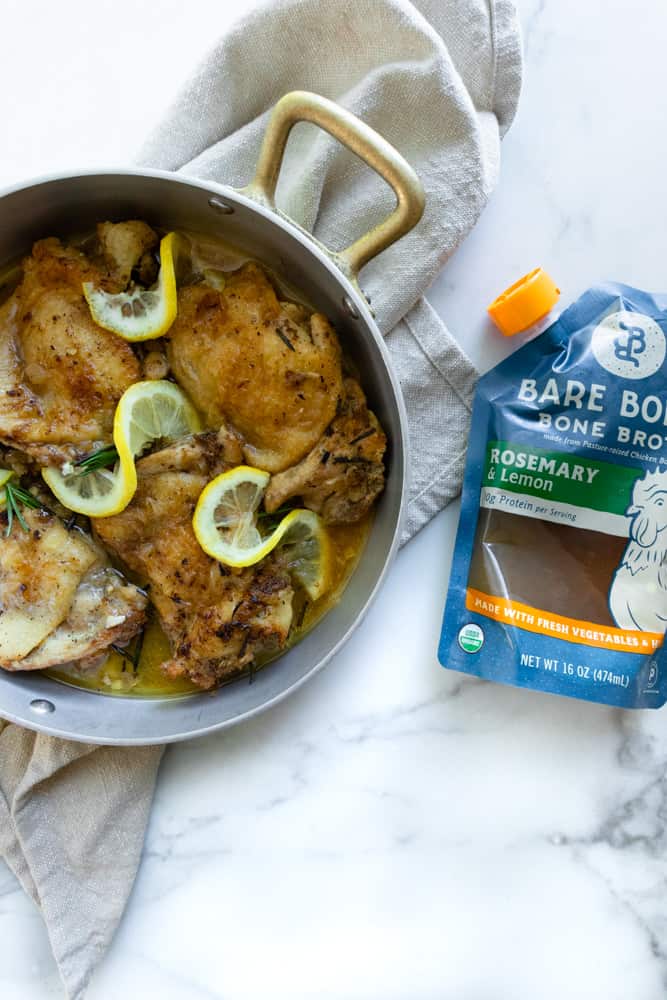 Okay, now back to this Instant Pot Creamy Rosemary Lemon Chicken. A few key things:
Chicken thighs are best but if you must, you can use chicken breasts. You'll probably have to adjust the cooking time because you don't want to overcook it.
You can also use boneless skinless chicken thighs, but the skin has so much flavor and it's the best part.
I only used 1/2 tsp of arrowroot flour to thicken up the sauce, but you can use more if you want it super creamy and thick.
I love serving this with mashed potatoes or cauliflower mash and roasted broccoli. SO good.
Yes, it's meal prep friendly!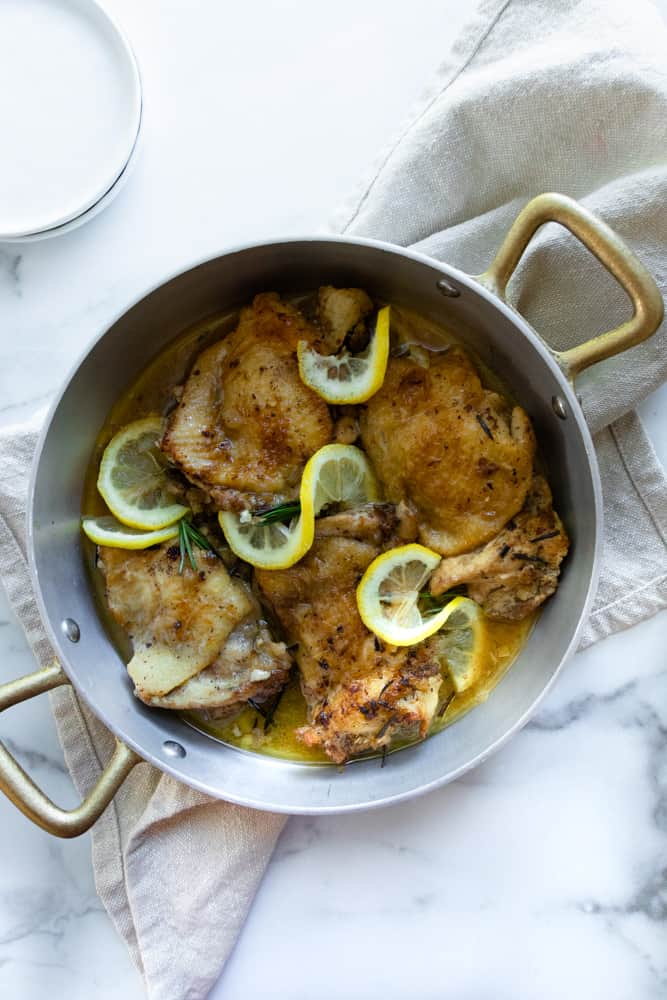 I hope you enjoy this dish as much as I do! Be sure to let me know how you serve it.
Instant Pot Creamy Rosemary Lemon Chicken
Ingredients
4-6

boneless chicken thighs

1

tbsp

fresh rosemary

finely chopped

½

tbsp

lemon zest

1

tsp

kosher salt

more for taste

1

tsp

garlic powder

½

tsp

ground black pepper

2

tbsp

avocado oil

separated

½

onion

finely diced

3

garlic cloves

minced

1

lemon

juiced

½

tsp

arrowroot flour

1

tsp

water
Instructions
Season chicken thighs with rosemary, lemon zest, kosher salt, garlic powder, and black pepper. Let sit for at least 30 minutes in the refrigerator uncovered.

Set Instant Pot to saute mode and add in 1 tbsp of avocado.

Pat chicken dry then add chicken thighs skin side to Instant Pot once hot, and brown on each side for 3-4 minutes. Cook in batches if you need to.

Remove chicken thighs from Instant Pot and set aside until ready to use.

Add 1 tablespoon of avocado oil to the Instant Pot and then add in the onion and garlic cloves. Cook for a minute or until fragrant stirring around occasionally.

Stir in the lemon juice and Bare Bones Chicken Broth Rosemary Lemon making sure to scrape the bottom of the Instant Pot to deglaze.

Turn the Instant Pot off saute mode, add in chicken thighs to the IP.

Close the lid, seal it, and then press the pressure cook button (or manual button). Set to 7 minutes at high pressure.

Once done, let the Instant Pot natural release for 5 minutes.

Remove chicken and set aside. Turn Instant Pot back into saute mode, mix the arrowroot flour and water together then add to IP.

Simmer for about 5 minutes or until sauce thickens.

Spoon sauce over chicken thighs and serve.
---
SIMILAR RECIPES:
Creamy Garlic Chicken Thighs
Creamy Spicy Sausage Gnocchi
Instant Pot Garlic Cauliflower Mash
---