These Air Fryer Home Fries will have you thinking you are at an actual diner enjoying breakfast on a Sunday morning! They are crispy on the outside, and soft and fluffy on the inside. With just a few key ingredients, you will be skipping the line at your local diner to make breakfast yourself with these potatoes!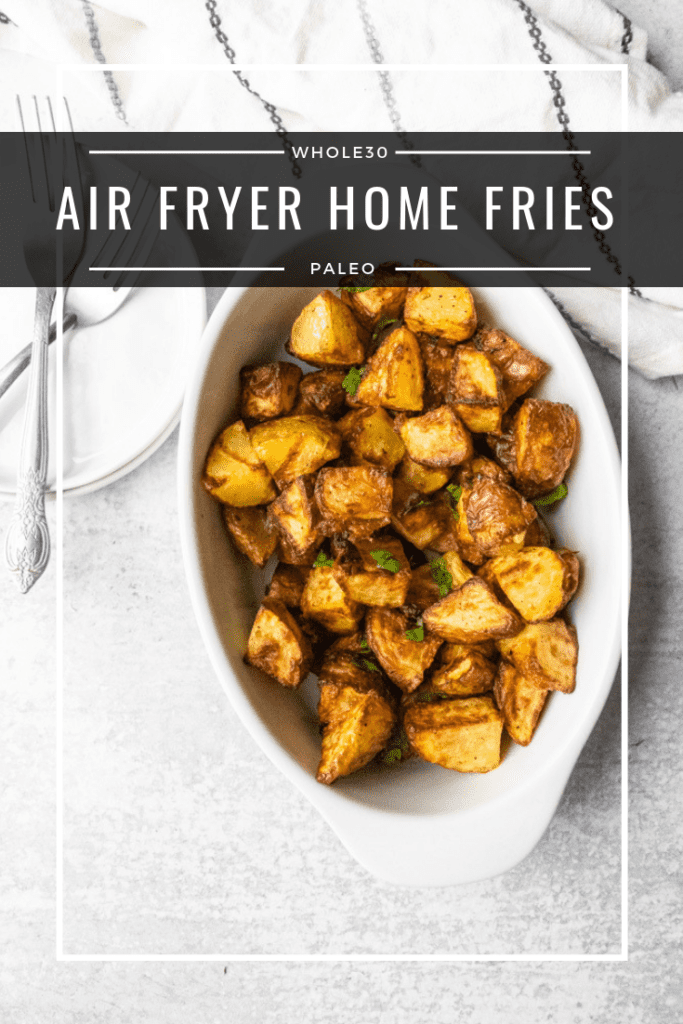 Potatoes are basically my love language, and then you make them in an air fryer and learn that you can actually love them more than you thought.
Whenever I go out for breakfast, I always have to have a side of home fries. It's how I judged a breakfast place. I've had my fair share of home fries, but my favorite ones are the ones that have a nice crusty outside and a soft fluffy inside.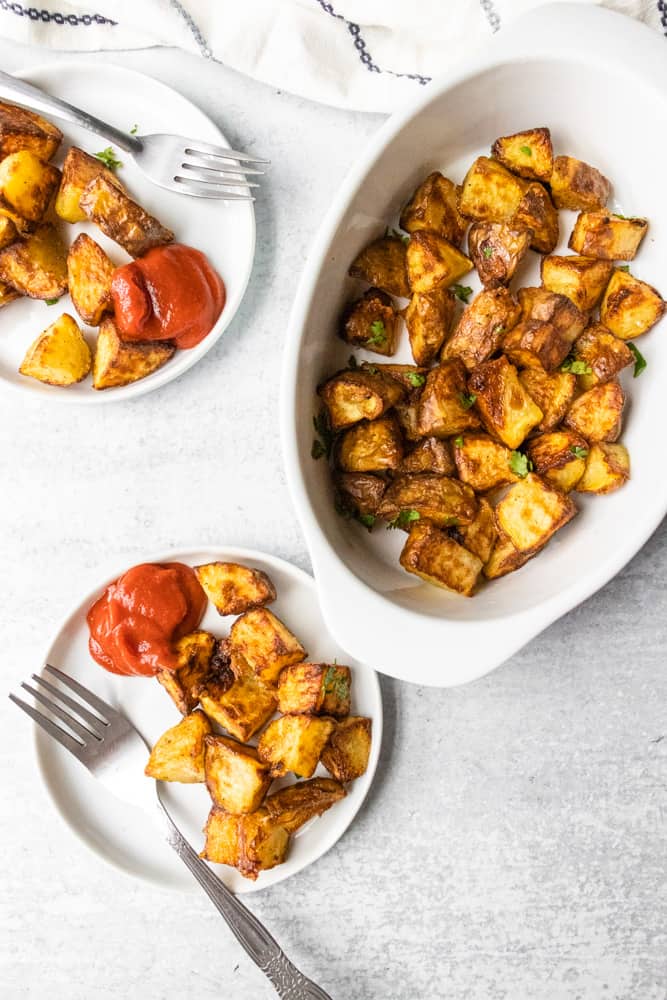 When I was trying to figure this recipe, I wanted to make it as simple as possible. Typically, I would parboil the potatoes and then roast it, but who really wants to take that extra step? …especially during the summer when it is hitting 85 degrees before 10AM!
If you don't have an air fryer, definitely parboil and then roast to get the same results as an air fryer. I recommend parboiling your potatoes while meal prepping and then throughout the week you can roast or pan fry the potatoes.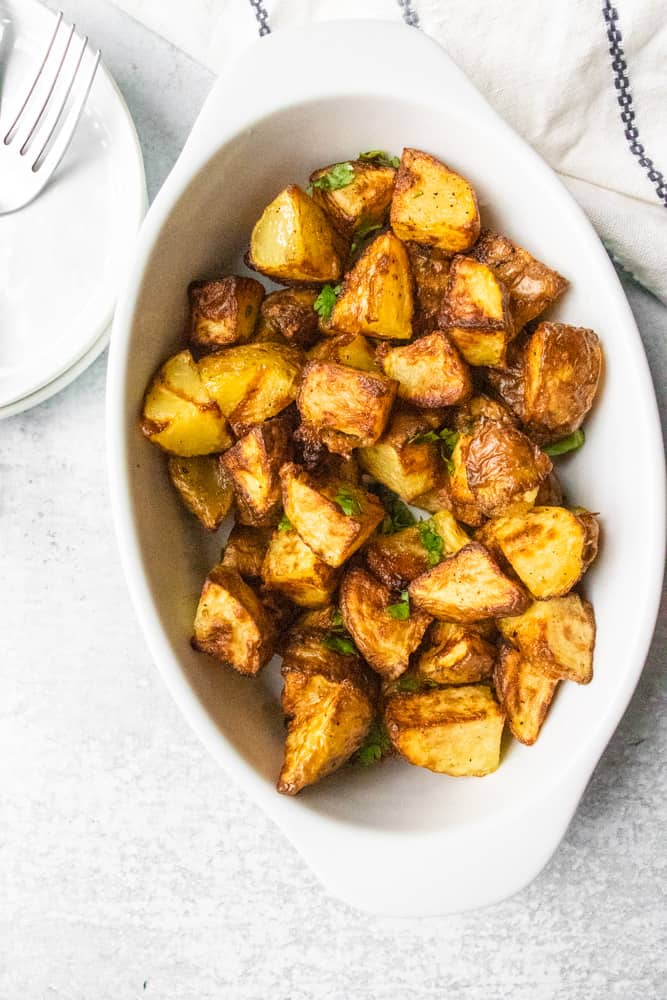 The secret to get the crusty crispy outside and fluffy inside Air Fryer Home Fries is to coat your diced potatoes with either arrowroot flour or tapioca starch! Some diners will toss their potatoes in cornstarch or even flour, but we're going to keep it grain free and gluten free.
What the arrowroot flour does is absorb the excess liquid on the potatoes and helps crisp it up. It works every single time I do it, and I will not make home fries any other way!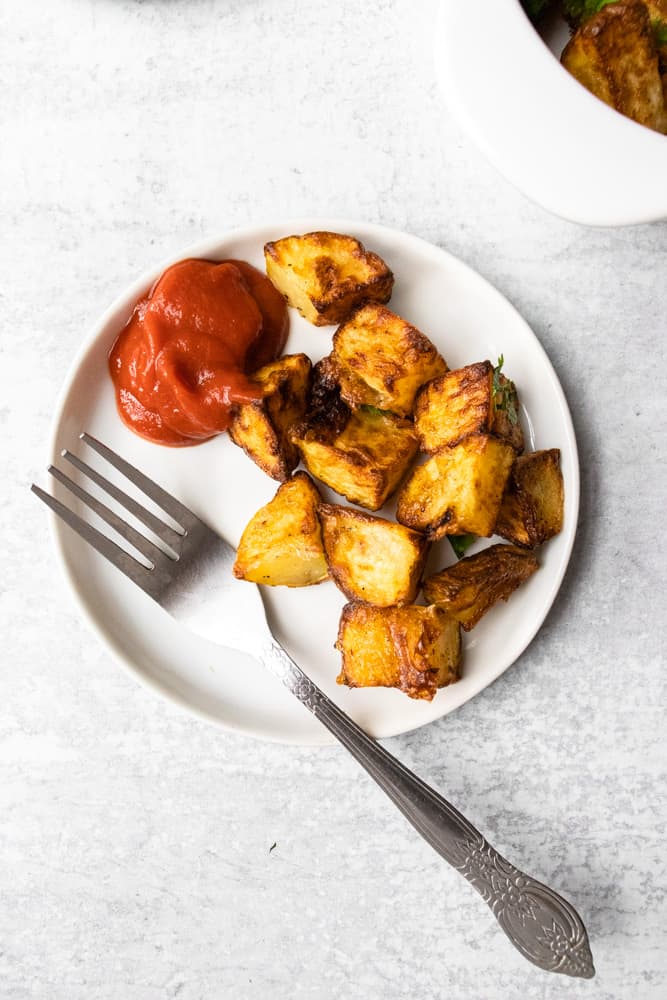 I like to keep my Air Fryer Home Fries simple, but definitely feel free to season and toss with any herbs and spices that you love! I do my classic trio: kosher salt, black pepper, and garlic powder. You really can't go wrong with that!
Air Fryer Home Fries
Instructions
Dice the yellow potatoes making sure they are the same size.

In a large bowl, add the potatoes, kosher salt, black pepper, and garlic powder. Mix until well combined and then add the avocado oil.

Toss the potatoes until well coated with the oil and then add the arrowroot flour.

Mix until the all the potatoes are coated with the arrowroot flour.

Add the potatoes to the air fry basket.

Cook at 400°F for 18 minutes shaking the potatoes halfway through.

Best to serve the potatoes warm!
---
SIMILAR RECIPES:
Air Fryer Tostones
Air Fryer Crispy Chicken Sandwich
Instant Pot Baked Potatoes
---