These 5 Ingredient: Mustard BBQ Chicken Wings are kicking off a new series I'm doing here! I am going to create recipes that have five or less ingredients. Though these chicken wings may have five ingredients, they are packed with lots of flavor thanks to The New Primal's Mustard BBQ Sauce.
This post is in partnership with The New Primal.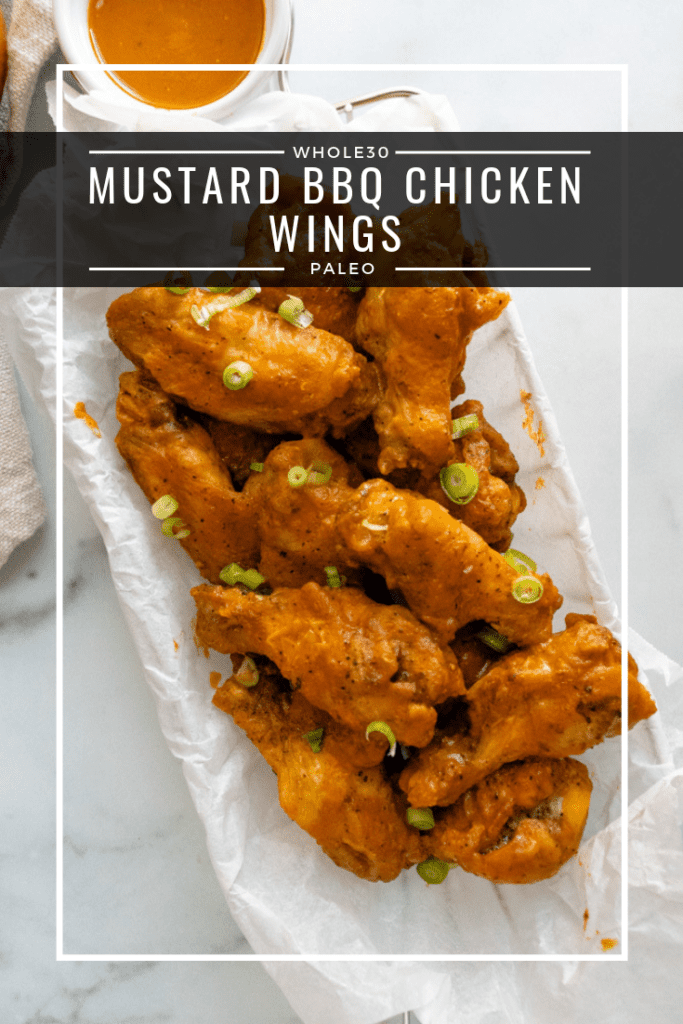 I have always been wary when people share 5 ingredient recipes because my first thought is always, will it be flavorful? So I figured why not challenge myself and create recipes using 5 or less ingredients.
Now, here is where I'm torn. Do ingredients like salt and pepper count towards the ingredient list? I have been get mixed reviews. My though process is that salt and pepper shouldn't count because everyone has salt and pepper in their kitchen, right? Right. Let me know your thoughts in the comments!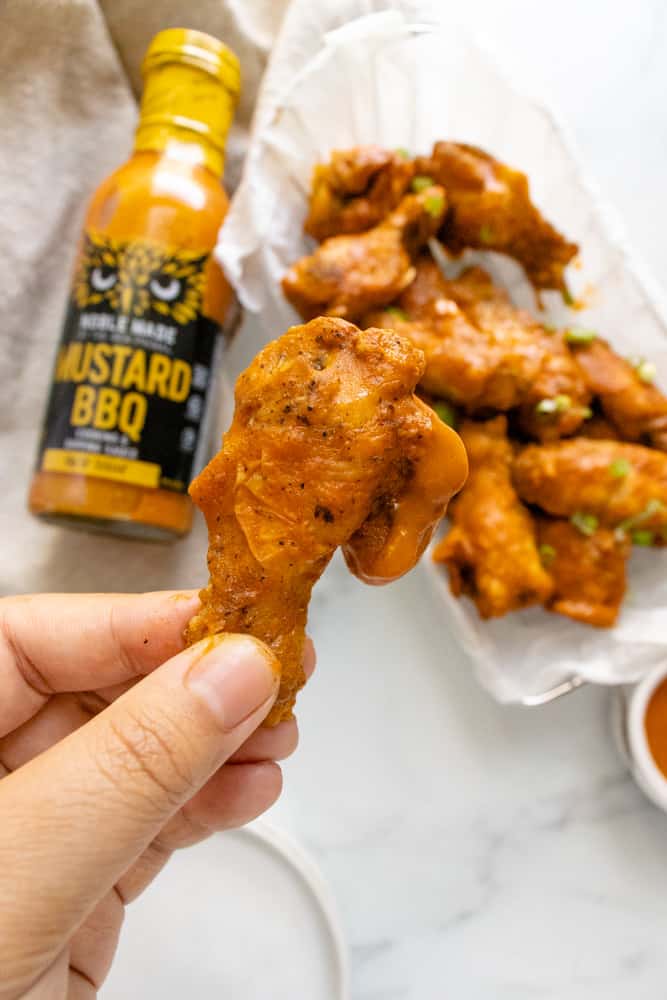 Luckily, these 5 Ingredient Mustard BBQ Chicken Wings only needed five ingredients. Thanks to The New Primal Mustard BBQ Sauce, these chicken wings did not lack any flavor!
If you have not tried this mustard BBQ sauce, you are missing out! It's my favorite of the two barbecue sauces made by The New Primal.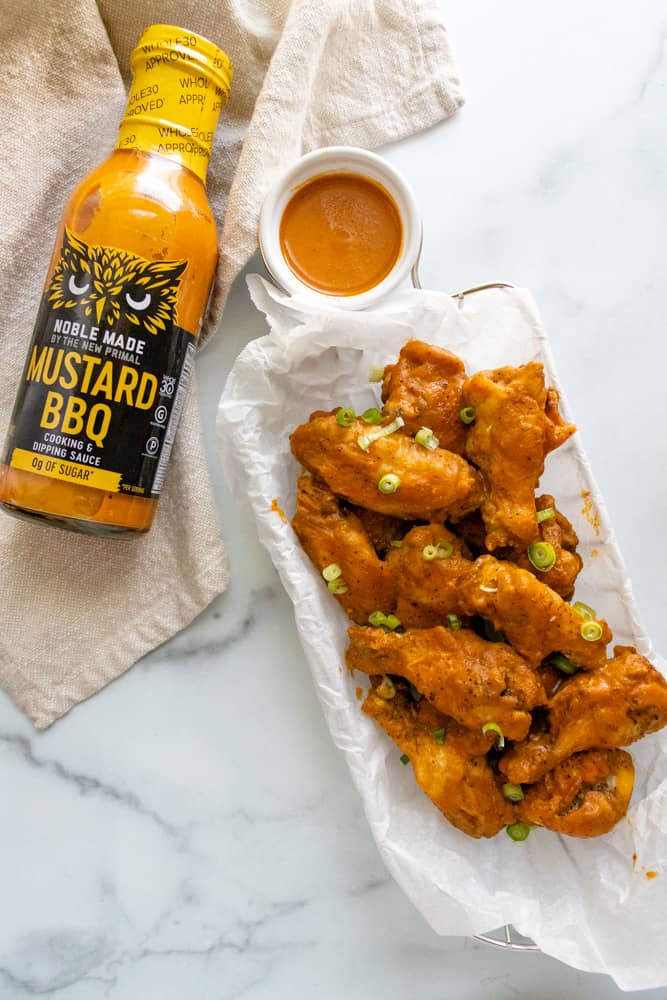 You all know by now I love using The New Primal sauces and marinades. They use real whole ingredients, it saves time in the kitchen, and of course, they are delicious!
The mustard BBQ sauce is obviously mustard-y but also has a nice savory flavor that goes great with anything. I typically like to pair it with pork, but it is so delicious on chicken wings!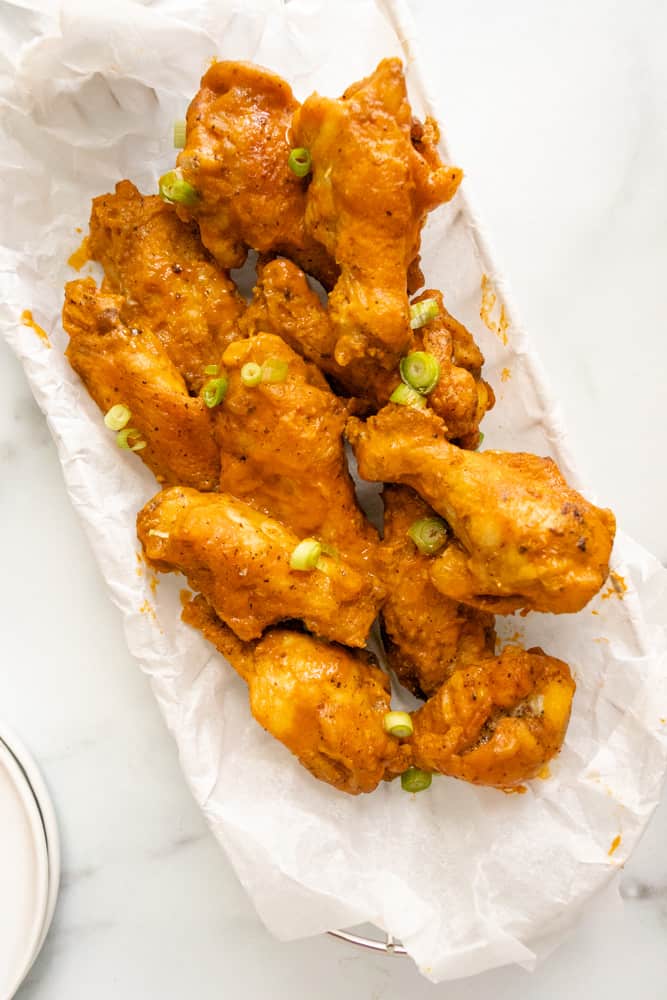 A few key things about this recipe:
The secret to getting crispy chicken wings that will hold onto all of the sauce is the tapioca flour! The tapioca flour will absorb excess liquid and will give something the sauce to hold onto.
I made mine in an air fryer, but I give oven directions as well. These would also be great on the grill.
Oh, and DON'T forget to pat your chicken wings dry. This is also key to getting crispy skin and again it will help the sauce stick to the wings. Trust.
5 Ingredients: Mustard BBQ Chicken Wings
Ingredients
2

lbs

chicken wings

split

2

tsp

kosher salt

1

tsp

ground black pepper

2

tbsp

tapioca flour
Instructions
Pat chicken wings dry and place in a large bowl.

Season with kosher salt and black pepper. Mix well.

Add in the tapioca starch, mix until all the chicken wings are coated. Let sit for 10 minutes.

Air fryer method: add chicken to air fryer basket, set temperature to 360F, cook for 20 minutes, then turn up the temperature to 400F and cook for an additional 5 minutes.

Oven method: preheat oven to 425F, line a baking sheet with parchment paper, place a wire rack on top (optional), add chicken, and then roast for 40 minutes flipping halfway through.
---
SIMILAR RECIPES:
Spicy BBQ Chicken Wings
Spicy Salt & Pepper Chicken Wings
Lemongrass & Ginger Chicken Wings
---
---
Please note that I only work with companies and use products that meet the values and standards of a dash of dolly. This post is sponsored by The New Primal. While I am compensated for the work I do, ALL of the opinions are my own and 100% honest. Thank you for your support!