Oh yes, another air fryer recipe because I am obsessed! I also realized I have not posted a classic crispy sandwich without all the bells and whistles, so here is my Air Fryer Crispy Chicken Sandwich –using tostones as the buns of course.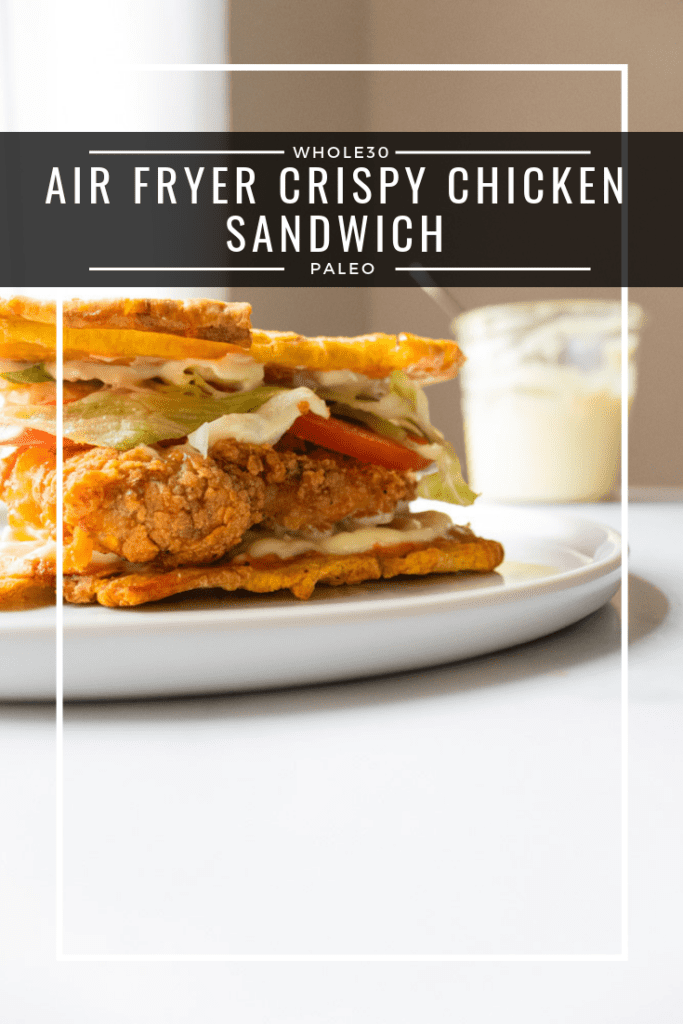 I'm pretty sure I have like three to four different chicken sandwich recipes that are most likely spicy or a flavor combination of spicy and sweet. I'm so predictable. LOL However, I can't believe I haven't shared my go-to air fryer crispy chicken sandwich recipe.
I have shared this before, but I was a wicked picky eater growing up –especially when it came to American food. My go-to was always chicken tenders and french fries or chicken sandwiches. Sometimes I would get wild and crazy and would order a burger …well done. Who was I back then?!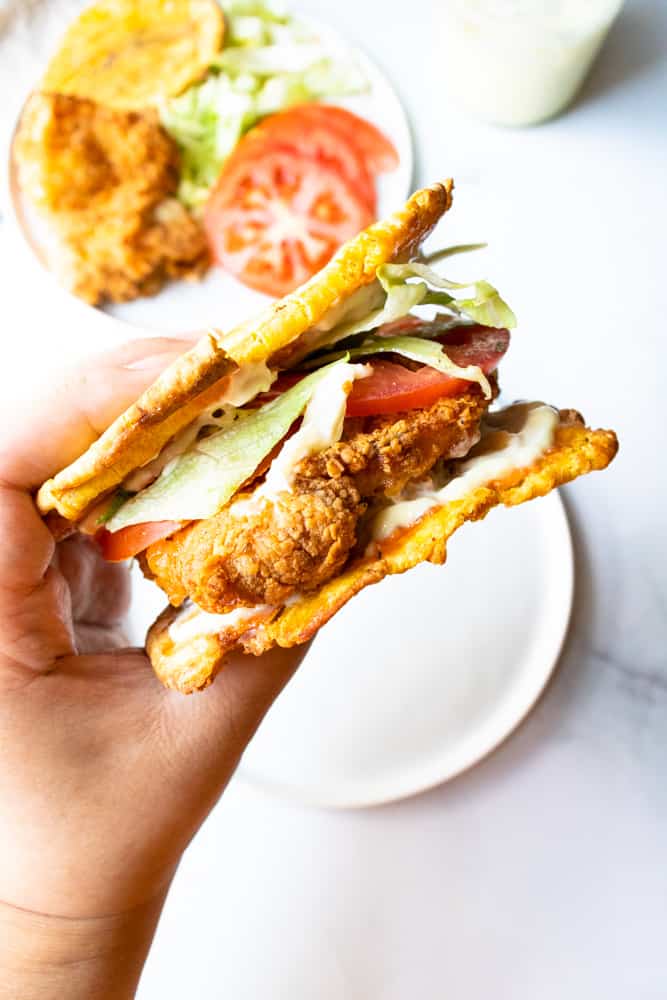 Those days are long gone, but there are days I just love a good chicken sandwich with lettuce, tomatoes and mayo. Nothing else. The combo just brings me back to my childhood and it also reminds me of that weird long oval shaped chicken sandwich from Burger King. You know what I'm talking about!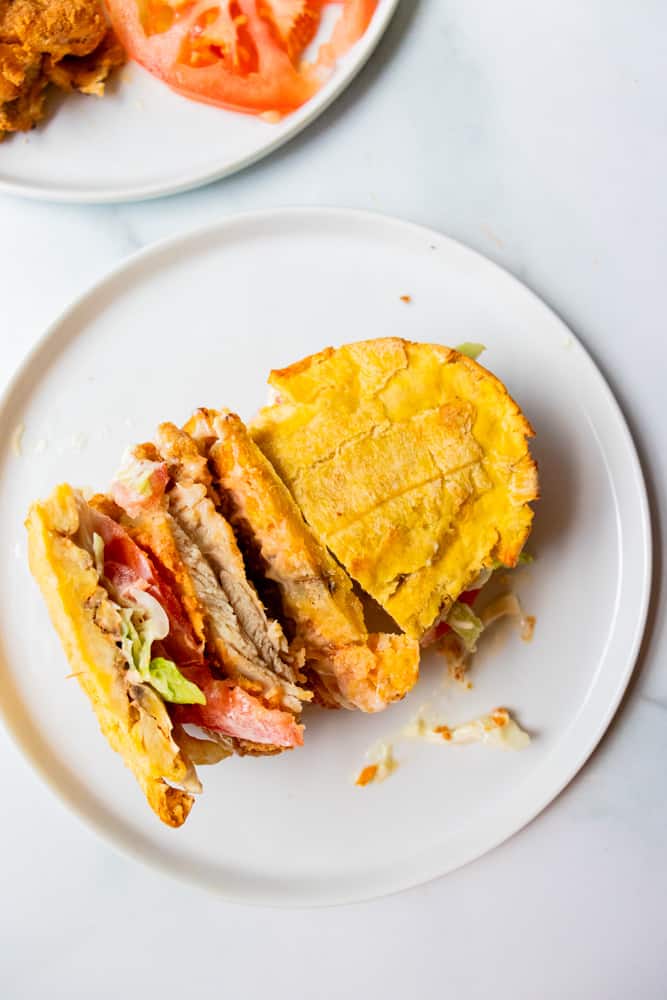 Anyway, now that I am a proud own of an air fryer, I don't think I'll make crispy chicken any other way. This air fryer crispy chicken sandwich tastes like you spent all day frying all the things, but you didn't! (Don't worry, will share how to cook on the stove as well.)
It really is the simplest recipe with the most basic ingredients. Sometimes you just need that, you know? Everything works so well together.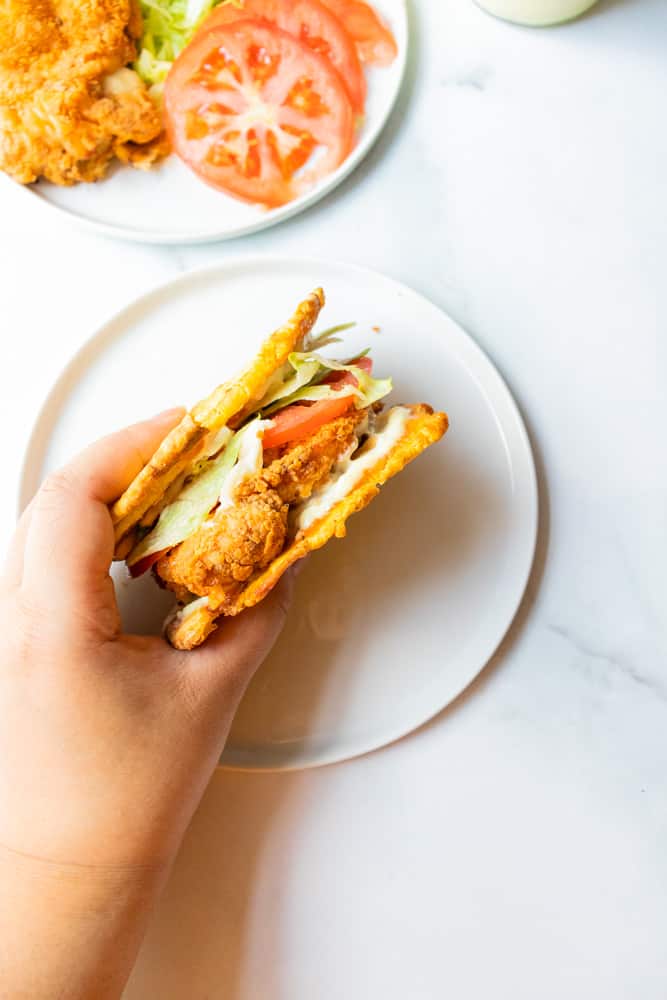 Of course everything is sandwiched in between tostones because tostones will always be greater than sweet potato toasts. Don't @ me!
Air Fryer Crispy Chicken Sandwich (Whole30, Paleo)
Ingredients
4

boneless chicken thighs

or chicken breast

1

tsp

kosher salt

plus more for flour

1

tsp

garlic powder

½

tsp

black pepper

plus more for flour

¼

cup

arrowroot flour

2

large

egg

½

cup

cassava flour

or any flour

8

large

tostones

shredded iceberg lettuce

sliced tomatoes
Instructions
Pat the chicken thighs dry, season with kosher salt, garlic powder, and black pepper. Make sure to get under the skin.

Lightly coat each side of the chicken with the arrowroot flour. Set aside.

In a shallow bowl, beat the eggs.

In another shallow bowl, add the cassava flour and season with a pinch or two kosher salt and black pepper. Mix until well combined.

Dredge the chicken in the eggs and then the cassava flour. Make sure to shake off excess flour. Repeat until all the chicken thighs are coated.

Add the chicken thighs to the air fryer skin side up and lightly brush or spray the chicken thighs with avocado oil.

Set the air fryer to 360° and cook for 18 minutes.

Assemble the sandwich using the sandwich sized tostones, basic mayo, shredded iceberg lettuce, and tomato slices.
Recipe Notes
If you don't have air fryer, you can shallow pan fry the chicken. Preheat a skillet over medium-high heat with about 2-3 tbsp of cooking fat. Once heated, place the chicken skin side down and cook for 6-7 minutes. Flip and cook for an additional 5-6 minutes or until chicken is cooked through.
---
SIMILAR RECIPES:
Spicy Chicken Sandwich
Hot Fried Chicken
Chicken Mango Salad Bites
---